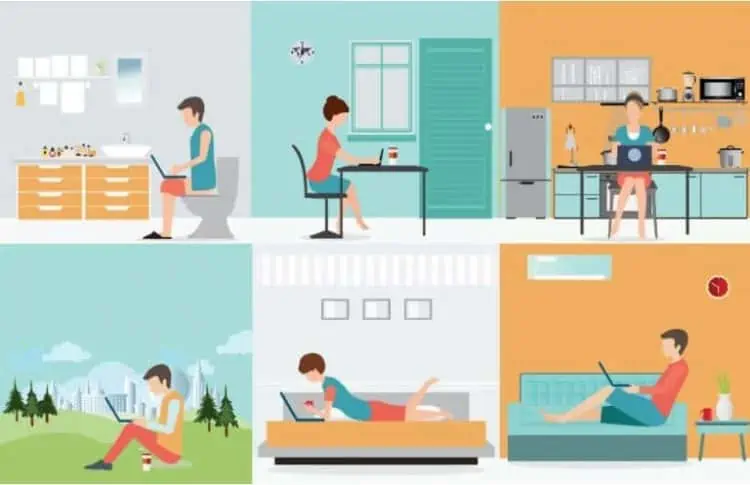 Working from home is becoming more and more popular. Many legitimate work-from-home jobs will allow you to work from the comfort of your own home. Finding a job that will enable you to work from home gives you more flexibility for things like childcare, travel, and disabilities.
In many ways, it can also save you money. Working from home can be a real boon for many people who want, or need, that flexibility. Many workers choose to work from home in this new economy, and many companies are moving to flex or work from home models.
If your company is not allowing you to work from home, you may want to consider getting one of these legitimate work-from-home jobs.
Quick Wins to Make a Little Cash Fast
While these aren't careers that can make you thousands of dollars a month, here are some of my favorite ways to make quick money in my spare time:
1. Survey Junkie – Take surveys and get paid. This is the biggest and best site to share your opinion while watching TV on the couch and make some extra money.
2. Swagbucks ($5 sign up bonus) – Get paid to play games, shop online, take survey, watch videos, and more. Plus get a bonus just for signing up.
3. Groundfloor ($20 sign up bonus) – With as little as $10 you can start investing in real estate and make passive income. Plus get a quick $20 just for signing up.
Focusing on Legitimate Work from Home Jobs
Why focus on the word "legitimate" when discussing work from home jobs? First, you must be very wary of stay-at-home and work-from-home jobs. Secondly, many job sites and opportunities can be a scam or not deliver precisely what they promise. Many companies tout the perks of working from home and flexible jobs but require expensive training (paid by you) or expensive equipment (paid by you) and then pay much less than what they promise.
So be careful that you only accept legitimate work from home jobs and that you know how to spot a scam so you don't get screwed. Even if you are desperate for money, remember that a good job will pay you to work for them- not the other way around. While many jobs turn out to be scams, the work-from-home model seems to attract more than its fair share of scammers and predatory jobs. So make sure that you do your research and only start a job that you know to be legit.
Some industries lend themselves to the work-from-home model, and they are a great place to look for jobs if you are trying to work from home!
RELATED: How to Make an Extra $1000 a Month – 47 Surprisingly Easy Ways
20 Legitimate Work From Home Jobs You Can Try
1. Virtual Assistant
A virtual assistant is someone who performs remote administrative tasks for clients. Meaning, even without physically reporting at the client's office, the VA or virtual assistant can access the documents needed to perform her role. You can work anywhere, especially from a home office. VAs may handle tasks like bookkeeping, data entry, appointment setting, and so much more.
RELATED: How I Make $75/Hr with My Bookkeeping Side Hustle
2. Graphic Designer
Those who have a knack for design can earn a living out of their passion. Even those who don't master the much-techy design software such as Adobe Illustrator can design through the free and pro accounts of Canva. They can create social media images, printables, ebooks, workbooks, etc. The list can be endless. Graphic design services are highly paid and can be done anywhere if the designer has the tools. A laptop and internet connection are all there is to it.
3. Blogger
Many people who started and grew their blogs are already earning so much these days. However, if you want to reach where your blog income can replace your full-time income, you must also consider it their business and not just a hobby. Being a blogger takes a lot of work, but you can do it from your own home. Are you already a blogger and want to level up your blog? Then, check out the Money Mix Insiders Program and grow your blog from a hobby to a real job!
RELATED: How I Made $36,000 in My 2nd Year of Blogging
4. Freelance Writer
There are a lot of websites and blogs, and they do need writers to publish regular content. But, aside from that, the booming e-commerce industry has also paved the way to open doors for writers to create their product descriptions, email newsletters, sales funnels, Facebook ads copy, and more. As long as the applicants know how to write well and provide writing samples that impress the prospective client, they are good.
5. Social Media Manager
About half of the total global population today spends 144 minutes on social media. So no wonder businesses turn to social media to increase their sales while public figures and advocacy groups reach more people and broaden their influence. That is where social media managers come in. Social media managers are hired to help the social media accounts of their clients grow by regularly posting updates, engaging their pages' fans or group members through the comments, answering messages, and more.
6. Certified Public Accountant
Since CPAs work in a solitary environment, many CPAs are either self-employed or have the option of working from home. For example, you can become a freelance CPA and create your own business, or you can join a large or small public firm and see if they have a work-from-home option.
7. Online Personal Trainer/Fitness Instructor
Despite the pandemic, more people are taking steps to improve their health. Online personal trainers or fitness instructors are happy to assist and monitor the fitness journey of their clients. This job may demand a certification, but it does not necessarily require a degree.
8. Web Developer
If you're desperate for a career change and you love building websites, this can be a rewarding and versatile job for you. A Web Developer is responsible for designing and implementing the websites, web applications, and online stores that people use every day.
9. Coach
Coaching is a kind of service that supports someone towards a goal. For example, you can be a life coach and help clients deal with depression and anxiety. A life coach is responsible for helping clients achieve their personal and professional goals. This includes working with clients to identify and overcome obstacles, set achievable goals, and maintain a positive outlook.
10. Online Teacher/Tutor
It is possible to teach different languages or provide tutorial services for a specific school subject through the internet. In addition, many businesses employ teachers and tutors in a variety of fields.
The Online Teacher is responsible for providing instruction to students in the form of video lessons. This includes delivering engaging and effective lessons that meet the learning objectives and support the student's progress.
11. Transcriptionist
A Transcriptionist will be responsible for accurately transcribing audio or video recordings. This includes transcribing telephone conversations, video conferencing, and other recorded media. You will need a good laptop, good headphones, and probably specific software for this work-from-home job, but once you have the equipment, it has a relatively low barrier of entry. You can read more about good transcription jobs here.
12. Medical Coding and Billing
Medical Coding is the process of assigning a code to a medical diagnosis or procedure, using the International Classification of Diseases (ICD) or another coding system. The code is used for billing, record keeping, and reporting purposes. This field is filled with legitimate work from home jobs, but they require specific training and experience.
13. SEO Specialist
SEO (Search Engine Optimization) Specialist is one of the most in-demand and highly paid online jobs in the market today. Companies understand that social media is not enough to have a thriving online business. Rather, SEO allows any business to be found, especially on Google.
An SEO specialist is responsible for implementing search engine optimization strategies and managing their effectiveness. They work closely with the marketing team to ensure that the website content is optimized for search engines. In addition, they develop a strategy for off-site optimization to help drive traffic to the site.
14. Amazon VA
Amazon store owners are always searching for people to join their team. So if you are keen on providing administrative tasks, this job is for you.
Amazon VAs are responsible for performing tasks and running reports to support Amazon Sellers. VAs may work on various tasks and projects, including Creating, updating, and deleting listings, Sending and responding to customer inquiries, Maintaining customer information, and managing the inventory of products in the Amazon catalog.
15. Cold caller
A cold caller is a telemarketing strategy that helps companies communicate with potential buyers over the phone to promote a new product or service. Usually, companies in the real estate niche use this strategy.
16. Website or Application Tester
Website and application testers review websites and software in detail. We won't need internet savvy because some web and app developers want a random user's perspective. However, subpar reviews, a lack of information, or technical problems may result in denied and unpaid reviews.
17. Data Entry Specialist
General transcription, data mining, and web research are online jobs where data entry specialists can work. To be competent in this career, you must be able to type fast, have a keen eye for detail, and be proficient in using most Office tools.
18. Podcast Editor
Do you listen to podcasts? I'm sure you're wondering how episodes are curated, recorded, and published on Spotify or iTunes. Guess what? You can join the community and offer your services as a Podcast Editor. All you have to do is familiarize yourself with editing software like Audacity, Adobe Audition, Pro Tools, and GarageBand, and you're ready to go.
19. Customer Service Representative
As a work from home customer service representative, your duties are to take customer calls, answer their questions, confirm customer orders, and respond to customer feedback via phone, emails, or chat platforms. Your responsibilities require you to be familiar with the different services and products your company provides.
Work From Home Jobs
Working from home can be a real game-changer for many people. If you really don't want to return to the office, then consider checking out these legitimate work-from-home jobs and start being able to work from the comfort of your own home! Comfy pajamas are optional.
This post originally appeared on Savoteur.
Robyn is a millennial mom with a passion for personal finance. She has her MBA and has been studying Personal Finance on her own for as long as she can remember. She has always been "into" personal finance but got inspired to start her blog after a period of extended unemployment. She says that experience really changed the way she viewed her relationship with money and the importance of accessible personal finance education. Read more at A Dime Saved.