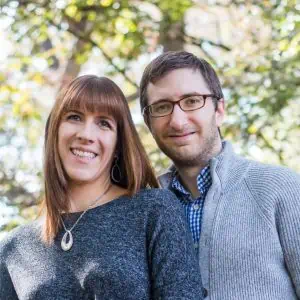 Hey there, welcome to Wealthy Nickel! If you are ready to stop living paycheck to paycheck and take control of your finances, this blog is for you.
About Wealthy Nickel
I have one simple mission here at Wealthy Nickel: to help you fight back against debt and consumerism, and guide you on the path to financial freedom. I promise that if you stick around, you will learn how to get out of the cycle of debt and achieve true wealth (hint: wealth is more than just money).
Whether through learning how to make money through side hustles and investing, earning more money in your career, tips to save money, or to better manage your household budget, anyone can learn how to create a better financial future.
Meet the Founder, Andrew Herrig
My name is Andrew Herrig. I am a 30-something certified financial nerd with a Masters in Economics. In another life I've been a financial analyst and accountant. More importantly, I'm a husband and father of two young kids. I've always been interested in personal finance, and an admitted spreadsheet nerd. But I didn't really put a lot of thought into my financial future until we were planning to have our first child.
I realized I needed to figure out this money thing, and how to provide for my family's future. We wanted my wife to be able to stay home with our kids when they were young, so we needed to figure out how to live on one salary. We had already started dabbling in rental properties and decided to go all-in on this side hustle.
Our First Rental Property
We bought our first rental property in 2013. It was a duplex in foreclosure. It provided an excellent training ground for the (many) mistakes we would make as first-time real estate investors.
You can learn more about our first rental property here.
Since then, we've bought and sold dozens of properties, and have kept a small portfolio of rental houses.
Through hard work (and some luck) we were able to increase our net worth by $1 million in 5 years, and put us on the path to financial freedom and independence.
What's Next?
Since then, I've been on a mission to find other ways to save money, make passive income, and increase our investments.
I also discovered a passion for helping others in their financial journey to escape the paycheck to paycheck cycle and take control of their money. I hope to be able to share my real experiences in achieving financial independence while living on a single income and raising a family, and inspire you to reach your own goals!
What You'll Find on Wealthy Nickel
Wealthy Nickel is all about learning how to make money, save money, and invest money to achieve financial independence.
Some content you will find on Wealthy Nickel:
How to make extra money every month
High-paying career ideas
Side hustle ideas
Budgeting and money basics
Featured Content
Get a taste of the content on Wealthy Nickel:
Wealthy Nickel in the News
Our story or advice has been featured on the following websites:
Find us on MSN | ProvenExpert | NewsBreak | Wealthtender