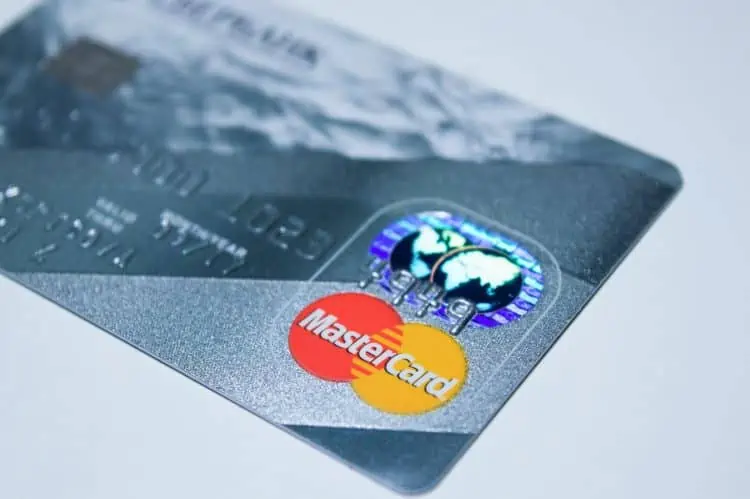 A few years ago, I came to the painful realization that my credit card habits had cost me well over $10,000 up to that point!
No, I didn't carry a balance on my credit card or pay any interest or late fees. I faithfully paid my bill in full every month.
My mistake was in not taking advantage of credit card rewards.
Up until a few years ago, I had just a single credit card in my wallet. I put all of my purchases on that card, and paid it off each month. I was getting something like 0.25% cash back, which arrived at the end of each year as a small statement credit.
We Haven't Paid for a Plane Ticket in 3 Years
Fast forward to today, and my wife and I regularly make $2,000 or more from credit card rewards every year!
Often we cash in our points for free travel to take our family of 4 to see relatives for the holidays and other special occasions. In fact, we haven't paid for a plane ticket in over 4 years thanks to credit card rewards!
So how do we do it? It's really quite simple. Let me share what worked for us, and how it can help you earn extra money too…
Can You Really Earn $2,000+ With Credit Card Rewards?
Everyone's situation is different, and there are so many rewards credit cards out there to choose from. You'll have to decide which cards are best for you, but the good news is almost everyone can benefit!
I would be remiss if I didn't mention a few pre-qualifications before applying for rewards credit cards:
You need to pay off your credit card in full every month. No credit card rewards are worth the interest you will get charged for carrying a balance.
In most cases you'll need good credit to qualify for these cards. If you want a free app to keep track of your credit score, I use and recommend Credit Karma.
With that out of the way, let's get to the credit cards that earn the best rewards in 2020!
Best Credit Cards of 2021
These are the cards my wife and I have used to earn credit card rewards, and we believe they are the best out there. (If we haven't used them yet, they are on our list of cards to apply for next!)
We currently have a balance of over 300,000 points, even after using about 80,000 points to book 4 plane tickets back home to visit family.
Based on our current redemption habits, those 300,000 points are worth:
$3,000 in cold hard cash (1 cent per point)
$4,500+ toward travel (we can usually get about 1.5 cents or more per point when redeemed for travel)
---
BEST CREDIT CARD FOR BEGINNERS –
This was the first card that launched our journey into credit card rewards. A few years ago, we earned 50,000 points by spending $4,000 within the first 3 months. But now the welcome bonus has increased to 60,000 points after spending $4,000 in the first 3 months – that's $750 toward travel when redeemed through Chase Ultimate Rewards!
The Chase Sapphire Preferred® Card comes with a $95 annual fee, but also comes with some great ongoing benefits:
2X points on travel and 3X on dining
1X points on everything else (1 point per dollar spent)
Get 25% more value when redeeming points for travel through the Chase Ultimate Rewards portal
Learn More about the Chase Sapphire Preferred® Card
---
BEST CREDIT CARD FOR BUSINESSES AND SIDE HUSTLERS –
WAIT! If you don't think you qualify for a business card, keep reading – in many cases you can…
Many people think you have to have a large business with hundreds of thousands in revenue, an LLC, and tax ID number to apply for a business credit card, but that's not true. If you have any form of extra income outside of your day job (rental properties, driving for Uber, or even mowing lawns in the summer) you can apply for a business credit card as a sole proprietor (meaning your tax ID is just your social security number).
If you thought the previous card had a stellar welcome bonus, then prepare to be amazed. The Chase Ink Business Preferred® Credit Card comes with a whopping 100,000 point bonus when you spend $8,000 in the first 3 months.
That's $1,250 toward travel through Chase Ultimate Rewards! Or possibly even more if you transfer to one of their points partners. For example, we transferred just under 80,000 points to Southwest, and that paid for 4 plane tickets for our family to travel over Thanksgiving (the cash value of the tickets was over $1,200!)
There is an annual fee of $95, but also some great ongoing bonuses:
3X points up to $150,000 in spending on travel expenses, shipping, cable, internet, phone services, and online advertising
1X points on all other categories
Get 25% more value when redeeming points for travel through the Chase Ultimate Rewards portal
Learn More about the Chase Ink Business Preferred® Credit Card
---
BEST CASH BACK CREDIT CARD FOR BUSINESSES –
If you're looking for a card with no annual fee and just straight cash back, the Chase Ink Business Unlimited® Credit Card might be for you.
With this card, you get $900 bonus cash back after you spend $6,000 within the first 3 months of opening your account. Compared to the other business card above, there are some unique benefits:
There is no annual fee
Get 1.5% cash back on every purchase
Flexible redemption options
Learn More about the Chase Ink Business Unlimited® Credit Card
---
Capital One Venture Rewards – 60,000 Points
BEST CREDIT CARD FOR FREQUENT TRAVELERS –
If you're looking for a card that's all about travel rewards, look no further than the Capital One Venture Rewards Credit Card.
It offers a welcome bonus of 60,000 miles after spending $3,000 within the first 3 months of account opening. There is a $95 annual fee, but it is waived the first year.
After the initial bonus, you get to enjoy the following ongoing travel benefits:
Earn 2X miles on ALL purchases
Get a $100 application fee credit for Global Entry or TSA Pre-Check
No blackout dates on rewards travel and miles will never expire for the life of the account
No foreign transaction fees
---
How We Meet Welcome Bonus Requirements (and Earn 20%+ Cash Back!)
Most of these credit cards offer an initial bonus for spending a $3,000 – $5,000 within the first 3 – 4 months. That may seem like a lot, but we have never run into a problem with not being able to hit a minimum spend.
In our experience, the best way to start earning your way to the welcome bonus is to put all of your normal spending on that one card. If you're like us, you have 6 or 7 (or 15) bills that autopay every month from the same credit card. Just switch it to the new credit card and pay your utility bill, cell phone bill, Netflix subscription, etc. from there.
In a few cases, we've gotten a little bit creative and done things like prepay our car insurance for the next several months. This works on almost all your recurring bills (cell phone, utilities, etc.) Nobody complains if they get paid early!
So What About That 20% Cash Back?
Another way I like to think about credit card rewards (particularly the welcome bonuses) is by the percent cash back I'm getting for every dollar spent. For example, with the Chase Ink Business Preferred, you get 80,000 points after spending $5,000 in the first 3 months. I usually save these points to use for travel because you get better value, so those 80,000 points are worth at a minimum $1,000 toward travel.
So let's do the math…
$1,000 welcome bonus value after spending first $5,000 (20% cash back)
Earn at least 1 point per $1 spent for another 5,000 points worth $62.50 toward travel (1.25% cash back)
Total value toward travel of $1,062.50 on $5,000 of spending – a 21.25% return!
That's 21.25% off every purchase you made with the first $5,000 on the card. Try getting that kind of return on investment in the stock market! Credit card rewards can be a great side hustle by themselves to add an extra $2,000+ to your budget every year.
Heck, we document our credit card reward income in our Extra Income Reports – every little bit helps!
How to Start Earning Credit Card Rewards Today
Free money doesn't really get much simpler than this. As long as you have good credit, there's no reason you can't take advantage of 2020's best credit card rewards offers to earn a little extra cash toward you next vacation, or even putting toward your emergency fund!
If you're brand new to credit card rewards and you have decent credit, I recommend starting with the Chase Sapphire Preferred. It's an all-around good card with an above average bonus, and it lets you get your feet wet and see what all the excitement is about.
If you're looking for a specific type of card not listed above, here are the best of the best in various categories:
What is your credit card rewards strategy? Let me know your story in the comments!
Andrew Herrig is a finance expert and money nerd and the founder of Wealthy Nickel, where he writes about personal finance, side hustles, and entrepreneurship. As an avid real estate investor and owner of multiple businesses, he has a passion for helping others build wealth and shares his own family's journey on his blog.
Andrew holds a Masters of Science in Economics from the University of Texas at Dallas and a Bachelors of Science in Electrical Engineering from Texas A&M University. He has worked as a financial analyst and accountant in many aspects of the financial world.
Andrew's expert financial advice has been featured on CNBC, Entrepreneur, Fox News, GOBankingRates, MSN, and more.