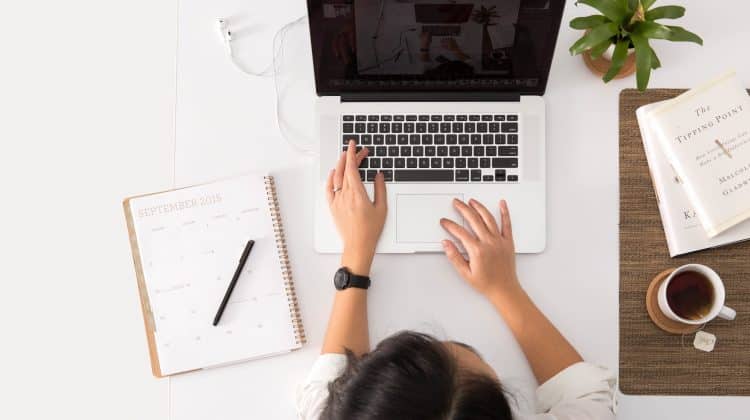 Want to know one of the most profitable jobs that allows you to work from home, set your own hours, and doesn't even require a degree?
Have you ever thought of becoming a bookkeeper?
Did you know that Entrepreneur.com ranked bookkeeping and accounting as the #1 most profitable industry? It's easy to see why with low start up costs, very little equipment or overhead needed, and the huge need from small businesses for high quality bookkeeping and business management.
The icing on the cake is that you can start a bookkeeping business without a degree and with very little experience, as long as you are willing to put in the work to learn how to become a bookkeeper and you have some basic organizational skills and attention to detail.
That's right – in this article, I will show you how to become a bookkeeper from home with no experience, and make upwards of $60 per hour!
I get super excited talking about this topic, because I really believe that bookkeeping is one of the best kept secrets for people who are looking to start a business or just earn some extra income on the side.
My Story:
About a year ago, I was on the fence between starting a blog and starting a bookkeeping business. I wanted to do both, but my wife talked some sense into me and said I had to choose just one.
I ended up starting the blog, but I fully intend to get a bookkeeping business up and running in the next few years as well. (I already do the bookkeeping for our own side hustle businesses and real estate, so I guess technically I'm my own first client!)
But more on my story later…
What Does a Bookkeeper Actually Do?
There is a lot of confusion about what a bookkeeper does, and the difference between a bookkeeper and an accountant.
Many people think that bookkeeping and accounting are the same job, but they are really two different pieces of the financial management of a company.
What Does a Bookkeeper Do?
I like to think of the bookkeeper as the manager of a business' day-to-day financial operations. They work closely with the business owner to keep the financial records clean and up to date, and is in charge of the money going in and out on a daily basis.
Bookkeeping tasks include:
Classifying transactions from bank records
Managing accounts payable (paying bills) and accounts receivable (invoicing customers)
Pulling reports to help the business owner understand the company's financial position
Checking financial records for accuracy and completeness
What Does an Accountant Do?
Most accountants have at least a bachelor's degree and many go on to get a master's or professional designation such as CPA (Certified Public Accountant). Most accountants specialize in a certain area such as tax preparation, auditing, or corporate finance.
They tend to do work at a higher level than bookkeepers and are not involved in the day-to-day operations of the business.
Accounting tasks include:
Preparing tax forms and setting tax strategy
Auditing and reviewing financial reports
Setting up accounting systems to comply with tax and other laws
High level strategic management of a company's finances (think CFO)
The Benefits of Being a Bookkeeper
As you can see, there are lots of differences between bookkeeping and accounting, and there is a need for both roles within a business. But in my personal opinion, there is a real sweet spot in the value that can be added to a business owner by a great bookkeeper.
I don't know if you've ever met a small business entrepreneur, but they are usually big on vision with huge goals, and wear dozens of hats to make that vision happen. What most entrepreneurs are NOT is detail-oriented and interested in the day-to-day activities it takes to keep the business operating smoothly.
A bookkeeper has their pulse on the day-to-day operation of the financials (money coming in and going out). They also have the knowledge to help the business owner really understand their financial position and become their right hand man (or woman) when it comes to running the financial aspects of their business. It is the perfect supporting role for any harried business owner.
Not only are you helping the business owner, there is a lot in it for you, too!
Benefits of Becoming a Bookkeeper:
No degree and no prior experience required
Very low start up costs
You can work from home (or remotely, anywhere you have an internet connection)
By defining a niche you can become an expert and command rates of $60-100 an hour or more!
You are helping entrepreneurs run better businesses while being an entrepreneur yourself
How Much Can You Earn as a Bookkeeper?
According to the Bureau of Labor Statistics, the average hourly wage of a bookkeeper is around $20 per hour. This is about $40,000 per year. But keep in mind this is for a bookkeeper who generally works for a large company in an accounting department with multiple bookkeepers.
Freelance bookkeepers can make three times that amount ($60 per hour!) or more AND have the benefits of owning their own business, working from home, and setting their own hours.
Freelancing also allows you to work with smaller businesses that don't need a full-time bookkeeper, where you can charge higher rates while still providing a much-needed service.
If you further decide to niche down to a certain type of business (such as plumbers, or bloggers, or real estate investors) you can make even more because you have specialized knowledge of their specific industry.
There are so many small business owners that are desperate for help keeping their finances in order. If you can provide that service to them and bring value beyond what they are expecting, the sky is the limit!
Can You Really Become a Bookkeeper Without a Degree or Certification?
Yes! Most entry level bookkeeping positions don't require a degree, though some may want you to have experience or have taken a few classes.
And if you're going the freelancing route (which I highly recommend), then there are no educational or certification requirements at all.
If you are organized and can pay attention to detail, bookkeeping is something you can teach yourself or learn on-the-job.
As you gain experience, there are professional organizations such as AIPB (American Institute of Professional Bookkeepers) that you can join to network with other bookkeepers and keep your skills sharp, but there are no requirements prior to starting your bookkeeping business to be certified or part of a certain organization.
Can You Work from Home as a Bookkeeper?
Because of the internet and online accounting programs such as Quickbooks Online and Xero, becoming a bookkeeper working from home is extremely easy. As long as you have access to the internet, you can work from anywhere remotely.
And the nice thing about bookkeeping is there are not usually bookkeeping emergencies. If you only have a few hours to work during the day, or only a few days a week you can work, you have the flexibility to determine your own schedule. For the most part, you will be communicating with clients via email to ask and answer questions, and provide any needed documentation.
There is really no need to go into the client's office, especially as a freelancing bookkeeper who works for multiple small businesses all over the country.
What If I Have Zero Experience – Can I Learn to Be a Bookkeeper?
Starting with zero experience is not an issue as long as you're willing to learn. There are tons of free resources out there through books or online blogs where you can learn the basics of credits and debits, payroll processing, importing bank feeds, and all the skills you'll need.
If you want to hear the story of someone who started from zero bookkeeping knowledge, I did an interview with a schoolteacher-turned-bookkeeper who was able to quit his job through his bookkeeping side hustle!
The Basics of a Virtual Bookkeeping Business
Getting started making money as a virtual bookkeeper is not as hard as you think.
The key to any successful business is selling a service that provides tremendous value and finding clients that need what you are selling.
One reason I highly recommend niching down to just one industry is so that you can develop expertise in that industry, and target your marketing to the pain points in that industry.
In the beginning, you may not have a lot of experience or connections, but many home-based bookkeepers have had success just announcing to their friends and family that they are starting a bookkeeping business.
You would be surprised how many small business owners you know that are silently struggling with their bookkeeping and desperately need help.
Here are 5 steps for getting your work-from-home bookkeeping business off the ground:
Pick Your Niche. Find an certain industry that interests you and focus on learning more about that niche and how you can serve those clients.
Learn the Bookkeeping Basics. Whether through online resources, books, or in-person classes, you can relatively quickly pick up the basics bookkeeping skills you will need.
Learn the Tools. As a bookkeeper working from home, you will most likely want to focus on cloud-based accounting software. I use and highly recommend Quickbooks Online.
Find Your First Client. Tell your friends and family about what you're doing, set up a website, or market on LinkedIn to your chosen niche. There are lots of ways to find your first client, but it will take some effort and putting yourself out there a bit!
Grow Your Business. Once you find that first client, if you serve them well you will gain great experience and possibly even get referrals to new clients. Continue your marketing efforts, and you can continue to add clients as you go.
How Do I Start My Virtual Bookkeeping Business?
Admittedly, starting a business from the ground up can be hard and sometimes a little scary. And no blog article will ever be able to walk you through the whole process step by step.
I first learned about bookkeeping through my friend Ben Robinson's free video training, where he highlights:
How to find out if bookkeeping is the right fit for your personality
How much you can earn as a bookkeeper from home
The basics of running your business virtually with low overhead
Where to find quality clients
How to get a steady stream of new clients without having to "sell" yourself
I highly recommend watching those videos to find out if bookkeeping is a good fit for you. After watching them myself, I was fired up about the possibilities of starting a bookkeeping business from home and being my own boss.
Ben also has an entire online course called Bookkeeper Launch. The course goes deep and start to finish teaches you step-by-step everything (and I mean everything) you need to know.
Even if you have no bookkeeping experience at all, the course will teach you all the bookkeeping skills you need to know, how to start-up and run your business, how to find clients, and how to make good money doing it.
Ben has now taught over 4,000 bookkeepers how to start their own business, and their average rate is more than $60 an hour!
His students make on average $300 per month per client, and put in 4-5 hours per month supporting them.
But before you go all in and sign up for the class, be sure to take the FREE 3-part training series. You'll learn what a bookkeeper actually does, how to know if it's a good for you, and tips on how to get started on your own.
CLICK HERE FOR FREE TRAINING ON STARTING YOUR BOOKKEEPING BUSINESS FROM HOME
The Bottom Line on How to Become a Bookkeeper
Starting a virtual bookkeeping business from home is a great way to earn money ($60+ per hour). As long as you're willing to learn, you don't even need any experience or a degree to get started.
One of the great things about becoming a bookkeeper from home is you have the flexibility to scale your business to whatever you want it to be. You can take on just a few clients to earn extra money on the side, or ramp up and turn it into a full-time business to support your family.
If you are starting from scratch and want to fast track your success, a course like Bookkeeper Business Launch can help you learn everything you need to know: from the basics of bookkeeping skills 101, to finding clients, to marketing your small business services.
FURTHER READING: Interview With a Bookkeeper – How I Quit My Job and Make $75/hr as a Virtual Bookkeeper
My Personal Story:
The reason I can recommend Bookkeeper Business Launch so strongly is because I signed up and paid for the course myself about 2 years ago. I learned everything I know about bookkeeping there, and I use those skills to do our rental property bookkeeping as well as keep the books for all of our other side hustles.
The surprising value for me was all of the content related to starting and running a successful small business, marketing strategies and tactics, and how to talk to potential leads and turn them into clients.
It was like an Entrepreneurship 101 class and has value way beyond just learning the bookkeeping business. I use the skills I learned in this class every day in all of my various side hustles to make me a better business owner and entrepreneur!
Learn more about Bookkeeper Launch here.
Andrew Herrig is a finance expert and money nerd and the founder of Wealthy Nickel, where he writes about personal finance, side hustles, and entrepreneurship. As an avid real estate investor and owner of multiple businesses, he has a passion for helping others build wealth and shares his own family's journey on his blog.
Andrew holds a Masters of Science in Economics from the University of Texas at Dallas and a Bachelors of Science in Electrical Engineering from Texas A&M University. He has worked as a financial analyst and accountant in many aspects of the financial world.
Andrew's expert financial advice has been featured on CNBC, Entrepreneur, Fox News, GOBankingRates, MSN, and more.