Fall is here! If you are celebrating by pulling out your sweaters and eating all things pumpkin spice, you are marking the season well. If you are in the South and still sweating, I'm sorry. Fall will come soon! Right?
Gourds and mini-pumpkins are my favorite decorating items, so you can imagine I love pumpkin patches. I wait all year long to buy the colorful fall items. True story.
We moved into our new house last October and I made myself wait to buy little pumpkins and gourds until we were in the new house. Before I unpacked boxes or started settling in, I bought handfuls of colorful gourds to decorate our new shelves. Priorities!
If you are looking for pumpkin patches in the Dallas / Fort Worth area to visit this year, there are plenty of places to go. Below is a full roundup of DFW pumpkin patches to choose from. So, sip your pumpkin spice latte and read about all the fall activities in the area.
Where: Dallas Arboretum, 8525 Garland Rd., Dallas, TX
When: September 17 – October 31, 2022
What: 100,000 pumpkins decorate amazing scenes within the theme of 'A Fall Fairy Tale.' Get ready for all the photos ops because the mixture of pumpkins, gourds and squashes are phenomenal. There is a maze for little ones to enjoy. During the week, on every Monday & Tuesday through October 25th, there are Mommy & Me Mondays and Tiny Tot Tuesdays where there is a petting zoo and story time. Be sure to check back at Christmas and into the New Year. The Arboretum has a lot of great activities for kids in Dallas all year round.
Cost: Prices range from $12.00-$20.00
Contact: 214-515-6615
View this post on Instagram
Where: St. James Episcopal Church, 9845 McCree Rd., Dallas, TX
When: October 1 – 31, 2022
What: St. James Episcopal Church fills up their field each year with oversized pumpkins and gourds. You have the chance to take festive photos or face-in-the-hole pictures. And, you know that any purchase benefits St. James' youth group programs.
Cost: Free admission
Contact: 214-348-1345
Where: Dallas Farmers Market, 920 S Harwood Dallas, TX
When: September 17 – October 31, 2022
What: While picking out your fresh produce, you can make a stop for your fall pumpkins. At the Farmers Market, they have more than 25 varieties of pumpkins and gourds to choose from. When you're done, take advantage of your proximity to one of the many Dallas rooftop restaurants to enjoy a meal and the cool fall breeze.
Cost: Free Admission
Contact: 214-664-9110
Where: Preston Trail Farms, 15102 TX-289, Gunter, TX
When: September 17 – November 23, 2022
What: You can make a whole day at the farm. The farm has more than beautiful pumpkins you can pick out. There is a petting barn you can visit and feed the animals. You can get lost in the giant hay maze. You can choose from a hay ride or a train ride. When you get hungry, there is a café on site.
Cost: weekdays $12 per person and weekends $15 per person. On weekdays, admission includes one small pumpkin, feed for petting bard, hayride, roping pen and hay maze
Contact: 972-382-4995
View this post on Instagram
Where: Grove Hill Farms, 5285 FM 1553, Leonard, TX
When: Weekends in October 2022 – Saturdays 10am-6pm and Sundays 1-5pm
What: Admission includes access to the pumpkin patch where you arrive in a wagon pulled by a tractor. The petting zoo is lots of fun with adorable bunnies that you will want to take home. You have your pick of games spread across the field. And get ready to take lots of pictures at arranged photo ops.
Cost: Admission is $10 (2 and under are free)
Contact: 806-778-9417
Where: Blase Family Farm, 1232 E Fork, Rockwall, TX
When: September 24 – October 30, 2022
What: This family run farm has it all. The petting zoo is full with a llama, sheep, donkey and pigs. Hayrides are available to enjoy around the farm. The hay maze is the perfect challenge for little ones. There are pumpkin storyboards that will take you through a walking trail and of course pumpkins in all shapes and sizes to choose from.
Cost: $10 per person (Ages 23 months and younger are free)
Contact: 972-772-3645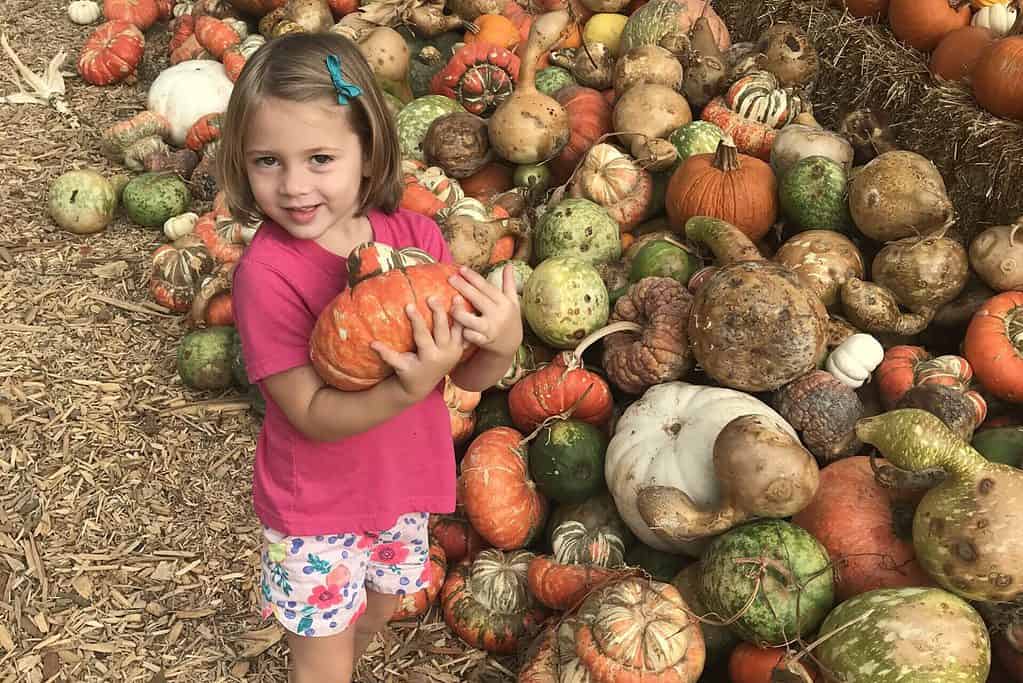 Where: Hall's Pumpkin Farm and Corn Maze, 3420 Hall Johnson Rd., Grapevine, TX
When: September 30 – October 30, 2022
What: You have a wide variety of pumpkins to choose from, everything from cinderellas, gourds, sweet pie pumpkins, big and little pumpkins. The 2 acres of thickly planted corn that is 8-9 ft tall makes the corn maze challenging for all ages. Regular hayrides run about every 30 mins and tickets can be pre-purchased.
Cost: Weekends 12 and up cost $15, ages 4-11 are $10 (3 and under are free) – Cash only
Contact: [email protected]
Where: Flower Mound Pumpkin Patch, 5100 Cross Timbers Rd. Flower Mound, TX
When: October 1 – October 31, 2022
What: There are hundreds of pumpkins ranging in size that you can choose from. All of the fall activities are available from hay rides, a hay bale maze, and even a playground with trains and trucks to play in.
Cost: Admission is $20 per car
Contact: 214-263-2020
Where: Elves Farm, 601 Harvey Ln. Denison, TX
When: Weekends in October, 2022
What: If you are looking for games and activities, this farm has a plethora of options. Some of the activities include GaGa ball, rat roller, sack races, hay jump, hay rides, human foosball, and the maze. And with 100,000 pounds of pumpkins and gourds and Indian corn, you can find exactly the right pumpkin and fall décor you are looking for.
Cost: $15 per person includes all activities and one pumpkin
Contact: 903-463-7260
Where: The Gentle Zoo Pumpkin Patch, 12600 FM2932, Forney, TX
When: October 1-October 31, 2022
What: You can support the North Texas Animal Connections with a one-stop-shop for all of your seasonal decorating needs. All proceeds support the animals who reside at The Gentle Zoo home. So support the animals and choose from pumpkins, squashes, corn, and straw hay.
Cost: $10 for ages 3-12 and $12 for 13 years and older
Contact: 469-834-2857
DFW is loaded with some amazing pumpkin patches to help celebrate the season of fall. And even if you aren't obsessed with pumpkins to decorate your house like I am, there are many other activities to take part in.