KeyBank is one of many reliable banks that you can hold money with. Since they're well established, they've got several branches that you're able to pop into if you ever need to. However, they also have a plethora of online services, which are all incredibly useful. What's most important, though, is that you can spend your money on a debit card, and the setup process is ridiculously accessible, much like Chase bank is with their debit cards. Here we've collected together the four key methods for how to activate a KeyBank debit card so you can choose whichever one is easiest for you.
Call the number supplied by KeyBank and activate your debit card.
To activate your KeyBank debit card, you can use a number of methods. The easiest is to use KeyBank's website, or the URL supplied with your debit card. You can also call the bank's activation hotline on 1-800-KEY2YOU®, or go into a physical branch and have the staff help you activate the card.
In our list below, we're sure there's a way that suits you to activate your KeyBank Debit card:
1. Activate a KeyBank Debit Card Online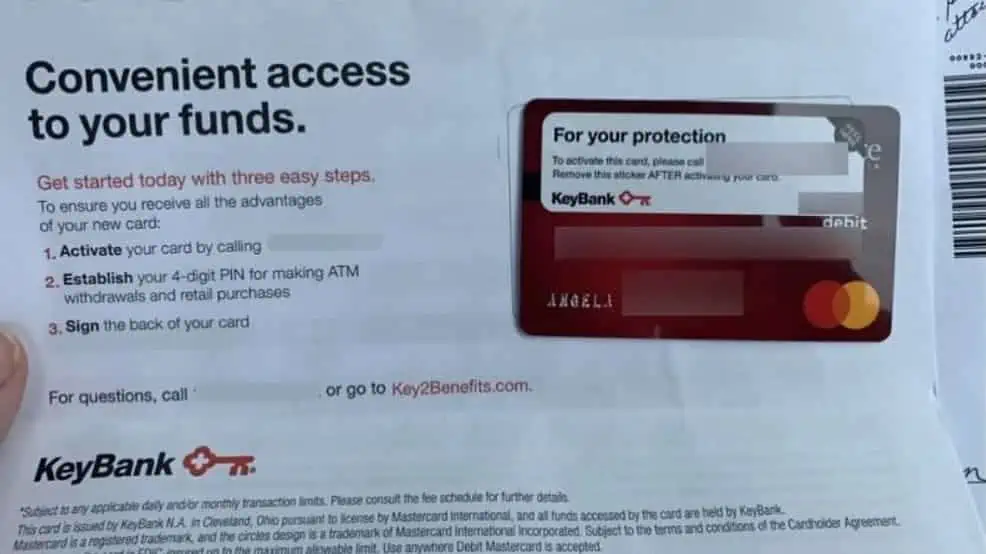 Activating your KeyBank debit card online is definitely the easiest method out of the four we have in this article. To activate online, you'll need to be signed up for online banking.
We know that not everyone will be set up to bank online with KeyBank. Don't worry. It's easy to get set up so that you can activate your debit card online and continue to bank with KeyBank online moving forward. Follow our guide for how to enroll in online banking with KeyBank below.
Sign in to your KeyBank account online. You can get to their website here.
Open the menu, and select "Activate Card."
Follow the prompts to activate your card.
Check your emails for a notification telling you that your card has been activated.
Checking for the email is the most important part of this process. If you aren't, please follow the guide below to enroll.
How to Enroll in Online Banking with KeyBank
Call 1-800-KEY2YOU®. You can call 1-800-539-6338 for the hearing impaired.
You will now need to provide your Social Security Number, email address, and KeyBank account number.
With this information, you will now be enrolled. Now you can log in online and sign into your KeyBank account.
2. Activate a KeyBank Debit Card by Phone
There's an alternative method of activation for those who don't want to use online banking, which you can do over the phone. The number you'll need to call is supplied on the same letter that arrived with your KeyBank debit card.
If you don't have the number to hand, call the bank on this number: 1-866-295-2955.
From here, the process is exactly as we've outlined it above. You'll need your Social Security Number, email address, and KeyBank account number to hand. You'll also need all the details on your card, so make sure you have it in front of you when you call.
Activate a KeyBank Debit Card Using the Hotline
The bank has a dedicated hotline for the situation: 1-800-KEY2YOU®. Through this number, the staff will talk you through the activation of your card. As I've outlined above, please have the bank card and all personal details to hand. The staff will need those details to verify your identity and activate your card.
3. You Can Activate a KeyBank Debit Card in Branch
The third way in which you can activate your BeyBank debit card is by walking into a branch. The helpful staff will be on hand to assist you in getting the card ready to use.
You will need to bring both the card and the PIN that was supplied with it. Usually, the PIN is supplied in a separate letter to the card. However, it may also be the same number that you used with your previous KeyBank debit card.
The KeyBank staff are happy to talk you through the process of activating your card. Once they're finished, you can use it wherever you need to.
Conclusion
Activating your KeyBank debit card is extremely easy. Using any of the four methods above, you can get your card activated within minutes. The easiest way is to use the bank's website, but sometimes that isn't always possible. If you'd prefer, the phone activation method is also quite fast. I'd only recommend visiting a branch if you have literally no other choice though.