Best Buy began as a small hardware business called Sound of Music in 1966. In 1983, the company was renamed Best Buy after expanding its product portfolio to include household appliances and VCRs. With over 1,200 locations in the United States, Best Buy provides two credit card choices to make paying for your shopping easier. If you want to learn how to access Best Buy credit card login, you are in the right place.
You'll need to use your My Best Buy credit card login to pay your bill digitally and using credit cards. Here's how to do it:
Go to the Best Buy credit card registration screen on Citibank's homepage.
Input the following details:

Your credit card number
Your name
The card's security code
Your social security number's last four digits

You may use your login credentials to log in to your Best Buy online account once you've successfully registered with the bank.
Make a note of your checking account information as it might come in handy.
Then, follow the steps on the screen to make the payment and manage your Best Buy account.
You can also use the Best Buy portal for a Best Buy credit card login. Here's how you can use the client portal for managing your account and login.
Visit the portal for Best Buy.
Input your Best Buy email and password.
Click on the sign-in button.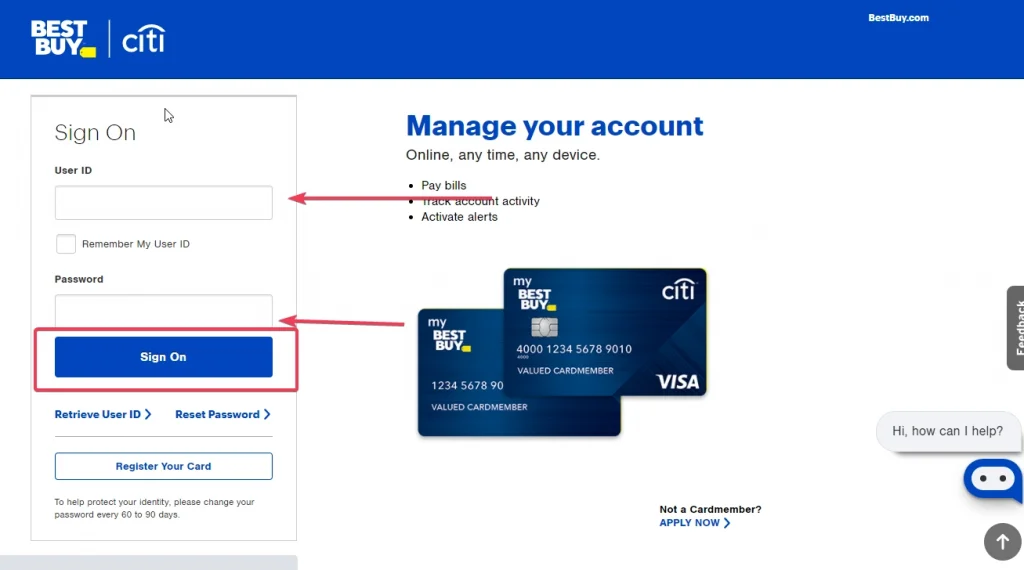 What Are the Best Buy Credit Card Payment Methods?
Best Buy, in conjunction with Citibank, offers two credit card choices.
The first is a store-exclusive variant that only functions at Best Buy.
The second is a Best Buy credit card with a Visa logo that may be used everywhere Visa is acceptable.
Both Best Buy credit card options earn Best Buy Points and provide convenient payments. You can enjoy an easy, and fast Best Buy card login with both cards make payments without issues. The payment method is similar to Citi card payments. You can enjoy Best Buy online payment by logging into the portal as mentioned above. Here are the topmost ways to make payments using Best Buy cards.
If you want to know more about secure and reliable credit card issuers, you can check out the best virtual credit card providers!
Best Buy Payments Via Phone
Citibank's simple automation system makes it possible to make a payment on your Best Buy credit card account over the phone at 888-574-1301. To make payments, you'll need to submit your bank account information, bank routing information, and a certified check. Once you contact the agents and share your details, they will update your account with the new balance.
Best Buy Payments Via Text
Another alternative is to send a text message for Best Buy payment. You may be charged by your cellular company for exchanging messages. Here's how to make a Best Buy payment via text:
From the smartphone associated with your Best Buy account, text PAY to 819641.
You must prove your identity by giving accurate information.
Now, text the sum you'd want to pay and the account information you'll be using to process the payment.
Once verified, you can instantly see the payment in your account.
Best Buy Payments Via Mail (Best Buy Billing Information)
You'll need to submit a check or cash order, alongside your account information, to settle your Best Buy credit card by mail. Based on the sort of Best Buy card you have, you'll need to mail it to a different address.
Best Buy billing address for My Best Buy credit card account is:
My Best Buy Credit Card Payments
P.O. Box 9001007
Louisville, KY 40290-1007
Best Buy billing address for My Best Buy Visa bill is:
My Best Buy Visa Card Payments
P.O. Box 78009
Phoenix, AZ 85062-8009
Use this information if you're sending a late payment on any Best Buy credit card and want it to reach the following morning:
Attn: Consumer Payment Dept.
6716 Grade Lane
Building 9, Suite 910
Louisville, KY 40213
Send the mail to My Best Buy Credit Card Overnight Delivery/Express Payment for credit card transactions. Make your transaction to My Best Buy Visa Credit Card Overnight Delivery/Express Payments for the Visa-branded accounts.
How Can You Reset Best Buy Login Details?
People sometimes forget their credit card details. So, it is not uncommon to want to change or rest your BestBuy credit login. If you do want to change or reset your login details, the process is quite straightforward. Here are the topmost steps to rest your Best Buy login details:
Visit the Citibank online portal.
You will see two options under the "Sign On" button:

Retrieve User ID
Reset Password

Click on either option as desired.
Verify your personal details on the next screen.
That's all.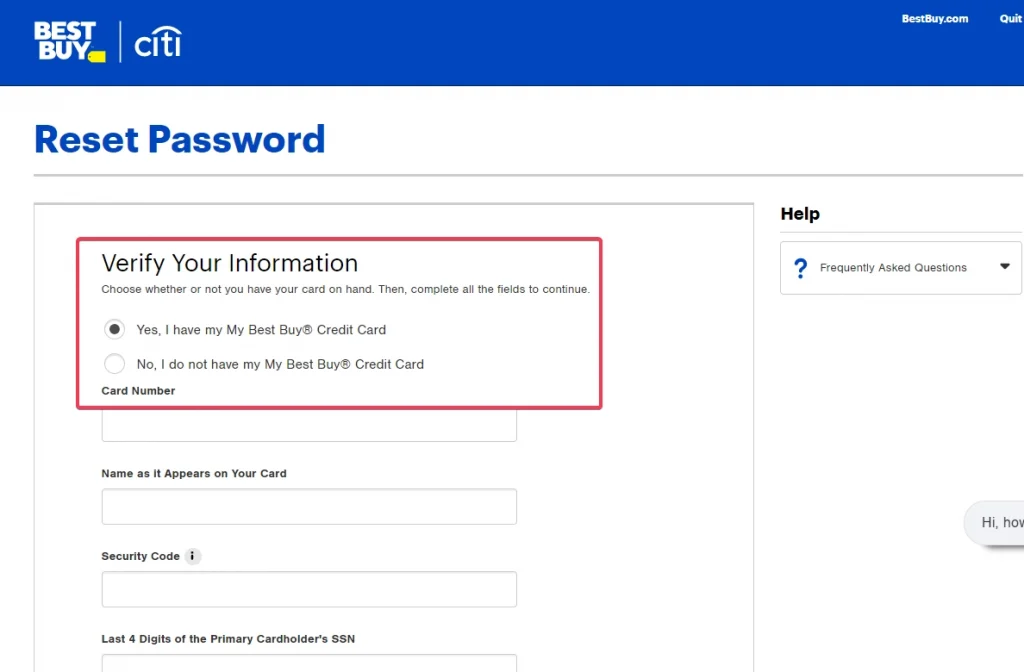 What Should You Know About Best Buy Credit Card Reward Rates?
When you use any of the Best Buy credit cards, you automatically become a member of the My Best Buy shopper rewards program. In that system, all Best Buy incentives are earned as points. You may exchange your points for Best Buy gift cards.
A $5 reward card is earned for every 250 points, providing the points an effective worth of 2 cents each. To claim, you'll need at least 250 rewards. The rewards programs for shopping at Best Buy are the same for all card models. You'll receive:
A massive 5% cashback on all transactions
Repayment solutions that are flexible
The Visa version of the card, on the other hand, goes so much further. Aside from the 5% back at Best Buy, you'll also get:
An amazing 3% back for petrol purchases
2% back on restaurant and shopping transactions
1% back for most common expenditures
You'll get a $5 reward card for every 250 points you collect. If you decide to modify this option explicitly, a certificate will be sent to your mailbox every time you hit 250 points.
What Are Best Buy Credit Card Rates and Flexible Financing?
Now that you understand the process of BestBuy credit card login, it is time for credit card rates and financing options. Best Buy credit cards have adjustable average annual rate interest payments ranging from 23.24% to 27.99% as of June 2021. Fixed rates range from 9% to 24.34% on these cards.
Similarly, Best Buy Visa cards have interest rates ranging from 10.74% to 27.99% and non-variable rates ranging from 9.99% to 20.2%. Only when you apply for a card is it established which card you will receive.
Flexible Financing for big-ticket purchases is among Best Buy's most appealing features. This enables transactions to be made and paid without any interest. Transactions exceeding $299 can now be repaid over a 12-month period with no interest.
If you're confident you'll be able to pay off the whole sum within the allowed time span, this is an extraordinarily fantastic offer. Aside from that, it's a terrible bargain. On any remaining amount, you will be required to pay a higher rate of interest retrospectively for the full offer period. Cash-back benefits are not earned on specific financing options.
Consumers may create and maintain their financial accounts for all Best Buy cards. Card users can change their confidential info, examine purchase history, and check their credit card bills using the online function. In the case of a loss or theft, Visa gives users 0% fraud responsibility. Any lost or stolen card numbers should be immediately reported to the issuer.
What Is Best Buy Special Financing?
Best Buy credit cards provide exceptional financing options on transactions exceeding a specified price level on top of the reward incentive. A customer can pick between a reward option and a special financing choice when making a transaction with a Best Buy credit card.
The latter allows you to pay down your amount over an offer period in a predetermined regular payment. No interest is charged throughout the offer period as long as the customer pays regular payments and maintains excellent credit. Moreover, users of the Best Buy credit card receive a 10% incentive on their first transaction.
What Are Best Buy Credit Card Charges?
The Best Buy credit cards have a $0 yearly fee. Moreover, delinquencies and rejected transactions are subject to a penalty cost of up to $40. On past-due bills, Citibank charges a penalty. Similarly, the rate of interest on a Best Buy credit card is equivalent to the Wall Street Journal's current cost of borrowing + 21.99%.
The adjustable APR for a Best Buy credit card is 25.24%, based on a prime rate of 3.25%. Citibank charges a $2 minimum interest rate. Other than that, you have no yearly charges with these cards.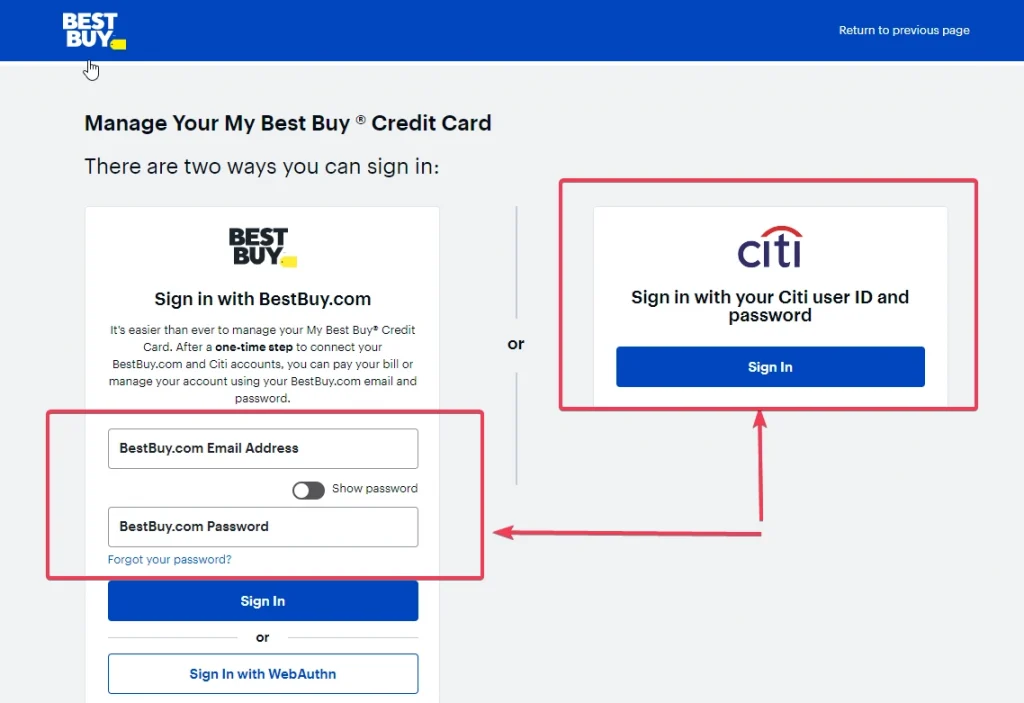 The Crux
Best Buy credit card login is a simple process. You have two options to log into your account and manage everything from one place. Firstly, you can use Citibank online portal that works with all Citibank cards. Secondly, you can also try the new Best Buy customer portal for credit card management.
The choice is dependent upon your preferences. These portals will let you update your account information, reset passwords, and view transaction history on the go. Good Luck!