Sometimes, you just need a little bit of money to get you through to your next payday. A payday loan can come with high-interest rates, but a cash advance is often free with the right apps. If you have bad credit, you may have a harder time qualifying for loans and cash advances. Instead, you need the best cash advance apps for bad credit.
Cash Advance App for Bad Credit
Pros
Cons
Requirements
Albert
Offers up to $250
No late fees
Cash advances up to 3 times per pay period
Instant advances cost $4.99
2 months of direct deposit income with reliable pay schedule bank account balance above $0
Bad Credit Loans
Compare multiple lenders with one application. $500 to $10,000.
—–
No Requirement, everyone can apply and compare rates without any cost or commitment
Cleo
Offers between $20 and $100
Budgeting help
Pick your repayment date
$5.00 monthly subscription fee
Scans spending habits, withdrawals, and missed payments
Dave
Only 2 direct deposits required
Optional tips
Membership fee of $1 per month
Deposit and transaction history for 60 days
Brigit
Offers between $50 and $250
Cash available within 20 minutes for free
Only one advance at a time
Account open for 60 days
Balance greater than $0
3 recurring direct deposits from same employer
Earnin
Borrow up to $500 per pay period
Financial insights
Optional tips to help cover the cost of service
Linked bank account with direct deposit
MoneyLion
Borrow up to $250 or $300
Funds available in as little as 24 to 48 hours
Can take 3 to 8 weeks to be eligible for maximum cash advance
Recurring deposits in bank account (may take 3 to 8 weeks)
If you have been thinking of getting a cash advance, here is what you need to know.
Best Cash Advance Apps for Bad Credit
Everyone runs a little low on funds from time to time. If you have bad credit, it can be harder to get approved for payday loans with low-interest rates. Fortunately, these new cash advance apps can help you in a pinch.
Most of them do not require a credit check, and they can loan you hundreds of dollars from your upcoming paycheck. Learn more about which apps are the best in this breakdown.
Learn more about the best buy now pay later sites with no credit check and instant approval in our complete guide.
Albert
Albert is a great option if you want to borrow more than just $50. They offer a beefy $250 advance on your paycheck which is far more than what some others are willing to provide. Keep in mind that getting your hands on that cash might cost you though. Instant advances will cost you $4.99 or you can wait three business days for free.
How does it work? Their patented Genius software determines when your next paycheck is scheduled to hit your bank account. Your repayment date will be coordinated with its arrival. The money is automatically withdrawn from your account. If you happen to be low on funds, they will simply withdraw as much as they can. They'll continue to withdraw until the debt is repaid.
One of the many benefits of using this service is that they do not issue a credit check to determine who qualifies. There are no late fees and no interest charged on the money borrowed.
Not everyone is going to be deemed eligible though. If you want a cash advance through Albert, you need:
Verifiable income received via direct deposit
Consistent income received over the past two months
A predictable pay schedule (monthly, bi-weekly, weekly)
A bank account balance above $0
The good news is that you can take advantage of a cash advance up to three times per pay period. This applies only as long as you continue receiving steady paychecks and have repaid all of your prior cash advances.
Cleo
If you need help with budgeting and managing your money, Cleo might be just the app you need on your smartphone. This app links up with your bank account to help you create better spending habits. Cleo is a sassy companion that loves a good roast at your expense when she sees how you've been frittering away your last paycheck.
Not only does she help you improve your spending habits, but she can also offer you a small cash advance. This app offers subscription members the opportunity to request a salary advance from $20 to $100.
All you have to do is set up your wallet and link up your bank account. Cleo does not touch the balance you keep in your bank account. She only deposits money into the Cleo wallet when you qualify for a salary advance.
People love working with Cleo because of her interactive nature, but they come back because of her benefits. Unlike payday loans that can charge crazy interest rates, a salary advance from Cleo comes with no additional fees and no interest. All you have to do is pay the $5.00 monthly fee for your subscription.
You get to pick your repayment date with options ranging from 3 to 28 days. You also get to choose when the salary advance is listed in your wallet. You can get funds same day for $3.99 or wait four days for free.
There are no hard and fast rules about who qualifies for a cash advance with Cleo. Her artificial intelligence scans your spending habits, cash withdrawals, and any missed payments to decide if you are worthy of an advance and how much she can give you. If you don't qualify now, she can give you advice on how to qualify in the future.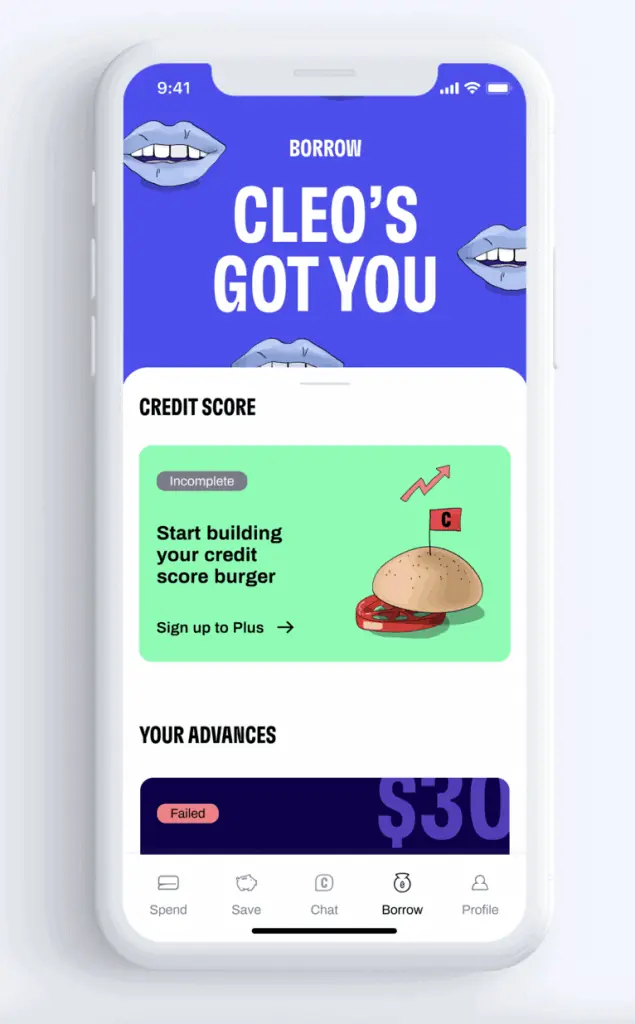 Dave
Dave is another popular option for the best cash advance apps for bad credit. They offer some pretty sizeable advances on your upcoming paycheck with no interest and no credit check. It sounds like a pretty sweet deal, and all you have to do is set up direct deposit or link an external bank account.
If you want to qualify, you need to have had at least two direct deposits sent to your bank account. Because they do not require a credit check, there are some additional requirements you must meet to get an advance. They look at:
Your anticipated income
Payment history for previous advances
Bank account balance
Recent negative balances
Deposit history for at least sixty days
Transaction history for at least sixty days
While you will not be charged interest on the advance, you will have to pay the membership fee of $1 per month. Compared to the rates you would be charged on a payday loan, this small fee can seem like a drop in the bucket.
They do ask you if you want to tip them for their service, but this is completely optional.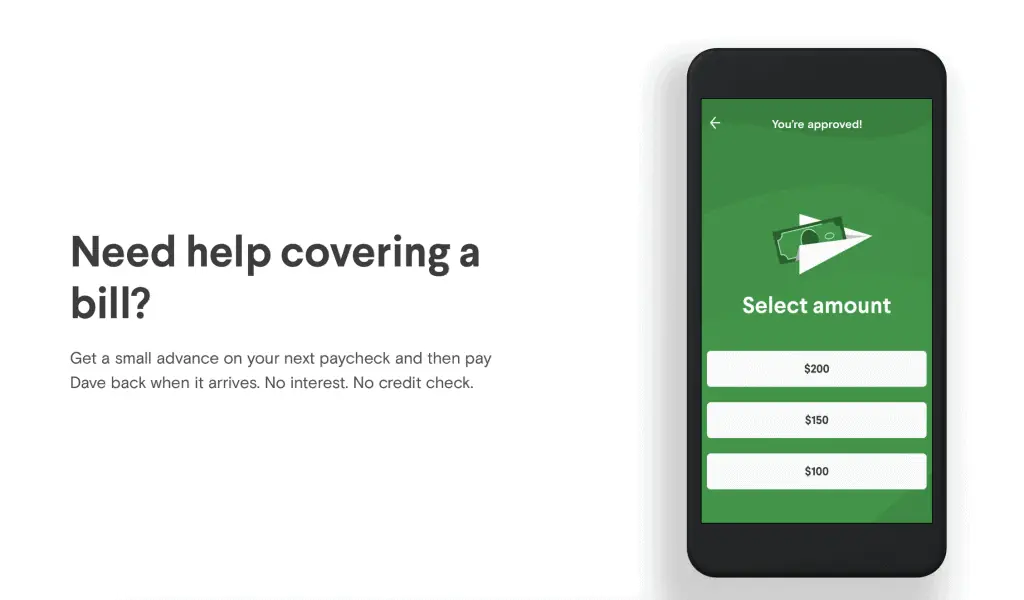 Brigit
Brigit is a great way to access your hard-earned money before your paycheck officially arrives. This is another of the top options for the best cash advance app for bad credit as they do not check your credit to determine if you qualify. Instead, they have their own requirements for earning an advance on your paycheck:
Checking account with sufficient activity
Account must be open for more than 60 days
Balance must be greater than $0
Cash cushion at the end of your payday or the day after your payday
Three recurring direct deposits from the same employer
For those who qualify to borrow funds, Brigit will determine your amount ranging from $50 to $250 based on the information above. They cannot change your maximum amount at this time. You will only be allowed to borrow what they determined is right for you financially.
One of the best features of using Brigit is that you can get your cash within twenty minutes of requesting it – without paying any additional fees! All you have to do is add your debit card associated with your checking account. Note that this feature may not be available for all users just yet, but they are working on it.
You may only get one advance at a time. A new advance cannot be issued until the first one has been completely repaid.
Earnin
Unlike some of the other best cash advance apps for bad credit, Earnin lets you borrow a sizeable amount out of your new paycheck. Earnin allows you to access up to $100 per day and $500 per pay period with no credit check.
They never charge you a fee, though they do allow you to leave a tip for their service. This is completely optional, and you should never feel pressured to leave one if you can't afford it.
This app works directly with your bank account so that they can send your funds via direct deposit. On your payday, they automatically deduct your advances and any tips you might have promised them.
All you need to qualify for their Cash Out advance is to download the app, link your bank account, and make sure you are enrolled in direct deposit. Connecting your bank account to your Earnin app is key to receiving your money quickly and easily.
Much like Cleo, Earnin also helps you to stick to your budget. It may not send you sassy reminders to save your cash, but it does offer some financial insight to you. Another key benefit is the low balance alert. When you have this enabled, it automatically gives you a $100 cash advance when you dip below a certain amount. In turn, this helps you to avoid going into an overdraft.
MoneyLion
MoneyLion is another very popular option for those who have bad credit. They allow you to borrow a cash advance of up to $250 with no credit check required. The good news is that you can increase this account if you have direct deposits placed into a MoneyLion account (known as RoarMoney) or if you take on a credit builder loan. Then, your new maximum will be up to $300.
This app is extremely user-friendly. You can start by downloading it and linking your checking account. You'll hit "Request" and they will determine when your due date should be based on your payday. Usually, it occurs within about two weeks, but they do not charge interest on it.
They start with at least $25 or more. When their algorithm identifies recurring deposits in your external bank account, they will give you at least $50 or up to $250. They do note that it can take roughly three to eight weeks to become eligible for the maximum cash advance.
Funds are available within your RoarMoney account with 24 to 48 hours at no additional cost. If you are sending them to an external checking account, it can take two to five business days.
If you need your money sooner, you can pay a Turbo Fee of $3.99 to receive funds to your RoarMoney account in just minutes. When sent to a debit card within four hours, the Turbo Fee is $4.99.
Other Bad Credit & Personal loans Loans to Apply For
Unfortunately, these cash advance apps are rather limited in how much you can borrow. The maximum amount you will be able to get before your payday is about $500 with Earnin, but the other apps are considerably less. You may want to investigate getting a bad credit loan with one of these companies to help you make the gap between paychecks.
Bad Credit Loans
BadCreditLoans.com is another lender-comparison platform that offers financing options for those who have bad credit. With this program, you can borrow anywhere from $500 to $10,000. This is not as much as you can borrow with other companies, but it is still substantially more than you can borrow with the best cash advance apps for bad credit.
It is clear that BadCreditLoans.com is not actually a lender. Their free service aims to connect each borrower with a lender who can approve them based on their unique profile. Every application gets sent to a wide network of potential lenders so that you can get the best deal possible within minutes.
Once your application has been approved by a lender, you can read through the offer and decide whether it is a good fit for your finances. If so, you can sign it electronically and the funds will be sent to your bank account as soon as the following business day.
To fill out an application, you must:
Be 18 years of age or older with proof of citizenship
Have regular income (full-time employment, self-employment, disability, or social security)
Maintain a checking account in your name
Have a valid email address
Have valid work and home telephone numbers
There is no minimum credit score required to qualify for one of these loans. However, you may face higher interest rates and less favorable terms if you have bad credit.
Personal Loans
If you need more money, Personal Loans should be your first stop for bad credit loans. They offer you between $1,000 and $35,000. Even the most resourceful person knows just how far that money can go. It can help you pay off your rent, cover the cost of an expensive auto repair, and help you fund a major purchase like a new car.
Personal Loans themselves do not actually issue you a loan. Instead, they connect you with a lender in their network or in a third-party network who can supply the loan you're looking for.
You simply fill out their loan request form with the amount you wish to borrow, your credit type, and the loan reason along with your personal information. Personal Loans sends the information to their lenders and partners who decide whether to offer you a loan.
Each loan is going to be unique in the terms and conditions. For most people who receive an offer, their APR will range from 5.99 percent to 35.99 percent. Once you agree to the terms of the loan, the money is typically sent to your bank account within one business day.
Repayment periods will range from 90 days to 72 months.
Their criteria for issuing a loan are not necessarily based on credit. There is no minimum score required to receive a loan, although your credit type is considered. Other criteria include:
Age
Valid social security number
United States citizenship or permanent residency
Regular income of some sort (full-time employment, self-employment, disability, or social security)
Valid checking account
Cash USA
If you are looking for the best loans for bad credit, CashUSA.com is another top contender that you should check with. They function in much the same way as Personal Loans and Bad Credit Loans. You will fill out an application for a loan, and the information will be sent to a network of lenders to determine what you qualify for.
One of the benefits of going with Cash USA is that they offer sizeable loans up to $10,000. They do not mind whether you want to use it to pay for a bill or for a vacation. Whatever you need the money for, they can help connect you with a lender who is willing to work with you.
There is no minimum credit score required, but they do have some stricter criteria to qualify for a loan:
Must be 18 years or older with citizenship or permanent residency
Must earn at least $1,000 per month after taxes
Have a valid checking account in your name
Have a valid email address and phone number
Just because you may meet all the criteria, it does not guarantee you a loan. If you do qualify with one of their lenders, you can sort everything out from the comfort of your couch. They will direct deposit funds into your bank account as soon as the next business day.
Finding the Best Cash Advance Apps for Bad Credit
There are plenty of contenders out there for the best cash advance app for bad credit. While you may have to pay money for a subscription or to receive same-day funds, this is relatively small compared to the APR on a payday loan. Consider signing up with one of these services today!