The landscape of personal finance apps is constantly changing. There are so many choices it is hard to figure out which are the best money apps out there.
In my  quest for the absolute best money apps, I have downloaded dozens and only a few have made the cut to stay on my phone.
I'm always looking for the next best app to try – whether it be related to budgeting, investing, or making money. So I reached out to several expert financial bloggers to bring you the best of the best.
I asked them to give me their absolute favorite money app that they personally use, and they didn't disappoint. Here are their recommendations of the best money apps out there!
Best Money Apps for Budgeting and Money Management
1. Personal Capital
One of my favorite apps is Personal Capital. It is similar to Mint in that it helps your import your bank transactions and keep track of your budget. But it has many more powerful tools to help you manage your investments and track your net worth, all in one easy place.
>>>Try Personal Capital today! Get a $20 bonus when you sign up through this link!
It is also a favorite of a lot of the financial blogging experts I reached out to. Here is what they had to say:
2. Credit Karma
Credit Karma is one of my all time favorite apps. It keeps track of my credit score and the information being reported to the credit bureaus, and alerts me when anything changes.
Like it or not, your credit score is one of the most important things that banks, landlords, and other creditors look at to determine your ability to buy a house, car, or even open a credit card. Making sure you keep an eye on your score is incredibly important in the modern world!
Credit Karma also ranks high for one of my fellow financial experts, here's what he had to say.
3. Mobile Banking Apps
Most banks these days have good apps to help you keep track of your account balances, deposit checks, and transfer money. I use USAA for most of my banking and I LOVE their app. They were one of the first banks to adopt an online-only mentality and tend to stay ahead of the curve on features.
Here's what another blogger had to say about his love affair with mobile banking apps (and Excel – if you can't tell yet, financial bloggers tend to be a bunch of spreadsheet nerds, myself included).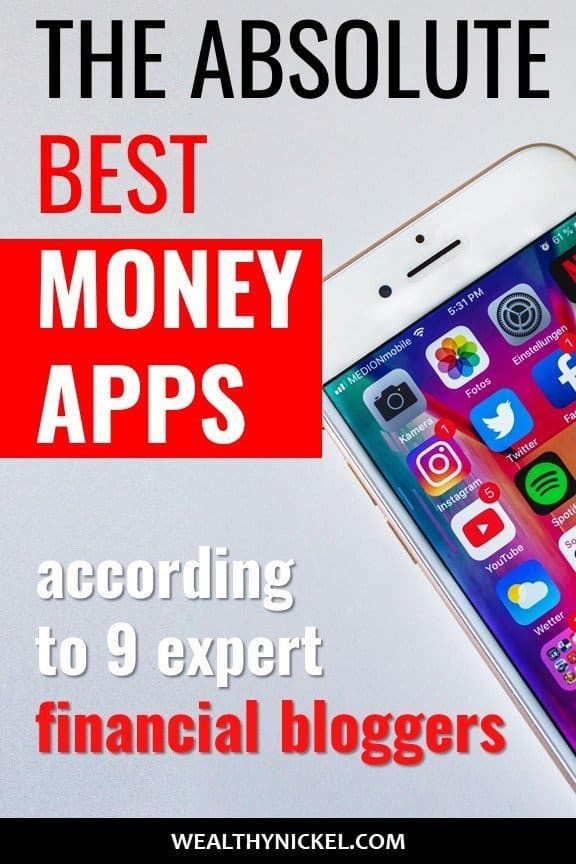 Best Money Apps for Saving Money
1. Trim
Trim is an app that I recently discovered that is actually a bot that resides within Facebook (so no extra app to download – score!) It makes my introverted heart happy because it will negotiation your cable bill and other subscription bills for you and alert you when it has saved you money. I'm all for automatic savings.
>>>Click here to see if Trim can save you money on your bills!
Melissa also found this app useful in her own life, here's what she had to say.
2. Ebates
Ebates is one of my personal favorite money saving apps. There are a million money saving and money making apps out there, and trying to sort through which are worth your time can be a real chore.
My criteria for a good money saving app is that it has to be almost completely passive. I don't want to have to click through the app and look for deals or coupons or do this or that to make extra money.
That is what I love about Ebates. It gives me cash back on almost every online purchase I make (even on Amazon!) Ebates has negotiated deals with almost every major retailer, and you can usually get anywhere from 2-10% cash back.
There is a super simple Google Chrome extension you can install so that when you are shopping online, it will pop-up and remind you how much cash back Ebates offers for that site. If you click the pop-up, it will automatically apply your cash back to the transaction making the process seamless.
Here's a recent example from just a few days ago:
I've been needing a new sweater for awhile now as my favorite one got a hole in it (which my wife keeps reminding me about). I was browsing on Banana Republic, and the Ebates extension alerted me that I could get 8% cash back at Banana Republic. They were also having a 40% off sale at the time, so I ended up getting my sweater for 48% off!
>>>Get a $10 sign-up bonus and cash back on every online purchase now with Ebates!
Best Money Apps for Investing
1. M1 Finance
M1 Finance is app I had heard about, but didn't know much about. So I was excited when one of my favorite financial bloggers picked it as his favorite app. If you have any interest in individual stock investing, but hate the high transaction fees, this app may be a good fit! Here's what Jarek has to say about it.
2. Betterment
If you are new to investing or scared you don't know what you're doing, a "robo-adviser" like Betterment can be a great way to get started. With low fees (currently around 0.25%), Betterment will help you design a portfolio that works for your situation – life stage, risk tolerance, investment objectives, etc.
While you could save a little more money going the do-it-yourself route and picking your own stocks and index funds, Betterment is a great alternative if you want a more hands-off approach. I know several financial bloggers that personally use it and recommend it. Here's what Riley had to say about Betterment.
Best App for Bloggers
Symposium
While not a traditional personal finance app, if you are a blogger or content creator, Symposium is a great platform to create and share your content and experience with others. This is an app that one blogger who is also a financial adviser has been using to reach a wider audience than he could one-on-one. Here's what he had to say.
What Is Your Best Money App?
Thanks to all the financial bloggers that contributing their favorite money apps!
This post only scratched the surface of all the apps out there that could make your financial life easier. Depending on your life stage and situation, you may find some apps work better for you than others. But if you've never explored all the possibilities out there, I hope this gave you a good overview of a few money apps to take a look at.
What is your favorite money app and why? Let me know in the comments!