Care Credit is a great way to help manage overwhelming medical bills. It is accepted at thousands of providers across the country, making it easy to get the care you need without worrying about the immediate cost. If you happen to have a Care Credit card, you need to know how to pay your bill on time. Where can you access the Care Credit card login?
Care Credit is offered by Synchrony Bank, but the login page can be found under the Log In tab on the Care Credit home page. You can also head directly to the log in page. Pay your bill through Synchrony without logging in. Phone payments are another option and can be reached at (866) 893-7864.
If you are ready to get started paying your bill, here is everything you need to know.
Care Credit Card Login
If you have an open Care Credit account, you may be wondering how to go about paying your bill. Most people prefer to manage their payments online. Fortunately, it can be extremely easy to achieve this when you know how to access the Care Credit login page. It all starts by heading over to the Care Credit home page.
You will notice a menu of options that runs across the screen at the very top of the page. Above the main menu, there are three options in the right-hand corner. Select the option all the way at the right, marked as Log In.

Click here and then select Consumer Log In. This will redirect you to the main login page where you can access your account.
Alternatively, you can head directly to this page by following this link.
If you have never used the online portal to pay your bills or access your account, then you may need to first register. This is not done on the Care Credit website. Instead, you will need to head over to the Synchrony page with your information.
They will ask for your account number, the last four digits of your social security number, and your date of birth. You will verify your personal information, set up a username and password, and finally confirm your new account. When finished, you can return to the Care Credit page to log in and pay your bill.
Pay Bill Without Logging In
While accessing the Care Credit Card login is not difficult, you may prefer not to sign in to pay your bill. Maybe you forgot your username and password or you just don't have time to set up your new account. Fortunately, there is another option to pay your bill without the need to sign in or register your account.
From the Care Credit Card login page, you can click Pay as Guest in the green box above the area where you can enter your username. This will redirect you to the Synchrony website to pay your bill.
Keep in mind that you will need all of your personal and Care Credit information to access this section of the site. They will request your card number, the last four digits of your social security number, and your billing zip code to locate your account.
From here, you can simply follow the prompts to make your desired payment. Choose whether you want to pay the minimum amount due, the statement balance, or a custom amount.
For more information on how to finance an iPhone with bad credit, see our other complete guide here.
Pay Care Credit Bill via Phone
Paying online is not always the most convenient means to pay your bills. Whether you have slow internet or your computer has crashed, you should always have a backup plan in mind to pay your Care Credit bill on time. Fortunately, they are easy to reach out to via phone.
Care Credit cardholders can call into customer service at (866) 893-7864.
You may want to note that they are not available 24/7, but they do have pretty flexible hours. There should be plenty of time for you to contact them around your work hours. They are open from 8:00 AM to 12:00 AM (midnight) EST. These hours are valid seven days a week.
This is a great option if you want to speak to a live person before making a payment. They can help answer any questions you may have about your account or statement balance.
Be sure to have all of your payment information handy before you dial in. You may need to access your bank account number and routing number if you plan to pay from a checking account. Having this information at the ready will help to speed up the process.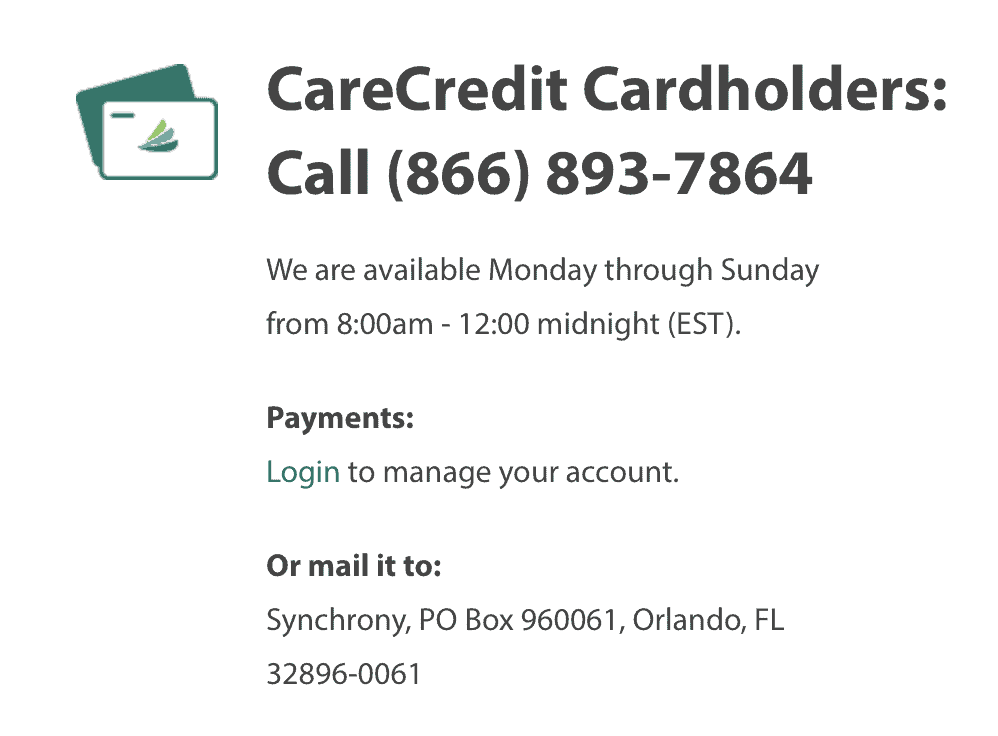 Care Credit Pay by Mail
Sometimes, it is just easier to pay your bill the old-fashioned way by dropping a check in the mail. This is not the fastest way to pay your bill and it does not take effect the same day like a phone or online payment may be able to do. You will need to plan in advance if you intend to pay by mail.
If you are determined to pay your credit card bill with a check in the mail, the address is:
Synchrony
PO Box 960061
Orlando, FL 32896-0061
Plan to mail your payment in at least five to seven days before the due date. This should give it plenty of time to reach its destination and to be processed by Synchrony. Whenever possible, you should mail it earlier than this. Always give it as much time as possible to be processed.
Care Credit Login Information
Whether you plan to set up an account to pay your bill online or want to pay as a guest, you need the Care Credit login information. It is easy to access and pay your bill online, but there are other methods as well. Consider whether you should pay over the phone or by mail instead. No matter what, make sure you pay your bill on time!