Cash App was created by Square, Inc, like a money transfer platform. Yet, in January 2018, Cash App expanded to support Bitcoin trading. Since then, this platform is visited by 8.4 million users every month, and it was even considered one of the hottest payment apps of 2020. In this Cash App review, we'll take a further look at what exactly this app is offering us…
What is Cash App?
Cash app is a peer-to-peer digital payment service. In this platform, you'll have the option to send and receive money to other Cash App users, often used to pay back friends and family in daily activities (ex: dinner, splitting the cost of a trip). In addition, it gives you something called the "Cash Card". Similar to a bank account, you'll have a debit card, which allows you to make purchases using the funds in your account without involving your personal credit card. Since January 2018, the app also allows users to invest their money in stocks and buy and sell Bitcoin with Cash App Bitcoin.
Cash App fees
Cash App charges 3% of the transaction if you use a credit card for payment. However, you can easily avoid paying any fees by using your linked bank account or the existing funds in your account to send payments.
There is no fee for sending cash using a debit card and receivers of cash are not charged any fee. In addition, instant deposits have a fee of 1% to 1.5%, and receiving payments on a business account will incur a 1.5% fee. All the information is below:
| | |
| --- | --- |
| Service | Fee |
| Instant withdrawal | 1.50% |
| Standard withdrawal | Free |
| ATM withdrawal | $2 (reimbursable) |
| Pay by credit card | 3.00% |
| Pay by debit card | Free |
| Pay by bank account | Free |
| Buy/sell Bitcoin | 1.75% (estimated) |
| Buy/sell stocks | Free |
Benefits of Cash App
"Cash boosts" help you save money when using the debit card – users who have the Cash Card can choose a specific "boost" on their account that allows them to save money on a purchase with a particular vendor (ex: 15% Off An Order With DoorDash). You can switch boosts as often as you want, but you can only have 1 activated at a time.
Get Cash Bonus For Friends Who Join Using Your Referral Code – If you send a referral code to your friends and they sign up for Cash App using your link, then both receive a cash bonus. They'll receive $10 to sign up, while you receive $5 per friend who signs up.
Investing Options – With Cash App, you can buy stocks with any amount you feel comfortable to invest. You can buy stocks with the funds in your account. Otherwise, if you don't have enough money on Cash App, the remaining amount will be taken from your linked bank account.
Buying Bitcoin – You can also buy and sell Bitcoin. However, there are fees involved: a service fee for each transaction, and, in some cases, an additional fee determined by price volatility across U.S. exchanges.
Things to Consider
Spending Limits on the Cash Card – You can't spend more than $1,000 on your Cash Card per day or per week. In a month, you can spend a maximum of $1,250.
Withdrawal Limits on Cash Card – The maximum amount that can be withdrawn at an ATM or store register cash-back transaction is $250 per transaction, $250 per day, $1,000 per week, and $1,250 per month.
Funds Aren't FDIC-Insured – As stated before, Cash App can be sometimes compared to a bank, but there are also clear differences. The most important one is the fact that customer's funds, in Cash App, are never transferred or held with Sutton Bank and therefore don't receive FDIC insurance.
Cash App Bitcoin Review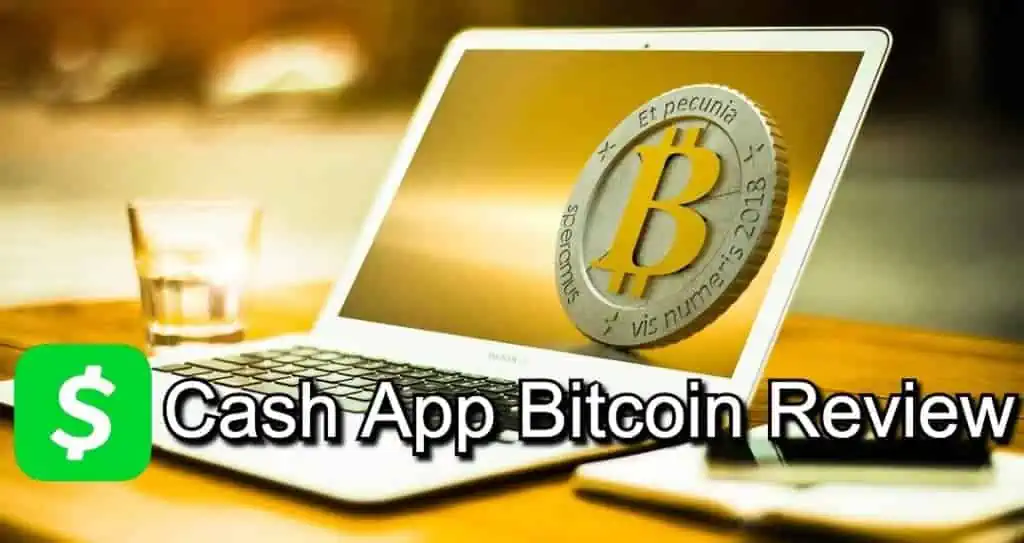 Cash App allows you to buy, sell, trade, and even send Bitcoin either directly through the app or through the web version. You'll have the option to invest in your preferred companies (or Bitcoin) by using the existent funds in your account. Their biggest advantage is the safety and security offered in transactions and their fees. The biggest disadvantage is their withdrawal limit. All in all, it's a convenient way of making payments online without using your actual debit or credit card.
Fees
Cash App will charge you fees when you buy and sell Bitcoin. These fees that you should absolutely go through are listed on the trade confirmation before you complete your transaction. Cash App charges two different kinds of fees for Bitcoin transactions: a service fee for each specific transaction and, depending on the market activity, an additional possible fee determined by price volatility across U.S. exchanges.
Bitcoin purchases and sales made through Cash App are carried out at a mid-market rate that is determined by exchange prices. You can always monitor Bitcoin's price by tapping the "Bitcoin" tab on your Cash App home screen. On average, the fee for buying/selling Bitcoin is 1.75%. To know more about Cash App fees, check the "Cash App Fees" section above, where we show you a chart with all fees included in this app.
Buying Limits
In order to complete a transaction in Cash App, you'll need to have enough funds in your account balance. A "buy" transaction is a sale from Cash App to you. Therefore, to initiate a buy, all you need to do is go to your Cash App home screen. After that, you choose the amount of Bitcoin you wish to acquire, and you confirm it with your PIN. You may also need to insert additional geographic information.
To view your buying limits and progress, tap on the "Banking tab" and scroll down to the "Bitcoin Limits" section. A basic Cash App account has a weekly $250 sending limit and a monthly $1,000 receiving limit. However, your account can be upgraded to a sending limit of $7,500 per week and an unlimited receiving limit. All you need to do is go through a verification process where you will be asked to submit your full legal name, the last four numbers of your social security number, and your date of birth.
In addition, you also have the "Auto-Invest and Recurring Buys" option: You can set up automatic purchases of Bitcoin to occur every day, week, or 2 weeks. There is a $10 minimum for Auto Invest purchases but you'll have the benefit of regularly buying small amounts over time, which is referred to as dollar-cost averaging in investment strategy. This will be perfect for you if you're thinking long-term, as you will significantly reduce the impact of volatility on your purchases.
Cash App Supported Countries
Cash App is yet to work on a global scale. Since 2018, this app became available for users who live in the United Kingdom as well. At this moment, this service is only available in the US and UK. In the past, you couldn't send money between the two countries though, but all of that changed with the recent Cash App's International Payments update.
In other words, you can now send or request Cash App payments with friends located in the UK. When you send a payment outside the US, Cash App will convert the payment from USD to GBP based on the mid-market exchange rate at the time the payment is created and your recipient will receive the funds in GBP. There are no fees to send or request payments with friends in the UK.
Cash App vs Exchanges
Cash App vs Robinhood
Robinhood has lower costs than Cash App and it focuses mostly on trading cryptocurrencies. If you're looking for a cryptocurrency brokerage, Robinhood should be your choice. However, compared to Robinhood, Cash App has a better customer support and a better overall reputation (see the April 2nd, 2020 Robinhood glitch).
Cash App vs Binance
Binance definitely has a better usage fee. Compared to Cash App, Binance also has better popularity and reputation. Still, there's a crucial point between the two that makes a big difference in UX: Binance doesn't support fiat currencies. In other words, you need to buy cryptocurrencies elsewhere then transfer them to Binance to be able to use them. You don't need to do this in Cash App.
Cash App vs Gemini
Compared to Cash App, Gemini has better limit orders and lower costs. In addition, their platform is more focused on advanced traders. If you live in the US and want to go into trading on an advanced level, Gemini should be the option for you. Cash App has a better reputation though. If you search reviews for both platforms, you'll see Cash App has an overall more positive track record.
Cash App vs Coinbase
Both apps are very easy to set up and verify with great UX. In Cash App, it is easier to immediately lock in the price and withdraw quickly once it's verified. Plus, Coinbase has several bad reviews that Cash App doesn't. In fact, Coinbase has upset some of the Bitcoin community for allegedly supporting scams and insider trading.
FAQ
Is Cash App Safe?
Cash App encrypts all financial transactions and encourages you to protect your account with 2-factor authentication and biometrics. Furthermore, it monitors accounts for fraudulent activity and is responsible for millions of transactions a year.
Cash App is PCI Data Security Standard Level 1 compliant, which is the highest level of data compliance in the payment industry. For additional security, you should take advantage of Cash App's Security Lock feature, your phone's Face ID, and the Touch ID authorization processes. Your payment information is encrypted and sent securely to their servers whether you're using public or private Wi-Fi or data services such as 3G, 4G, and EDGE. If you want to know more about Cash App's security, click here.
Important advice: Your account is only as safe as you allow it to be! Never give out your password or send money through Cash App to people you don't know. Keep your account safe at all times.
How do I get my money out of Cash App?
To cash out on Cash App, head over to the "My Cash" section by tapping the dollar amount in the middle of your screen. Tap the "Cash Out" button on the left, underneath your balance. All you have to do next is choose the amount that you want to transfer to your bank.
How long does it take to withdraw my Bitcoin from Cash app?
You must have a balance of at least 0.0001 Bitcoin to make a withdrawal. You can withdraw up to $2,000 worth of Bitcoin every 24 hours and up to $5,000 within any 7-day period. Transfers to external wallets usually take between 30–40 minutes but can take longer.
Can I keep my Bitcoins on Cash app?
Cash App is a crypto wallet app. For that reason, it is possible to hold Bitcoin there but it's not advised. Like any other crypto wallet app, it works more as an exchange rather than a wallet, and leaving funds on an exchange can be very dangerous due to how vulnerable exchanges are to hacks.
Conclusion
Cash App is very similar to other person-to-person payment networks. It's safe and secure and of great use when shopping online or making payments online without using your actual debit or credit card. To find more about Cash App, click here.
We always encourage you to research other options and see for yourself what the market offers. If you find the fees unreasonable and want a money transfer platform that doesn't have any, they most do certainly exist! In conclusion, it all depends on your personal preference and the amount of importance you place on certain features.