If you have a Citibank credit card, you might be wondering how you can go about paying your bill online. Many people prefer this payment method because it is quick and easy. It gives them complete control over when their bill is paid and how much should go toward their statement balance. However, you first need to know where to find the Citi card login.
The Citi card login can be found on the main homepage on the right-hand side of your screen. Once you log in, you can click Make a Payment to be guided through a series of prompts that will help you make your next payment.
Learn more about the Citibank card login and how to pay your bill online here.
Citi Card Login
Paying your bill online is a fast and easy way to ensure that your money gets to where it needs to go on time. Most places and credit card companies now offer online portals where you can manage your card and statements. Citibank is no exception to this, but you need to know where to turn for the Citi card login.
The Citibank credit card login is easy to find on their homepage. It is located on the right-hand side of the screen beneath the menu bar.

If you have never logged into the portal before, you will first need to set up online access. This will give you the ability to manage your account online. You will need just a few important details to get started.
First, you will need your credit card number or your bank account number that they sent to you in the mail. Alternatively, they may have given you this information in person when your account was opened.
From here, they will ask you to verify your identity. You will create a username and password that you will use to access your account moving forward. When all of this has been completed, they will confirm your new online account and redirect you back to the Citi credit card login.
How to Pay Your Bill Online
Once you are signed in to your account through the Citi Bank credit card login, you might be wondering how to go about making an actual payment on your card. Fortunately, this is an extremely easy process that will take just a few minutes of your time.
From the home screen, you will see a list of all the available credit cards you have open. It will show you your current balance, the last statement balance, and the minimum payment due on your due date.
To the right of each card is blue text that says "Make a Payment." Click here.

You will be taken to a new screen that gives you an option for how much you want to pay. Your options are:
Minimum payment due
Remaining last statement balance
Current balance
Custom amount
After you finish, click continue at the bottom of the screen. It will redirect you to a new screen where you can verify your payment details. Review the information here carefully, as it will be processed once you finish. If everything looks good, then click Pay in the blue button near the bottom of the screen.
If you need help locating the Sears credit card login, we have another complete guide here.
Paying Your Citi Bill through the Mobile App
If you are already set up with an online account, then you may prefer the convenience of paying your upcoming bill directly from your smartphone. Begin by downloading the Citibank app from the Google Play Store or the App Store.
When the app is ready to be opened, enter your login credentials and sign in.
Much like the screen you will see online, you will be shown a list of all your available credit cards. Select the one you are interested in paying.
You will be shown a screen that includes your current balance, payment due date, and the minimum amount due. Toward the bottom of the white box, you will see an option to tap "Make a Payment."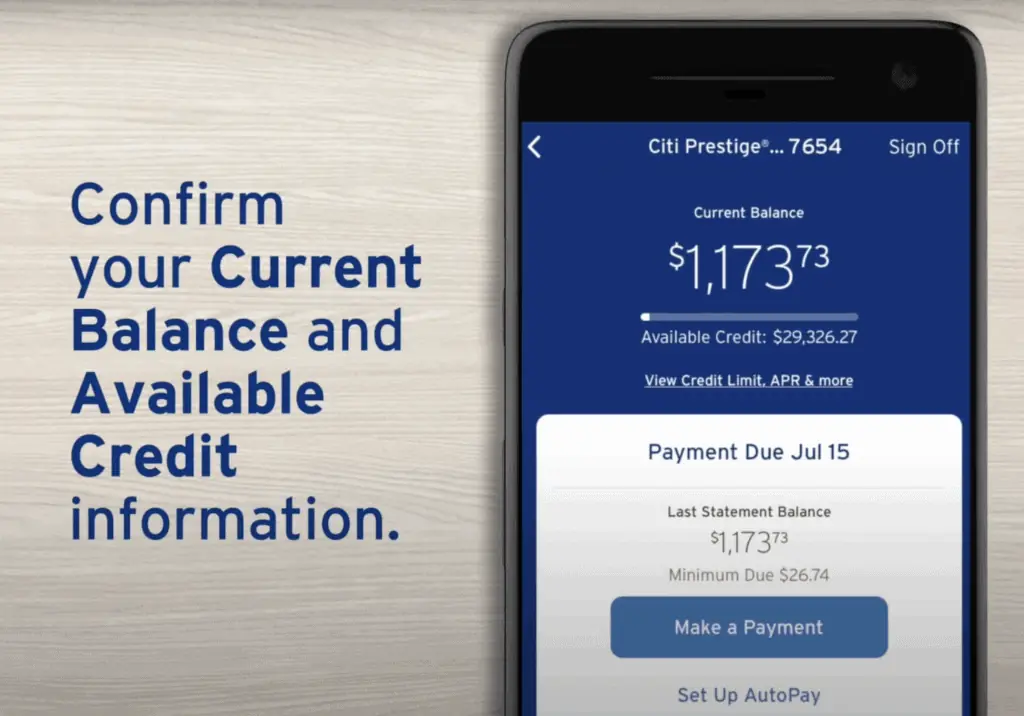 From here, all you have to do is follow the prompts to set up your bill pay.
You can choose to make a one-time payment or set up autopay. If you want to set up autopay so that you don't have to think about this month after month, there is an option to tap "Set Up Autopay" directly under the blue payment button. Click here and follow the prompts.
Citi Card Login: Easy Ways to Pay Your Bill
The good news is that paying your Citibank credit card online is both fast and easy. It takes just a few clicks of the mouse or taps on the screen to accomplish this chore. All you need to know is how to access the Citi card login and enter your payment details!