Discord is a popular platform for voice, video, and text chat functions. By signing up for a Discord Nitro subscription, you can enhance your experience with perks like better emojis, a personal profile, and bigger uploads. The real problem that many people encounter is how to pay for these services. You need a credit card that works with Discord.
Discord accepts all Visa credit cards and other credit card logos. They do not accept gift cards or ATM-only bank debit cards. You may also pay with a PayPal account if your account is linked to a valid credit card or checking account.
| | |
| --- | --- |
| Payment Method | Accepted by Discord? |
| Visa Gift Card | No |
| Prepaid Card | No |
| Debit Cards | Yes, but not ATM-only debit cards |
| Apply Pay | No |
| Vanilla Gift Card | No |
| PayPal | Yes, with linked bank account or credit card |
| American Express | Yes |
To learn more about the different credit cards accepted by Discord, here is everything you need to know.
Credit Card that Works with Discord
If you want to sign up for a subscription service with Discord, you need to have a credit card that works. This can get confusing for many people who are trying to get to the bottom of exactly what type of card they need to set up a payment option. There is good news though: Discord accepts almost all credit cards.
As long as your card has a valid credit card logo, such as Visa or American Express, you can use it to pay your bill. You can use both credit and debit cards, though there are some restrictions with using a debit card. 
Debit cards cannot be used if they are exclusively ATM-only bank debit cards. They must be able to be used for online transactions in order to work with Discord. If you cannot use your debit card to make actual purchases, it is not a card that works with Discord.
The other exception to this rule is gift cards. Many people receive Visa gift cards that advertise that you can spend them anywhere. Unfortunately, this is not true when it comes to finding a credit card that works with Discord. They do not accept any type of gift cards, even if they do have a Visa or MasterCard logo on them.
To try adding a payment method to your account, head over to user settings. Under the Billing tab, you can select Add Payment Method. You will select the Credit Card option and input your credit or debit card information.
This should help you to determine whether your credit card is one that will work with Discord.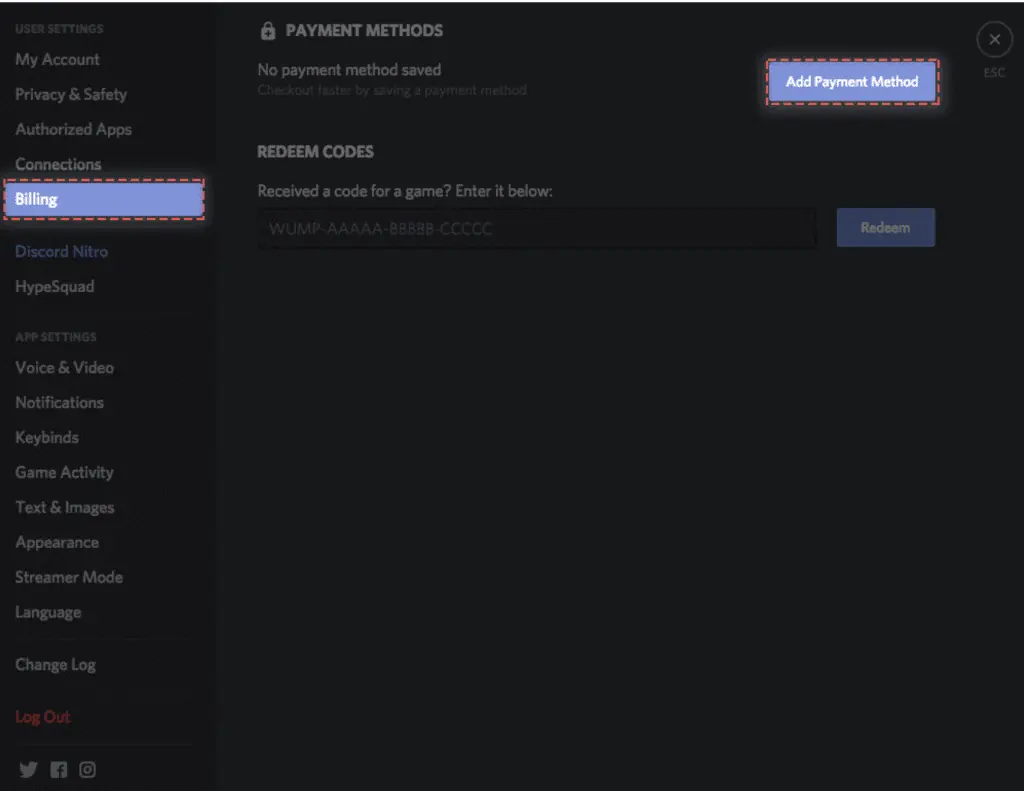 For information on how to use your Cash App card for free, we have another complete guide here!
All Discord Payment Methods
If you do not have a credit or debit card handy, you may also be able to pay another way. This may take a bit more time to set up if you don't already have a PayPal account. However, it can be quite convenient to link your PayPal account to your Discord account if you are already set up.
The only catch is that your PayPal balance must link to your checking account or a credit card. This is the only way that PayPal payments will be supported through Discord.
The method to add your PayPal account is very similar to adding a credit card. Here are the steps you will need to follow:
Under user settings, you can head to the Billing tab.
Click Add a New Payment Method. You will see two options: credit card or PayPal.
Select PayPal and follow the prompts to set up your new payment method.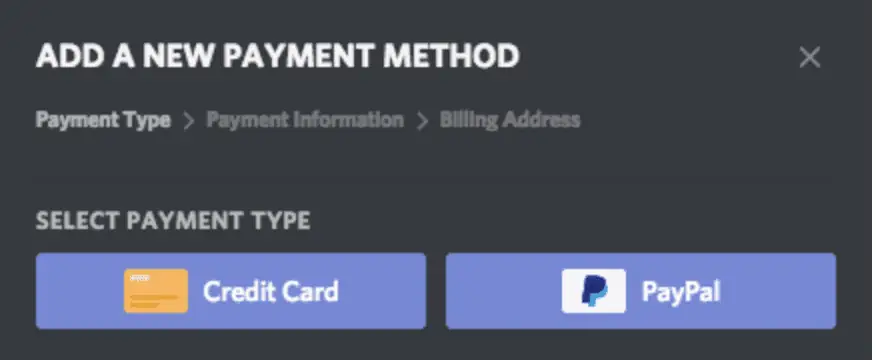 In the end, you will need to have a valid checking account or credit card to use this method as they must be linked. It can be convenient to use your PayPal account if you don't have your card around when you sign up. However, you will still need that information linked to your account if you want to use Discord subscriptions.
Finding a Credit Card that Works with Discord
The good news is that there are many different credit cards that work with Discord. As long as it is a major credit or debit card, you should be able to use it. Steer clear of ATM-only debit cards and gift cards. You may also be able to link a PayPal account under certain circumstances. This information should help you to sign up for a subscription service today!