The Discover Card offers a variety of different credit cards that might have some financial benefit to you such as earning rewards points. They have a lot of different financial services to offer their customers. Where do you go for the Discover Card login to pay your bill?
The Discover Card login is found on their main page. After logging in, you can select Make a Payment from the home screen. You can also call into their customer service number to make a payment at 1-800-347-2683 for no additional fee.
If you are ready to pay your bill, here is everything you need to know.
Discover Card Login
For many people, paying their bills online is the easiest and most convenient way to take care of their financial obligations. Companies recognize this and make it as easy as possible to pay your bill online. The Discover Card is no exception to this with a useful online login that makes paying your bill a breeze.
You can start by heading over to their main page to login.
If this is your first time logging in, you will need to first register your account. Have your credit card handy as you will need the 16-digit card number and the expiration date. You will also need details about the primary cardmember including their birthday and the last four digits of their social security number.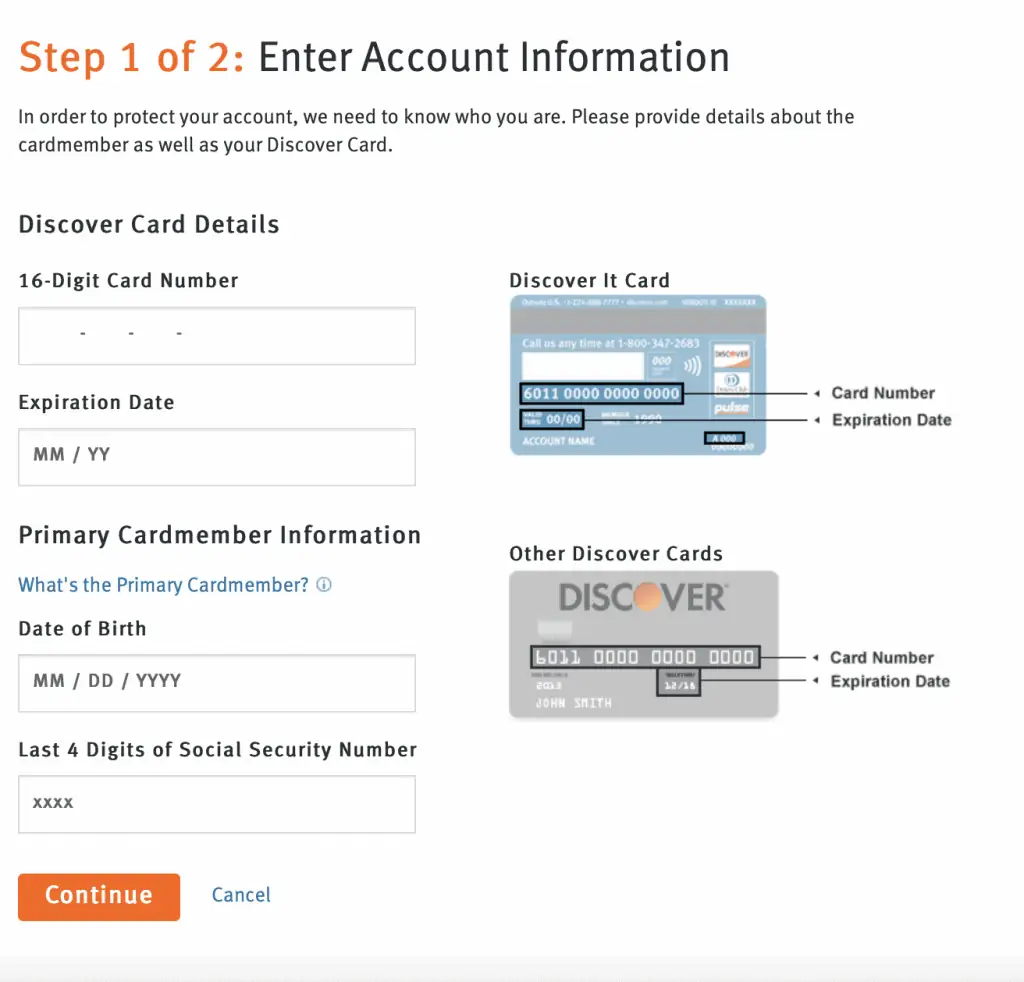 Once you have all of these details available, the rest of the registration process can occur rather smoothly.
Log into your account and select the "Make a Payment" button. Clicking here will redirect you to another page where you can make decisions about your credit card bill.
From here, you will enter the amount you want to pay (minimum balance, statement balance, or a custom number). You can update your bank account information here to withdraw those funds from the appropriate account. Click "Submit Payment" when you finish with all of the above.
Paying Your Discover Card by Phone
If you are having a hard time with the Discover login, you may want to pay your credit card by phone to avoid a late fee. You can pay the bill anytime by calling their 1-800 number. The good news is that there are no convenience fees charged for paying this way as there are with some other major credit cards.
The phone number to call is 1-800-DISCOVER (1-800-347-2683).
They state that you can call this number at any time to pay your outstanding bill. There are no specific hours that you must call between.

Discover Card Payment Address
Despite the convenience of paying your bill online, many people still prefer to mail a paper check at the end of the month. Knowing where and how to send this check is important if you want your bill payment to end up at the right location.
Checks can be mailed to the address on the payment coupon at the bottom of the statement. If you cannot find this address, you can mail the check to:
Discover Financial Services
P.O. Box 6103
Carol Stream, Illinois 60197-6103
There are a few things you need to remember if you want to pay your bill via mail. First, cash is never an accepted form of payment. You must pay with a personal check, cashier's check, or money order. Fill in your account number on the memo line.
Always include the payment coupon found at the bottom of your credit card statement.
Keep in mind that sending your check in the mail is slower than an online or over-the-phone payment. Always allow at least seven to ten days for the check to reach Discover. This means that you may have to pay using another method if you are too close to the due date.
Discover Bill Pay
Do you earn rewards points with your Discover card? If so, you might want to maximize the points you earn by spending more on your card. One way to do this is to enroll in Automatic Bill Pay to have your service providers bill you using your Discover Card.
There is absolutely no fee for enrolling in Discover Automatic Bill Pay.
You can easily pay all sorts of bills with this payment method including:
Internet
Cell phone
Cable
Utilities
Student loans
Insurance
Unfortunately, setting up this feature can be quite time-consuming. It is not something that can be done through the Discover Card login. Instead, you must contact each service provider individually and enroll in their bill pay using your Discover Card information.
Before you start, you need your biller account number, your Discover card number and expiration date, and the amount you want charged. You also need to mark whether it is a one-time or a recurring payment.
Enrolling in this program can make it easier to pay your bills on time without having to give it a second thought.
Learn more about how to add cash to the Cash App in our complete guide.
Finding the Discover Card Login
Finding the Discover Card login is relatively easy if you know where to look on their main page. Their website has all of the information you need to sign in, pay your bill, or contact their customer service department. Get started with online bill pay today!