Walmart has become the ultimate superstore for all your daily shopping requirements. Walmart also accepts majority payment options. So, you might be wondering, "does Walmart take Apple Pay?" The answer is No. Walmart does not accept Apple Pay for digital or in-store transactions. However, you may pay using Walmart Pay or Venmo.
Right now, Walmart does not take Apple Pay online or in-store but that does not mean you cannot use an Apple device to pay at Walmart. There are other mobile applications they accept, such as Venmo or Walmart Pay and you can connect your credit card, debit card, or prepaid to any of those apps.
Walmart Pay works with major modes of payment, such as debit cards, Walmart Gift Cards, and prepaid cards, much as other digital payments. That doesn't rule out the possibility of paying using your iPhone at Walmart. The Walmart app may be downloaded and used to pay using your iPhone at Walmart online or in-store. After that, you can connect your prepaid cards and use the touch-free pay to checkout feature.
Does Walmart Take Apple Pay?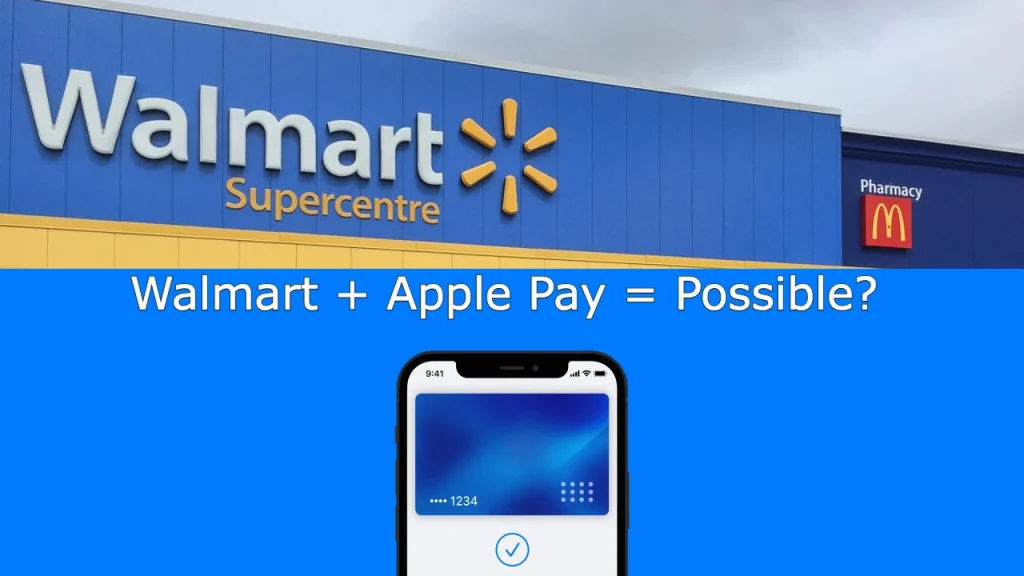 No. Walmart, however, does not accept Apple Pay at any of its stores these days. That means you won't be able to pay with Apple Pay to the cashier or at the self-checkout station.
However, Walmart employs its own digital payment system, Walmart Pay. At its stores, this allows for cashless transactions. So, if you want to pay in Walmart stores or online at Walmat.com with your iPhone, you'll need to download and utilize the Walmart Pay smartphone application.
You can transfer money from Apple Pay to your Venmo Account and go about it that way as well.
Other cashless payment technologies that conduct touch-free purchases at checkout using Near Field Communication (NFC). Walmart, on the other hand, uses QR codes. You may connect major debit/credit cards with microchips and Walmart gift cards to pay touchless by scanning a QR code at the cashier station, just as other digital payment systems.
Walmart's refusal to accept Apple Pay and other cashless payment systems is primarily motivated by the retailer's effort to advance its digital payment wallet. Walmart does not wish to pay the processing costs that other cashless payment firms charge. However, Walmart allows a variety of payment options, such as:
Pre-printed checks
Visa
MasterCard
AmEx Cards
Payment Orders
ATM and Debit Cards
Walmart MoneyCard
Walmart Gift Cards
SNAP Food Stamps
So, if you are still wondering, "does Walmart accept Apple Pay?" the answer is no. Apple Pay isn't available in-store right now. You may, however, utilize Walmart Pay or Venmo. Apple Pay processes in-store purchases using NFC technology. Similarly, Walmart's payment method supports touch-free shopping with QR-based technologies.
Walmart Pay is the company's own digital payment app. Walmart prefers that customers utilize it over third-party applications. It's also Walmart's way of avoiding processing costs, which may eat into the company's already-thin profitability.
How Can I Pay at Walmart Using Apple Pay?
Can you use Apple Pay at Walmart? This payment option is not accepted at Walmart. Does this mean you won't be able to make cashless transactions at Walmart with your iPhone? Certainly not. There is a workaround. Fortunately, the Walmart Pay app is compatible with both iOS and Android smartphones.
Therefore, you may use Walmart Pay to make purchases both in-store and digitally. The Walmart app is available for download and installation. Then, at the supermarket checkout, you may link your bank account, debit and credit cards, Walmart gift cards, and prepayment cards to make cashless transactions. So, can you use an iPhone to pay at Walmart? Yes, you can.
How Does Walmart Pay App Work?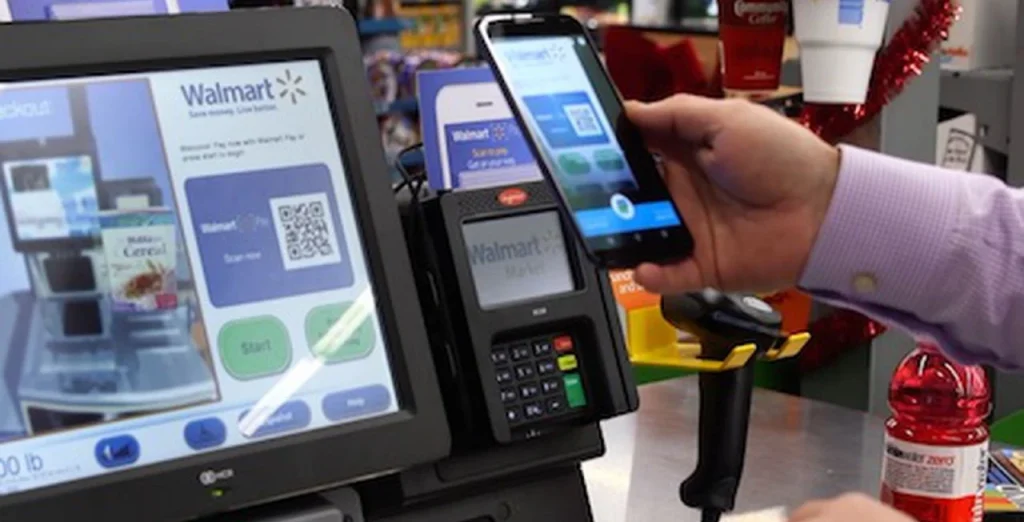 Does Walmart take Apple Pay? No. However, Walmart Pay is the retailer's own digital payment system. The Walmart mobile wallet differs from other digital payments such as Google Wallet and Android Pay in two ways. Let's take a look at these variables to have a better understanding of the Walmart Pay App.
Only Compatible with Walmart Stores
Walmart Pay is exclusively available at Walmart shops. Walmart Pay is not like all the other digital wallets that operate with several stores. It is exclusive to Walmart users. As a result, you won't be able to use Walmart Pay to shop at Boots, Tesco, Aldi, or other stores. Similarly, the Walmart Pay app doesn't even work for Walmart-owned firms, such as Jet.com, Bare Necessities, Bonobos, and Hayneedle.
Different Payment Technology
NFC-based technologies are used by Google Wallet, Apple Pay, and other firms to handle contactless payments. However, Walmart Pay supports touch-free payment with QR-based functionality.
You may attach acceptable debit/credit cards and Walmart gift cards to your Walmart app, just like you can with other digital payment applications. As a result, you may make safe contactless payments at self-checkout and cashier lanes.
It adds an additional level of protection to your funds. You can use your debit card without a PIN after the payment systems have properly connected. It's an excellent technique to protect yourself from a PINless debit card scam. This is where a thief would try to take advantage of a hijacked payment card.
Why Doesn't Walmart Take Apple Pay?
Does Walmart do Apple Pay? No. Modern cashless digital payment systems such as Apple Pay, Android Pay, and Samsung Pay are not accepted by the giant for four reasons. Let's take a look at these factors to see why Walmart does what it does.
Marketing Benefits: The Walmart Pay app is exclusively available to Walmart members. Client data is collected for marketing reasons as part of the company's digital marketing strategy to acquire customer satisfaction. For example, Walmart may utilize the app to track consumers' purchasing behavior and then target them with tailored discounts or propose goods based on their previous purchases. Therefore, Walmart uses its proprietary application system for digital payments.
Minimal Overhead Charges: To avoid money transfer costs and safeguard its razor-thin profitability, Walmart must choose its acceptable payment options wisely. This is among the most important reasons why Walmart doesn't take Apple Pay.
Different Payment Technologies: Another explanation you can't use eternal payment options at Walmart is the variation in cashless payment technologies. Touchless checkout is possible with Apple Pay, thanks to NFC technology. The Walmart payment service, on the other hand, employs QR codes to handle cashless purchases. This offers a quicker method for payments. Moreover, it offers a PINless method to avoid scams.
Customized Payment System: Walmart Pay is the company's own digital payment app. Any other payment system is thus a competitor. Walmart refuses to accept Apple Pay in order to protect and advertise its own products.
So, if you are still wondering, "does Walmart do Apple Pay?" you understand the basic reasons why it doesn't. Walmart is trying to create a personalized ecosystem for its users. Therefore, it doesn't accept Apple Pay.
Can You Use Walmart Pay on iPhone Devices?
Does Walmart use Apple Pay? No. However, you can use Walmart Pay on iOS devices. The Walmart Pay app is available for iPhone and Android. As a result, you may pay for goods using Walmart Pay via the Walmart app on iOS.
You must first download and install the Walmart Pay app on your iOS or Android smartphone. Make sure you've configured your PIN or touch ID for payment. You may link your chosen debit/credit card or retail gift card to Walmart Pay.
You may then select one of the stored cards as your desired payment option. Unless you turn it off, Walmart usually spends the value of your gift card first. Again, before utilizing other payment options on Walmart Pay, you should use your EBT or WIC funds.
Does Walmart use External Payments for Self-Checkout?
Apple Pay is not accepted at Walmart self-checkout. That's because other cashless money transfers like Google Wallet and Paytm aren't accepted at all Walmart locations. If you wish to pay cashless at a Walmart, you should use Walmart Pay or Venmo.
To use your iPhone in a self-checkout queue at a checkout counter, install the application on your phone. You can also use the application to connect your payment cards or Walmart gift cards, exactly like you would with Apple Pay Wallet.
Moreover, you can also pay with your Visa, AmEx, PayPal, cash, or any other Walmart-accepted payment system. You can avoid the self-checkout station and go straight to normal checkout if you're paying with a check. Because self-checkout devices do not take check payments or third-party cash checks, this is not a practical option for you.
Walmart is one of the places where you may get the most money back. You can't earn cashback using Walmart Pay, though. In addition, the Walmart application does not connect directly to your bank accounts. As a result, connected cards will not be accepted at other stores such as Costco.
Does Walmart Pay App Work with Apple Watch?
No, you won't be able to utilize Walmart Pay on your Apple Watch to make purchases. Walmart, on the other hand, has released an Apple Watch application. Instead of using your smartphone, you may use this app to mark things off your grocery list.
Allowing Walmart Pay on an Apple Watch to check out might be a test run for something greater in the long term. Apple sold nearly 3 million wearables in 2020 alone. As a result, there is a sizable market of people who prefer cashless transactions. So, Walmart may offer the Walmart Pay app for Apple Watches in the future.
Does Walmart Take Apple Pay for Gift Cards?
No, you can't even buy a Walmart gift card using Apple Pay in a Walmart store. Other stores, on the other hand, sell gift vouchers and take Apple Pay. CVS, for example, sells Walmart gift cards and accepts Apple Pay both in stores and online.
Does Walmart Do Apple Pay for Gas Stations?
Apple Pay is not accepted at Walmart petrol stations. You may, nevertheless, use your iPhone's Walmart Pay application to pay for petrol and save up to five cents per gallon at selected gas pumps. In particular, member gasoline rates are available at Walmart in over 2,000 locations. So, you can enjoy higher discounts with the Walmart Pay app.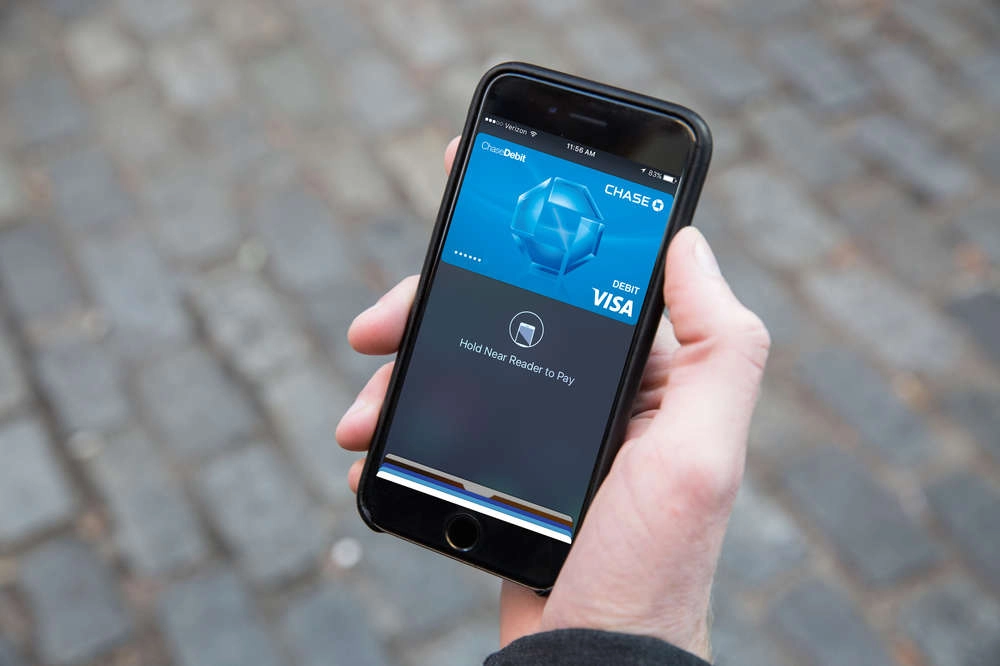 What Is the Crux Here?
Walmart's enormous reach and a plethora of convenient options are what keeps millions of customers coming back. Customers can, for instance, purchase money orders, paychecks, hire Walmart carpet cleaners, and use coin machine devices.
Walmart, however, does not accept Apple Pay. You may, nevertheless, pay using Walmart Pay, Venmo, and other common payment options. Walmart, on the other hand, has no plans to accept any other cashless digital payments, such as Samsung Pay or Google Wallet.
This is because Walmart has its own digital payment system, which allows it to reduce processing fees while also capturing user information for direct marketing purposes. Walmart Pay, unlike Apple Pay, which employs NFC-based online payment technologies, instead uses QR codes.
Walmart Pay is accepted at the store's petrol stations and other selected fuel centers. Apple Pay is not accepted at Walmart's self-checkout counters or online. Apple Pay cannot be used to purchase Walmart gift cards or payment orders.