It's not always easy to find the best places to earn interest on crypto. Your cryptocurrency is likely in one of two places. It is either on the exchange where you bought it or, if you are the cautious type, it has been transferred to some kind of wallet. Provided you choose a reliable exchange, a secure online wallet, or a hardware wallet, your cryptocurrency should be kept safe in all these cases. Wherever you store it, you want to have peace of mind that your cryptocurrency will not disappear and will bring good returns if possible.
Best Savings Accounts To Earn Interest On Crypto
We've done thorough reviews of the best places to earn crypto interest and the is the list:
Crypto.com
BlockFi
Binance
Gemini
Nexo
Voyager
Yes, you could argue that you're waiting for the price to rise, and that's why you leave your cryptocurrency alone so that you get a healthy return on your investment. However, your money is just sitting there while the price zigzags, and it is hard to predict the price rise. But there are ways to make the cryptocurrency work while you wait for bigger profits in the future. These are the best places to earn interest on your crypto. And here you can see why.
1. Crypto.com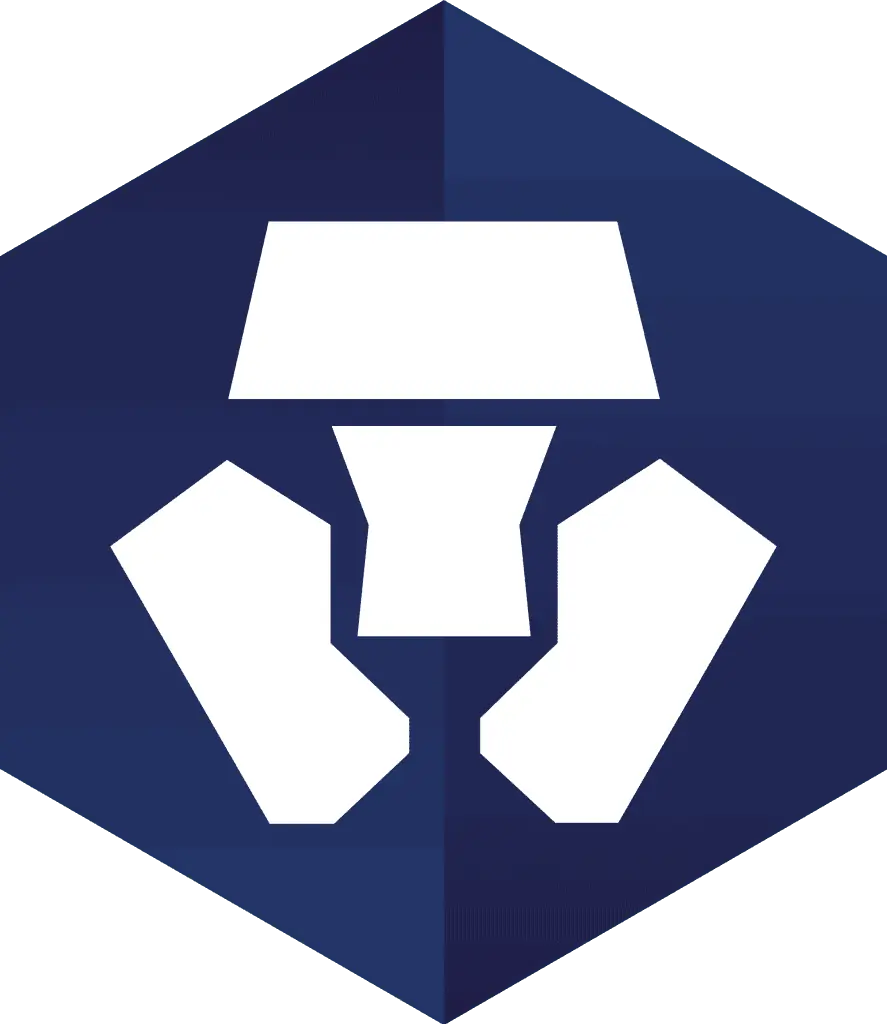 Our Rating
5/5
Interest rates
Up to 8.5% APY
(Up to 14% on Stablecoins)
Refer-A-Friend program
Yes
Supported currencies

(up to 35 cryptocurrencies and stablecoins)
Security






Interest rate






"One of the best places to earn interest on crypto – High interest"
Crypto.com is an online broker that now launches its own cryptocurrency, Crypto.com Coin. This is a start-up founded in 2016 whose developers offer market participants technical solutions for buying and selling cryptoassets as well as for the everyday settlement of coins. With the help of CRO, project participants can carry out transactions with digital assets.
In addition to Crypto.com Coin, the startup has another token – MCO. It was the one that participated in the startup's token sale in 2017, where the project raised $26.7 million. MCO is involved in a number of technical tasks. For example, cryptocurrency holders receive some privileges and discounts. The aim of the project is to speed up the process of switching users from fiat to a new financial instrument. To this end, the developers have created a number of products.
Cypto.com – High interest
In 2019, Crypto.com launched its cryptocurrency trading operations and they are currently the first crypto platform with multiple industry highest standards on security including ISO/IEC 27001:2013, ISO/IEC 27701:2019, PCI:DSS 3.2.1, Level 1 Compliance and CCSS.
Crypto.com trading is powered by their native token Crypto.com Coin (CRO), it means CRO holders enjoy privilege from Crypto.com. Users can trade 72 market pairs including Bitcoin (BTC), Ethereum (ETH), Ripple (XRP), Litecoin (LTC), XTZ, LINK, EOS, XLM, MCO, CRO, USDC, USDT and other popular tokens. The number of tokens listed on the Crypto.com exchange will continue to grow. The Crypto.com exchange platform can be accessed via desktop and mobile. It should be noted that Crypto.com does not accept traders from the United States.
How much interest does Crypto.com pay on Bitcoin?
Of course, you also get interest on your Bitcoin investment at Crypto.com. For example, Crypto.com as a trading platform pays up to 8.5 percent p.a. on Bitcoin, up to 6 percent p.a. on CRO and up to 14 percent p.a. on USDC. For this reason, it is worthwhile investing your money in cryptocurrency with Crypto.com. What makes Crypto.com one of the best places to earn interest on Crypto
Crypto.com deposit and withdrawal methods
The fee for depositing funds is usually free and can usually be paid with a Visa or Mastercard debit or credit card. Lithuanian IBAN can open the euro wallet with just a few clicks. This can then also be used to transfer funds via IBAN. Transfers are free, but debit or credit cards are not always free. Fees can vary here. According to Crypto.com's fee schedule, the official fee is 2.99% of the deposit amount. If you pay again by credit card, you will have to pay an additional fee. This is 1% and the SEPA transfer is free. However, there are always special offers on Crypto.com, so card deposits can also be free. Withdrawals are also made in the payment methods mentioned above.
2. BlockFi
Our Rating
4.9/5
| | |
| --- | --- |
| Interest rates | Up to 8.6% APY |
| Refer-A-Friend program | Yes |
| Supported currencies | |
Security






Interest rate





"The future of finance"
With BlockFi, you can do just that. It is a cryptocurrency management platform that offers users a way to earn interest on their cryptocurrencies, take out USD loans with their cryptocurrency as collateral, and trade various cryptocurrencies. It is also an institutional lender that offers loans in cryptocurrencies, Stackcoins, and US dollars to businesses and organizations looking to liquidate their assets.
In this post, we'll take a closer look at BlockFi: the services it offers, the people behind it, and answer the most important questions: is the provider safe and legal. We will also look at how you can make money, what assets the provider supports, and whether you should consider this service!
The Best & Safest Alternative
Although the online broker is only three years old, BlockFi is run by people with a lot of relevant experience and impressive credentials, which's always a good sign. The company was founded in 2017 and is based in New Jersey. The co-founders are Zach Prince and Flory Marquez, who serve as the company's CEO and Senior Vice President, respectively.
BlockFi's primary custodian is Gemini, which recently completed SOC 2 Type 2 compliance testing, making it the first cryptocurrency exchange to achieve this level of security. It is regulated by the New York State Department of Financial Services (NYDFS) and stores 95 percent of its assets. Gemini's storage solutions consist of the Gemini image.
According to the website, even Gemini itself cannot transfer cryptocurrency from this "cold storage." In short, Gemini's security protocols are second to none, and the likelihood of funds being stolen or accounts being hacked is extremely low. Even if such a breach does occur, all assets are insured with Aon, so any losses are compensated.
In addition to Gemini's strong security, BlockFi itself uses a number of features to ensure client accounts' safety. There is two-factor authentication, and all passwords, personal and sensitive information is encrypted. This prevents unauthorized people from accessing your data. The platform also allows users to apply 'permission lists' (also called 'whitelists') to their accounts, which means funds can only be withdrawn to certain specified and approved addresses. They can even leave their permission lists blank, preventing withdrawals from being authorized at all.
The Advantages & Disadvantages of BlockFi
We would like to list some of the advantages and disadvantages of BlockFi as an online broker. We have taken special care to remain as objective as possible and not to praise the online broker without good reason.
Advantages:
Disadvantages:
How much interest does BlockFi pay on Bitcoin?
This point is especially interesting for those traders who love to invest their money in Bitcoin. After all, it is important to know what to expect as a trader when you invest in Bitcoin at BlockFi. The online broker BlockFi promises up to 8.6 percent. These are daily running interest rates. However, these are paid out monthly. Besides, BlockFi promises no hidden costs and fees that accrue on this interest and have to be paid by the trader. Also, there are no minimum balances, and consequently, there is no reason to procrastinate!
The interest rates are regularly adjusted to the current market conditions and changed accordingly. The latest and official ones are available directly on the next page. Compared to other providers, the interest rates are in a higher range. Especially for BTC, there is no minimum term at 6 percent, which is much more than other providers. However, all this is still within limits and does not mean fraud, as the loan interest rate is 6.73 to 12.50 percent. Therefore, interest can be financed directly from the loan.
| Currency | Amount ** | APY |
| --- | --- | --- |
| BTC (Tier 1) | 0 – 1 | 6% |
| BTC (Tier 2) | > 1.0 to 20 BTC | 2% |
| BTC (Tier 3) | > 20 BTC and above | 0.5% |
| LINK | > 0 | 5.5% |
| ETH (Tier 1) | 0 to 100 ETH | 5.25% |
| ETH (Tier 2) | > 100 to 1000 ETH | 2% |
| ETH (Tier 3) | > 1,000 ETH and above | 0.5% |
| LTC | > 0 | 6.5% |
| USDC | > 0 | 8.6% |
| GUSD | > 0 | 8.6% |
| PAX | > 0 | 8.6% |
| PAXG | > 0 | 5% |
| USDT | > 0 | 9.3% |
| BUSD | > 0 | 8.6% |
The Deposit and Withdrawal Methods at BlockFi
Deposit methods
Withdrawal methods
Surely you have asked yourself this question before, namely, which payment methods does the online broker accept, and can I make a deposit or withdrawal with my PayPal account, for example? These are very important questions because it may be too late if you have already made the effort, registered, and are now faced with the problem that the online trading platform does not accept your preferred payment method.
To avoid this problem, we recommend finding out about the deposit and withdrawal methods before you register for the first time. We have done our research and checked BlockFi's deposit and withdrawal methods. Already in advance, we can claim that the selection of different payment service providers is large enough to find the right payment method for you. BlockFi has no conditions, and the money can be withdrawn easily at any time.
Once a month, the withdrawal is free of charge; otherwise, a small fee of a few cents is required. There is also a withdrawal limit, but this is difficult to reach as these limits are very high. For example, only 100 BTC or 5,000 ETH can be paid every 7 days. According to the current exchange rate, this value far exceeds 500,000 euros. You can find more information directly on the BlockFi website.
3. Binance
Our Rating
4.5/5
| | |
| --- | --- |
| Interest rates | 5% – 30% APY depending on currency |
| Refer-A-Friend program | Yes |
| Supported currencies | (up to 44 cryptocurrencies and stablecoins) |
Security






Interest rate






"Also great for trading"
Hong Kong-based cryptocurrency exchange Binance has quickly made it to the top in terms of trading volume, even though it has only been a year since it opened. Several factors have contributed to this, first and foremost the functionality and management of the site, whose managers include legendary financier Yee He. The news alone that he was joining the project caused the company's capitalization to increase by 40 percent. The influx of new users became so great that Binance even closed new registrations for a time in January this year and upgraded its equipment to cope with the growing load.
The exchange's interface is customer-friendly, intuitive and relatively simple. There are 36 languages available, including German, although the translation has some "errors" but is still perfectly adequate. Therefore, users with little knowledge of English may find it more convenient to use the English-language interface.
Binance – Perfect for trading as well
Those visiting Binance for the first time will quickly realize that the platform offers two options for trading digital currencies – the basic and the advanced versions. Neither the basic nor the advanced versions are certainly easy to use for complete beginners. However, anyone who is familiar with digital currencies and has some knowledge of how exchanges work should be able to use the platform and its various services. The main difference between the basic and advanced versions is that the advanced version offers deeper technical analysis of the value of digital currencies over time.
Currently, the dashboard for the basic version offers multiple graphs and charts for the pairs you trade, order books and trading history. The basic view is nicely designed and clear, all the information you need is clearly displayed with prices on the left, graphs in the middle along with the buy and sell boxes and the trading history is displayed on the right so you can quickly see what the last trading prices were. The expanded view uses a dark theme and makes the trade graphs larger and the last trade prices are shown on the right hand side with the buy-sell boxes underneath.
Although Binance is one of the newest cryptocurrency exchanges on the market, it has quickly managed to gain a high level of trust from its users and the digital currency community. However, the exchange does not provide users with enough information on how funds are secured, yet we like to think that security is taken seriously. Two-factor authentication is available and is always a nice touch. However, it is known that the platform offers a multi-level system architecture.
How much interest does Binance pay on Bitcoin?
Of course, Binance also pays interest on Bitcoin and thus offers a lucrative way to earn money by investing in the digital currency. On Binance, for example, you get 1.20 percent on a 7-day APY. On BUSD, for example, there is up to 5.46 percent with a 7-day APY.
Binance deposit and withdrawal methods
At Binance, you can make a deposit or withdrawal either by bank transfer (SEPA) or by credit or debit card. These are the most common payment methods used by many traders worldwide.
4. Gemini
Our Rating
4/5
| | |
| --- | --- |
| Interest rates | Up to 7.4% APY |
| Refer-A-Friend program | Yes |
| Supported currencies | (up to 28 cryptocurrencies) |
Security





Interest rate





"A platform by the Winklevoss twins"
Gemini is one of the largest cryptocurrency exchanges operating on six continents. Based in the United States, it was founded by twin brothers Cameron and Tyler Winklevoss in 2014. Since then, it has become one of the largest regulated crypto exchanges with FDIC insurance for USD deposits, a user-friendly platform and zero publicly known large-scale hacks. It has over 20 digital assets listed, including Bitcoin, Ethereum, Litecoin, Chainlink, Maker and many more. Therefore, it has also been able to make a name for itself as one of the best places to earn interest on crypto
Gemini – Only in the USA
Security is the most important influence on how Gemini builds its products and how it positions itself in the market. This is reflected in the institutional technology and protocols that underpin the Gemini exchange and its custody platform. The majority of assets are held in its offline cold storage system and only a small portion is held in its online hot wallet.
As a financial institution, Gemini holds sensitive information about its customers, which includes personally identifiable information ("PII"), banking/financial information and other data that may directly or indirectly identify Gemini's customers. As a New York State Trust Company and regulated cryptocurrency exchange and custodian, Gemini has taken important steps to ensure that its customers' data and funds remain secure.
How much interest does Gemini pay on Bitcoin?
Gemini also pays interest when you trade Bitcoin on the online trading platform. For example, you get up to 7.4 percent interest if you invest in Bitcoin together with Gemini.
Gemini deposit and withdrawal methods
At Gemini, you get the option to make a deposit using a credit or debit card. You can also make a deposit or withdrawal using a bank transfer.
Nexo – Another good alternative of the best places to earn interest on crypto
Nexo is a unique platform that allows you to earn interest on your cryptocurrency investments. Interest rates vary depending on the distribution method and coins, but you can expect to earn between 6 percent and 12 percent on your investments. Nexo also allows you to take out loans based on the amount of cryptocurrency in your account without selling your coins and buying them back. Interest rates on loans start at 5.90 percent. Although you cannot currently buy or sell cryptocurrencies through the Nexo platform, the crypto savings account provider offers a high-yield method for investors to make money on unused coins and fiat.
5. Nexo
Our Rating
4/5
Interest rates
8% APY on BTC
12% APY on Stablecoins
Refer-A-Friend program
Yes
Supported currencies

(up to 18 cryptocurrencies)
Security





Interest rate





"One of the best places to earn interest on cryptos with high security standards"
Nexo is designed for security and is driven by trust. They strictly adhere to global KYC and AML standards and stringent regulations. Nexo gives top priority to security. They have also placed a variety of safeguards to ensure that Nexo remains one of the safest crypto lending companies. This includes biometric-based identity verification, extensive firewall server architecture, segregated multi-signature cold wallets and more. Nexo also stores user funds in bank-grade Class III vaults through Ledger Vault. With two-factor authentication, biometric identification, withdrawal confirmations, login alerts and round-the-clock support, Nexo ensures you stay in control of your account. Nexo may not be the best places to earn interest on Crypto, but it is a safe place.
How much interest does Nexo pay on Bitcoin?
Nexo is not left out and of course pays interest to its users. These amount to up to 12 percent for this digital trading platform. Consequently, Nexo belongs to a reputable and not to be underestimated provider that brings good interest rates on Bitcoin with it.
Nexo deposit and withdrawal methods
There is no obligation to make a deposit at Nexo. However, there is no way around it if you want to trade. Therefore, you can make a deposit using a credit or debit card. Furthermore, you have the option of making a deposit or withdrawal using SEPA (bank transfer).
6. VOYAGER
Our Rating
3/5
| | |
| --- | --- |
| Interest rates | Up to 10% APY |
| Refer-A-Friend program | Yes |
| Supported currencies | (up to 24 cryptocurrencies) |
Security




Interest rate




"Not the best place to earn interest on cryptos, but certainly an interesting alternative"
Voyager is a leading name in the sphere of cryptocurrency investing, giving you access to over 50 tokens and coins. Buy, sell and trade assets with Voyager Crypto's simple mobile platform, available as a free download for iOS and Android users. When you invest through Voyager, you pay nothing in commissions, which is a big advantage compared to other cryptocurrency brokers. Although the broker could do more to improve its customer service, it is an excellent option for beginner investors and seasoned professionals alike.
How much interest does VOYAGER pay on bitcoin?
In addition to commission-free trading, this is likewise one of the best places to earn interest on crypto by simply leaving them in your Voyager wallet. Interest rates range from 1 percent to 8.5 percent, depending on the asset. You must meet a minimum number of coins or tokens in your wallet to qualify for Voyager's interest programme.
VOYAGER deposit and withdrawal methods
VOYAGER, like most other brokers, accepts such payment methods as bank transfer, debit or credit card. Thus, thanks to the helpful and clear app, you can make a payment directly from your smartphone or tablet. Withdrawals are just as easy!