| | |
| --- | --- |
| Broker | eToro |
| Website | https://www.etoro.com/ |
| Created in | 2006 |
| Head Office | Tel Aviv, Israel |
| Phone Number | None |
| Type of support | Support ticket |
| US clients accepted | No |
| Available instruments | Forex, Commodities, Indices, Cryptocurrencies, Stocks, ETF |
| eToro Minimum deposit | $200 |
| Maximum leverage | 30:1 for eToro Europe and UK |
| Demo account | Yes |
| ECN Account | No |
| Deposit methods | Credit/debit card, PayPal, Skrill, Neteller, WebMoney, China Union Pay, Giropay, Yandex, wire transfer, local online banking, ACH |
| eToro Regulation | FCA, ASIC, CySec |
| Mobile trading | Yes |
| Trading platforms |  Mobile trader, eToro Trading and Investing Platform |
| Scalping allowed | No |
| Hedging allowed | Yes |
eToro was established as a social trading and multi-asset brokerage firm in 2007 by Yoni Assia, Ronen Assia, and David Ring. Besides making direct FX trades, the brokerage allows traders to copy trades from the experienced traders and discuss trading ideas in their trading communities. These features helped eToro to grow as a trading family and currently, there are more than 6 million global clients who trade through the eToro platform.
eToro started their business as a brokerage company with a vision of making the financial markets more accessible to traders around the globe. At the same time, they wanted to be less dependent on banks and other finance/leasing organizations. In 2009, eToro launched WebTrader, a trading platform with a range of professional tools and features suitable for traders with any level of experience.
eToro evolution
In 2010, eToro launched OpenBook, renowned as the first social trading platform in the world of financial markets. It included the copy-trade feature, which let anyone copy trades from other successful traders. In 2012, the broker launched the mobile trading app for both iOS and Android. eToro didn't stop there but continued to add more currency pairs, stocks, and commodities in 2013. To combine the social trading features into the trading platform, eToro updated their platform once again in 2015 to a modern interface.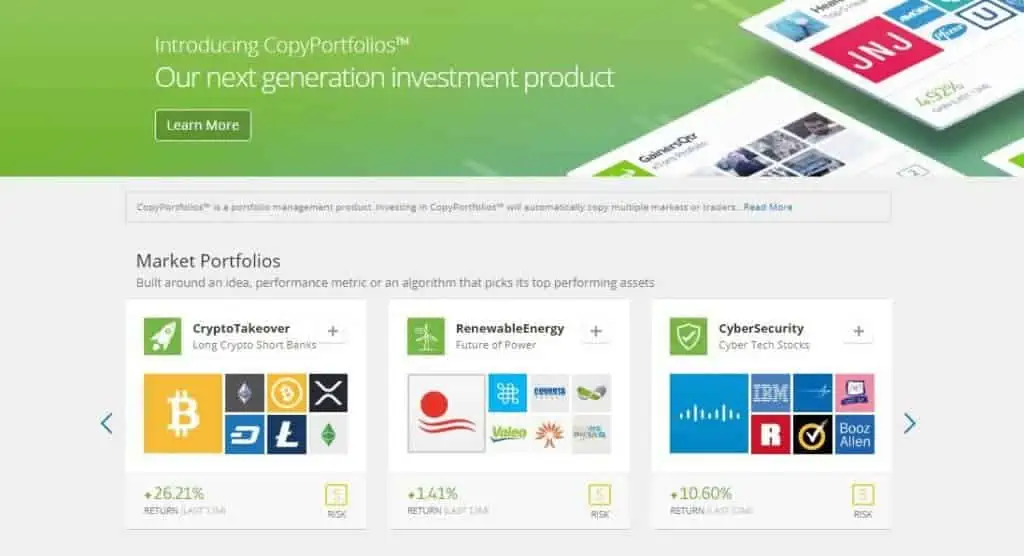 CopyPortfolios was also created in 2016 to allow investment into managed portfolios including multiple assets. Traders interested would then choose the portfolio most suited to their strategy and copy it. Finally, in January of 2017, eToro extended its reach to the Cryptocurrency world by adding 'support for trading Crypto' feature to their platform. They began with the inclusion of popular cryptocurrencies like Litecoin and Ethereum and adding more over time.
eToro Fees
eToro may not offer highly competitive fees compared to its competitors around the market. But they are still acceptable trading fees are applied only through spreads depending on the instruments and includes no hidden charges or extra fees. Let's have a look:
eToro Trading Fees
eToro offers stock and ETF trading in Europe with charges as low as 0.09% spread cost per side. For currency pairs, the fee starts from 3 pips and applies as spread. Trading fees for cryptocurrencies vary from 0.75% to 5% depending on the asset you trade. Furthermore, they charge overnight and weekend fees for open CFD positions. The brokerage also applies a $10 inactivity charge per month, this fee applies only if you have not traded for more than a year.
eToro Deposit and Withdrawal Fees
The brokerage does not charge any fees for the deposits. However, it applies a $5 fee for withdrawals which is a bit higher compared to other similar brokers.
eToro Conversion Fees
The brokerage applies a fee of 0.5% for wire transfers in Australian dollars, Canadian dollar, euro, sterling pound, Japanese yen, Chinese renminbi, and Russian ruble. Conversion fees on other payment methods like debit/credit cards are higher than wire transfers. In this case, the fees will stand as follows:
AUD: 1%
CAD: 2.5%
EUR: 2.5%
GBP: 0.5%
JPY: 2.5%
RMB: 0.5%
RUB: 0.5%.
eToro Crypto Transfer Fees
Ethereum: 0.006 units
Bitcoin Cash: 0.0001 units
Ripple: 0.25 units
eToro Account Opening
You'll only need to follow these 5 simple steps in order to open a trading account with eToro:
To register, visit the official website of eToro at www.etoro.com and click on the 'Join Now' tab, you'll get immediate access to an application form for opening a new trading account
Fill up the application form: You'll be required to fill the application form with all the necessary information like the name of the applicant, email address, phone numbers, and mailing address
Set your username and password: After filling the application form, you'll be asked to set your username and password. Make sure your password is unique and combined with capital/small letters plus numeric characters. Once you're done, your username and password will be confirmed through email
Verify your account: You must verify your account in order to get full access to eToro features. You need to submit a scanned copy of your passport and a valid utility bill (not older than 3 months) to prove your identity and physical address. Once the verification is done successfully, your account limitations will be lifted automatically and the depositing/withdrawal process will get much faster
Fund your new account: Before you start trading through the eToro platform, you need to fund your new trading account. Login to your account using your username and password, click on the deposit option. Next, you'll be guided through the funding process based on your preferred deposit method
eToro Demo Account
Besides the live account, you'll also be able to use the demo account. Trading on a demo with eToro allows you to experience their trading platforms, features, and trading atmosphere for free. Moreover, opening demo accounts with eToro follows a very simple process and does not require any verification of identity or physical addresses.
eToro Deposit and Withdrawal methods
eToro offers a wide range of deposit and withdrawal methods so that you can choose your preferred method while making the transactions with the broker. Find the methods below:
China Union Pay
Credit/Debit card (Visa and Mastercard)
Giropay
Neteller
PayPal
Skrill
WebMoney
Wire Transfer
Yandex
Local Online Banking (for Malaysia, Vietnam, Thailand, and Indonesia)
eToro deposit limits
The minimum deposit limit is as low as $200 and the maximum deposit amount ranges from $10,000 to $400,000 depending on the payment methods. For withdrawals, the minimum amount is limited to $50. Although, they haven't disclosed any information about the maximum withdrawal limit. The most important fact is, the method of payment/funding and withdrawal should always be the same. It takes up to 8 days for processing payments through debit/credit cards and up to 1-2 days through electronic payment methods.
eToro Trading Platform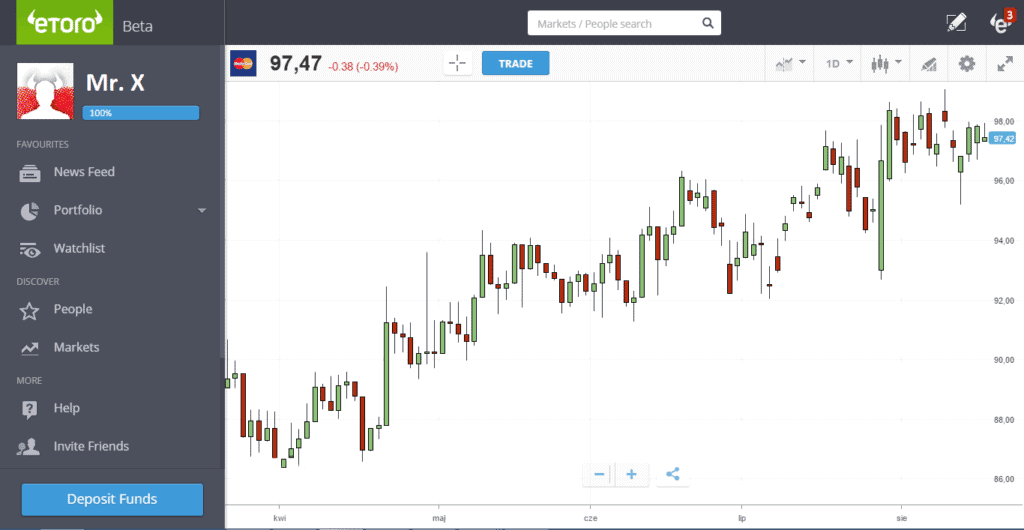 Since 2007, eToro has been playing a leading role in serving world-class social trading and investment platforms for its clients around the globe. Its platforms are user-friendly, continuously updated with innovative features, and suit traders with any level of experience. This is the reason why millions of traders from 140 countries worldwide are currently using eToro platforms. Let's have a look at their different types of trading platforms:
eToro's Mobile Trading App
This app enables traders to connect with eToro trading network through a smartphone. Compatible with both Android and iOS system, eToro's mobile trading app is designed with an intuitive interface and updated features to ensure its user-friendliness to the traders.
Each and every platform of eToro is updated with innovative features on a regular basis. CopyTrader system, popular investor program, CopyPortfolio, and managed accounts are some of the exciting features offered by eToro platforms.
eToro Desktop App
Unlike IQ Option, eToro is not available in desktop version.
eToro Markets and products
eToro offers a large number of financial assets for its clients. As a result, traders enjoy a wide range of trading options while trading on eToro. These trading instruments are directly accessible through the eToro trading platforms and apps. Here is a summary of eToro markets and its tradable assets:
Currencies
eToro offers many Forex currency pairs which include majors, minors, exotic, and cross-currency pairs. Major currency pairs like EUR/USD, GBP/USD, USD/JPY, AUD/USD, and EUR/GBP are offered with tighter spreads than exotic or cross currency pairs.
Stocks
As an eToro client, you'll have full access to the top traded stocks in the market. Items like Apple, General Electric, Microsoft, Intel, IBM, AT&T, Facebook, etc. are all listed in the eToro platforms. This broker also offers additional functions like CFD trading where you can use leverage and buy fractional shares with an investment as little as $50.
Cryptocurrencies
Digital currencies have earned incredible popularity over the recent years. eToro also realized its growing demand and added Bitcoin (BTC), Ethereum (ETH), Bitcoin Cash (BCH), Cardano (ADA) and other top-traded digital assets to their trading platforms.
Commodities
eToro offers the most actively traded commodities for its users. These energy items like crude oil, heating oil and natural gas, agricultural products like corn, sugar, cotton, cocoa, soybeans and wheat, metals like copper, silver and gold and much more.
Commodities are traded on eToro as CFDs which means, you don't have to purchase the underlying assets in order to trade them. Moreover, traders are allowed to make use of leverage and fractional ownership while trading commodities on eToro.
Exchange-Traded Funds
An ETF is a fund that uses the invested money to purchase a variety of financial assets in the open market. To profit from the investment, one invests in the ETF as you would buy shares of a company. ETFs are sold through exchanges, just as their name suggests. Just as with commodities, ETFs can also be owned fractionally with leverage facilities while being traded within the eToro platforms.
Indices
eToro trading platform has a wide range of indices to its traders such as DJIA (Wall Street), CAC 40 (France 40), DAX (Germany), FTSE 100, NASDAQ Index, S&P 500 (US 500), ASX 200 (Australia 200), Nikkei 225 (Japan 225), Hang Seng (Hong Kong HS50), IBEX 35 (Spain 35), euro Stoxx 50 (EU Stocks 50), etc. Indices are more stable than individual stocks in-terms of price volatility.
eToro Trading Leverage
Leverage limitations for the retail clients of eToro (Europe) and eToro (UK):
1:30 for major Forex pairs (EUR/USD, GBP/USD, USD/JPY, etc.)
1:20 for cross Forex currency pairs (EURAUD, GBP/AUD, etc.), Gold and other major indices
1:10 for commodities except for Gold and other non-major equity indices
1:5 for ETFs and CFD stocks
1:2 for Cryptocurrency CFDs
Market analysis and research are the undeniable parts of success in trading. Without them, trading is like sailing the sea without radar. As a trader, it is essential to know what you are trading and what are the possible changes to the price of the assets in the foreseeable future. Analyzing and researching the market takes more time than trading in the markets, and this is why eToro decided to form a research team that helps traders to carry out the daily market research task.
Its research team is formed with a team of experienced market experts who analyze the market data, research the price action changes and updates the reports on a daily basis to their clients. These reports are directly sent through the registered emails of the clients each day before the London trading session (3 AM EST) starts. Besides, eToro regularly publishes its research reports of recent most traded financial assets. This is completely free-for-all and can be obtained easily from their official website.
eToro Customer Service
eToro has been excellent with their 24/5 customer service since it has started as a financial broker. Both the existing clients and new customers can connect through its online customer service portal by filling up a simple contact form. Once you submit the contact form, a ticket will be issued to you and you'll be contacted by a customer service agent of eToro. Moreover, you can directly contact eToro customer service department using their email address, phone and fax numbers.
eToro customer service supports multiple languages such as English, Spanish, Italian, German, Russian, French, Polish, Chinese, and Arabic. This multiple language support feature led eToro to vastly connect with its clients around the world. Furthermore, eToro never compromises with the quality of their customer service and makes sure all its service agents are well experienced, educated, and know how to help traders in different terms and issues.
eToro Education
eToro clients are offered lots of useful trading guides, starting with the basics of trading right through to expert trading tips. There are also a lot of training courses and videos including live webinars in order to help the traders succeed in trading. The interactive courses have been designed for newbie traders who wish to learn the basics of trading and the financial markets.
eToro also provides numerous e-books on trading strategies, tips with market insights as necessary feeds for the experienced traders. These learning materials are undoubtedly great for those who wish to master the art of financial trading. In addition to the educational resources, eToro's platform represents a built-in news screen that broadcasts live news updates about what's happening in the financial markets around the world.
Looking for more? Well, as an eToro client, you can sign up for the free eToro blog, which is available in different languages and delivers expert thoughts on trading and investments. This blog is updated on a regular basis with useful information about the recent price action and fundamental changes in the market including upcoming financial events and possible opportunities ahead. Besides, eToro demo accounts offer a great opportunity to apply your trading knowledge of the real markets without risking a single dime.
eToro financial regulation
eToro maintains a consistent effort on the safety and security of customer privacy and funds. The broker has been transparent with its client about all sorts of financial transactions and governed by well-known international regulatory bodies to maintain its legitimacy as a financial broker.
eToro (UK) Ltd. is authorized and monitored in the UK by the Financial Conduct Authority (FCA) under reference number 583263. This means eToro has to operate under and comply with the Markets in Financial Instruments Directive (MiFID) since the UK is still technically part of Europe until Brexit negotiations are complete. The broker is also regulated by the Cyprus Securities and Exchange Commission (CySEC) since 2010 under license number 109/10 as eToro (Europe) Ltd. In Australia, the broker is licensed by the Australian Securities and Investments Commission (ASIC) and holds the Australian Financial Services License (AFSL) 491139.
This broker also seemed highly watchful over its other features like CopyTrading and managed portfolios. A team of internal audit is continuously working and looking for any irregularity throughout the whole financial system of the organization.
For the reason for maintaining a higher level of safety and security, eToro has set some regulations for the clients about account opening, trading, deposits, and withdrawals. Therefore, it is recommended to go through its terms and conditions and know the ins-and-outs of its regulations before you start trading with eToro.
Bottom line
In the world of social trading, eToro is currently one of the best sites out there and manages to place itself as a top financial broker in the market. eToro platforms are user-friendly and robust, which suits both new and expert traders. Besides, these platforms also offer the option to copy trades from other investors based on their trading style and performance. When it comes to customer service, eToro takes every opportunity to improve it with responsive and dedicated support to its customers.
eToro is an excellent choice for beginners wanting to get introduced to social trading, as well as experienced traders wishing to take advantage of their trading skills through eToro platforms.
eToro FAQ
What is eToro?
eToro is a CFD and Forex broker who provides financial services to millions of traders across the world.
What is the specialty of eToro's social trading platform?
Besides regular trading activities, the social trading platform allows traders to connect through the eToro network and share trading information among each other. eToro has specialized as a social trading broker and has the largest social trading network of any other broker.
What can be traded on eToro?
Almost all kinds of financial instruments traded globally over the internet which includes:
Currencies
Stocks
Indices
ETFs
Commodities
Cryptocurrencies
Is it a licensed broker? Who regulates eToro?
Yes, eToro is regulated by CySEC, FCA, and ASIC.
Can I trade Bitcoins on eToro?
Yes, you can trade Bitcoins through eToro platforms. eToro launched Bitcoin trading via CFDs back in 2017. In 2017 they had launched a full-fledged cryptocurrency service which includes Bitcoin, Ethereum, XRP, Litecoin, and other common cryptocurrencies.
Where is eToro not allowed to operate?
eToro accounts cannot be used by the residents of the following countries:
The United States of America (USA)
Canada
The Republic of Turkey
Brazil
Japan
Democratic People's Republic of Korea (DPRK)
The Islamic Republic of Iran
Syria
Sudan
Cuba
How long does it take to withdraw money from my eToro account?
It takes between 1-2 business days to process the withdrawals through electronic payment methods. However, it may take up to 3-8 business days for the withdrawals via credit/debit cards and wire transfers.
How much does it cost to withdraw funds from eToro?
eToro charges $5 for each withdrawal.
Where is eToro based?
eToro's main office is based in Tel Aviv, Israel. At the same time, they have offices in the UK, Cyprus, Australia, and China.
What are the minimum deposit and withdrawal limits eToro?
The minimum deposit is $200 and the minimum withdrawal limit is $50.
Which payment methods are supported by eToro?
eToro deposit and withdrawal are supported by the following payment methods:
Paypal
Neteller
Skrill
Giropay
Yandex
Credit/Debit cards (Supports both Visa and MasterCard)
WebMoney
Giropay
China Union Pay
Wire Transfer
Do you have any other questions regarding eToro? Please leave me a comment.
 eToro is a multi-asset platform which offers both investing in stocks and cryptoassets, as well as trading CFDs.
Please note that CFDs are complex instruments and come with a high risk of losing money rapidly due to leverage. 78% of retail investor accounts lose money when trading CFDs with this provider. You should consider whether you understand how CFDs work, and whether you can afford to take the high risk of losing your money.
Past performance is not an indication of future results. Trading history presented is less than 5 complete years and may not suffice as basis for investment decision.
Copy trading is a portfolio management service, provided by eToro (Europe) Ltd., which is authorised and regulated by the Cyprus Securities and Exchange Commission.
Cryptoasset investing is unregulated in some EU countries and the UK. No consumer protection. Your capital is at risk.
eToro USA LLC does not offer CFDs and makes no representation and assumes no liability as to the accuracy or completeness of the content of this publication, which has been prepared by our partner utilizing publicly available non-entity specific information about eToro.