With so many choices of an online broker, it's not so easy to identify the best one. However, we have found eToro and Avanza to be two of the top online brokers in the world. So, if you're searching for a new broker following a bad experience or you're new to the trade, look no further. We hope that this comparison helps you identify the best broker for you out of two already awesome brokers.
Our verdict: Etoro best overall – Avanza great for regular investors
Avanza is great for just investing in stocks or maybe a founds, however, etoro is superior when it comes to their trading tools, such as Copy trading, CFD, Forex, Cryptocurrencies, leveraging, and much more.
Regulation
eToro was initially founded in Israel in 2006, but is now a global presence with offices in various cities around the world. For this reason, it is also regulated in each jurisdiction it operates, which is possible through its subsidiaries. The main subsidiary is based in the UK, and acquired a license from the FCA under the license FRN 583263. Another subsidiary is domiciled in Australia where it is regulated by ASIC under License 491139.
eToro clients across the rest of Europe and the world get served by eToro Europe, which is licensed by CySEC under the license number 109/10. Such extensive licensing means that eToro clients are well covered by the regulators, which would explain why the broker has not been involved in any financial problems in its past.
Meanwhile, Avanza received a banking license from the Swedish Financial Supervisory Authority (FSA). It grew since 1999 to become the biggest stockbroker and broker in Sweden and now has over one million clients. The FSA is renowned for being very tough and strict, so this means you should feel safe with Avanza.
That being said, eToro has more licenses and wins in this category.
Funding and withdrawal
eToro
This content is not intended for US users. eToro USA LLC does not offer CFDs, only real Crypto assets available.
All deposits are in USD, so conversion rates will apply when using other currencies.
Bank transfer
Credit Card (Visa, MasterCard, Diners Club, Maestro),
PayPal
Neteller
Skrill
Minimum deposit for the first time is $200, but US and Australia residents can start with $50 and Israel residents must come up with $10,000. Deposits by wire transfer have a minimum of $500 and the minimum withdrawal is $30. EToro charges a fixed withdrawal fee of $5 USD, Additionally, a conversion fee may be applied as withdrawals and deposits are conducted in USD. Any other currency will have to be converted
Avanza
Avanza strives to reduce its fees so that its clients have more money left without giving more to the bank. This is why there are no deposit fees involved when using this broker. You can deposit your money either by:
Obviously, eToro has more funding methods and is, therefore, the winner in this category.
Trading platforms
To trade the financial markets on eToro, one has to use the online platform accessed through a web browser. Alternatively, you may download a mobile app on an Android or iOS device. This was a unique strategy by eToro considering that most other brokers use dedicated apps downloaded to a user's desktop computer. That being said, we don't have a complaint against the web trader at all, although we would prefer a desktop app.
Avanza also has a similar approach to that of eToro by focusing on its online platform and offering mobile apps. The only difference perhaps will be that Avanza is more focused on mainstream investments like stocks rather than CFDs.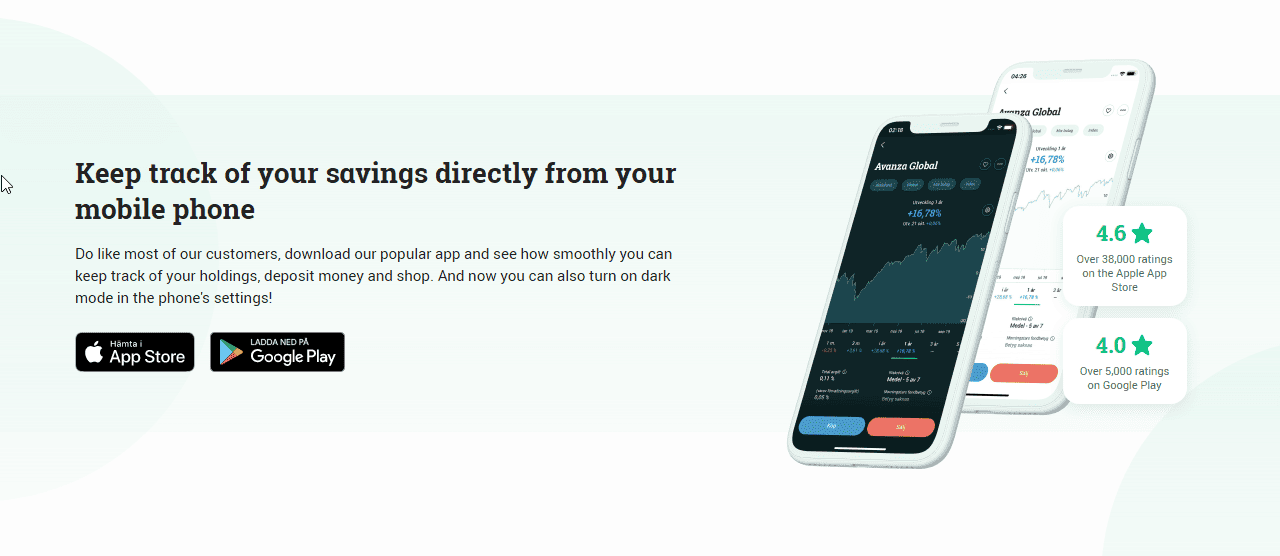 We have a tie because both brokers have mobile apps and an online platform.
Ease of use
Most traders are used to the MetaTrader platform, which is what most of us get started with. To trade with eToro means learning to use a completely new platform and getting used to it on a day-to-day basis. It is a bit of a learning curve, but social trading is great for new traders and those who don't have time to trade all day. Social trading means you can copy trades even if you're not very good at it yourself, and let the professionals make the right calls for you. Therefore, it's no surprise that only 75% of traders on eToro lose money, which is low considering other brokers.
Avanza, on the other hand, may have a lot of excellent features, but most of its interface is in Swedish. Unsurprisingly, the 'Investors' section of the website has an English alternative. Apparently, this broker isn't really interested in attaining a global presence, which is surprising because the broker already has over 1 million clients.
For this reason, eToro wins in this category.