Where do you prefer to get your morning coffee? Regardless of your decision, you must have made that decision after considering every aspect of that outlet's service. The same decision process should be applied when selecting an online retail broker. Which is where eToro and Coinbase come in. Both of these companies have great trading services, but you need to look at each of them closely before you can pick a favourite.
Platform ease of use
This content is not intended for US users. eToro USA LLC does not offer CFDs, only real Crypto assets available.
The trading platform is where you will be spending the most time as you trade various assets online. With eToro, the trading platform is quite simple to understand and easy to use as you can see from the image below. Despite the 'cleanliness' of the interface, it is still great at handling all of a trader's needs because it has all the necessary tools for market analysis. Indeed, eToro's trading platform is the perfect example of simple and capable.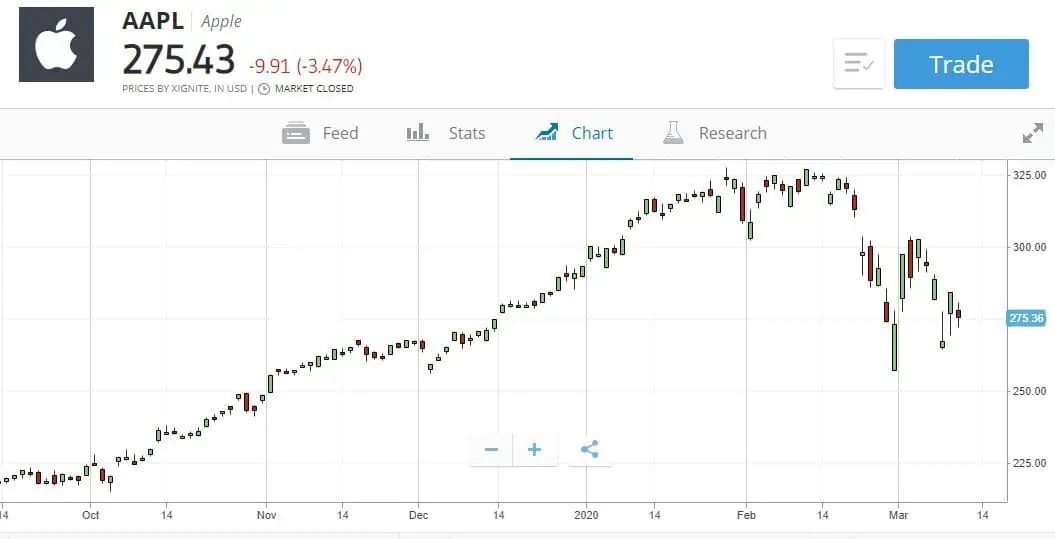 Coinbase took another tact, though, when it came to designing its trading platform, or should we say platforms. The company has two subsidiaries labelled GDAX and Coinbase. The latter is the simpler version that caters to new traders while the former is targeted at seasoned traders. As you would imagine, the trading platform at Coinbase is much simpler to use than that on GDAX. Nevertheless, both subsidiaries belong to the same company, so anyone can feel free to jump from one to the other depending on whatever makes them more comfortable. For our purposes here, we shall just look at GDAX for a closer comparison as you can see in the image below.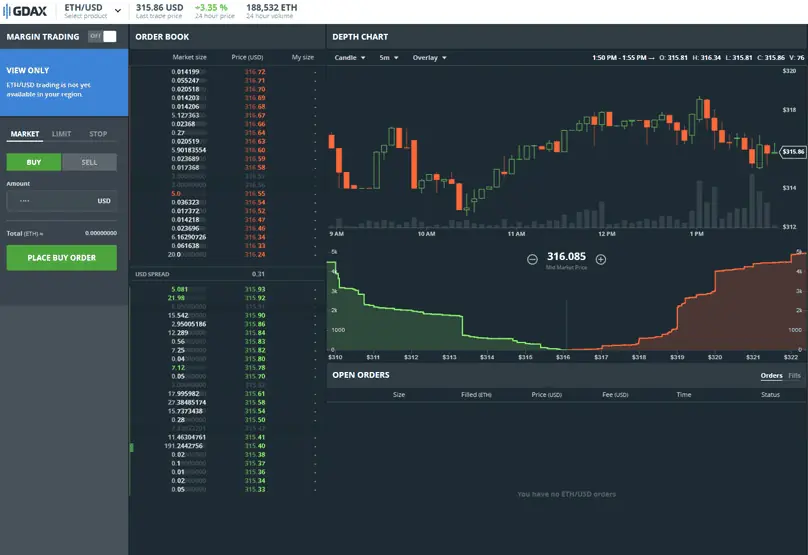 Therefore, we have a tie in this section because these two trading platforms are equally capable.
Assets available
eToro is an all-rounded online broker, offering many different asset classes. The company first began as a Forex broker, which is still one of their primary services, but over time more assets have been introduced. Today, you can trade stocks, indices, crypto, bonds, ETFs, commodities and more with the broker. In fact, without using leverage, you could even trade the actual assets for crypto, stocks and ETFs rather than CFDs. On the other hand, Coinbase is strictly a crypto exchange, meaning you won't find any other asset classes. The platform does have a lot of coins for trade, but there is a limit on what you can access.
eToro is the winner because traders can access many financial markets.
Fees
Making deposits on eToro won't cost you a dime, but withdrawals will cost you $5. eToro charges a fixed withdrawal fee of $5 USD, Additionally, a conversion fee may be applied as withdrawals and deposits are conducted in USD. Any other currency will have to be converted. This is a flat fee regardless of the amount withdrawn and that can be a good thing. The trading itself will be charged by using a spread, unless it's non-leveraged, in which case you only pay conversion and withdrawal fees. Meanwhile, Coinbase will charge all services as a commission ranging from 0.20% for intra-EEA purchases up to 4% for bank transfers. Coinbase itself is somewhat dreaded for its high transaction fees, and most traders prefer GDAX where fees rarely rise above 0.25%.
Winner here is eToro for keeping costs low for traders.
Deposit methods
There are plenty of ways to deposit money into your eToro trading account. These range from normal bank transfers and credit card to the more popular payment service providers like PayPal, Skrill, Neteller, etc. Coinbase users have only a few options to make deposits, and these are bank transfers or credit card. One could also transfer coins directly to their Coinbase wallet for trading, but those are the only options. Besides, conversion fees can be brutal when trying to convert crypto to fiat with this broker.
Winner is once again eToro for making things convenient to traders.
Unique features
Every broker has that special sauce they use to entice new clients. For eToro, that special sauce is social trading. eToro has millions of clients around the world, and the company allows every trader to either publish their trades or copy from the published trades. In effect, one doesn't really need to be an expert to make good trades as long as they are copying the right person. With Coinbase, the company relies mainly on its reputation and liquidity. This crypto broker is based in the US and is licensed in all states. In addition, having massive crypto reserves and clients means that liquidity is very deep, thus quotes can be trusted and trades are executed very quickly.
This section is a tie because both brokers have something unique to bring to the table.