The US market may be very lucrative, but there are only a handful of brokers offering trading services. One of these companies is Webull, which is based in the US and providing investment services to residents in the country. It is able to do this by being licensed and regulated by the SEC and FINRA as well as being a member of SIPC.
Unfortunately, eToro happens to be one of those brokers that have been unable to operate in the US due to tough regulations. However, eToro USA still operates in the US but only offers crypto trading services since the subsidiary is registered as a payments service. Nevertheless, eToro is a global company with offices in the UK, Cyprus and Australia and over 10 million active clients.
Platform ease of use
This content is not intended for US users. eToro USA LLC does not offer CFDs, only real Crypto assets available.
Trading financial markets is hard enough already, and both Webull and eToro have tried to make their trading platforms a bit easier to use. The image below is a snapshot of what the trading window on PC and mobile apps from Webull look like. Not only have these tools been made user friendly, but they also have powerful analysis tools you can use to make informed trades.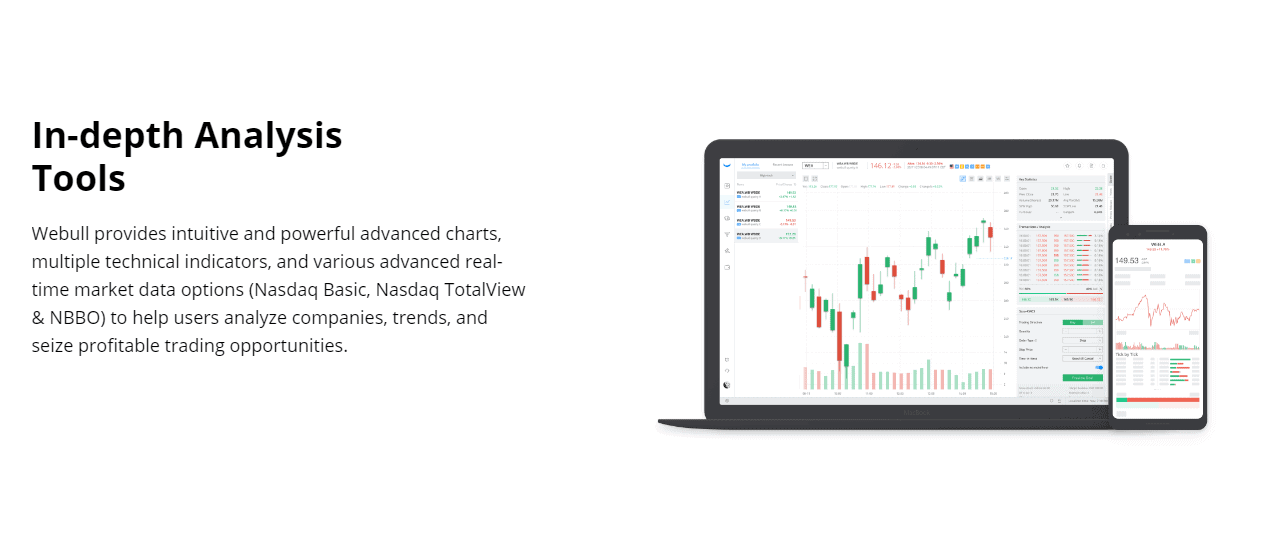 eToro's platforms too are user-friendly and powerful, but the difference is that there isn't a downloadable app for PC; only mobile. This presents quite a difference because web-based apps are not quite as powerful as dedicated apps you install on your PC. eToro does make it up to clients by integrating its social trading features, but there will always be a slight difference.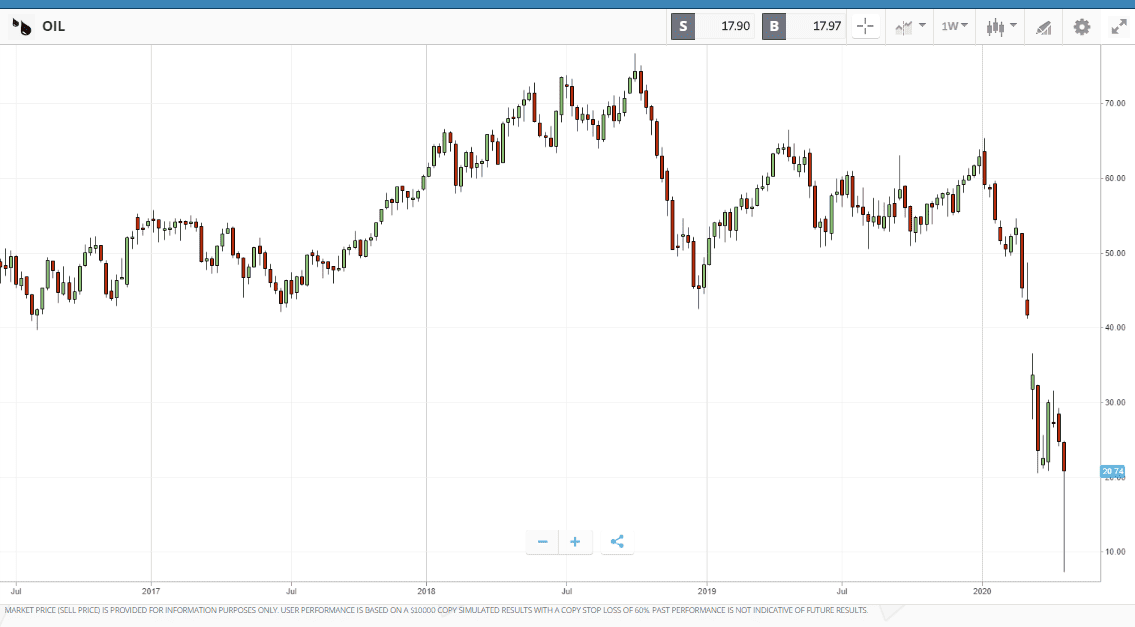 The winner here is Webull for offering downloadable apps for PC and mobile.
Fees
As a company, Webull needs to make a profit to survive. So it might be surprising to hear that Webull does not charge any commissions on trading any of the assets in its portfolio. Instead, the company makes money from interest in free credit balances and margin interest. This does not mean that there are absolutely no charges. When trading on margin, you will pay an annual margin rate that ranges between 3.99% and 6.99%. In addition, there are fees charged by the company and regulatory authorities for placing trades, especially short trades. These are usually negligible, but you should be aware of them nonetheless so that you are not confused by some entries in your account statement.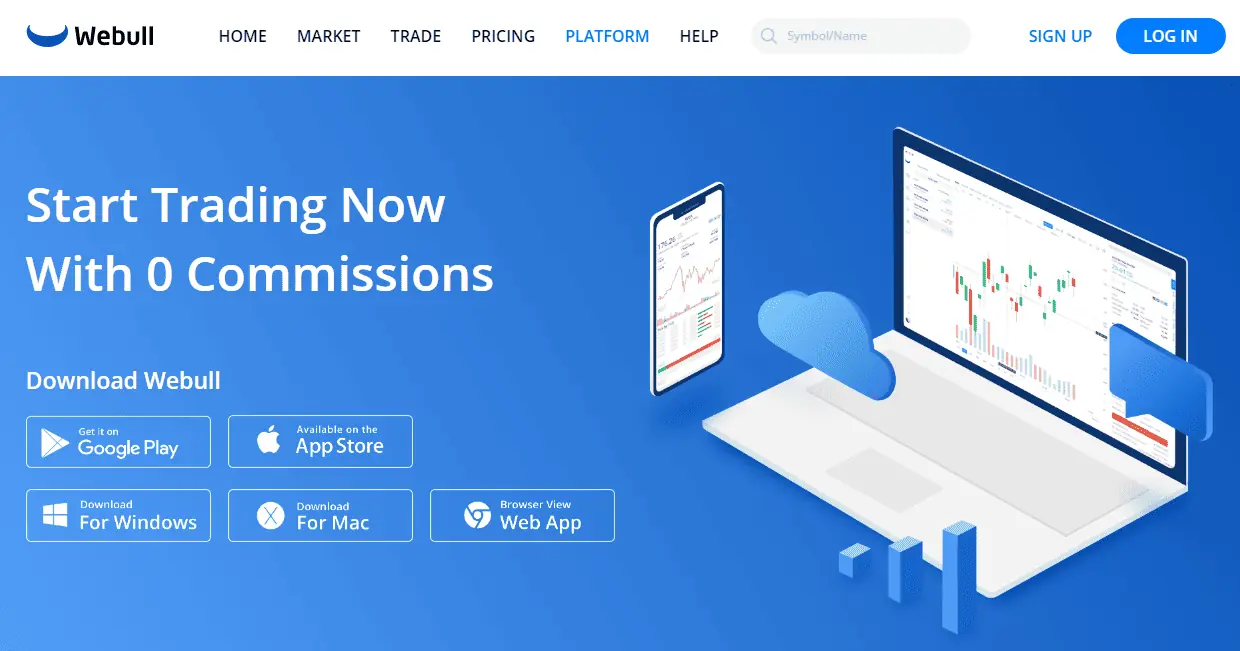 On eToro, the broker makes money from spreads, and these are the only charges you will experience. In fact, when trading actual assets such as stocks and cryptocurrencies without leverage, there is no cost in doing so. However, you will be charged a flat rage of $5 for every withdrawal while the minimum amount is set at $30. eToro charges a fixed withdrawal fee of $5 USD, Additionally, a conversion fee may be applied as withdrawals and deposits are conducted in USD. Any other currency will have to be converted.
Because it is impossible to compare spreads and commissions, this section is a tie with no winner.
Deposit methods
eToro
Bank transfer
Credit Card (Visa, MasterCard, Diners Club, Maestro),
PayPal
Neteller
Skrill
Webull
Bank transfer
Credit/debit card
The winner is eToro.
Available assets
When trading on Webull, there are just 3 asset classes available to trade – stocks, ETFs and options. The company is also planning to introduce crypto trading soon, but so far these are the only assets available. In each class, there are numerous assets to trade, which means that you can diversify your portfolio quite a bit. With eToro, there are commodities, indices, currency pairs, stocks, ETFs and cryptocurrencies to trade. All these are offered as CFDs, though, unless one opts out of leverage to purchase real stocks, ETFs and cryptocurrencies.

Clearly, eToro wins by having more asset classes for diversification.
Special features
Perhaps the only special feature of Webull is that it is based in the US and accepts US residents as traders. Few other brokers can claim this, so that truly sets Webull apart from most brokers. That it also offers 0% commissions on trading is a plus, but there are other similar brokers with the same bargain. For eToro, its unique feature will always be social trading. With millions of clients and the ability to connect to each other online, the community of traders is truly remarkable and unique only to eToro.
For this reason, eToro takes this round too.