Being without a phone in the modern age is almost unthinkable. You need it to send money through apps like Venmo or Cash app, take pictures, and text your friends back. Everyone wants the latest and greatest iPhone, but it can be expensive to purchase outright. Having bad credit makes it even less likely to be able to get your hands on the latest device. Fortunately, you still have some options to finance an iPhone with bad credit. Here is the best way to finance an iPhone with bad credits:
T-Mobile Smartphone Equality
BadCreditLoans.com
Rent Delite
FlexShopper
Gazelle
SmartPay
BoostUP
Rent Delite and FlexShopper offer rent-to-own solutions that feature weekly payments for one full year until you own the phone outright. SmartPay helps facilitate financing for third-party eCommerce sites where you can purchase the latest iPhone. Gazelle specializes in selling certified pre-owned iPhones with loan options through Affirm or lease-to-own options through Katapult. BoostUP! and T-Mobile both offer their loyal customers financing with no credit checks required.
If you are ready to get your hands on a new or used iPhone, here is everything you need to know.
T-Mobile Smartphone Equality
Much like the program through BoostUP!, T-Mobile offers their customers a new way to finance the latest iPhone on the market. You must pay your bill on time for at least one year and have a qualifying service plan. If you meet those criteria, you can skip the credit check portion that is required from most sites to finance an iPhone with bad credit.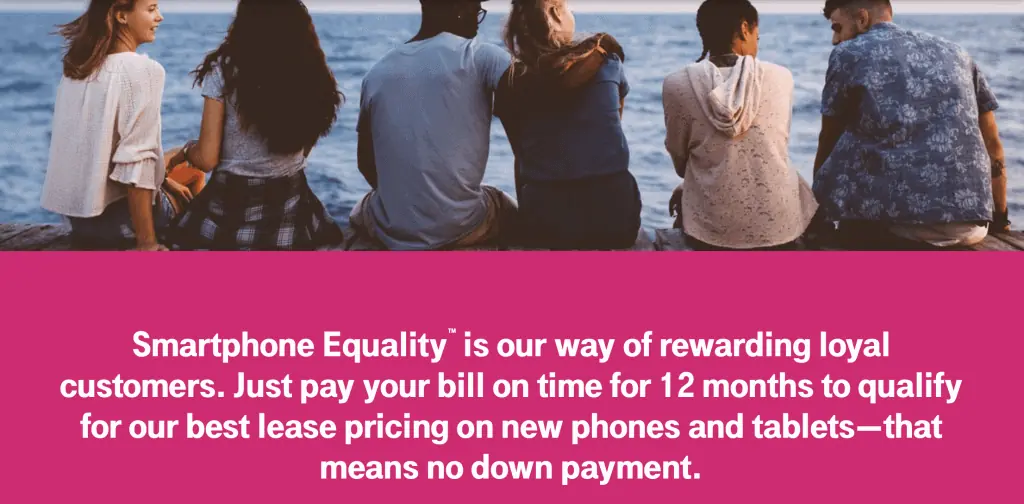 In order to use their Smartphone Equality program, you must have a Magenta, T-Mobile ONE, or Smart Choice plan. Prepaid customers who still qualify for the program must upgrade to a Magenta plan to get their smartphone financing.
One of the benefits of Smartphone Equality is that you can finance an iPhone with no money down.
If you are thinking that you would like to utilize Smartphone Equality, there isn't much you have to do. T-Mobile automatically tracks your payments to determine if you qualify. You may want to enroll in auto-pay to ensure that you don't miss a payment. Missed payments will reset the clock on your twelve months of consecutive payments before you can qualify for their financing program.
Smartphone Equality does not impact your credit score in any way. Hard credit inquiries for financing usually cause your score to drop a few points. However, there are no credit inquiries for this program. It also does not show up as an installment loan on your credit, which could help to boost your score if you make timely payments. Instead, this program is completely credit neutral.
Pros:
Cons:
BadCreditLoans.com
Maybe leasing a new iPhone isn't in the cards for you. You can shop around for the best deal and own the phone outright if you qualify for a personal loan. With BadCreditLoans.com, you can borrow up to $10,000 to spend wherever you choose.
Because you aren't limited to a specific storefront, you can purchase a new iPhone directly from Apple or any other major retailer who might be having a sale.
While you may be subject to a credit check, there are no minimum required credit scores to qualify for this loan service. All you have to do is fill out a short application. They will need information from you like:
Proof of citizenship
Regular income
A valid checking account in your name
Work and home telephone numbers
Email address
Your application will be sent to multiple lenders to see what type of loans you might qualify for. They have an extensive network of financial institutions who specialize in offering loans to those who may not have stellar credit.
Once you look over the terms and decide to accept a loan, you can sign all of your documents electronically. After signing, the funds could be available as soon as the next business day.
Repayment plans will vary based on the terms of your loan agreement. Your lender will discuss the details of your repayment plan with you after determining what you qualify for.
Pros:
Cons:
and get free quote now!
Rent Delite
If you need to finance an iPhone with bad credit, Rent Delite is an affordable option that you should really consider. Unlike some other rent-to-own sites, they charge zero interest on your purchase. All you have to do is make your monthly payments for the first year and then the iPhone belongs to you, no strings attached. Rental payments are automatically deducted from your bank account on paydays.
To qualify, you must be at least eighteen years old and have:
A job or proven source of income
An email address
A credit or debit card to make your payments
If you want to rent your iPhone, you have three basic options with their agreements. Make your payments regularly and keep the product for a full year. At the end of the year, you will own the phone outright. You can also opt to pay off your phone early with the potential for a rebate that varies based on the product and the state you live in. For those who get their iPhone and either don't like it or can't afford it, you can return the product any time after your first month is complete.
Keep in mind that you can only rent one product at a time.
Everything related to your rental can be handled online. Rent Delite does check credit but they also consider non-financial factors into their decision. They also consider how long you have lived at your current address and your bank account history, just to give you an example.
Pros:
Cons:
FlexShopper
FlexShopper offers a unique advantage for those who want to lease multiple items at the same time. If you need more than one iPhone for your family, this might be the best option for you. You will need to fill out their application to see what your individual spending limit is, but some qualify for up to $2,500 instantly.
If you decide to finance an iPhone through FlexShopper, you will make weekly payments on your iPhone, always on Fridays. The first payment starts the Friday after you receive your phone. Payments must be made for the initial lease term which can range anywhere from 7 to 29 days. Give them notice that you will be discontinuing the lease and return the item, and you will have no other obligation to them. Make all of your lease payments for a full year and the iPhone will belong to you.
In order to qualify for their program, you must be eighteen (nineteen in Alabama and Nebraska, and twenty-one in Mississippi) and:
Provide a current source of income
Have a valid United States address (cannot reside in New Jersey, Minnesota, Wisconsin, or Wyoming)
Have a valid checking account in good standing
Provide a valid social security number or individual taxpayer identification number
Have a valid phone number
They do not require good credit to qualify for the lease, but they also note that not everyone will qualify. FlexShopper takes a look at multiple factors, just like Rent Delite. If you do not make the payments or return your leased item, it can have a negative effect on your credit score.
Pros:
Cons:
SmartPay
Unlike other bad credit iPhone financing sites, SmartPay only helps to facilitate the financing and does not offer the phones for sale. Instead, you will purchase the phone through an online retailer that they partner with and select the SmartPay option at checkout. Online retailers include:
Net 10 Wireless
Simple Mobile
Straight Talk
Total Wireless
There are also a few brick-and-mortar locations where you can head to the store to finance your new smartphone depending on your location.
To use SmartPay, you will need to be eighteen years or older with a valid social security number. They also specify that you need to prove that you make $1,000 or more in monthly income before taxes. You will also need your debit or credit card to make your initial upfront payment toward your iPhone.
SmartPay also has different terms than some of the other leading sites that offer financing for iPhones with bad credit. Payments can be made monthly, every four weeks, twice monthly, and every other week. Depending on what payment frequency you are approved for and the term length, you may have a lease that lasts for longer than one year. You can return leased items at any time without penalties.
Credit checks are only performed if you specifically request one to see if you qualify for better lease terms. Otherwise, they will only view credit information and consumer reports but not your credit score.
Pros:
Cons:
Gazelle
Not only does Gazelle offer to finance an iPhone with bad credit, but they also make buying the latest Apple products more affordable. They sell used iPhones after inspecting and certifying them. This alone could save you hundreds of dollars on the purchase price of a new smartphone.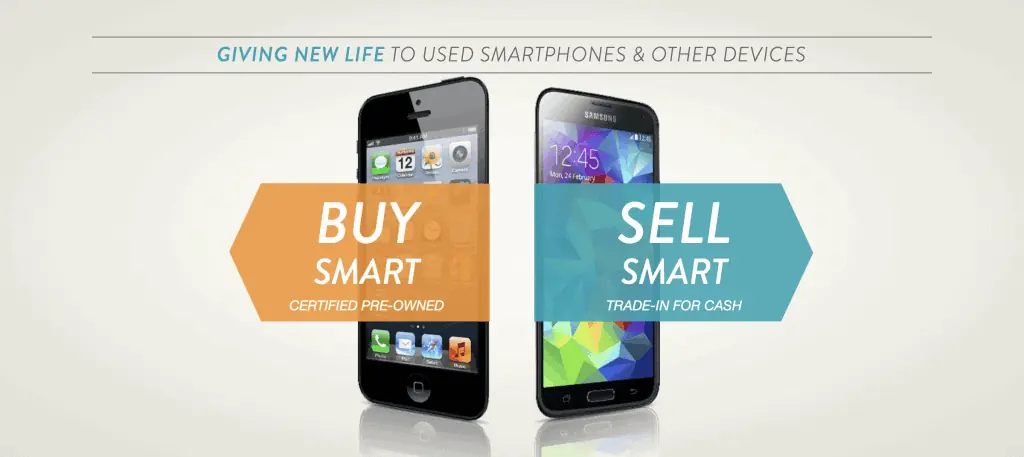 They offer financing for their used iPhones through Affirm at the checkout screen. You will enter your name, email, phone number, and the last four digits of your social security number. Before offering you a potential loan, you will verify your identity through an authorization code texted to your phone. Then, they will offer you your loan amount, loan term (3, 6, 12 or 18 months) with interest rates ranging from 0 percent to 30 percent APR.
You may still qualify for financing even if you do not have much in the way of credit history. They do a soft credit pull which causes no harm to your credit score. However, they also consider other data points beyond just your credit score.
Making payments is easy, allowing you to set up autopay so that you can ensure that you never miss a payment.
Some people may not qualify through Affirm. If this describes you, they may still offer to allow you to lease to own through Katapult. You will pay $45 in upfront fees plus shipping costs. Fees are refundable within the first thirty days if all products are returned to Gazelle. Lease purchase agreements can range from ten to eighteen months.
Pros:
Cons:
BoostUP!
BoostUP! gives you the option to purchase your new iPhone on one of the leading networks in the United States. They make it easy to determine your eligibility and upgrade to the smartphone of your dreams. You can choose to upgrade your current phone for as little as $1 down on the new iPhone 7.
All Boost customers enrolled in a monthly plan totaling $35 or higher and who have made on-time payments for the past year are eligible. There are no credit checks and everything can be handled directly online. If you prefer going into a retail location to conduct business, you can do that also.
Starting on your very next bill, you will make monthly payments toward your new iPhone. The financing term lasts for eighteen months.
Keep in mind that you will have some costs to pay upfront. In addition to a down payment (which will vary based on your approval and the phone you purchase), you will also need to pay all applicable sales tax on the suggested retail price.
As long as you have an installment plan on your phone, you must keep your service with Boost. If you cancel service, the remaining balance on the phone will be due immediately.
Pros:
Cons:
Best Ways to Finance an iPhone with Bad Credit
Finding creative ways to finance an iPhone with bad credit doesn't have to be complicated. There are plenty of online retailers that are ready and willing to help you get the smartphone you want and deserve. While many of them will take credit into consideration, they are more flexible and can still allow you to lease a new phone even if you have poor or no credit. These four retailers can help you out instantly!