MrBeast has made quite a name for himself on YouTube as one of the biggest philanthropists. He finds creative ways to give away large sums of money to homeless individuals, his friends, his mom, and anyone he comes in contact with. Because he is constantly giving money away, you might be wondering just how much money MrBeast makes per month.
If you are interested in MrBeast's net worth, you might be surprised to learn that he is valued at just $25 million. Most of his profits are reinvested back into his channel to create new and more elaborate videos. This chart gives you a quick glimpse at how his brand has grown over the years.
| | | | | | |
| --- | --- | --- | --- | --- | --- |
| Income Source | Per Video | Per Month | Per Year (2021) | Per Year (2020) | Per Year (2019) |
| Video | $3-4 Million | $16M | $192M* | $24 million | $14.8 million |
| Sponsorship | $2 Million* | $6-8M* | $24M* | Unknown | Unknown |
*Estimates or not an official source
To learn more about what MrBeast actually makes per month and per year, this breakdown will give you everything you want to know.
How MrBeast Actually Earns $4M Per YouTube Video
Many people are left wondering just how MrBeast has achieved such a fabulous net worth through his YouTube videos. The truth is that he makes $4 million per YouTube video and earns several million each month.
This money then gets reinvested into new videos for the following month as he has "razor thin" margins on his content. Jimmy actually said this himself in a video interview with Logan Paul.
One of the most important ways to calculate how much he earns is by taking a look at his average CPM for YouTube. MrBeast is one of the top-performing channels on the platform which means his CPM is likely somewhere between $8 and $10 per thousand views.
According to Social Blade, he earns about $2 million per month from ad revenue alone. Some sources claim that he earns closer to $3 million in ad revenue. This does not include sponsored content or advertisements featured within the video itself.
When it comes to in-video ads (aka sponsorships), he is reportedly earning six figures on some of these deals. Companies like Quid and Honey are known to sponsor some of his more elaborate giveaway videos, a stunt that earned him the moniker the "top philanthropist on YouTube." He earns about $690,000 per month from in-video advertisements and brand deals.
When combined with his CPM and advertisements, this is how he earns a reported $3 to $4 million per month from his channel.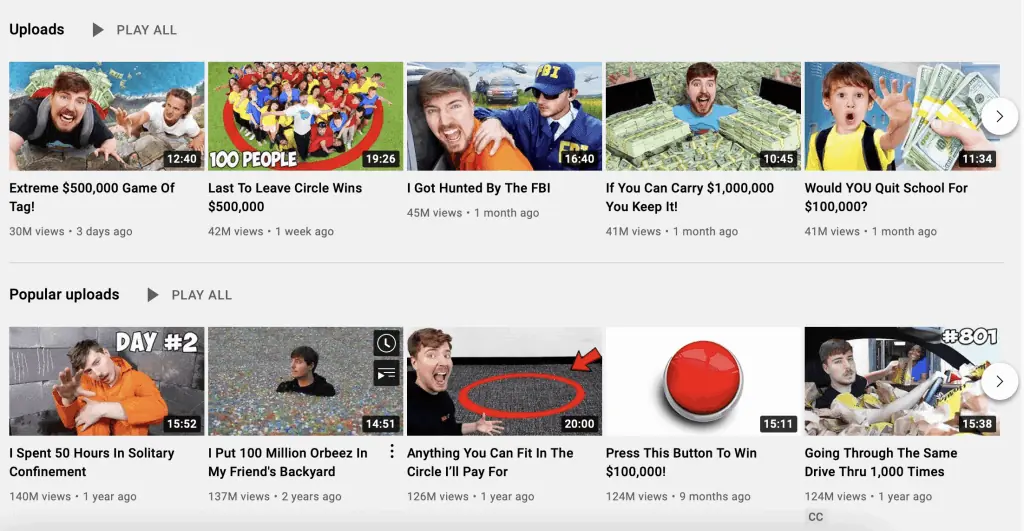 How Much Does MrBeast Make from Merch?
Like many big-name YouTube stars, MrBeast sells merchandise with his brand. You can purchase everything you need from hats to hoodies to backpacks. Once a month, he tends to drop a limited run of merch that goes directly toward helping him fund the elaborate videos he plans.
His merch website gets about one million hits each month with the majority of the traffic coming directly from his YouTube channel.
Most websites similar to that of MrBeast's merch have a conversion rate between 2 to 3 percent. If this is the case with an average order of just $35, he earns about $1 million per month from merch.
However, he gets a huge jump in sales when he drops these limited-edition items. MrBeast earned at least $1.4 million from the increase in his merch sales during one of his previous events.
With these two merch income numbers combined, it means he is earning about $2.4 million each month from merch alone. Combined with his income directly from his YouTube channel, MrBeast is easily earning about $6 million per month.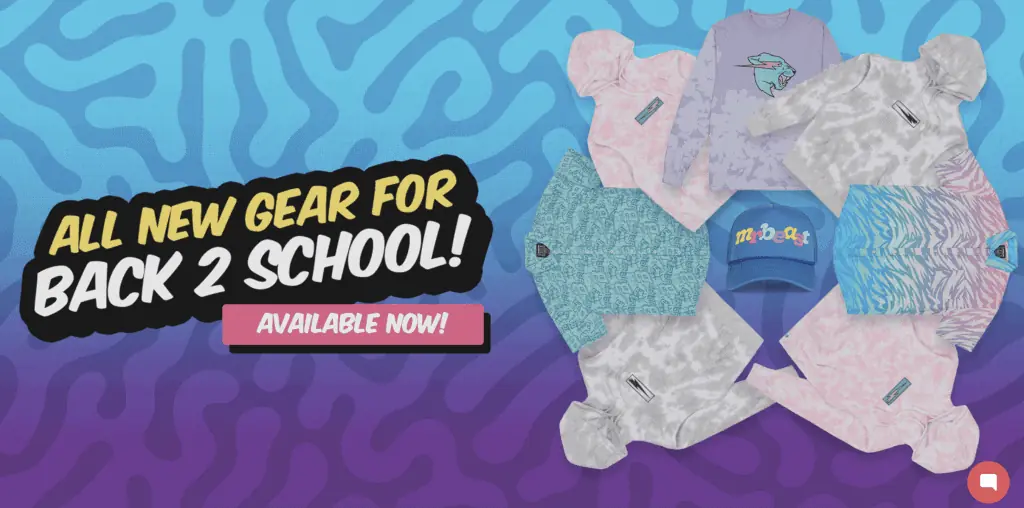 How Much Does MrBeast Make from YouTube?
As you might imagine, YouTube is the largest source of income that MrBeast makes per month. He makes money when people watch his videos and the advertisements that are placed around them. He has about 700 million views each month with nearly 70 million subscribers.
Despite how much money MrBeast makes per month, you may be surprised to learn that his niche does not have the highest CPMs on YouTube. His channel is mostly geared toward gaming, which has some of the lowest CPMs out there. However, his popularity on the platform does boost his CPM a little bit.
Because his videos have a lot of watch hours and are extremely popular, advertisers are willing to pay more money to have their ads placed around his videos. It is estimated that his CPM is probably somewhere in the ballpark of $8 to $10 per 1,000 views.
With almost 16 million views per day, he probably earns about $110,000 each day. Over the course of a month, this means he is netting over $3 million from advertisements on YouTube alone.

How Much Does MrBeast Make from Sponsors?
In addition to the ads selected by YouTube to run on his videos, MrBeast also has in-video advertisements from certain sponsors. One of his main sponsors is Honey, a program that helps you to find coupon codes on your online purchases. However, he also works with companies like Quid.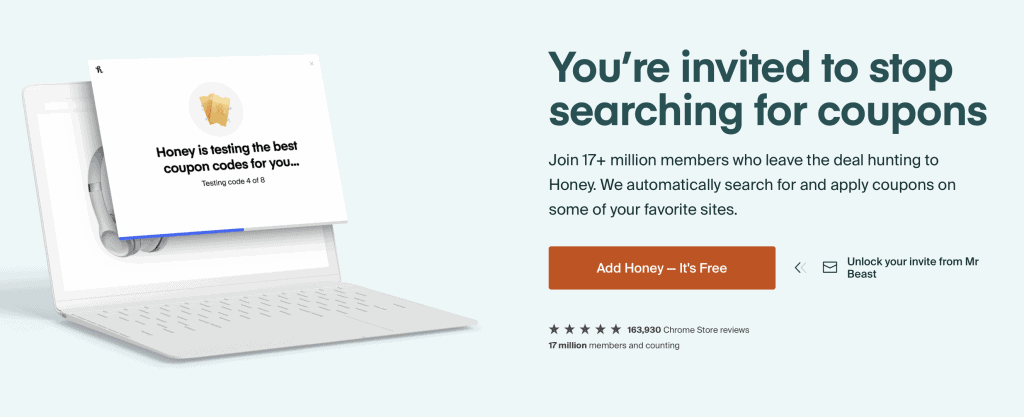 It is estimated that he does a short sponsored post in most of his videos.
The sponsored content on the main channel is more lucrative for him than his other videos. While MrBeast does not come out and directly state how much he makes from these sponsored videos, we can take an educated guess.
Based on industry averages, most YouTubers make between $10 and $50 per 1,000 views. On his most recent uploads, he averages about 40 million views per video.
With these averages in mind, it appears that he would make about $400,000 to $2 million per video from this sponsored content. Given his popularity and the reach of his platform, we can hazard a guess that it is probably closer to the $2 million side of things for a short sponsored message.
How Much Does MrBeast Make from Beast Burger?

In addition to merch and sponsorships, MrBeast is also dabbling in the restaurant business. With hundreds of these retail locations open, Beast Burger struck gold with the average consumer who wants to dine at one of MrBeast's restaurants. They sell three different types of burgers along with chicken sandwiches, fries, cookies, and drinks.
In the first three months of opening the doors, the 300 Beast Burger locations sold their first 1 million burgers. If you stop to do the math, that means that they sold about forty burgers per day in each of their locations. They have not shared their sales metrics on any of the other menu items.
Most of their burgers cost between $6.99 and $8.99. If we selected the middle number ($7.99) and tallied up how much they earned, their revenue for the first three months from burgers alone would have been close to $8 million. This translates to Beast Burger making money close to $2.6 million per month.
Based on burger sales alone, they are on track to net more than $32 million by the end of the calendar year.
However, Beast Burger continues to grow. As of now, they have close to 1,000 locations.
While they may not compare to some of the fast-food giants like Burger Kind and McDonald's, they are close to breaking onto the list of the top 500 highest grossing restaurant chains in the United States.
MrBeast Net Worth: Money Per Month
| | |
| --- | --- |
| Income Source | Monthly Revenue |
| YouTube Ads | $3 to $4 million |
| Merch | $2.4 million |
| Sponsors | $2 million |
| Beast Burger | $2.6 million from burger sales alone |
How Much Does MrBeast Pay Karl, Chandler, Chris, and His Crew?
How much does MrBeast pay his employees? It probably comes as no surprise that MrBeast pays his crew members well. The more prominent members of his crew – Karl, Chandler, and Chris – started to create their own content as well because the fans love them.
While MrBeast does not disclose how much he pays his crew, estimates state that some members of the crew have a net worth of $1 million or more.
Karl is the character that fans love to hate on the MrBeast channel. He has amassed quite a following on the popular gaming platform Twitch. Additionally, he is also very active on most social media platforms in addition to his YouTube work with MrBeast. Most people place his net worth somewhere between $500,000 and $2 million.
Chandler has his own burger named after him in the Beast Burger restaurant chain. As he gains popularity among followers, he is also working on creating his own merch. As a content creator, it is believed that he has gathered a net worth of right around $1 million.
Much like Karl, Chris has staked his claim on the world as a social media superstar. In addition to his work with MrBeast, it is believed that social media is his main source of income. His net worth should be around $1 million.
Does MrBeast Invest in Stock, Bitcoin, or Anything Else?
With as much money as MrBeast has, it probably comes as no surprise that he is big into investing his revenue. He wants his money to work hard for him so that he has more to reinvest in videos and toward his philanthropic goals. What kind of things does MrBeast really invest in personally?
First and foremost, he is big into investing in bitcoin. This is the majority of his portfolio. He bought cryptocurrency and mainly bitcoin some time ago, which has proven to be an excellent investment. To this day, he continues to hold some of his assets that are invested in bitcoin.
However, he is also very interested in investing in NFTs. Most of his investment advice regarding these NFTs comes from Gary Vaynerchuk (affectionately known around the world as just Gary Vee). Two of his biggest NFT investments are Cyberpunks and Veefriends.
In addition to his bitcoin and NFT holdings, he also recently invested in fintech company Current near the end of April of this year. Current is a mobile banking operation based in the United States. It is unknown just how much he invested in his company, but he did do a massive giveaway to kick off their new partnership.
MrBeast is all about making wise investments in up-and-coming creators as well. He invests in a fund called Juice Funds where he is a minority owner of Creative Juice. Their primary goal is to find creators who have good and marketable ideas and give them seed money in exchange for a cut of their profits. This will eventually increase the amount of money MrBeast makes per month.
For more information on financing an iPhone with bad credit, see our complete guide here.
How Much Does MrBeast Make?
How much money does MrBeast make per month? Among all of his different revenue streams, it is estimated that MrBeast makes $8 million per month. He has a net worth of close to $25 million as he consistently gives money away in philanthropic gestures. He is a great content creator who only continues to grow in popularity.