Chase Freedom credit cards are Chase Bank's cards with no annual fee and cashback with every purchase. It's no wonder that many people are looking for ways to activate their Chase Freedom cards today.
There are three types of Chase freedom credit cards – Unlimited, Flex, and Student. For both Unlimited and Flex, you will receive a $200 cash back bonus when you spend $500 in your first three months of card membership.
You will also receive an additional plus 5% cash back at grocery stores on up to $12,000 in the first year. Chase Freedom Student credit cards will only have a $50 bonus after any first purchase amount with a 1% cashback on all purchases.
There are three ways to activate your Chase Freedom Card: logging into the Chase website, visiting your local Chase bank branch, or calling the Chase hotline at 800-432-3117 and enter the last four digits of your new credit card.

Step by Step: Activate Your Chase Freedom Card
After seven to ten business days after your Chase Freedom card approval, you will be able to receive it in the mail. Here are all the ways that you can activate your Chase Freedom Card.
Method 1: Activate Your Chase Freedom Card Through Call
This method of activating your Chase Freedom card requires dialing into their dedicated customer service hotline.
To activate your Chase Freedom credit card through phone calls, you must use the same number that you used when applying for the card. For safety, Chase will verify if the numbers match and will refuse activation if not.
Activate your Chase Freedom through a call by following these steps:
Call the Chase credit card activation number at 800-432-3117.
When prompted, key in the last four digits of your credit card number.
Verify your identity by providing the last four digits of your Social Security Number (SSN) and date of birth.
Answer the personal identifying questions that you selected when applying for your credit card.
Respond to any additional questions by the customer service representative.
When activating a credit card through the Chase hotline, they will ask if you want to enable your cashback bonuses. While all Chase cards are eligible for these, they are activated every quarter.
Be sure to activate your card through call when you are in a location with limited data access or want to protect your identity when using your communal internet.
Method 2: Activate Your Chase Freedom Card The Chase Website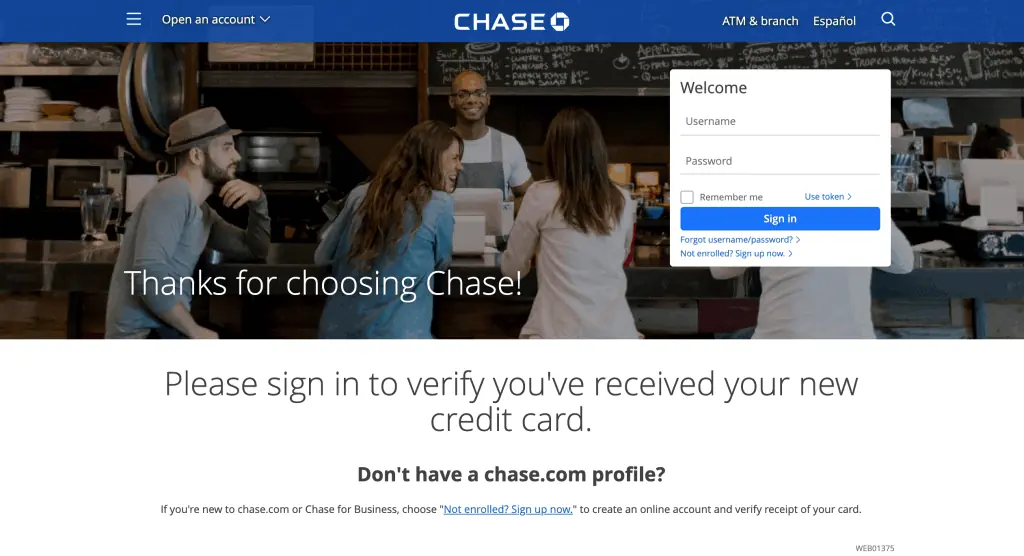 If you are activating your card in a safe location such as your home, you may opt to use the next method of the Chase website.
To use this method, you will need to have a Chase account. If you're a first-time Chase cardholder, you may sign up instead. To sign up, you will need your card, Chase account, or application number with your SSN.
Go to the Chase Verification website.
Log in to your Chase account.
Click My Account.
Select your new card.
Click the activation button.
Afterward, you may activate your special perks such as the quarterly 5 percent cashback bonus. To do this, select the Click Benefit button.
If you do not have any private internet access, you have one last option to activate your card below.
Method 3: Activate Your Chase Freedom Card Through A Chase Bank Branch
For students, people who survive on public internet connections, or those who do not own smartphones, don't worry. Chase also gives you an option to activate your credit cards through your local Chase bank branch.
All you have to do is bring your Chase freedom credit card along with your valid IDs and SSNs. Once you are with a customer representative, they can activate your card for you after you have passed the security questions.
Verify Your Chase Freedom Card Activation
To confirm if you have successfully activated your Chase Freedom card, you may log into your online Chase account. Under My Account, you should be able to see your new card information.
Alternatively, you may attempt to make a small purchase online or in a physical retailer store. Upon activation, you will be able to use your Chase Freedom card instantly.
Conclusion
With so many benefits and ways to activate your Chase Freedom credit card, it's no wonder why it's a top credit card in the market today. Make sure to choose that method that is not only convenient but also safe for you.
If you have found that you like the benefits of owning a Chase card, but do not qualify for a Chase Freedom Card, you can opt to get a Chase Debit card instead. With enough time, effort, and on-time payments, you will have a good enough credit score to get a Chase Freedom Card of your own.
Frequently Asked Questions
Can I activate my Chase Freedom card when I am abroad?
Yes. You may activate your Chase Freedom card by an international call at +1-713-262-3300. 
What is the minimum credit score requirement to open a Chase Freedom card?
Chase credit cards generally require credit scores of 700 or above.
What are the Chase Freedom Card credit limits?
While Chase Bank does not disclose the maximum credit limit for its cards, the minimum account granted to an approved Chase Freedom cardholder is $500.

If you consistently pay your card on time, you can request to increase your credit limit. Most companies allow for credit increases annually.
How do I avail of the Chase Freedom Card cashback benefits?
Cashback benefits for all Chase Freedom Cards are activated either through a call with a customer representative or your account on the Chase Website.
What happens if I forget to activate my Chase credit card?
Should you forget to activate your Chase Freedom credit card, your account will remain open. Thankfully, since Chase Freedom cards have no annual fee, you will not have to worry about being charged.

However, your credit score will still be affected regardless if you activate your card or not. While not activating your Chase Freedom card does not affect your credit score in the form of payment history, it will still affect your overall approved credit limit. 

If you do not want to get a different credit card, it is best to keep your Chase Freedom credit card open. In general, it's good for your credit score to have a long-standing credit account with low credit limit utilization.
How do I cancel my Chase Freedom card?
If you find that your Chase Freedom card is lost, stolen, or damaged, you may opt to block, cancel or replace your card.

To do so, call the Chase Customer Service hotline at 1-800-432-3117. Enter your credit card number when prompted, follow the instructions to speak to a representative, and ask for a cancellation.

Alternatively, you may log into your Chase account online. Under Credit Card, select Other/Not listed from the drop-down menu. Select the card you want to cancel and write a note of why you want to cancel it.