Chime is a fast-rising alternative for the next generation of digital-savvy online bankers looking to take advantage of its many features, which include how to deposit paper and digital checks on the go using their Mobile Check Deposit.  
Many Chime users want the safety of a traditional bank while having the benefits of an online alternative one. Known for their promise of minimal fees, advanced controls from their Mobile App, and their free Chime debit card, the Mobile Check Deposit, Chime accounts are also very secure both in sending and receiving money.
Unlike other similar platforms like Cash App and Venmo, Chime deposits are FDIC-insured. With its partnerships with The Bancorp Bank and Strike Bank, N.A., Chime accounts have routing and account numbers that help it to function like traditional banks. They also have two types of accounts: Saving and Spending.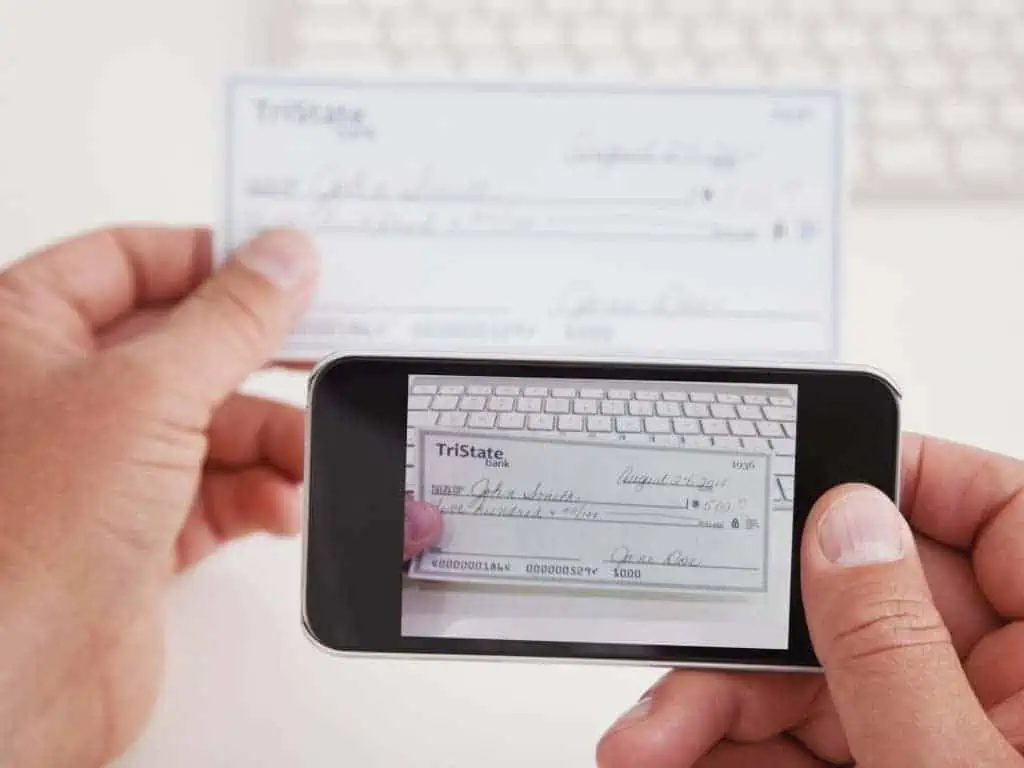 What is the Chime Spending Account?
Chime's spending account is a free checking account with no monthly fee or minimum balance. Unless you use an ATM outside the 38,000+ MoneyPass and Visa Plus Alliance networks, withdrawing your money is also free.
Chime claims to receive your paycheck up to 2 days earlier than most banks using the Get Paid Early feature. Without the many screening processes of traditional banks, Chime is a good alternative for people trying to reset their financial situation and want to improve their credit.
With this, it's a choice option for employees who have difficulty opening traditional accounts to still be able to receive their salaries. 
How to Activate Direct Deposit with Chime
While Chime provides several ways to add money to your account, direct deposit is one of the most popular uses for Chime. Commonly used by employers to pay their employees, they can also be used to receive payments from tax refunds, social security, or disability income.
To activate a direct deposit on Chime, you need to find your Chime bank account and routing number, which you will need for your application. Then, you need to fill out a direct deposit form that you give to your payor along with your Chime bank details.
Your payor will be the one responsible for handling the rest of the process that may take up to 1-2 pay cycles before it is fully processed.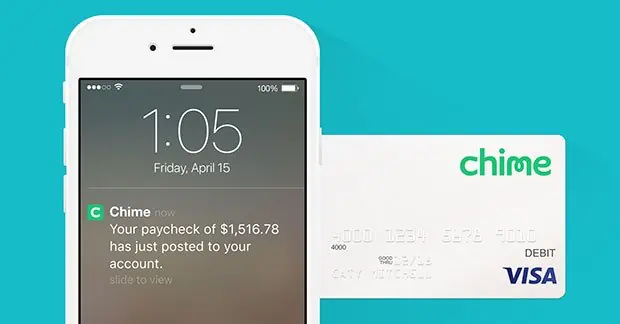 How to Enable Mobile Check Deposit with Chime
Unfortunately, there is still no way for you to enable a mobile check deposit for yourself. However, Chime will automatically give you to option to deposit using the mobile check deposit feature if you meet the required payroll amount through direct deposit.
After receiving a minimum of $200 of Payroll through direct deposit, you can expect the mobile check deposit function to show up on your app within 30 days.
Ways Prepare your Check for Deposit on Chime
Similar to the physical check deposit process, there are a few steps that you should take to protect your identity and make sure that the deposit goes through smoothly. Here are the things you should do before depositing any mobile check on Chime:
Double Check Your Account Information
While Chime is FDIC-insured, you don't want to have to go through the hassle of retrieving the wrong deposit. Make sure that the check has your correct details, such as the account number and spelling of your name.
Pay Attention to Check Validity
Chime-issued Checks are considered stale after not being withdrawn for six months or more. While Chime is not obligated to pay you upon the presentation of stale checks, you can request a new one from the issuer. Bear in mind that a request after the initial one has gone stale may incur necessary deductions.
Void Your Check Properly
With identity rampant and more companies enable mobile check deposit features, it's best to make sure that your check is marked void. Other than filing your check away, make sure to erase any recognizable details on it to avoid identity theft and fraud. The typical way to void any check is to write "VOID" in big, bold letters across the front and back.
Now that you know how to properly prepare your check to be deposited and protect your sensitive information, here's how you can deposit your check on Chime:
Steps on How To Deposit Checks with Chime
Depositing checks through Chime can be done on your mobile device. With no lines, no forms, and no additional fees, a mobile check deposit is a great way to avoid having to ever go to a physical bank for your deposit needs.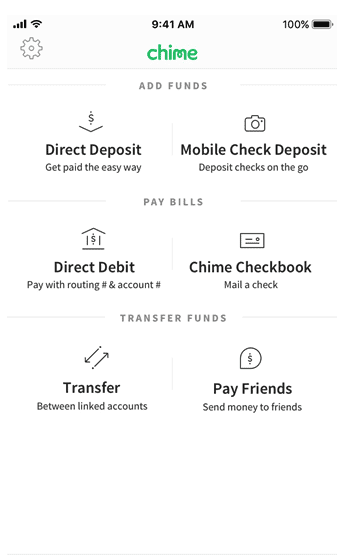 Using Chime Mobile Check Deposit, you can deposit up to $2,000 per check, up to 10 check deposits a month. You also have a maximum mobile check deposit limit of $10,000.
Here's how you can deposit checks with Chime through the Chime mobile app:
Go to your Chime Mobile App
Tap "Move Money"
Select "Mobile Check Deposit" under "Add Funds"
Choose the account that you want to deposit the check into (checking or savings)
Type the exact amount written on the check
Take a clear picture of the front and back of the check
Review the deposit details
Confirm the deposit
Different banks will have varying clearing times, so there is no set timeframe for check deposits to reflect in your Chime account balance.
However, you can usually expect your money to be in your Chime account within a week. Any longer than that, you may follow up with your check's issuing bank.
Now that you know how to deposit to your Chime account using Mobile Check Deposit, you may be wondering if it's possible to send checks to yourself or other people as well. Yes, you can.
Steps on How to Send Checks with Chime Through Mail
There are two main benefits of sending checks with Chime: potential debit card points and money saved from physical checkbooks. Generating checks using debit cards is a great way to utilize points and minimum spending. Depending on the bank, physical checkbooks can cost anywhere from $20 to $75 per request.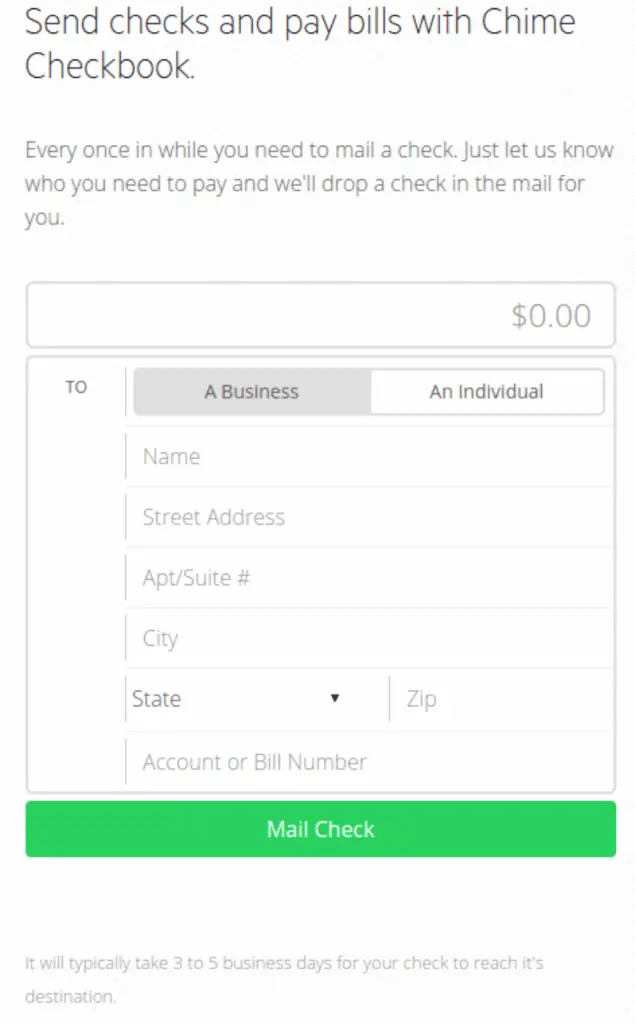 If you're planning on depositing checks to your landlord or your utility providers, Chime has a feature that you can use on the go.
While Chime does not have a physical checkbook, Chime has a nifty Checkbook feature wherein you can request a check to be sent by mail for free.
Here's are what you have to do to send checks using Chime's Checkbook feature:
Go to your Chime Mobile App
Tap "Move Money"
Select "Chime Checkbook" under "Pay Bills"
Choose between sending a check to "A Business " or "An Individual"
Fill out the check mailing address details
Type your account or bill number for reference
Tap "Mail Check"
All Chime accounts used for at least 30 days can use this Checkbook feature. However, Chime's Checkbook feature has limits of $5,000 per payment and $10,000 per calendar month. You can expect your Chime-enabled check to reach your payee within 3 to 5 business days.
Once you have issued a check for mailing, the funds are automatically removed from your account to avoid any possible issue with bouncing checks.
Frequently Asked Questions
Who can deposit Checks with Chime?
Chime users will only be able to use the Chime mobile check deposit feature if you have had at least $200 deposited into your account from your regular payroll direct deposit.
How much are the Chime check deposit fees?
There are no Chime check deposit fees. However, withdrawal fees for out-of-network ATMs will have a corresponding charge of $2.50 per transaction.
How long are the Chime check deposit and mailing times?
Different banks will have varying clearing times, so there is no exact number of days that you can expect to receive your money. However, if a week has passed and the money has not yet arrived, you can follow up with the issuing bank regarding it.

Additionally, mailing a check to a payee from your Chime Checkbook takes 2 to 5 business days. If your check has not year arrived at your payee's address within 5 days, you can contact Chime support.
What happens when the Chime check you have issued is not withdrawn?
Whether it's because of the wrong address or the incorrect information on the check, when checks are not withdrawn within 180 days or around six months, they become stale. After this period has passed, Chime returns your funds to your account automatically.
Can you cancel a Chime check you ordered while it is in transit?
Yes. However, you can only cancel a non-withdrawn check. There is no way to retrieve your money after the release of funds. To cancel a check which is still in transit, simply call the Chime hotline at 1-844-244-6363. After confirmation, the funds will be available on your Chime account by the next business day.