When it comes to making wise investments, many people start to feel overwhelmed by all of the options and possibilities. Investing your spare change doesn't have to be difficult though. Acorns is a user-friendly app that helps you to invest mere pennies and dollars for your future retirement or just a rainy day. Its simplicity leaves many people wondering whether Acorns is legit.
Acorns is backed by experienced chief officers and some major investment companies. They take security seriously with high-level encryption, multi-factor authentication, and more. Rest assured that your money is safe as they are registered and funds up to $500,000 are protected.
If you have been struggling to start investing, here is everything you need to know about this easy-to-use platform. However, make sure that you read below why some people think that Acorns is a scam.
What is Acorns?
If you have been thinking about getting started with investing, Acorns might be the right fit for you.
This platform allows you to invest small amounts of money each month. Their entire mission is based around the fact that these "acorns" or small investments can grow into something much greater like a "mighty oak."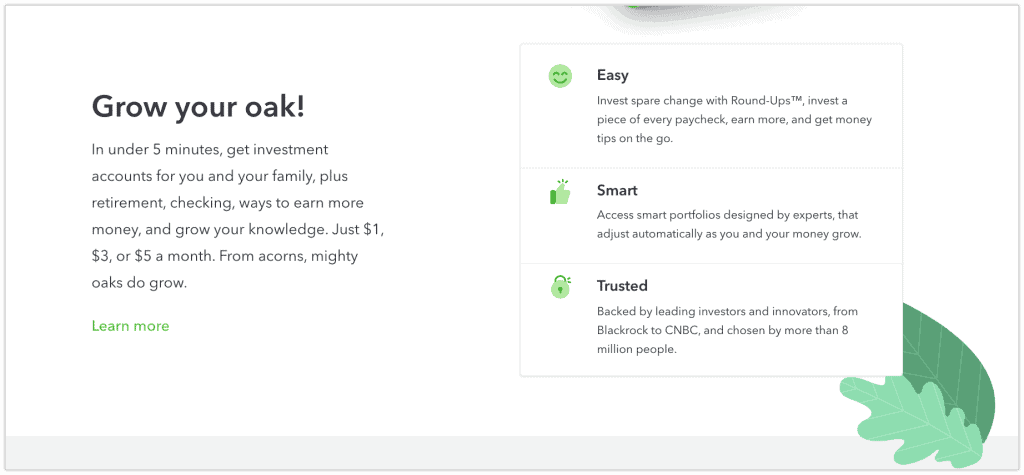 It takes less than five minutes to establish an investment account for yourself or a family member. Some use the platform to invest for retirement while others use it as a rainy day fund or a college fund for their kids.
Making an investment is easy. You can choose to invest your spare change with Round-Ups. This means that if you spend $4.50, it will automatically round your purchase up to $5 and invest the remaining $0.50. Depending on your investment goals, you may also choose to invest some of your paycheck each month.
How does Acorns make money? They require a small subscription fee to get you started. You can invest for as little as $1 per month. At this tier, you can use Round-Ups, earn bonus investments, and gain access to articles from financial experts.
Their Personal account costs $3 per month and offers substantially more features. You can invest, save for retirement, and bank with Acorns at this level. Apart from your subscription fee, there are no account fees for banking with them. You even gain access to fee-free ATMs so you can always access your cash.
Last but not least, their Family account costs $5 per month. It offers the same items as the Personal account but adds in the ability to open investment accounts for your kids. It has the most features and capabilities of all three subscription fees.

Who is Behind Acorns? Is Acorns Legit?
Knowing the faces behind the company is important when determining whether Acorns is legit. They are run by a rather large team of nine individuals. This may come as no surprise since the site is so popular. More than 9 million individuals have signed up to make good use of their investing service.
Noah Kerner sits at the helm of the company as the CEO. He has a rather impressive resume that lends itself to the work Acorns is doing. He was the cofounder of Say, the coauthor of Chasing Cool with the CEO of Barneys, and he built the creative agency Noise.
Kerner has been recognized by Billboard Magazine's Top 30 Under 30, AdWeek's Top 20 under 40, and Fast Company's Innovation Agents.
He is aided by Chief Financial Officer Rich Sullivan. Sullivan has more than two decades of experience, including a stint as the Vice President of Finance at Twitter. He has also been an executive at well-known companies like AT&T and DreamWorks Animation.
Not to be excluded, Jasmine Lee is the Chief Operating Officer with another twenty years of experience under her belt. She was the COO and CFO for consumer products at PayPal, as well as CFO of Xoom.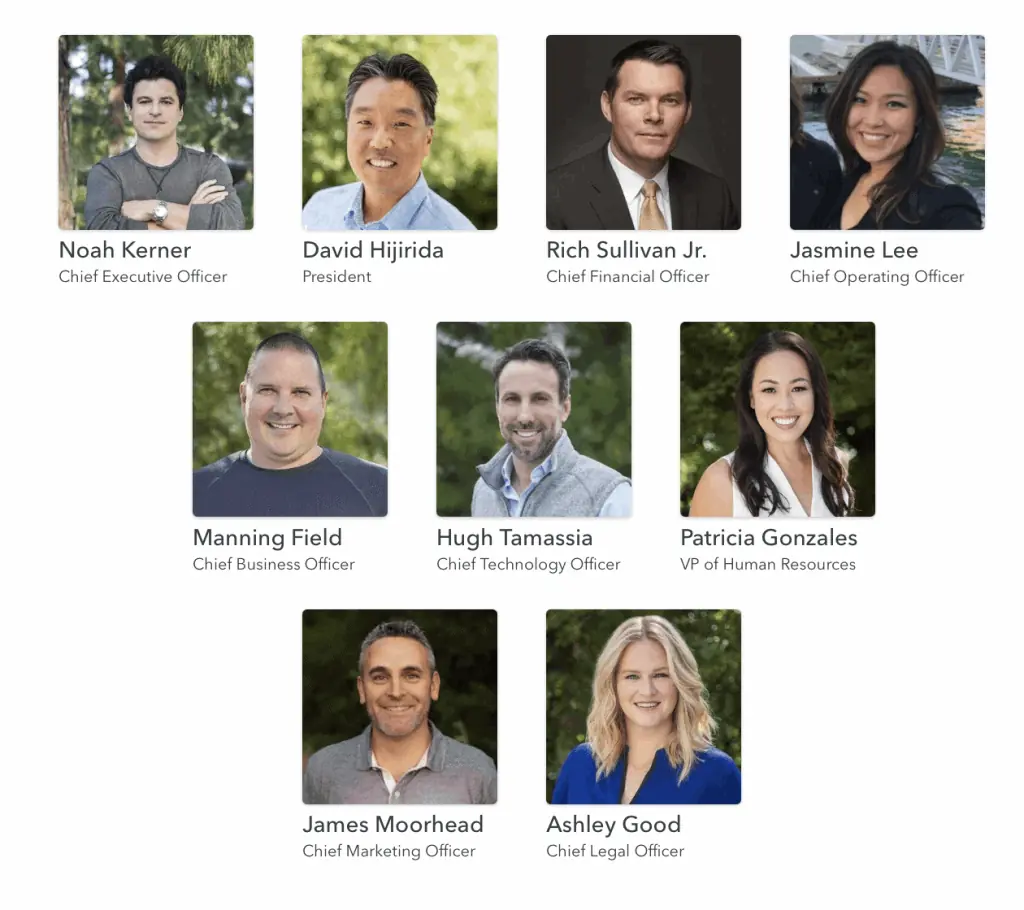 In addition to a remarkable leadership team, Acorns also has some major investors backing their endeavor. Some of their investors include:
Jennifer Lopez
Alex Rodriguez
Capital Ventures
Comcast Ventures
NBC Universal
DST Global
TPG
Headline
They have more than thirty major investors who truly believe in the mission of Acorns. With some of these heavy-hitters behind them, you can rest easy that you are in good hands on this investing platform.
Is Acorns Licensed and Registered?
If you want to know whether Acorns is legit, you probably want to know that they are properly registered and prepared to help manage your finances. There is good news for those who are thinking about investing with them. They are licensed and registered under a variety of names and labels.
The Acorns Grow Incorporated website is operated by Acorns Advisers, LLC. They are an SEC Registered Investment Advisor.
The brokerage services provided to their clients is provided by Acorns Securities, LLC. This branch of their services is also an SEC-registered broker-dealer and a member of FINRA. They are members of SIPC.
All securities in your account are protected up to $500,000. However, this does not mean that your investments will never lose money. Investing always comes with an inherent risk of losing the money you have invested. Be aware that you are taking a risk by investing your money in any type of stock, mutual fund, or index.
Acorns Safety
In addition to having an SIPC protected account for up to $500,000, Acorns also has some other security measures in place to protect your personal information. Knowing how secure your personal information is should be essential to determining whether investing with this platform is for you.
First, they have 256-bit SSL encryption. This means that your personal information is scrambled once it is entered, only to be decrypted by Acorns when it arrives to their system.
SSL encryption, particularly when it is as high as this, makes it incredibly difficult for hackers to gain access to your information. It could take them years to decode and unscramble the information found within a 256-bit encryption.

They also invest in bank-level security for their servers. All privacy measures are completely verified with physical security.
Signing in to your account is protected with several account safeguards. Acorns utilizes multi-factor authentication to make it more difficult for hackers to log into your account. They also use automatic logouts and ID verification to prevent unauthorized users from accessing your account.
If they find any unusual account activity going on, they will immediately notify you. This serves to protect you from fraudulent activity with your account.
Is Acorns Legit? Acorns Reviews
Before you start investing with Acorns, you probably want to know what the reviews have to say. What are real people who are using this service saying about the end product? This can give you a lot of insight as to whether this investing app is going to be a good fit for you.
According to Trustpilot, Acorns has just a 2.6-star score out of a possible five stars. However, there are not many reviews listed.
Many of the complaints are in regards to a promotion that Acorns has been running. They claim that they will give you $1,000 if you can get five friends to sign up for the service. Unfortunately, it appears that claiming this deal might be a bit elusive. A lot of people are complaining that they never saw a dime of the money show up in their account, even after contacting customer service numerous times.
Better Business Bureau has an even lower score for Acorns. Based on almost fifty reviews, they have a 1.38-star rating.
Again, people are complaining about the promotion. Others have lodged complaints about the difficulty of closing out their account when they are finished using it. The system appears not to be very user-friendly when it comes to canceling your subscription.
NerdWallet has given the app quite a high rating though. Based on their fees, account minimums, and features, they have earned a four-star rating. But it's important to remember that websites like this usually get paid to promote brands through affiliate deals. (Same with us, however, we are always honest in our opinion)
Acorns Stole My Money
Despite all of their security measures, many people have lodged complaints that Acorns has stolen their money.
Some people have had issues with hackers making unauthorized purchases on their account. While Acorns does everything possible to protect your personal information, there is always a chance that someone with malicious intent will access your information. Be sure to contact their customer service department immediately if you notice unusual activity on your account.
Keep in mind that their customer service department can be quite busy. You may have to follow up on your complaint several times before it is resolved. Don't be shy about picking up the phone daily to keep tabs on your account.
Others claim that Acorns has been withdrawing unauthorized funds from their account without their permission. In many cases, it appears that people attempted to close out their Acorns account unsuccessfully. Until the account is closed or the subscription is terminated, they will continue to withdraw their monthly subscription fee.
If you want to close out your account, you need to be sure to follow all of the instructions. It is quite simple to do, though it may take some time on your part. Here are the steps you will need to follow:
Log into your account and click Settings under your profile information in the top right-hand corner of the screen.
Go to the Personal section.
Click Subscription.
Select Close My Account and follow the additional prompts that appear on the screen.
Acorns Customer Service
If you have an issue with your account or have a question about how something works, you might be wondering how you can reach them. The good news is that there are multiple ways you can go about reaching out to a real person with your inquiries. They allow you to reach out via phone or through email.
Calling in will get you a faster response to your questions. You can reach them at (855) 739-2859. They are available from 6:00 AM to 7:00 PM PST every day. If you live on the east coast, this means they are available from 9:00 AM to 10:00 PM ET.
Some people prefer not to pick up the phone to deal with their questions. If this describes you, then you may want to make good use of their email function. Send your messages and questions to [email protected].
Forgot Acorns Login
With most programs becoming digital, you likely have dozens of credentials you have to remember for a variety of websites. Remembering your username and password can be a challenge, especially if you haven't signed into your Acorns account for a few days or weeks. Fortunately, they have a system in place to help you recover your username if the details were to slip your mind.
You can contact their customer service department at (855) 739-2859. They can provide you with your login as long as you give them the correct details listed on your account. They will require your:
First and last name
Date of birth
Full mailing address that is listed on file with your Acorns account
As long as you can provide these details, you should have no problem getting back into your account so that you can keep on investing.
Acorns Sign Up
Now that you know Acorns is legit, you need to know how to easily sign up for an account. First, you need to make sure that you qualify to open an account though. It is only available to United States residents with a valid social security number.
Users must be eighteen years of age or older. However, you can open an account for a child starting on the day they are born with an Acorns Family subscription.
Creating an account will take you just a few minutes. You can head over to their signup page and enter your email address and set a password. From here, they will walk you through all of the steps required to link your checking account and pay your subscription fee.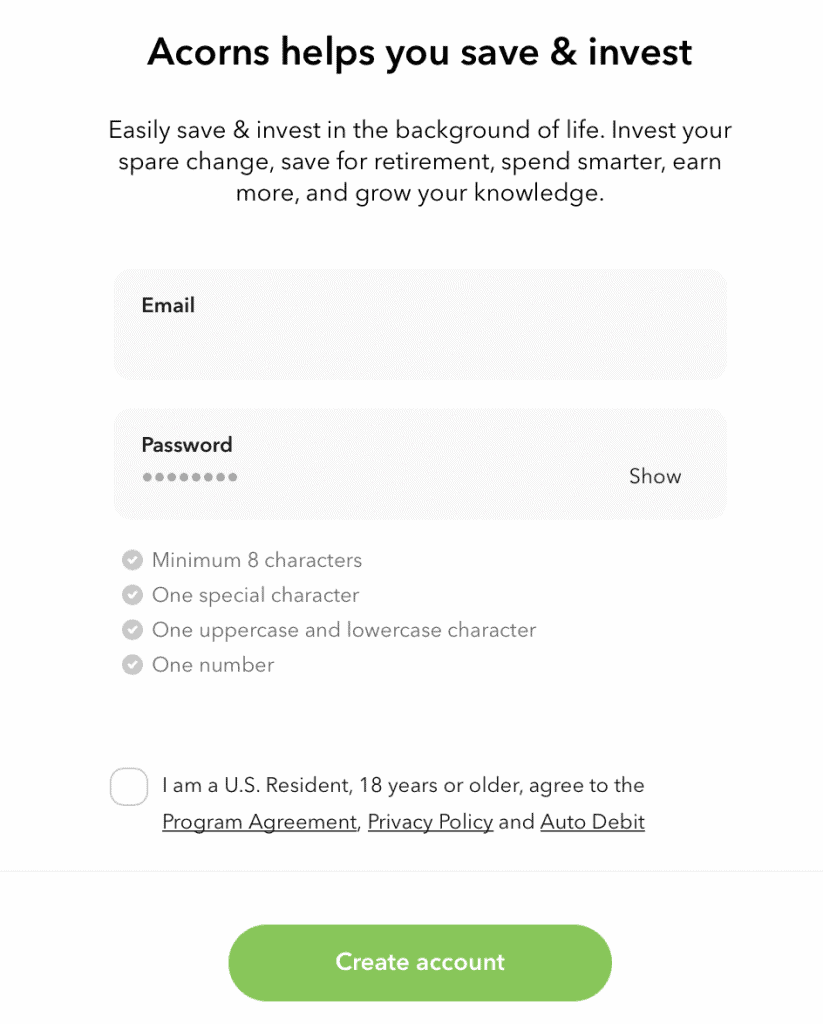 For more information on how to use your Cash App card for free, see our complete guide here.
Is Acorns Legit?
Investing can be quite easy with user-friendly programs like Acorns. You can easily invest your spare change in their secure accounts for a nominal monthly fee. Acorns is legit and you can rest assured that your money is safe. However, if you need help, be sure to reach out to their customer service department as quickly as possible.