Investing this year has taken a turn where we see non-traditional stocks popping up such as more precious metals, NFTs, and more. That's why some investors have piqued interest in Acre Gold.
But many are wondering if Acre Gold is a scam? What really is this investment company about?
Acre Gold is not a scam but has seen its fair share of complaints. It is meant to be a disruptive company in the gold investment world. Allowing gold to be bought at a more affordable rate through subscription, Acre Gold has their clients investing monthly rather than having to buy all at once.
In this blog, we will break down who Acre Gold is, what the consensus is, and whether or not it has the potential to be a good investment.
Who is Acre Gold?
Acre Gold is meant to be the Uber of the taxi world. It's meant to disrupt the industry as it was designed by a bunch of tech entrepreneurs that wanted to find a more affordable way for their clients to acquire gold.
With its two headquarters in Santa Monica, Acre Gold was founded in 2018. What makes them different compared to some of the other investment firms in gold is that they offer a subscription service.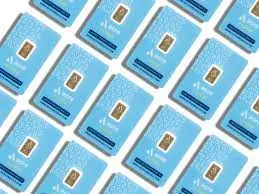 You heard that right.
Subscription
The way that Acre Gold works as opposed to other brands is they charge you on a subscription basis. Other companies will have you invest in the full amount to be able to receive your gold.
Acre Gold charges $50 (or even $30) a month as you work towards investing in a full gold bar of 2.5 grams. While you invest monthly you will be able to see your progress towards one gold bar.
There is a $100 subscription rate in which you work towards a 5-gram gold bar as well. If you go over the threshold the remaining of the money gets returned and reinvested into a 2.5 gold bar.
Meeting the Acre Gold Threshold
So while you are nesting ina. future gold gram bar what happens when you actually have enough money saved in your account to purchase one? Acre Gold will send you a 2.5 or 5-gram gold bar to your house.
Then simply the process will start over and you will start saving again. Subscriptions of course can be canceled at any time.
Transaction Fees
While the monthly subscription rate is exactly what you will pay, you also have to account for Acre Gold's transaction fees. For instance, there is an account opening invitation fee on top of your subscription. This typically costs $12.
Another fee is a closing out fee. If you do wish to cancel your subscription you can expect to be charged $20 for doing so.
Is Acre Gold a Scam?
Sounds a little too good to be true? Well, there has been a fair share of complaints such as the companies inability to keep up with demand. They would need to have their own gold lying around to ship out when all their customers reach the threshold.
Popular Complaints
Many poor reviews have led customers to feel like the company itself may be a scam. From lack of transparency to poor response time, these qualities are less than reassuring for clients who are investing with them.
Transparency
Acre Gold says that after the initiation of your account you will get monthly progress emails from them starting in month two of your subscription. They will also give you a link to manage your subscription where you can see your progress towards a gold bar.
However, not all customers feel that this is on the up and up. With semantics and unclear language, it seems many customers have reported not knowing what the threshold actually is to receive a gold bar.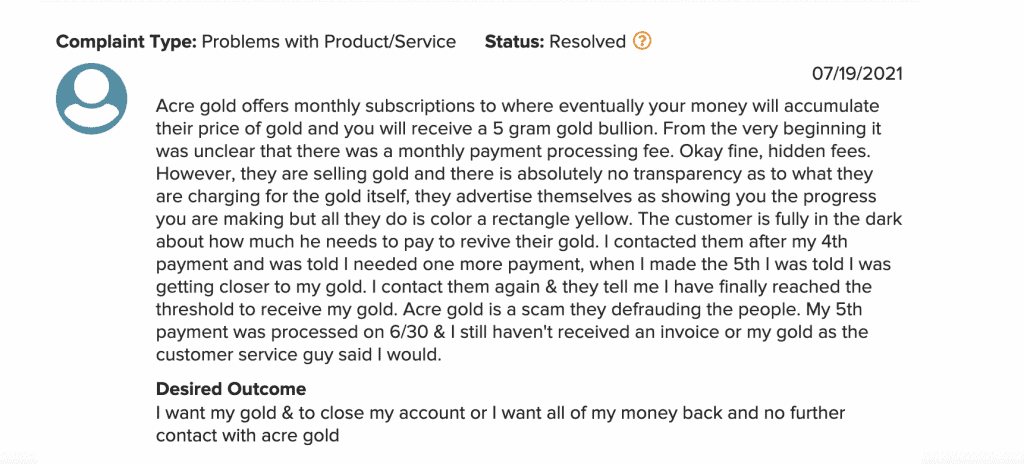 The response from the Acre Gold support team was that the price of gold is constantly changing which is why they do not list their price of gold on their website. The only indicator is the gold bar that fills up when your monthly deposits are made.
Reachability
Because there is no listed phone number clients have found it particularly hard to get a hold of customer service. The only way communication seems to have worked is through complaints on the Better Business Bureau's website.
While Gold Acre claims to have responded to each of their clients, there is a hefty amount of complaints that the company goes "dark" at particularly bad times. Specifically when a customer is looking to cancel their subscription.
As of now the best way to reach Acre Gold is by email that is only provided to its subscribing customers.
Product
The biggest complaint issue that exists is customers not receiving their gold. While Gold Acre did address that this was due to the pandemic and a worldwide gold shortage, customers were less than pleased.
Pros and Cons to Acre Gold
Simply put let's break down some of the benefits and the beware's of the company.
Pros
Cons
Other Companies Worth Looking At – Arce Alternatives
There are a few different ways to invest in gold whether it be through stocks or the actual precious metal itself. Here are a few different options to consider that are deemed much more reliable than Acre Gold as of now.
Gold Mining Stocks
Barick Gold is one of the world's largest gold mining companies and a stock worth looking into. While the gold market, in general, has taken a hit (making it more affordable) Barick Gold is still outperforming many of its competitors.
JM Bullion
JM Bullion is a way to invest in physical gold just like Acre Gold. Rather than investing in stocks, you can invest in a variety of precious metals up for purchase. To make financials easier they accept many different forms of payment.
Credit/Debit Cards
Cryptocurrecency
PayPal
Wire Transfers
Among others! JM Bullion has been a reliable and strong company in this market. While the investment may be slightly higher than Acre Gold you can count on your money being safe.
You can also look forward to working with top-class customers service representatives. These are some of the trade-offs you get for higher prices.
Looking to increase your transfer amount for these types of payments? Read our how-to on Increasing your Weekly Zelle Limit.
Final Thoughts
Acre Gold appears to be a legit company since customers have reported that real bars of gold appear at their doorstep as the company promises. Acre gold is not a scam but what is true is that the company seems to be poorly run.
While the idea of a subscription service that makes gold affordable for everyone is great, the execution is less than stellar. Without listed prices, customers feel the gold progress report is too vague even if it is emailed out monthly.
While receiving a gold bar has been great for many the other concern is the lack of response from customer support. With resolutions, seemingly impossible many customers were left wanting to close their accounts. In turn that was also difficult.
Acre Gold in conclusion is not a scam. But it is unreliable.