Whether you are trying to figure out how to view your statement after Macy's Black Friday Sale or you are making sure to pay your bill, it's frustrating not to know where to log in. The Macy's credit card login is not complicated but it's understandable why some may have some trouble along the way.
To log in to Macy's Credit Card you have to first go to the login page. From here you will have a few different options such as Sign in or Create a new account. Those who have an account will click Sign in and provide an email and password.
Simple enough. However, there are a few catches. We will go over creating an account if you don't have one as well as some alternative ways to view your statement and pay your bill.
Macy's Credit Card Login Guide
To log in to your Macy's Credit Card you will need to do a few different things. It can be difficult to actually locate the login page from Macys.com. It's easier to actually input the direct address or Google it.
Here is a step-by-step guide if you already have an account.
1. Go to Macy's Login Page

You can start by entering "https://www.macys.com/my-credit/gateway/guest" (or just press the link) in your search bar.
2. Tap "Sign In"

You will be brought to the main login page where it will give you the option to "Sign In" or "Create an Account". In this situation, choose "Sign In"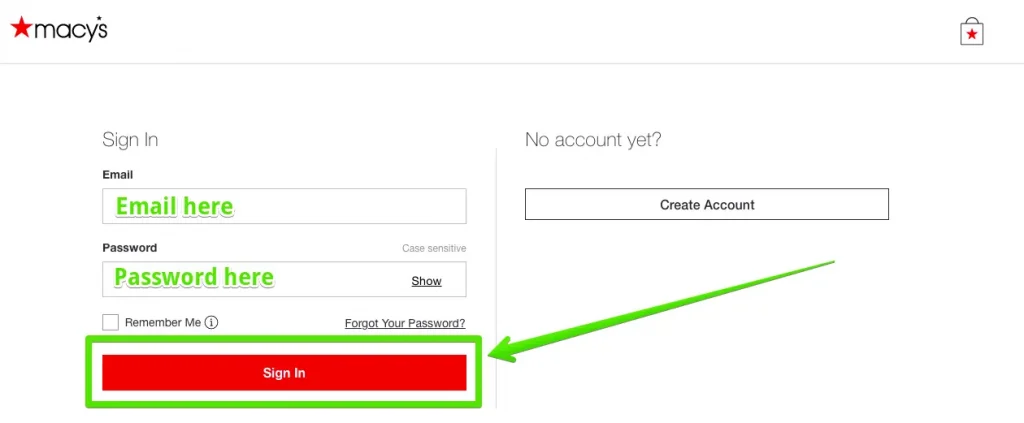 The page will prompt you for an email address and a password. You should have chosen this the first time you logged in. Once you enter the correct information you will be brought to the home page to manage your credit card.
Forgot Your Password?
We have so many passwords and usernames to online accounts that it is natural to forget them. That's why you will see a "Forgot Your Password" link directly below the sign-in.
By clicking this link you will be redirected to another page that allows you to reset your password.
To do this you need the correct email address registered with the account.
Once you enter the correct email you will be sent a reset link to that email.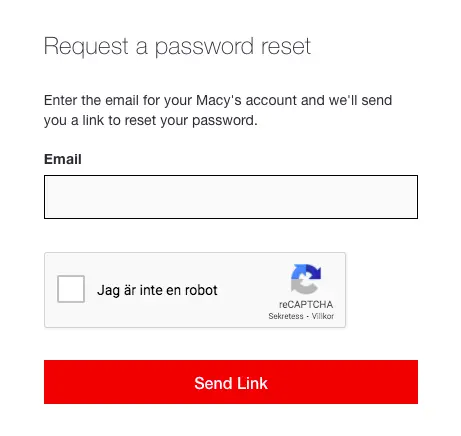 Now you can re-enter a new password and log in. Tip! The next time check the "Remember Me" box so that it can save your login credentials on your personal computer.
Macy's Credit Card Login: Create an Account
If you have just opened up a Macy's Credit Card then you will need to take a slightly different route to log in. But it is still easy! We will have the same starting place as the normal "Sign In".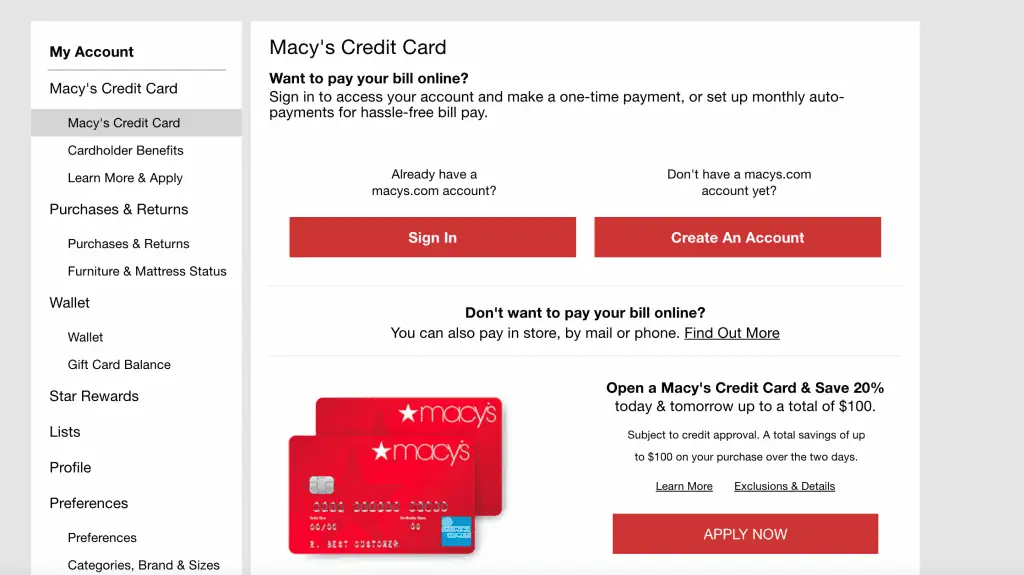 Head over to "https://www.macys.com/my-credit/gateway/guest" again where you will see the two main options to either already "Log In" or to "Create an Account." This time select "Create an Account."
2. You will be prompted to provide your name, email address, birthday, and password. Once you enter this information you can choose to "Sign Up" or "Already a Member."
2. From there if you have an activated credit card you will want to choose the "Already a Member" option.
Your account will be officially ready to use online and you will be brought to your homepage.
Tired of being denied credit cards but don't have the funds to pay everything all at once? Check out our guide on the best websites that offer, Buy Now, Pay Later, No credit checks!
Macy's Credit Card Login American Express
Some customers get confused because they will see the option to log in for their Macy's Credit Card but then also see Macy's Credit Card American Express. This is confusing to many as to whether they are two different cards.
They are not.
The American Express Macy's Credit Card is the exact same credit card we refer to in the beginning, They offer 3% back in rewards at restaurants, 2% back in gas stations and supermarkets, and 1% on all other purchases.
This means the login process is the exact same.
Benefits to Take Advantage of Online
When having an online account with your Macy's Credit Card there are many benefits that you can take advantage of. It becomes much easier to manage your bill, see your rewards, among other great benefits.
Let's dive into them.
Stey Up-tp-Date
By logging in you can view your statement online. This is important to keep track of spending and make sure no unauthorized charges are on your account. It also is an easy way to keep track of the points you earn and whether you have Macy's money to spend!
Macy's Bill Pay
Paying your bill has never been easier. You can pay your Macy's bill by logging in online on any device. You can also do it straight from the Macy's App. Automatic payments make it easy to stay on track and avoid any late fees.
Track Your Order
Another great benefit to logging in to your Macy's credit card is you can track all your purchases that are ordered with your account number. No unexpected deliveries plus a quicker checkout makes things convenient.
How is your checkout quicker?
Well, your credit card information is stored in your account. That way when you log in you can simply purchase without needing to re-enter the information.
Macy Credit Card Payment Adress
Macy Credit Card
Macy Payment Adress
Macy's American Express Card
P.O. Box 9001108
Louisville, KY 40290-1108
Macy's Credit Card
P.O. Box 9001094
Louisville, KY 40290-1094
Express Payment for the two cards
6716 Grade Lane
Bldg. 9, Suite 910
Louisville, KY 40213
Having Trouble?
If you are having technical difficulties logging into your Macy's account or something isn't registering you can always call customer service. To reach customer service by phone call 888-257-6757.
They are open Monday-Sunday 9 AM-12 AM ET.
You can also use their chatbox service in the right-hand corner of all their windows in the bottom right-hand corner. After answering a few questions, you will be directed to a representative that can help you.
No Need to Stress
Logging into your Macy's Credit Card requires you to go to their online page and click on "Sign In". If you are an established user then you should be able to provide your email address and password and be good to go right from there.
However, it's normal for things to go wrong or feel overwhelming when you are logging in for the first time. By following the steps listed above, logging in will be a simplified process. No need to get caught up on whether you are logging into a Macy's Credit Card or the AMEX Macy's Credit Card because they are the same thing.
The only thing you need to check for is whether you have already established your account online. If you haven't no worries you can provide your general information and get started right away.