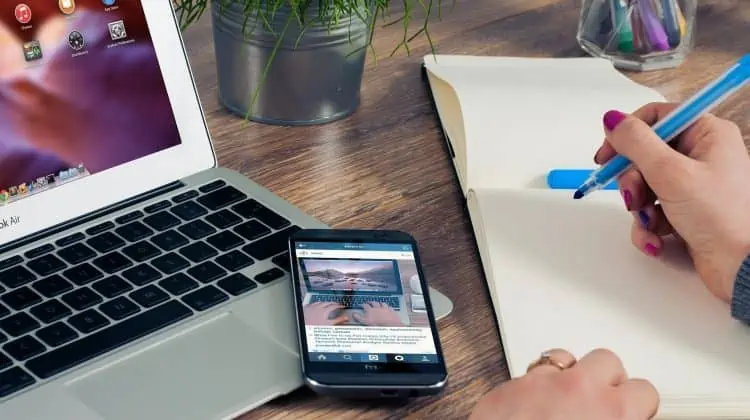 When our first child was on the way, my wife and I sat down and talked over idea after idea of ways to make money from home.
With two full-time jobs, we didn't know where we would find the time to raise our daughter. And my wife desperately wanted to find a way to stay at home with her.
But things were going to be tight on just one income so we needed to figure out how to make extra money from home. We needed to find something that would pay well but also have the flexibility to work during nap time or on evening and weekends.
After consulting our friends, relatives, and the internet, we finally settled on an idea that makes us $5,000+ every month (and we're even branching out into other ideas to make money from home!) But I'll tell you about that later…
I wanted to share the hours of research and due diligence we've done to help you in your search for ways to make money from home. Whether you're just getting started and looking for a little extra spending money, or wanting to find a work from home job to replace your full-time income, here are the absolute best ideas I've come across that are actually legit.
But fair warning! You can read this article or other similar articles all day long. But without setting a goal and TAKING ACTION, you'll never make progress.
So I have one goal for you before you read any further…
Write down just ONE idea from this list to follow up on. Take steps to implement it and make your first $1.
If I can get you that far, I think seeing that it can actually work will be all the motivation you need to keep going!
---
Easy Ways to Make Money From Home (Side Hustler Training Wheels)
Let's start with some extremely easy ideas to make extra money from home. None of these will make you rich, but if you've never taken the first step to earning money on the side, this is a great place to start.
1. Cash Back Apps
I have a goal to make $500 a year from cash back apps, and I keep a running list of the best cash back apps I use regularly.
So far I'm on track to make it to $500 for the year, which is pretty great considering it takes literally no work to earn extra cash. For most apps, all you have to do is download the app and link your credit card. You'll get points you can trade in for cash or free gift cards as you do your normal shopping.
How much can I make? A good goal is $20-50 per month, depending on your shopping habits. You won't get rich from cash back apps, but it could pay for an extra date night and is easy to do.
How do I get started? Getting started is pretty simple. Here's a list of my current favorite apps. If you download the apps below, you'll get a total bonus of $30 to get you started!
---
2. Online Surveys
Taking online surveys may not be the sexiest way to make money from home, but if you have little bits of time here and there (hello busy stay-at-home parents!), it could be a good way to earn extra cash.
Many brands and political groups will work with legitimate survey companies to do market research. They in turn pay your for your opinion.
How much can I make? Most surveys take 5-30 minutes and will pay you a couple dollars each. It is rare, but you can find surveys that pay $50 or more, or if you get involved in an in-person focus group you can even make $100 or more.
How do I get started? Check out my article on the only 2 survey sites that pay cash that I recommend. A lot of bloggers will tell you to sign up for 20 or 30 different survey sites, but I find that way too much to keep up with, and many of them are not worth the time.
---
How to Make Money from Home Online
3. Virtual Assistant
If you are organized and task-oriented, being a virtual assistant could be the perfect side hustle or career opportunity.
Many entrepreneurs need help with the day-to-day management of their business, and you can work from home helping them with things such as:
Customer service
Email management
Social media management
Editing
Graphic design
Data entry
The possibilities are endless!
How much can I make? Virtual assistants can make anywhere from $25-50+ per hour. If you specialize in a certain task, such as Pinterest marketing, you can charge more for being an expert in your niche.
How do I get started? Gina Horkey built a wildly successful virtual assistant business and was able to quit her job. She shares what she learned in her blog post everything you need to know about becoming a virtual assistant.
---
4. Freelance Writer
Do you love writing? You can make really good money as a freelance writer, putting together articles for blogs and other news publications.
And if you're able to niche down and create quality content, you can get paid very well for your skills, and even make it a full-time work from home business!
Bloggers are always looking for freelancers that produce great content on a consistent basis (trust me – finding good writers is hard!) Once you are established, you can work as much or as little as you want with the flexibility of making money from home on your terms.
How much can I make? Freelance writers earn anywhere from $100-500 per article depending on length and complexity. As a full-time freelance writer you can make $50,000+ per year or more!
How do I get started? Holly Johnson is a VERY successful freelance writer. Learn what strategies she used to go from $0 to $225,000 in freelance writing income!
---
5. Virtual Bookkeeper
If writing isn't your thing, maybe you're more of a numbers person. Becoming a virtual bookkeeper is (in my opinion) on of the best kept secrets when you're looking for ways to make money from home.
If you have good attention to detail and love a balanced checkbook, starting a bookkeeping side hustle is a great way to earn extra money.
Unlike an accountant, as a bookkeeper you don't need a degree or experience to start getting clients. You will help business owners manage their day-to-day finances, such as tracking bank transactions, paying bills, and helping them understand all the money coming in and going out.
How much can I make? As a freelance bookkeeper working from home, you can make $60-100 per hour depending on your niche. According to my friend Ben, who has trained over 4,000 bookkeepers, his student's average client requires 4-5 hours of work per month and they make $250-300 per client.
How do I get started? If bookkeeping sounds intriguing, Ben from Bookkeeper Business Launch has a series of free training videos that will teach you the 7 traits of a successful bookkeeper, how to find quality clients, and the pros and cons of a bookkeeping business.
---
6. Blogging
No list of ways to make money from home online is complete without talking about blogging. It is not a get-rich-quick scheme by any means, but if you are willing to work hard and want to have unlimited income potential, blogging is a great opportunity.
While you can earn an amazing income for your family through blogging, there is a huge barrier to entry because most people give up long before they see success. It takes 6-12 months or more to really start to build momentum and make an income.
To give you some perspective, I started almost a year ago, and I am just now getting to the point where I make a few hundred dollars every month from ads and affiliate relationships.
As a blogger, you will be your own boss and work at your own pace. You will pick a niche to write in, learn how to market (through Pinterest, Facebook, Google, etc.), and build relationships with other bloggers.
While it can be a lot of work, I've found it to be very rewarding, and it's a great work-from-home job because you can work whenever you want!
How much can I make? There are bloggers that make $1,000 – $10,000 a month, even $100,000 a month! There is unlimited income potential.
How do I get started? The first step is to pick a website name and hosting package. I've been very happy with my hosting at Siteground – they made it easy to set up my WordPress blog and are one of the best platforms that will grow with you. You can get hosting through Siteground for as little as $3.95 per month through this link!
---
Creative Ways to Make Money from Home
7. Flip Thrift Store Finds on Ebay
Do you love finding a good deal? As an Ebay flipper, you can shop thrift stores, garage sales, or even Craigslist to find items to resell on Ebay.
Most successful flippers focus on a niche, such as electronics, clothes, vintage toys, etc. The nice thing about flipping products on Ebay is you can look up an item before you buy it to see what it's selling for!
How much can I make? You can easily make a $200-500 per month on the side of your day job, or even build it into a full-time business making six figures!
How do I get started? Read my interview with a successful Ebay flipper for tips on how to get started and find your niche. He shares how he made over $2,000 in his first 6 months, and consistently makes $300-400 per month on the side in just a few hours a month.
---
8. Rental Properties
When you think of making money from home, rental properties probably doesn't come to mind. But real estate is one of the quickest ways to build wealth, and has made countless people millionaires.
This is actually the path we chose to make money from home, so my wife could stay home with the kids. We've built both passive and active income with real estate – through rental properties, flipping, wholesaling, and realtor commissions.
As a rental property owner, you will collect rental income from the tenant in exchange for taking care of maintenance and other issues that come up. Over time, the tenant will pay down the mortgage, and cash flow will increase to provide a steady stream of passive income.
How much can you make? The sky is the limit! We were able to make over $100,000 in extra income through real estate last year. In general for a turnkey rental property you can expect to make $100-200 per month plus appreciation and mortgage pay down.
How do I get started? Before jumping into rental real estate, you need to learn what makes a good deal. Read about the one percent rule of real estate, and our own personal story of how we got started investing in real estate.
---
How to Make Money from Home – The Final Word
Hopefully something on this list sparked an interest in your search for ways to make money from home.
Whether you are looking to work from home full time or just find a side hustle to earn extra money each month, there are so many opportunities to reach your goals.
Remember, take action TODAY – even if it's just one small step.
That's why I added a "how do I get started" step to every idea above. Follow those steps and you'll be well on your way to making money.
You can read lists of "making money from home ideas" all day long, but taking action is what separates you from those who constantly dream but never reach their goals.
Leave a comment below with your money making idea and one way you took action to achieve your dream!
Andrew Herrig is a finance expert and money nerd and the founder of Wealthy Nickel, where he writes about personal finance, side hustles, and entrepreneurship. As an avid real estate investor and owner of multiple businesses, he has a passion for helping others build wealth and shares his own family's journey on his blog.
Andrew holds a Masters of Science in Economics from the University of Texas at Dallas and a Bachelors of Science in Electrical Engineering from Texas A&M University. He has worked as a financial analyst and accountant in many aspects of the financial world.
Andrew's expert financial advice has been featured on CNBC, Entrepreneur, Fox News, GOBankingRates, MSN, and more.