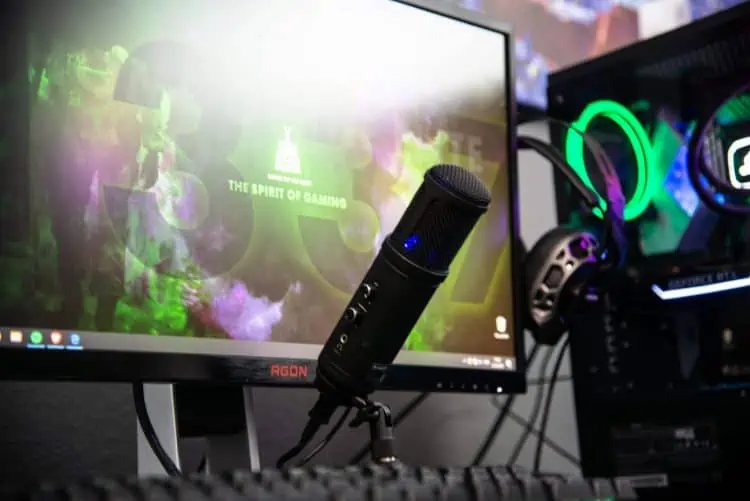 Welcome to the Wealthy Nickel Side Hustle and Entrepreneur Interview series, where I share inspiring stories of people pursing financial freedom through entrepreneurship.
Today I got the chance to interview my friend and fellow blogger, Melanie Allen from Partners in Fire.
She has a very interesting side hustle in that she gets paid to play video games. If that's not a dream job, I don't know what is! Specifically, she makes money by streaming on Twitch.
Depending how involved in the gamer community you are, you may or may not know what that is. But fear not, we break it down in the interview.
In this interview, Melanie talks about how to make money playing video games on Twitch. You'll learn:
How she got over the initial hurdle that most people get stuck at
How much you can expect to make on Twitch
How she juggles multiple side hustles and a full time job
Tell us about your side hustle and how you got started.
My side hustle is making money by streaming on Twitch.
I enjoy video games, and I enjoy watching folks on Twitch, so I thought it would be fun.
I figured I could make enough money to support my gaming habit by playing games for an audience.
Wealthy Nickel Note: For those not in the know, Twitch is a live video streaming service that focuses on video game live streaming. You can watch other people playing video games, talking through strategy, or giving their review of the gameplay experience.
Do you live stream on Twitch full time or do you have a day job?
I have a day job, in addition to a few other side hustles. It's been incredibly difficult to juggle all of them.
I set a streaming schedule for myself, and tried very hard to stick to that schedule. I limited my streaming time to twice a week, and only for a few hours each time.
Although this greatly limited my income potential on the platform, it was the only way I could manage all of the things I was doing.
If you have the time to dedicate to Twitch streaming, you can certainly scale your income if you wanted to.
How and when did you get started getting paid to play video games on Twitch?
I first tried streaming a few years ago, but never gave it much attention. I started taking it seriously in July of 2020, and became a Twitch affiliate in less than a month.
I started taking it seriously because I was stuck inside during the pandemic, so I figured why not?
I thought it would be a fun way to make some money and get some much needed social interaction.
Did you have a mentor, coach, or training you used to help you get started?
No, although I did create a Discord Server for it that was able to get a bunch of like-minded individuals together to help each other out.
Some of the people I met through that server have helped me set up my stream correctly, fix audio issues, and get the right branding for my channel.
How much money have you made streaming on Twitch, and what can someone expect to make?

I've made a few hundred bucks from it, but I don't stream regularly anymore.
This is really dependent on how much effort you put in. Many people think they can just hook their game up to Twitch and start earning. It does not work like that.
Twitch is a hard side hustle to start making money with. But there are a lot of non-monetary benefits, like being part of a community and making new friends that also make it worthwhile.
What are the costs involved in live streaming video games on Twitch?
Most people who are interested in streaming already have the consoles and computer that they will need.
The biggest start up cost for most will be a capture card, which is needed to transfer the game image to the computer for streaming.
A microphone and a webcam, although not required, will help you stand out and have a better stream.
If you start out on the cheaper end, you can get all of these items for less than $300.
What's a day in the life of a Twitch streamer?

Most people think that streaming life is all about plugging your game in and playing. However, that's just a small portion of it.
If you want to be a successful streamer, you need to spend a lot of time networking. This means hanging out on Twitch, being active on Twitter, Instagram, and other social media networks, and of course on Discord, which is where a lot of gamers hang out.
Wealthy Nickel Note: One thing I've learned from everyone who successfully converts a hobby into a business is that they treat it like a business. While getting paid to play video games sounds glamorous, what goes on behind the scenes is where the real money is made.
Similar to a blogger or Instagram influencer, in order to build your Twitch income, you have to network with others and build an audience.
How did you build up your side hustle to where it is now from where you started?
Networking is key to streaming on Twitch.
I never would have been able to become an affiliate as quickly as I did without building a strong network of fellow streamers who were growing along with me.
What obstacles have you had to overcome to achieve success?
It's hard to be successful on Twitch. The first major obstacle to making money is achieving affiliate status.
You need to meet certain requirements before you are even eligible to start earning money with Twitch. These include having at least 3 viewers per stream, and streaming for a certain amount of time.
Many people stream on Twitch and give up before even making it to affiliate.
What are your goals for the future of your video game side hustle?
I don't have any goals to become a full time streamer. My main goal is to be able to subsidize my income a little bit with streaming when I first quit my job.
If I can make a hundred bucks or so a month by playing video games a few nights a week, I'd consider that a win.
Wealthy Nickel Note: Sounds like a great goal! Not every side hustle has to make you six figures a year. I call this a "lifestyle" side hustle, where you can make some extra spending money by doing something you were already doing anyway and enjoy.
What are the pros and cons of Twitch streaming?
The biggest pro is that you get to make money playing video games. Isn't that the dream for a ton of folks? But the community is a close second – I absolutely adore all the friends I've made through streaming.
The biggest con is that it takes so long to get started, and it is difficult to make good money in a short amount of time. If you just want to make fast cash, you should consider pet sitting or food delivery.
Streaming is not a way to make money quickly. It takes a great deal of time and dedication. Many people quit before they even start making anything because it's so hard to build an audience.
What advice do you have for someone looking to get started? Who would be an ideal fit?
I truly believe that there is a niche for every personality, but it's easier for some than for others. I'm an introvert, so being "on" for two hours while streaming is exhausting for me. Others find it energizing and love being in the spotlight.
You'd be a good candidate if you love talking and love playing video games. Engaging with your audience is an extremely important component of streaming on Twitch, and those who are naturally quieter are going to have a harder time building a following (unless you are pro-level at a certain game – most of us aren't).
Anything else you want to add?

It is hard to make money streaming. But that doesn't mean you shouldn't give it a try.
Even if you don't make any money while doing it, you will more than likely make some amazing friends, and sometimes that's even better than money.
Thanks for sharing your Twitch side hustle journey with us, Melanie!
As a serial entrepreneur myself, I am always interested in what others are doing to make extra money.
I think starting a side hustle making money playing video games on Twitch would be perfect for an avid gamer who's looking to make a little extra cash every month while doing something they enjoy.
There are so many options out there it can be overwhelming, so my advice is, if you see something that sparks your interest, give it a shot! Maybe it doesn't work out, and that's fine. On to the next idea.
If you read this far, leave me a comment on your entrepreneurial business or side hustle (even if it's just in the idea stage). I'd love to hear what you're doing and how the Wealthy Nickel community can help!
Looking for other side hustles for inspiration? Here are a few articles on other ideas to help you get started:
Reselling Side Hustle: How John Sells Over $100K Per Year
45 Proven Ways to Make an Extra $500 Per Month
How My Family Made $100k in Side Hustles in One Year
Andrew Herrig is a finance expert and money nerd and the founder of Wealthy Nickel, where he writes about personal finance, side hustles, and entrepreneurship. As an avid real estate investor and owner of multiple businesses, he has a passion for helping others build wealth and shares his own family's journey on his blog.
Andrew holds a Masters of Science in Economics from the University of Texas at Dallas and a Bachelors of Science in Electrical Engineering from Texas A&M University. He has worked as a financial analyst and accountant in many aspects of the financial world.
Andrew's expert financial advice has been featured on CNBC, Entrepreneur, Fox News, GOBankingRates, MSN, and more.