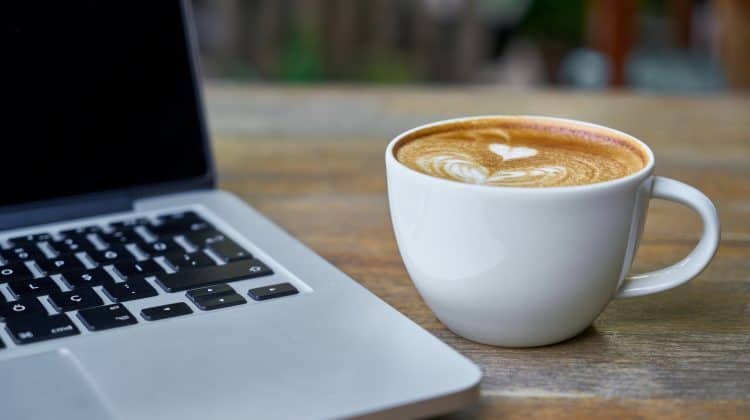 Let's cut to the chase. I get too many emails, and I'm sure you do too. But one free subscription that I keep around is Morning Brew, a daily newsletter that keeps me up to date on the latest happenings in the stock market, politics, and business in general.
If you're a busy professional, you owe it to yourself to try it out and stay on top of what's happening in the world (in only 5 minutes a day).
I discovered Morning Brew a few months ago, and it's an email I actually look forward to getting in my inbox each morning.
With witty writing, short-form news snippets, and the occasional pop quiz, it gives me all the information I need without spending hours checking all the various news sites or The Wall Street Journal *yawn*.
The Newspaper (New and Improved)
I don't quite know why, but one of my favorite things to do when I'm on vacation is to sit down at the kitchen table with a hot cup of coffee and browse through the newspaper.
Of course, as a Millennial I certainly don't subscribe to the newspaper at home – what an archaic idea! Articles written on paper about stuff that happened yesterday? Those stories have already come and gone on Twitter.
What I really want is a new and improved digital newspaper – something that will keep me informed on current events, but without the fluff, and easily digestible in a few minutes per day.
Oh yeah, and while I'm dreaming, let's make it free!
What Is Morning Brew?
Enter Morning Brew – the reinvention of the newspaper for the Millennial generation.
It was started by 2 business students from the University of Michigan, who wanted to provide a better way for young professionals to keep up with the latest business news than trying to read The Wall Street Journal cover to cover.
One of the standout features of Morning Brew missing from so many other news sources is the humor and wit in the writing style. Not only do you get your daily dose of news, you stay entertained at the same time.
It's also chock full of interesting facts and trivia that they work into the newsletter. For example, on World Population Day (which is July 11, who knew?), I learned that roughly 7% of all the human beings who have ever been born are alive right now (7.7 billion out of 108 billion).
Screenshot of Morning Brew:
Each major section is clearly marked with the topic, such as "stock market", "real estate", "sports", etc.
At the bottom is a section called What Else is Brewing? that gives a quick rundown of the major news headlines you need to know: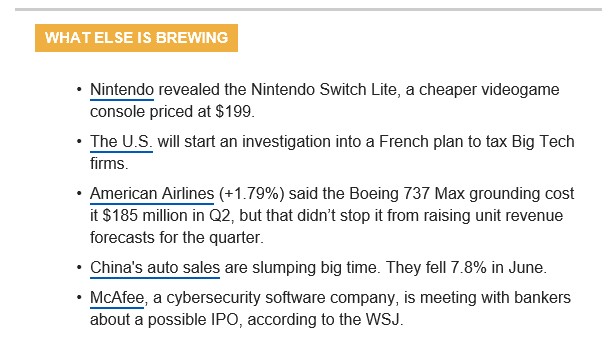 While Morning Brew offers short-form headlines and commentary in its newsletter, if you are particularly interested in a topic there are links galore to in-depth research and other articles from reliable sources.
Can You Really "Get Smarter in 5 Minutes"?
Morning Brew's tagline – Get Smarter in 5 Minutes – sums up the goal of the daily newsletter. But does it deliver on its promise?
In my opinion, yes. What Morning Brew excels at is cutting through the clutter, and delivering concise, witty commentary on the latest in business and financial news.
Other news sources (names concealed to protect the guilty) tend to provide a myopic focus on one area or an overly broad view of too many topics.
The Morning Brew walks a fine line between writing engaging content that nods to pop culture, while also staying focused on what its readers care about – business, finance, and economics.
Climb the Career Ladder in 5 Minutes A Day
Nobody wants to be the last one in the office to hear about a major industry trend (or, as was once the case with one of my colleagues, that the company you work for announced a merger that was plastered all over the news).
But more than that, keeping up with business trends can give you an edge on the competition and keep you and your team ahead of the curve. And who doesn't want to look good in front of the boss?
Want to know what political shenanigans are going on that may affect tax or interest rates in the near future? Or hear about the outcome of the latest tech darling's IPO?
Morning Brew can help keep you on top of the latest happenings without spending an hour a day skimming through dry (and ad-filled) articles from other news sources.
Grow Your Personal Finances in 5 Minutes a Day
In addition to your boosting your career, The Morning Brew tackles topics that will make you a better investor. By keeping your pulse on macro trends – what's driving Big Tech stock prices, how is investor sentiment on emerging markets, etc. – you can make better decisions with your own portfolio.
Whether you invest in single stocks or broad market indexes, it pays to understand what is driving equity prices, whether it's political, economic, or technology driven.
As a real estate investor myself, I like to stay up to date on local and national real estate trends. The Morning Brew often highlights major commercial real estate news, housing trends, and other economic indicators that affect the real estate market.
Does Morning Brew Have a Liberal or Conservative Bias?
Even while managing to poke fun of the seriousness of the world around us, the Morning Brew writers stays balanced in their reporting of events.
When a topic has a political bent to it, in my experience they try to give equal weight to each side and stick to "just the facts ma'am".
For example, a recent snippet highlighted a tension-filled meeting between the President and the Chairman of the Federal Reserve. While injecting humor into a rather serious topic, they presented the views of both sides accurately without offering an opinion on who was right or wrong (something more news outlets could learn a lesson from).
Who Owns Morning Brew?
Morning Brew was founded by two college students – Alex Lieberman and Austin Reif – frustrated with the lack of engaging business and finance content for the younger generation.
Alex quit his investment banking job to run Morning Brew full time as the CEO.
Should You Subscribe to Morning Brew?
Morning Brew is targeted at young professionals who want to keep up with the latest business news and world happenings. If that's you, you should definitely give it a try.
Plus, it's free to subscribe – I'll try pretty much anything free!
In less than a year, the Morning Brew has grown from 200,000 to over 1,000,000 subscribers. They clearly know their audience and in my opinion have done a great job keeping the content relevant since I first subscribed.
Pros of Morning Brew:
Daily newsletter you can read in 5 minutes or less (no fluff)
Clean format with witty and entertaining writing style
Did I mention it's FREE?
Be smarter than your friends scrolling through Facebook on their morning commute
Cons of Morning Brew:
Since it's free, it is supported by sponsored ads (but even most of the sponsored content is entertaining to read)
Sticks to it's focused topic of business and tech news, can't customize what type of news you get
All in all, Morning Brew has earned it's place in my inbox every morning. I think it's definitely worth a read.
To give their free daily newsletter a try, just click the banner below! If it's not your cup of tea (cup of joe?) you can always unsubscribe.
What's your favorite source of news that you can't live without? Let me know in the comments!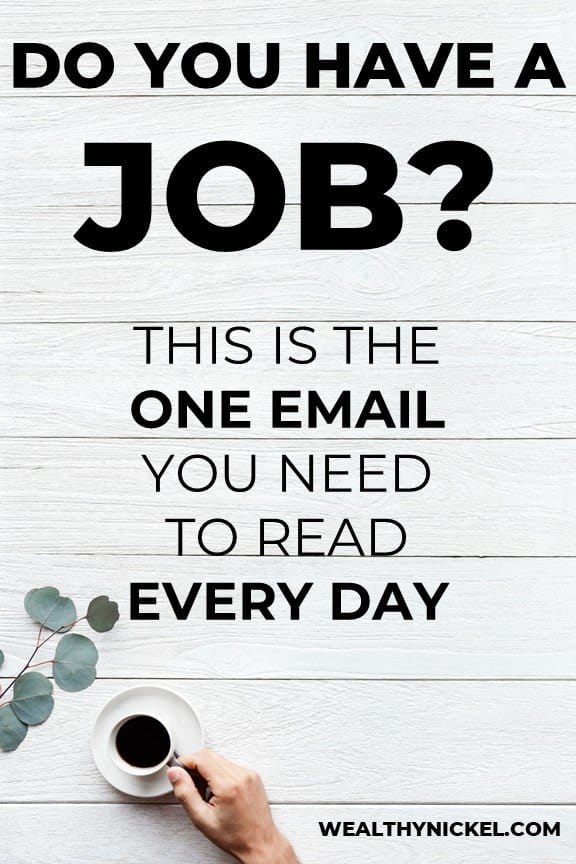 Andrew Herrig is a finance expert and money nerd and the founder of Wealthy Nickel, where he writes about personal finance, side hustles, and entrepreneurship. As an avid real estate investor and owner of multiple businesses, he has a passion for helping others build wealth and shares his own family's journey on his blog.
Andrew holds a Masters of Science in Economics from the University of Texas at Dallas and a Bachelors of Science in Electrical Engineering from Texas A&M University. He has worked as a financial analyst and accountant in many aspects of the financial world.
Andrew's expert financial advice has been featured on CNBC, Entrepreneur, Fox News, GOBankingRates, MSN, and more.