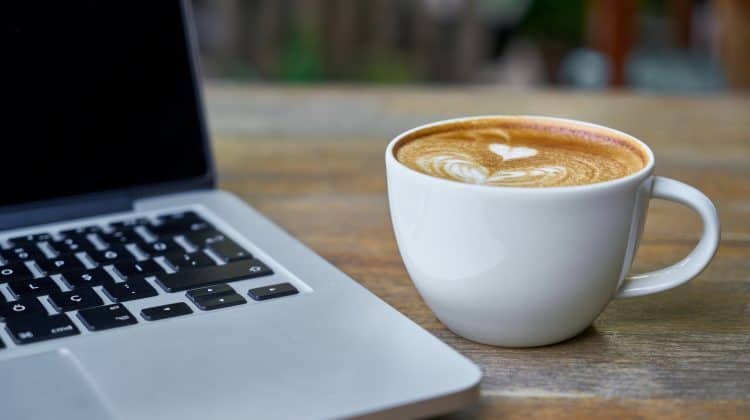 Let's cut to the chase. I get too many emails, and I'm sure you do too. But one free subscription that I keep around is The Morning Brew, a daily newsletter that keeps me up to date on the latest happenings in the stock market, politics, and business in general. If you're a busy professional, you owe it to yourself to try it out and stay on top of what's happening in the world (in only 5 minutes a day).
I discovered The Morning Brew a few months ago, and it's an email I actually look forward to getting in my inbox each morning. With witty writing and short-form news snippets, it gives me all the information I need without spending hours checking all the various news sites or The Wall Street Journal *yawn*.
THE NEWSPAPER (NEW AND IMPROVED)
I don't quite know why, but one of my favorite things to do when I'm on vacation is to sit down at the kitchen table with a hot cup of coffee and browse through the newspaper.
Of course, as a Millennial I certainly don't subscribe to the newspaper at home – what an archaic idea! Articles written on paper about stuff that happened yesterday? Those stories have already come and gone on Twitter.
Old news! Don't tell me about something that happened more than 5 minutes ago.
On second thought, maybe this is why our generation has the attention span of a goldfish and can't carry a dialogue on any issues deeper than surface level.
But I digress…
What I really want is a new and improved digital newspaper – something that will keep me informed on current events, but without the fluff, and easily digestible in a few minutes per day.
WHAT IS THE MORNING BREW?
Enter the Morning Brew – the reinvention of the newspaper for the Millennial generation.
It was started by 2 business students from the University of Michigan, who wanted to provide a better way for young professionals to keep up with the latest business news than trying to read The Wall Street Journal cover to cover.
One of the standout features of The Morning Brew missing from so many other news sources is the humor and wit in the writing style. Not only do you get your daily dose of news, you stay entertained at the same time.
It's also chock full of interesting facts and trivia that they work into the newsletter. For example, on World Population Day (which is July 11, who knew?), I learned that roughly 7% of all the human beings who have ever been born are alive right now (7.7 billion out of 108 billion).
Screenshot of The Morning Brew:
Each major section is clearly marked with the topic, such as "stock market", "real estate", "sports", etc.
At the bottom is a section called What Else is Brewing? that gives a quick rundown of the major news headlines you need to know: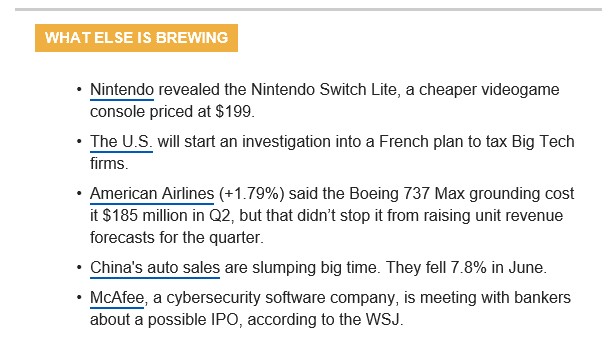 SHOULD YOU SUBSCRIBE TO THE MORNING BREW?
The Morning Brew is targeted at young professionals who want to keep up with the latest business news and world happenings. If that's you, you should definitely give it a try!
In less than a year, the Morning Brew has grown from 200,000 to over 1,000,000 subscribers. They clearly know their audience and in my opinion have done a great job keeping the content relevant since I first subscribed.
Pros of The Morning Brew:
Daily newsletter you can read in 5 minutes or less (no fluff)
Clean format with witty and entertaining writing style
Did I mention it's FREE?
Be smarter than your friends scrolling through Facebook on their morning commute
Cons of The Morning Brew:
Since it's free, it is supported by sponsored ads (but even most of the sponsored content is entertaining to read)
Sticks to it's focused topic of business and tech news, can't customize what type of news you get
All in all, The Morning Brew has earned it's place in my inbox every morning. I think it's definitely worth a read.
To give their free daily newsletter a try, just click the banner below! If it's not your cup of tea (cup of joe?) you can always unsubscribe.
What's your favorite source of news that you can't live without? Let me know in the comments!