Do you struggle to give meaningful gifts to friends and family? Sometimes, it is easiest just to allow them to purchase their own present by gracing them with gift cards. This leads many people to wonder whether they can give an Oculus gift card. This would allow their friends to play more games instead of simply gifting them cash.
There are no Oculus gift cards available at the moment. However, you can purchase a specific game or app for your friend through the Oculus store if they have a Quest or a Quest 2. It will email them a code that they can then redeem to access the game.
If you want to learn more about how to give the gift of a game through Oculus, this detailed guide will walk you through everything you need to know.
Oculus Store Gift Card – Does it Exist?
If you need to give a gift to your game-loving friend, you want to give them something they will actually use and enjoy. It makes sense that you would want to give them an Oculus gift card. This would allow them to purchase whatever game or app they desire.
Unfortunately, there are no Oculus gift cards at the moment.
Buy a game as a gift instead of a gift card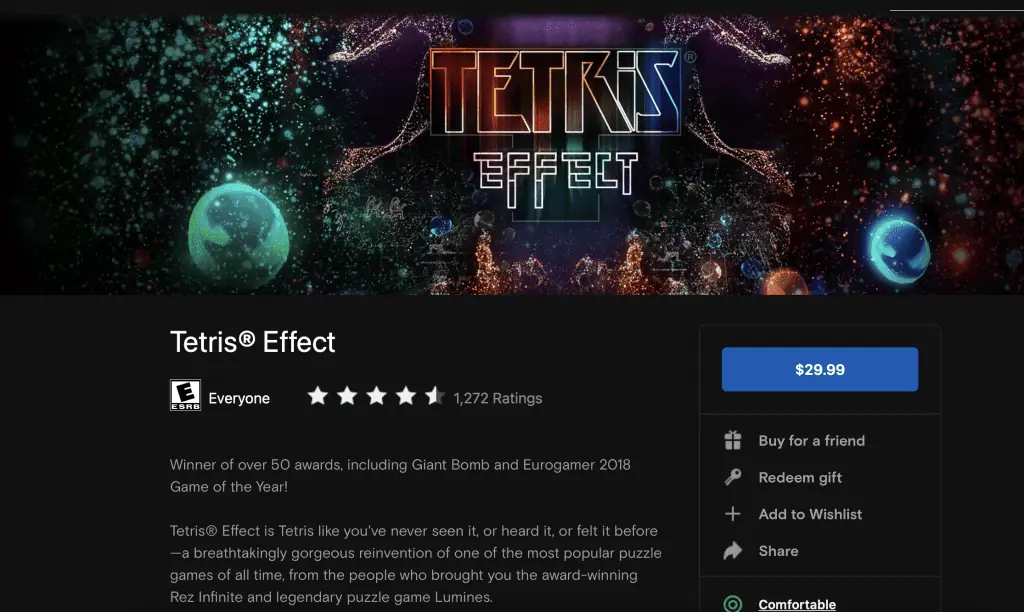 On the bright side, there is still a way to gift your friends and family a game. All you have to do is head to the Oculus store and purchase a specific game for a friend. While this does not give them the freedom to choose whatever game they want, it does allow you to still give a meaningful gift.
How to Gift Oculus Quest Games
Many people are disappointed about the fact that there are no Oculus gift cards that allow them to directly gift a game to their friends. However, there is a new way around this inconvenience. You can now gift games directly to a friend with just their email address and your credit card.
If you want to gift a game for their Oculus Quest or Oculus Quest 2, here are the steps you will need to follow:
1. Pick a game from the Oculus store to gift
From the Oculus Store, pick out what you would like to purchase for your friend.
2. Select the option to "Buy for a Friend."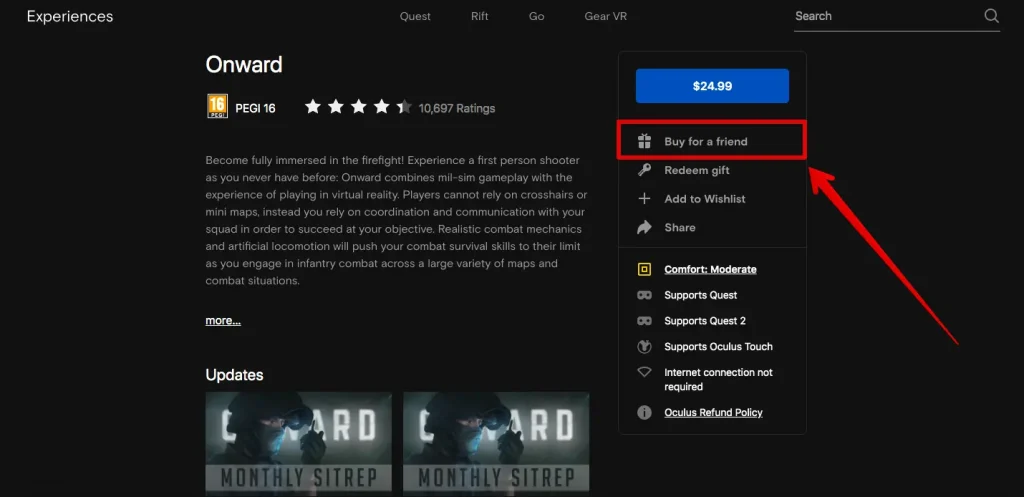 On the right sidebar, under the price, you'll find the "Buy for a friend" button. Tap it!
3. Enter your friend's email address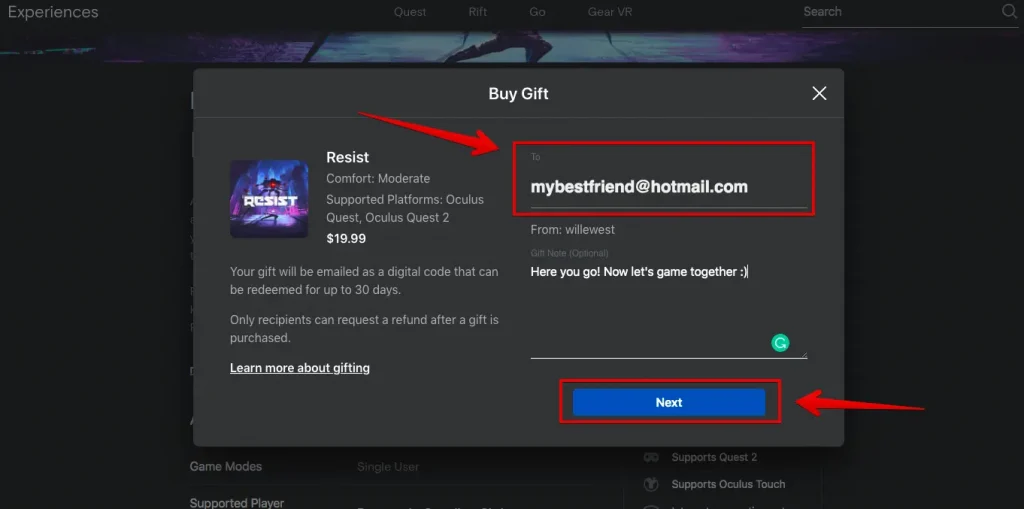 This will email them a 25-digit gift code. They will need to enter this to claim the game you gifted them.
4. Add a note to personalize your gift
Add a funny note to your friend or family member. Here's a perfect place for a birthday or Christmas text.
5. Enter payment method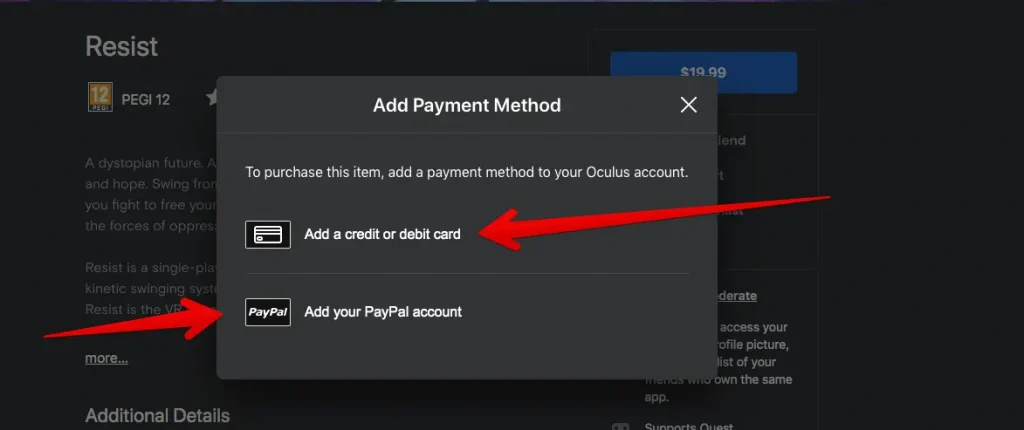 Choose to pay with a credit or debit card or pay using your PayPal account.
In five easy steps, you can give your friends and family a gift they will genuinely use without the need for an Oculus gift card.
Oculus Quest 2 Gift Card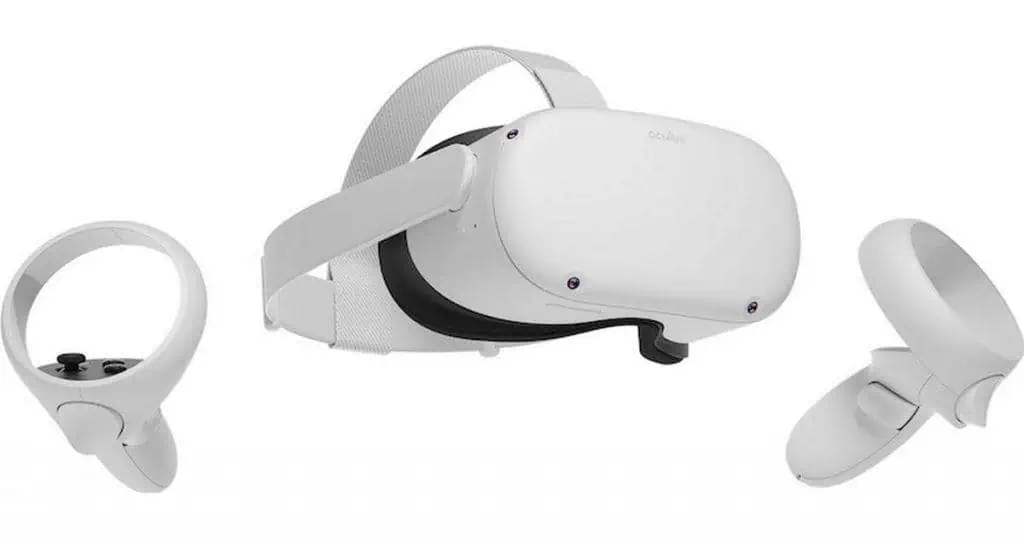 Same with this one, there is no gift card for Oculus Quest 2 right now from Oculus directly. However, you can purchase a gift card from a retailer such as GameStop or similar and they can then use the gift card to buy an Oculus Quest 2 if they wish to.
If you need to learn how to transfer Google credits to another account as a gift, we have a complete guide on this topic as well.
Redeeming Oculus Gifts
If you were fortunate enough to receive a gift from a friend, you can easily redeem your gift in a few easy steps. Make sure you have the email handy with your 25-digit gift code. You will need to enter this at the end of the process.
Here are the steps you will need to follow:
On the Oculus store, head to the game or app that you were given.
On the right-hand side of the screen, you will see an option to "redeem gift." Click here.
Enter the gift code to redeem your game.
It is very simple to use the gifts you were given and to get started playing your new game!
Giving the Gift of Oculus
While it's unfortunate that an Oculus gift card does not exist, there are workarounds that will allow you to gift the gift of Oculus.
These products are sold online on Amazon and at Wal-Mart. You can purchase a gift card from one of these stores and send it to your loved ones. Here's how to do it.
How to Buy an Amazon Gift Card
Amazon gift cards are a convenient and thoughtful way to give friends and family members the perfect gift. When buying an Amazon gift card, there are a few things to keep in mind. First, decide how much you want to spend. Amazon gift cards come in denominations ranging from $25 to $200.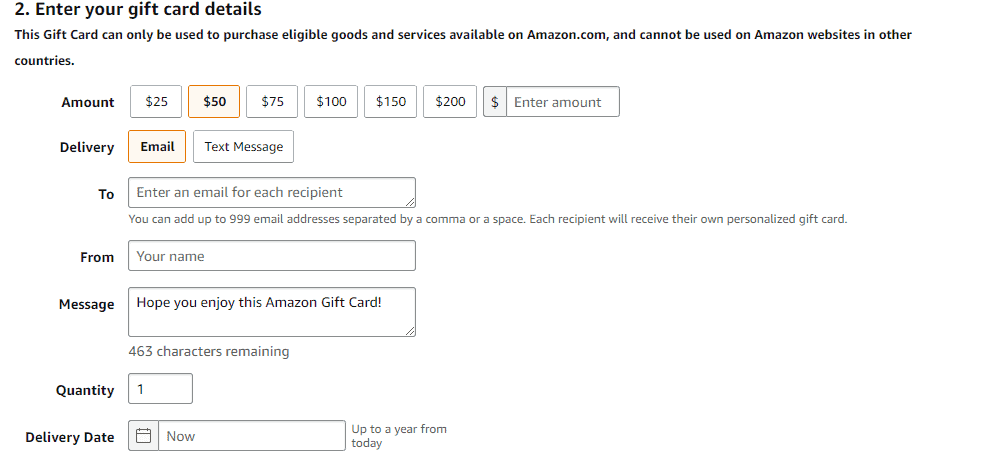 Once you select an amount, you can purchase a physical or electronic gift card. You'll need to choose a delivery method if you opt for a physical gift card. You can have the card sent by mail or delivered electronically.
You'll need to provide the recipient's email address if you choose electronic delivery. Another option is to add the gift card to your Amazon account and send it to the recipient using Amazon's "Send a Gift" feature.
Big box stores like Wal-Mart and Best Buy also sell physical Amazon gift cards. You can sometimes find them at grocery stores and convenience stores. Just like the ecards, they come in set amounts.
How to Buy a Wal-Mart Gift Card
f you're looking for a gift that's sure to please, a Wal-Mart gift card is a great choice. Here's how to purchase one:
Visit the Wal-Mart website and type "gift card" into the search box
Select the type of gift card you want, either a physical card or an eGift card.
If you're buying a physical card, choose the amount you want to load onto the card and whether you want it shipped to yourself or the recipient. Then enter the shipping information and payment information.
If buying an eGift card, choose the amount and enter the recipient's email address. You can also add a personal message. Then enter your payment information.
Once your payment is processed, the gift card will be sent to the recipient (or to you if you're buying a physical card). They can then use it to buy Oculus gear at any Wal-Mart store or online at Walmart.com.
You can also find Wal-Mart gift cards in the store.
Oculus Gift Card Workarounds
While there is no Oculus gift card you can purchase, there is a handy workaround to still give your friend or family member a gift they will enjoy. Follow these easy steps to make gift-giving even easier this year!