From time to time, everyone runs a little short on funds before their next paycheck is due in their bank account. A payday loan can help cover your expenses in the interim until you are flush with cash once again. When you utilize a more convenient online bank, you sometimes have fewer options though. Can I get a payday loan with Chime?
You can get a payday loan with Chime if you know where to look. Fig, Dave, Cleo, and Albert all offer salary advances or payday loans to help you get through. You can also apply for a larger personal loan through Personal Loans, Bad Credit Loans.
Lender or Service
Pros
Cons
Fig
Loans from $300 to $750
Flexible repayment terms
No hard credit inquiries
High APR on first loan
Bad Credit Loans
Loans from $500 to $10,000
Funds available next business day
Cons depend on which lender you chose, you will be able to compare rates at their website.
Dave
Only requires two previous direct deposits
No fees or interest on payday advances
Only offers loans up to $100-200
Subscription costs $1 per month
Cleo
Flexible repayment terms
Helps you to budget and stay on your savings plan
Requires a $5 per month subscription fee
Same day funds cost $3.99Offers loans from $20 to $100
Albert
Allows loans up to $250
No credit check
Charges $4.99 delivery fee for receiving funds in 10 minutes or less
Personal Loans
Offers loans between $1,000 to $35,000
No minimum credit score
Money available in one business day
Can have a high APR
Cash USA
Borrow up to $10,000
Funds available on the next business day
Must earn at least $1,000 per month after taxes
If you are ready to learn more about Chime and payday loans, here is a breakdown.
Can I Get a Payday Loan with Chime?
Many users love the experience of banking with Chime because it saves them a ton of money over more traditional brick-and-mortar banks. It is an online-only platform with no overdraft fees and no monthly membership fees. Overdraft fees alone cost banking customers an estimated $12.4 billion in 2020.
It's clear that a lot of people could benefit from taking advantage of a payday loan to minimize putting their accounts in the negative. You might be wondering whether this is even possible with an online account. Can I get a payday loan with Chime?
Unfortunately, getting a payday loan or salary advance with Chime is a bit more difficult than it is for more traditional bank account holders. One of the risks is that they allow their customers to easily cancel any upcoming payments whenever they want to.
As a result, this can impede payday loan companies who are accustomed to automatically withdrawing their funds from your account on their due date.
If you need to borrow some money to get you through until your next paycheck, there is some news you can rejoice in. There are still a few companies willing to issue payday loans and salary advances, even with these new online banking platforms.

You may not find many out there, but there are a few who don't mind working within Chime's restrictions.
Learn more about how to add cash to Chime in our complete guide.
Can I Get a Payday Loan with Chime? Where to Look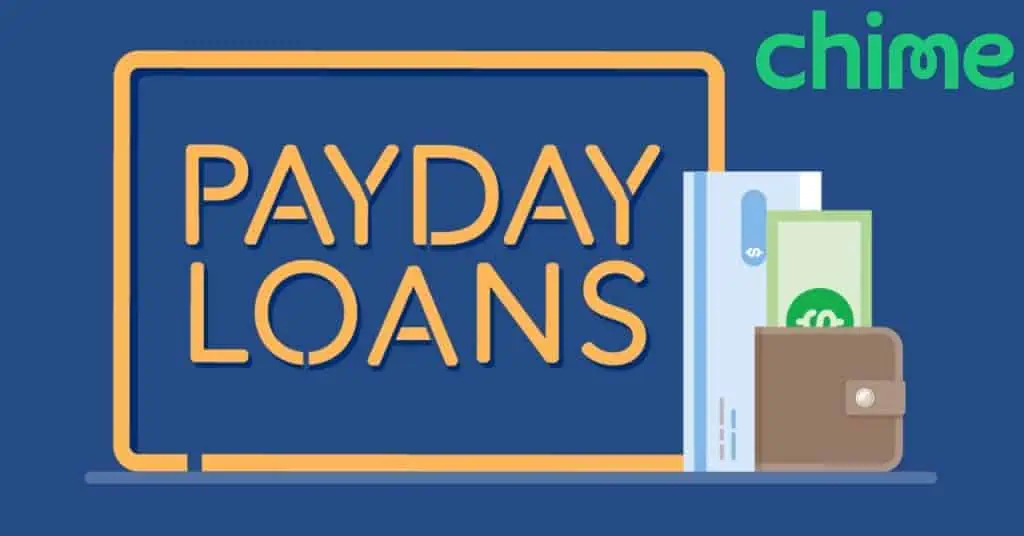 Now that you know why it is a bit harder to qualify for a payday loan with a Chime account, it is time to take a closer look at where you can get one. These four major companies will help you when you are in a tight spot financially.
Fig
Fig is one of the first online payday lenders you will want to look into if you have a Chime account. They offer loans ranging from $300 to $750 with terms ranging from four to six months. These terms can even be extended without additional interest and fees due to the flexible repayment policy. It takes just five minutes to apply for a loan and you get an instant cash deposit when the application is approved.
One of the real benefits of the program through Fig is the flexible repayments. Payments can be rescheduled for up to 28 days with no additional cost. Even if you have trouble making the full payment, they can split it in half for you to make it easier on your budget.
Many people who look for payday loans have a hard time with their credit. The good news is that Fig does report to all three major credit bureaus so you get credit for on-time payments. This can help to build your score so you can qualify for better loans in the future.
You might want to look into Fig if you are worried about a hard credit pull damaging your credit. Instead, they use just a soft credit pull that gives them limited access to gain information pertaining to your credit profile. It will not have an adverse effect on your score.
Another benefit to using Fig is their progressive policy on APR. You may face a high APR on your very first loan through them, but it drastically reduces with each subsequent loan.
Bad Credit Loans
BadCreditLoans.com can issue larger loan amounts. Loan amounts range from $500 up to $10,000 through this program, even if you have bad credit.
It should be made clear to you that Bad Credit Loans is not a lender. They offer a free service that connects borrowers with lenders who may approve their line of credit inquiry. Your application will be sent out electronically to their network of lenders to see what you might be able to qualify for and who can give you the best rate.
Once you fill out the application, you will know in just minutes what you might be approved for. Keep in mind that borrowers with bad credit may receive higher interest rates and less favorable terms than those with good credit. However, you are never obligated to select the loan product that is offered to you.
To complete their online form, you must:
Be 18 years of age or older
Have proof of citizenship
Receive a regular income (full-time employment, self-employment, disability, or social security)
Have a checking account in your name
Have valid email address, as well as work and home telephone numbers

Even if you are lacking a regular income you could give it a try and see if any lenders will give you an offer or not.
If you receive a loan offer and decide to accept it, you can sign it via an electronic signature. Funds will then be issued to your bank account via direct deposit to potentially be available as soon as the next business day.
We have made a great guide on How to activate Chime Card
Dave
While Fig offers a rather large loan amount, you can still benefit from small payday loans through Dave. Similarly, there are no credit checks necessary to qualify for an advance on your next paycheck. You will not get the full paycheck advance, but you can qualify for up to $200 through your Chime account.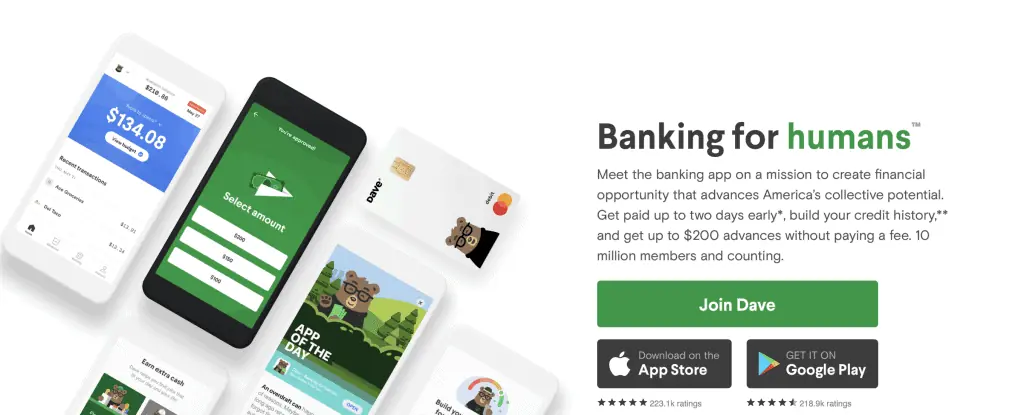 In order to use this service, you will need to link your external bank account (in this case, your Chime account) to your Dave Spending account. You will need to have at least two previous direct deposits into this account to request an advance. They take certain criteria into consideration when deciding how much of an advance you can take, including:
Anticipated income
Previous payment history on advances
Balance of your bank account
Recent negative balances
History of deposits and transactions extending back at least sixty days
The best part of using Dave is that they do not charge fees or interest on payday advances. Instead, they ask you for a tip which is completely optional.
There is a small cost associated with using Dave, but it could be well worth it if you need access to payday advances. They charge just $1 a month to maintain the connection to your Chime account.
We also mentioned Dave as a top alternative in our Apps like Brigit article!
Cleo
Cleo works much like Dave where users sign up for a subscription service and are eligible for a no-interest advance on their salary. Only members with the Cleo Plus subscription (priced at $5.00 per month) are eligible for these salary advances. You can borrow anywhere from $20 to $100 under certain circumstances.
To get money the same day, you will need to pay an additional $3.99. Otherwise, it is a four-day wait period.
Cleo determines those who qualify based on their unique AI software. What might negatively impact your chances?
Insufficient funds in your account
Too many cash withdrawals or missed payments
Too few transactions
No consistent deposits
Over-spending
The good news is that there is some flexibility in repaying the money Cleo allows you to borrow. You set the repayment date for three to twenty-eight days later. If those dates still don't work for you, you can ask Cleo to extend your repayment options in the chat function.
There is a limit to how often you can borrow money though. You must wait seven days from the time your payment was received to initiate another payday loan. For example, if you pay on Friday at 5:00, you will be eligible for another payday loan the following Friday after 5:00.
This app can also help you to get a grip on your financial spending. For example, they can help you to see what areas you're spending the most in and where you can cut back. Cleo's sassy chat function will keep you on your toes and help you keep your spending in check so you don't go into overdraft as often.
Albert
Albert is a lot like Fig and offers some hefty payday loans if you need a little bit of cash to float you through. Through Albert Instant, you can qualify for up to $250 before your next paycheck comes through. You can get the advance in ten minutes or less for a $4.99 delivery fee due on your next payday. Otherwise, standard delivery is free and comes to you within three business days.
Also similar to Fig, Albert does not issue a credit check to determine if you qualify. They charge no late fees on money borrowed either. Where they really set themselves apart is that they do not charge interest on the money you borrow.
They use their Genius software to determine when your next paycheck will be deposited into Chime. They coordinate the repayment with that date and automatically withdraw the money you borrowed. If your bank account is low on funds, they will withdraw as much as they can and may continue to do so until the debt is repaid.
How do you qualify? Here are the criteria:
A job with verifiable income coming in via direct deposit
Consistent income over the past two months
Income comes in on a regular basis (monthly, biweekly, etc.)
Current bank balance is greater than $0 and not overdrawn
If Genius determines that you aren't eligible yet, they will continue to monitor your account. They will send you an update if they find that you meet the criteria for Albert Instant and their payday loans.
Other Personal Loan Options
Sometimes, you might need to borrow more money than these payday loans will allow. You might need to pay rent, a medical bill, or pay for an expensive car repair. When this is the case, you need more than a simple salary advance. What you really need is a personal loan. These two companies can help connect you with a lender who can assist you.
Personal Loans
If none of these payday loans offer enough cash for you to cover your bills, you may need to seek out a different source. Personal Loans is a free service that can loan you $1,000 to $35,000 when you need it most. They offer loans to help cover your rent, auto repairs, medical debt, and more.
Their entire goal is to connect you with a lender in their network or in a third-party network that can offer you the loan you need. Personal Loans can help you coordinate a line of credit as well as other types of loans.
All you have to do is fill out a loan request form with how much money you want to borrow, your credit type, and the loan reason. You may also be asked to enter personal information and income details. Then, lenders and partners will be able to decide whether to offer you the loan you requested. You'll agree to the terms and the money will be sent directly to your Chime bank account.
The criteria for a loan typically include:
Must be 18 years of age or older with a valid social security number
Must be a United States citizen or permanent resident
Have regular income (full-time employment, self-employment, disability, or social security)
Valid checking account
Credit type (though there is no minimum credit score required)
Once you accept an offer, money is typically available in just one business day. Money must be repaid according to the terms of your agreement with repayment periods ranging from 90 days to 72 months. In most cases, APR for these loans will vary with rates ranging from 5.99 percent to 35.99 percent.
Cash USA
CashUSA.com is another lender that is very similar to Personal Loans and Bad Credit Loans. They can assist you in securing a loan worth up to $10,000 to help you through a tight spot. This money can be used for whatever you need: a vacation, a home remodel, or just paying down some of your debt.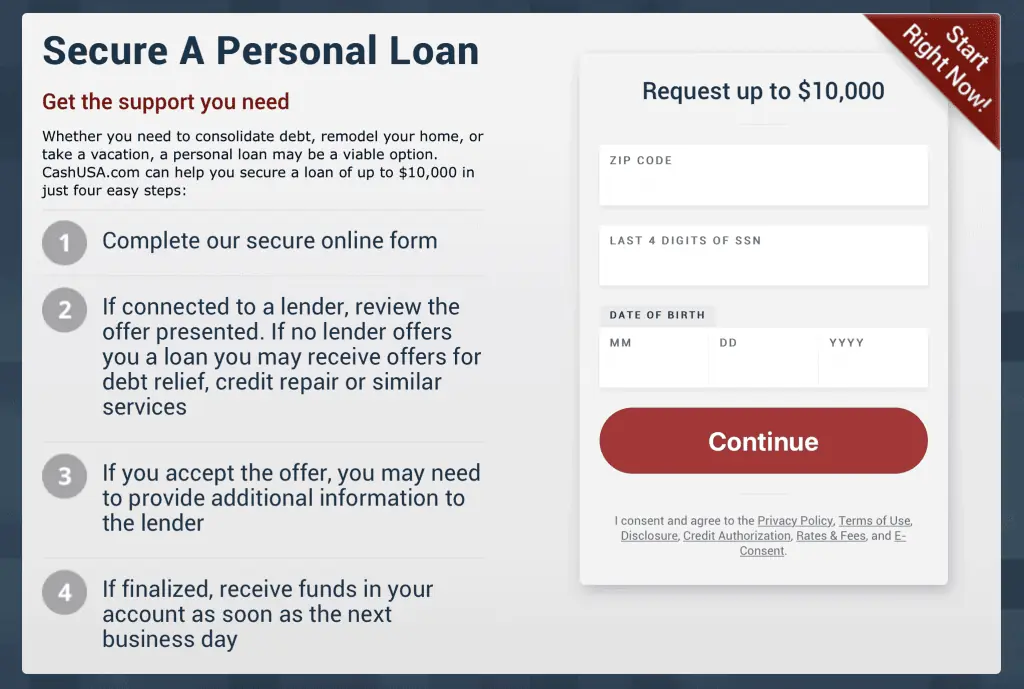 You will fill out a short application to request a personal loan. This information will then be sent to a variety of lenders to see if your application can be approved by anyone. Cash USA has an extensive network of lenders so that you have the best chances of qualifying for a particular loan product.
In order to qualify, they do have more stringent criteria regarding your income. Some of the requirements to obtain a loan include:
Age (must be 18 years or older)
Citizenship or permanent residency
Must earn at least $1,000 per month after taxes
Have a valid checking account in your name
Have a valid email address and phone number
Meeting those requirements does not necessarily guarantee that you will qualify for a personal loan, but it gives you the best chance of success.
If you do find yourself qualified for a loan, the rest of the process is quick, easy, and convenient. Make sure to have your banking information and personal information available and ready before you start your application. This will speed things up for you considerably. Once you are approved, you can receive funds as soon as the next business day.
Can I Get a Payday Loan with Chime?
Related article: Where can I load my chime card
For many people, making their paychecks stretch from week to week can be a challenge. Unfortunately, working with an online bank like Chime can seriously limit your options. Can I get a payday loan with Chime? You can procure a loan, but you have to know where to look. These companies can help you stretch your resources until payday.