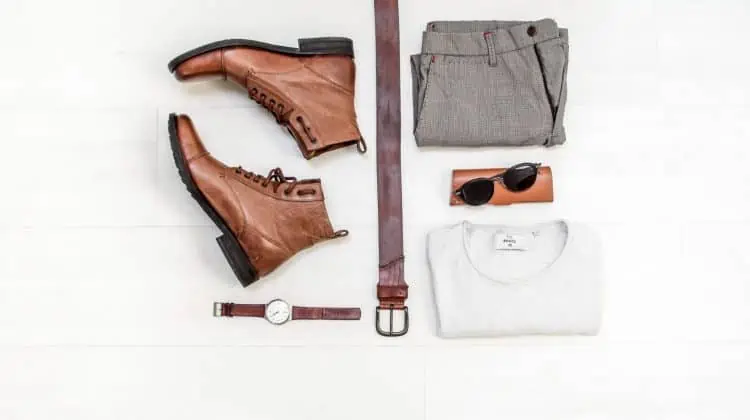 Who wouldn't like to have a little extra cash these days?
Whether through your favorite side hustle, a part-time job, passive income via investments or any other means. One way I've found to make some extra money is with Poshmark. In today's post, a Poshmark review, I'll show you how I use Poshmark to buy and sell used brand named items online.
What is Poshmark?
I started using Poshmark about two years ago when my wife started selling guitars on eBay. After posting some brand name items like purses and shoes on eBay I came across Poshmark, an app that was designed for those specific items.
I had to check it out so I signed up from a friend's sign up code and got a free $5. Then I started listing some of the same stuff I had listed on eBay along with clothes that didn't fit me any longer. I could've taken those clothes to a clothing resale shop where I would probably make $2 on each garment, or sell it on Poshmark for 400% more.
Naturally, I chose the latter.
I never planned on purchasing anything on the app until I came across a listing that was a win-win for me. It was an adorable sweater that was worn once and only listed for $11. The referral credit I had at the time was enough to cover the purchase, so I went for it.
Why would I ever go to a clothing resale shop again when I could use Poshmark? Plus, it was an excellent way for me to make money with a hobby of mine.
Poshmark Review
How to Use Poshmark
After downloading Poshmark on your phone:
Add a profile picture
Add a header image
Fill in your basic information
After you complete those basic steps, you are free to start taking photos of the items you want to sell in your "closet." Your "closet" is where your listings will be housed on Poshmark.
Pros
The app makes it incredibly easy to sell your items through the seamless processes they've implemented within the app.
Easy to List Items
I love how easy it is to start listing your items. It is also free to list your items until the item sells.
The first step in listing items is taking photos of your item or choosing already taken photos from your gallery on your smartphone. Once your photos are all selected and ready to go, you can proceed with the item information, its category, size, brand, etc.
But my absolute favorite feature is the area where the app tells you to enter an original price and listing price. From there, it shows you instantly what your earnings will be once the item sells, after Poshmark fees. This way, you know exactly what your take-home earnings will be.
Easy Shipping
The buyer pays the cost of shipping. Once your item sells, Poshmark emails you your shipping label. Next, all you need to do is print out the shipping label and stick it on the outside of your package for your local post office to scan.
All labels are USPS priority mail shipping labels.
Cons
As with any online reseller platform, not every aspect is going to be perfect. Some disadvantages of the app include constant social engagement with potential buyers and not being the ideal option for boutique-style stores.
Dealing with Nit-Picky Buyers
The most annoying part of Poshmark was the constant engagement that potential buyers demanded at times. Some people will lead you on with question after question about the state of your item, how many times was it used, the specific measurements, additional photos, and other nit-picky requests.
I get it. They are trying not to get scammed.
Then after you answer all of their questions, they completely ghost you. This is the part I don't get but has happened to me a handful of times.
Not the Best Option for Boutique Style Stores
There is an option within Poshmark to set up a Seller Boutique store on Poshmark if you have a large number of items to sell. However, when weighing the fees on Poshmark versus other online Platforms such as eBay, Letgo, and even Craigslist, Poshmark is not the ideal option in this case.
Listing Items for Sale
As previously mentioned, listing items for sale starts with photos. That means good images.
Take Good Photos
I like using natural sunlight that comes through our windows for taking photos of items and is the cheapest option. When I am listing clothes or shoes, I like placing them on my couch against aesthetically pleasing pillows and blankets.
Some Poshmark sellers like using mannequins for displaying the clothes and accessories, and that is a perfectly fine approach if you want to buy a mannequin.
The most important things to keep in mind about taking good photos, though are:
Use natural light as the cheapest option
Take pictures of as many angles of the item as you can
Include any defects of the item in your photographs (stains, tears, etc.)
Crafting Descriptions
I first like to start by looking at the original seller's site of the item to find the original description. Then I usually copy and paste that description and add some line items about any specific things I need to disclose to the buyer, such as how many times it was used, any defects like stains, measurements, material, color, size, etc. I do this to include keywords and boost the potential of the item showing in the Poshmark search.
Pricing Items
Pricing your items for sale on Poshmark isn't much different than listing them on eBay. Which is why I start the pricing process on eBay. After I check what the average price that item is going for on eBay, I then search on Poshmark.
Then I price the item as competitively as possible, taking into account its condition and how it compares to the other things already listed that I found during my research.
Negotiating with Buyers
Maybe this shouldn't be listed as a "con" to the Poshmark app. But it is something that happens on any reseller platform.
You will find that people want to buy your item for next to nothing and will send you offers that are just insulting. That is why they are on Poshmark in the first place – to try and get something for a deal.
Don't let them weigh you down and stand firm on the price you want for the item. If an item on my Poshmark closet has been sitting there for a while, I will cave on certain offers because I want to get rid of it. This is a decision you must make for yourself and if you are willing to sell an item for less than you originally listed it for.
You can set the minimum price you are willing to accept for an item to avoid these sorts of headaches.
Bundles
Bundles are great for this sort of exchange. Let's say they offer you $10 for a skirt you have listed for $20. If you have another similar skirt for sale in your closet (for the same price) that you want to get rid of without losing too much on the deal, you can offer them a bundle instead of the two skirts for $30. They will get a $5 discount on 2 of the skirts and you kind of meet in the middle in that negotiation.
Shipping Items
As I mentioned above, I love the way Poshmark handles shipping with providing you the shipping label that all you are required to do is print it out and attach it to your package.
But you do need to purchase your own packing supplies. The best ones for garments are the packaging envelopes with the inside bubble wrap and are much cheaper than buying boxes and bubble wrap separately. It also works to reuse your smaller amazon boxes from past deliveries you have lying around.
Finishing Touches
Buyers love getting personalized notes in their deliveries. They are also super fun to make.
I include a thank you note in all of my shipments with a personalized message to the buyer, thanking them for purchasing it and some positive blessing for the day. Adding a flair of creativity with a doodle doesn't hurt either, especially if you are artistic.
I've gotten great feedback on my thank you notes and usually attribute to me getting a "Love Note" from my buyers.
Love notes are something that appears on the Posher's About page when they receive a 5-star rating. The more love notes you have, the more 5 star ratings you have, and the more 5 star ratings you have, the more trustworthy of a seller you are.
Poshmark's Fees
Poshmark's seller fee policy says that it's free to list your items. Once your item sells is when they take their cut.
Poshmark's fees include:
Sales under $15, the fee is a flat rate of $2.95
Sales above $15, the fee is 20%, and you keep 80%
For these fees, you get:
Free pre-paid shipping labels (paid for by the buyer)
Free credit card processing
Customer support and Posk Protect buyer protection
Sales tax is automatically calculated, collected, and remitted to the state on your behalf
Build Your Following
Poshmark is one of the simplest platforms where you can build a following.
The ways I built my following of 4,582 followers were by going to the "Find People" area under the account page (labeled by your username). I would then follow the Poshmark ambassadors and new people. Most of the people you follow will follow you back.
After you initially download the app, then start listing in your closet. You will get an influx of followers who are also looking in the "Find People" area to follow. It's like instant followers, and then people continue to follow you, either through the "Find People" area, from you sharing their items, them coming across your items and sharing them, or through Posh Parties.
Posh Parties
Posh parties are where the real money is. There are many sales I've made solely because of posh parties.
Posh parties are pre-scheduled parties from the Poshmark Editor for specific categories that are popular at that time on the app. They are share parties where sellers share to the party, and then other sellers re-share your items, widening everyone's audience of potential buyers.
A couple of examples of Posh Parties are:
Fall Favorites Posh Party
Best in Jeans Posh Party
Everything Petite Posh Party
Street Style Posh Party
Posh Perfect Conclusion
At first, it was difficult for me to make sales as I was expecting for things to sell like crazy. When you are starting with a small following and only a couple of items, you aren't going to sell anything right away.
It wasn't until I had at least ten items listed and started actively participating in Posh Parties that I began to make sales. Once you get that first couple of sales along with feedback and ratings from buyers, sales come much easier.
It is a great tool to use in addition to other platforms you might be using to list items for resale as a side hustle, but just as great for getting rid of things cluttering up your closet.
If you need to sell something quick, my advice to you is to list that item both on Poshmark and eBay. There have been times where I sold the item first on eBay, so it's worth a try.
And as always, keep experimenting and have fun with other ways to make money from home!
This article originally appeared on The Money Mix and has been republished with permission.
RELATED: Side Hustle Interview – How I Made $2,000 Reselling on EBay
Daniella is the creator and author of iliketodabble.com. Her wife Alexandra and her have been able to pay off $32,000 in debt the last 2 years partially thanks to side hustles. Now she helps her readers work towards a future of financial freedom through many creative avenues like side hustling and entrepreneurship.