Do you do a lot of shopping on QVC and Zulily? If you love scoring a deal on one of these sites, then you might want to consider enrolling in their QCard program. This credit card comes with some amazing perks like special financing, fraud protection, and access to promotions. When the bill comes due, you can easily hop onto their QVC credit card login page to pay the bill.
The QVC credit card is offered through Synchrony Bank, but it has its own login page. You can set up recurring payments or one-time payments here. If you don't have an account, you can also proceed as a guest to quickly pay your bill. Customer service can be reached at (877) 490-1787.
If you are ready to start making the most of your shopping experience, here is everything you need to know about the QVC card and how to pay your bill.
QVC Credit Card Benefits
If you do a lot of shopping with QVC, you may want to consider enrolling in their QCard credit card program. This comes with a wide array of benefits for someone who frequently shops here. It makes your shopping experience faster and presents you with the option to save on financing and gain access to limited edition presales and promotions.
One of the benefits of a QCard is its access to special financing and Easy Pay every day. It can make paying for your new purchases much easier, even if you don't have the funds on hand right away. 
Their special financing is often a deferred interest option where you can have easy monthly payments. It should be noted that interest does accrue during these special periods unless the entire balance is paid off by the end of the promotional period.
You can also benefit from more previews with Today's Special Value Presales and access to other incredible promotions. When you go to place an order, you will have access to their priority order line for a quicker response time. This special phone line is only accessible to cardholders.
Security is another feature that is important to many people when shopping for a new credit card. Fortunately, this card comes with a $0 fraud liability.
If you have always wanted to tour the facility, you also earn a free studio tour for you and five of your closest friends. You can visit the QVC Studio Park in Pennsylvania. All you have to do is present your QCard for free admission.
If you want to learn more about buy now pay later sites with no credit check, you'll love our complete guide.
QVC Credit Card Login
For those who have already started to take advantage of the many benefits found in the QCard, you likely need to know how to pay your bill. You will find one convenient statement for all of your QVC and Zulily purchases. This can easily be paid online if you know how to access their QVC credit card login.
The credit card is issued by Synchrony Bank, but it has its own unique login page. On this login page, you can register for an account or apply for a new one.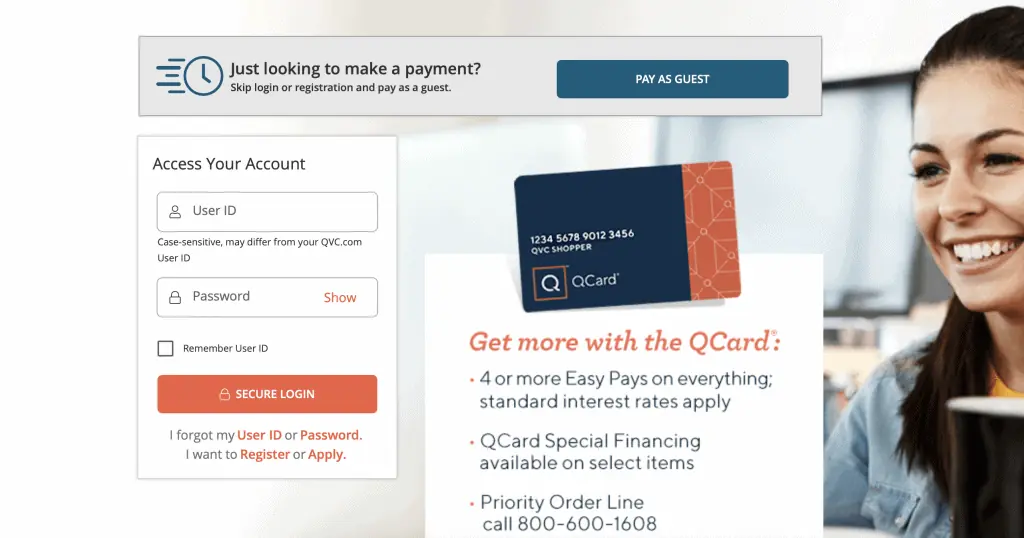 If you have not registered your credit card with an online account, you will simply need your account number and billing zip code to get started. It is a good idea to set up your online account payment as soon as you receive your card in the mail. This allows you to monitor your balance and purchases, as well as pay your statement when it arrives.
Making a payment is easy once you log in. You can opt for either a one-time payment or enroll in automatic payments. This allows you to set up your payments once and forget about them in the future. You will always have your bill paid on time without a second thought.
Sometimes, you might want to go ahead and pay your bill but schedule it for a future date. This is also possible using their online bill payment section.
If you are in a hurry and simply want to make a payment, you can skip the login and pay as a guest. You will answer a few questions about your card number, the last four digits of your social security number, and your billing zip code to help them locate your account. From here, you can enter your payment details and make a payment.
Where Can I Use My QVC Card?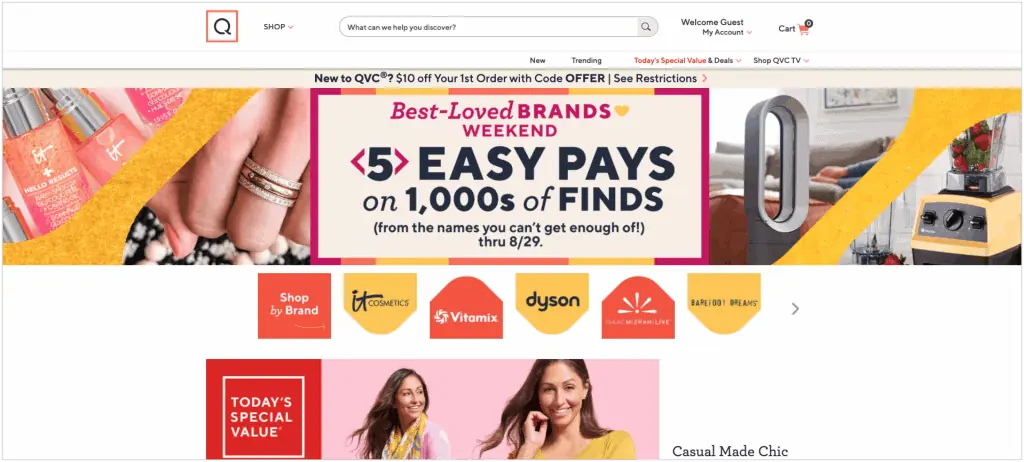 Spending your money is an appealing option, and you have plenty of options with the QVC credit card or QCard. Using this payment method makes shopping at all QVC retailers a breeze. You can use it at QVC, QVC outlet store, and QVC.com. 
In addition, you can also use the card at Zulily.com. This online retailer has daily sales on many popular brand names in categories such as clothing, accessories, home décor, and more. To use your QVC card here, you will first have to sign up as a member and enter your credit card details before making your first purchase.
Zulily also allows you to use their Smart-pay feature, which is similar to the Easy Pay feature found on QVC. You can pay in three installments on all purchases except for gift cards.
Keep in mind that Smart Pay and Easy Pay are different from the deferred interest financing on your credit card. They break your payments up into monthly installments with no extra charges. Deferred interest is offered only on select products and allows for longer repayment without interest (as long as it is paid off during the promotional period).
Other Ways to Pay Your Bill
Of course, not everyone loves the idea of paying their bill online. You may prefer to pay your bill over the phone with a customer service representative or by dropping a check in the mail. Both of these payment methods are possible for the QCard.
The customer service line phone number is (877) 490-1787. Calls will be rerouted from QVC to Synchrony Bank, as this is who sponsors these credit cards.
The best part about their customer service line is the availability of hours. You can easily call before work, after work, or during your lunch break. They are open from 7 AM to 1 AM ET every day. They work on weekends as well as the traditional Monday through Friday.
You can almost always reach someone to help you with your payment or if you have general questions about your card. This is a huge asset for those who are just getting started with this credit card who may have questions about how it works.
If you want to mail in your QCard payment, you can send it to:
QCard/Synchrony Bank
PO Box 530905
Atlanta, GA 30353-0905
Remember that paying via mail is not an instant payment method. It will take several days for your check to arrive and be processed by QVC and Synchrony Bank. You will want to mail it out at least five to seven days in advance of your due date or earlier if possible.
If it is too close to your due date, you should consider making your payment another way. Online and phone payments are both much faster.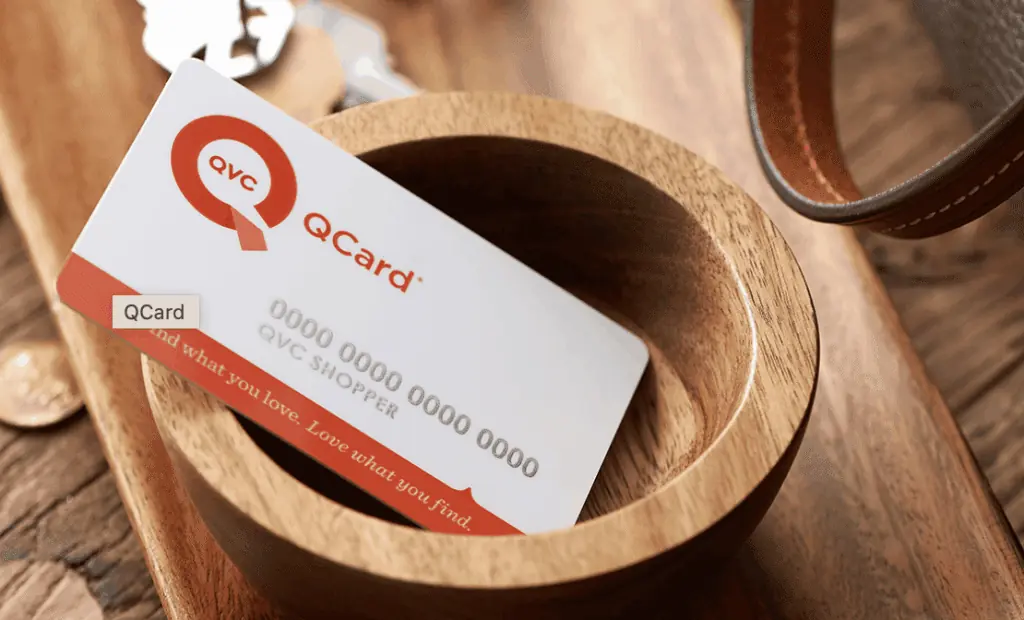 What Happens If Your Payment is Late?
It happens to all of us at some point. Your payment just doesn't make it on time. You might have forgotten about it in the shuffle or your check didn't make it in time. What happens when your QCard bill is paid late?
Prepare yourself to pay a late fee in addition to the bill you already owe. They may charge you up to $37 in late fees.
This is why setting up your automatic bill pay can be so helpful. If you consistently forget to pay your QVC credit card bill, you could be facing hundreds of dollars in late fees. They really add up if you habitually forget.
These missed payments also have a negative impact on your credit score. This can make it more difficult to qualify for other lines of credit, a mortgage, a car loan, and other types of loan products. If you do qualify, you may face less favorable terms and higher interest rates.
By setting up automatic bill pay, you can choose how much to pay each month. You can set it for minimum balance due, the full statement amount, or something in between. With this in place, you never have to think about when your bill is due again. Just make sure you have enough funds in your checking account to cover the costs.
Paying Your QVC Credit Card Bill
The QVC credit card or QCard has a lot of benefits for cardholders and can help you to score a great deal on some new items. Fortunately, it is also extremely easy to manage your bill and keep up your credit score. The QVC credit card login is easy to find and use. Even if you prefer to pay another way, phone and by mail are also available!