Credit card solutions are accessible through Citibank Online, as they are with most banks. The Sears credit card is undoubtedly one of the most prominent cards in this specific bank. You may use Sears credit login for many things, including internet purchases, monitoring your purchases and statements, and paying your bills, as well as budgeting and other credit card-related services.
Citibank Online is a web-based service that allows you to monitor your account balances and handle activities in a couple of minutes. All Sears credit cardholders have access to this portal. Thanks to online services like these, there's no need to run down to the nearest bank or ATM to check your amount anymore. Here are some steps to use this portal for Sears credit card login:
Head over to the official www.searscard.com website and find the Sears credit card option.
Once you click on this button, the website will redirect you to a new page.
Enter your correct login details (username and password) and click on the submit button.
You are logged in now. Therefore, you can do anything you want on this portal. Moreover, you can easily manage your account balance or handle your statements.
How Can You Manage Sears Citi Card Login?
However, you must follow a simple procedure before you manage your credit card. From activating your card to Sears credit card login, there are a few fundamental procedures for everyone. You may also utilize this site if you've lost access to your account and need help retrieving your important data.
Registering Your Sears Card

You must first register your Sears credit card before you can log in. This section is exclusively for those who have never had a Sears card before. You may skip this registration step if you've already activated your card.
Select your desired card type at www.searscard.com.
Under the "Sign On" button, you'll see a "Register Your Card" option. This will allow you to verify and activate your credit card.
Once you do that, you can input your credit card number, cardholder's name, security code, and the last four digits of your SSN.
To finish the process of registering your card, enter your additional private details.
For your Searscard.com profile, you can pick your username and password.
Always remember that if you want your credit card to remain protected, you must never give these details to anybody.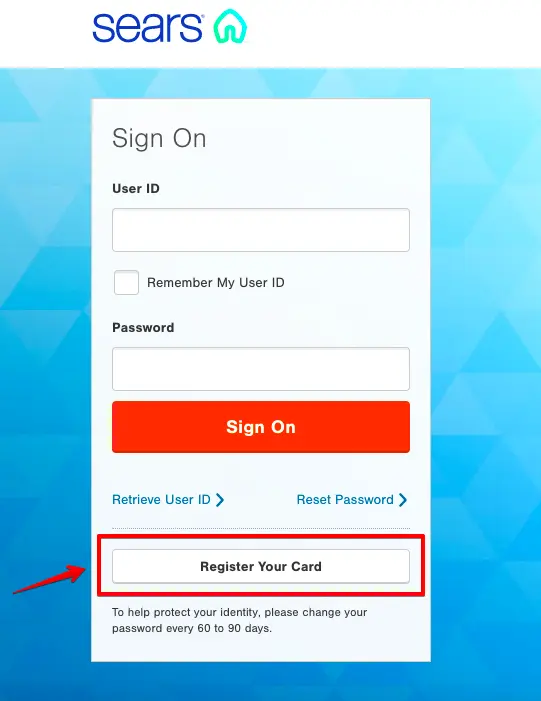 Sears Credit Card Login Process
Now that you have officially registered your card, you may access the portal. You can easily take advantage of the available internet services. You're good to go if you complete these three basic steps: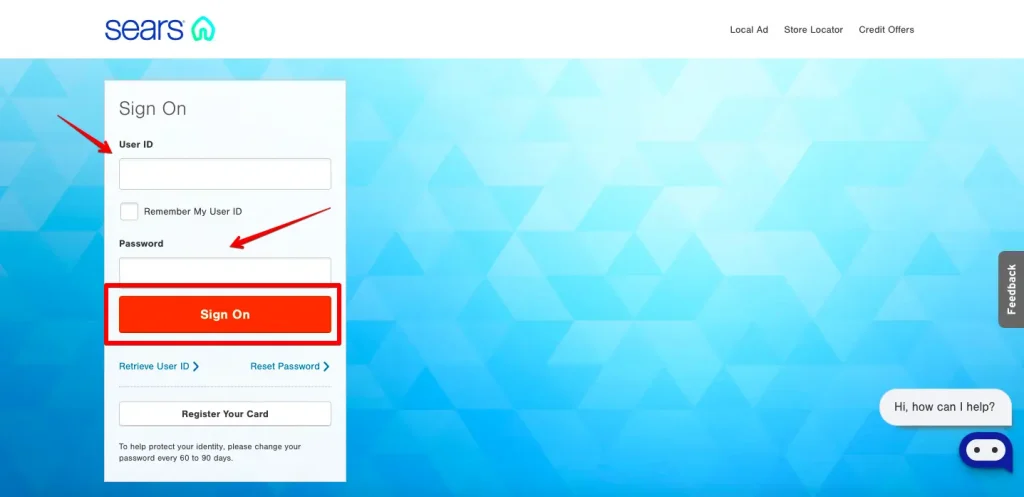 Go to searscard.com for more information. The Sears card login portal is a subsection of the searscard.com website.
Fill out the login form with your proper login details.
When you press the "Sign On" button, the website will take you to your account. From there, you can do whatever you have to do.
How To Retrieve Your Sears Citi Card Login Details?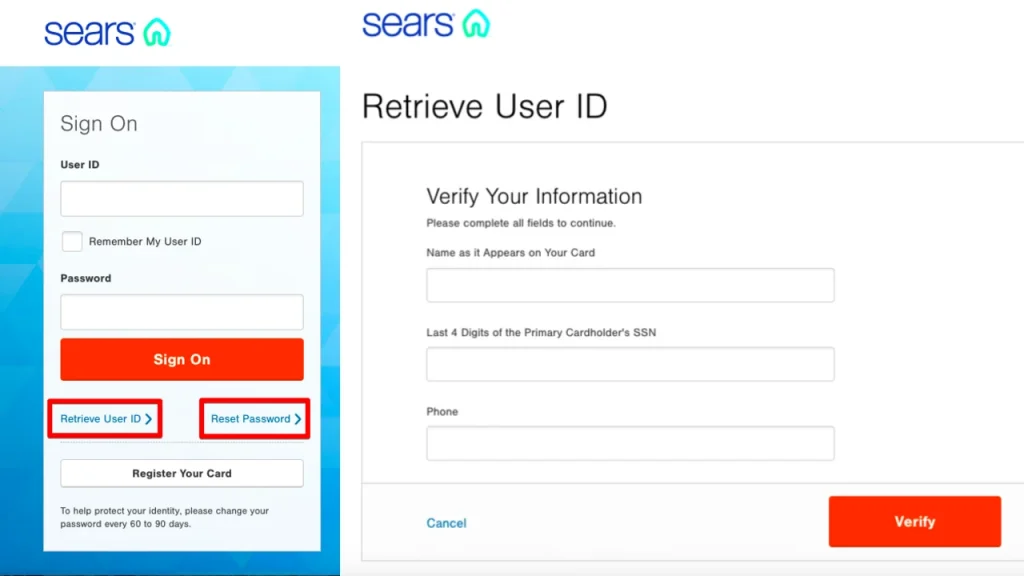 You could forget your username and password from time to time. Sadly, if you did not record the information in a secure location, don't be too hard on yourself. It occurs to the most well-informed among us.
Thankfully, most questions in life have a solution. You can solve the issue in this instance by trying to recover your Sears login details. Here are the topmost steps to help resolve this issue:
When you go to the original Sears card webpage in your browser, you'll find two options: Retrieve the User ID and Resetting the Password.
If you can't remember what username you had, select "Retrieve User ID."
You can use the "Reset Password" option if you forget your Sears Mastercard login password.
You'll be sent to a new page regardless of whatever option you select. This is where you'll input personal details like your credit card details, the identity on your card, your Social Security Number, and much more.
Verify that you have provided the correct information and click on "Next."
Follow the on-screen directions. If you've done everything correctly, the portal will let you recover your details and enjoy Sears credit login as before.
What Are the Different Payment Methods for Sears Credit Cards?
You've probably been taking advantage of the perks that come with having a Sears credit card. Nevertheless, you must also pay your expenses. This will allow you to continue using the card. Otherwise, payments will begin to accumulate and make your life tough. There are numerous options for paying your Sears credit card bill.
Online Payments for Sears Credit Cards
This is the most practical option. You may use the Sears online site to pay your credit card payments. This is what you must do to pay the bills online:
Go to the Login page for your Sears card.
Input your Sears credit card login details and obtain access to the system.
Select "Sears Bill Pay" from the drop-down menu.
You have the choice of making a "full payment" or a "partial payment." Similarly, you can also schedule a payment for later.
Make the payment with the bank account that you've connected to your Sears profile.
Enjoy.
Phone Payments for Sears Credit Cards
Some consumers are hesitant to pay using their credit cards online. As a result, you may pay your outstanding bills over the phone. The Sears Credit Card Services staff will be there to help you with every step of the process. You will be able to complete the transaction in this manner.
All you have to do is dial 800-917-7700, which is a toll-free number for Sears cards. After that, follow the given steps and directions. You can also get support from a customer care person if you so desire.
Mail Payments for Sears Credit Cards
You can also pay your bills in the traditional manner. Paying by mail is also a possibility with Sears. Whether you wish to send standard mail or an accelerated payment, you can use alternative addresses. You'll be all done if you send the cheque or a cash payment to the right mail address.
What Is the Bottom Line Here?
Hopefully, you were able to find and understand all the necessary information regarding your Sears secure sign-on. The entire process is simple for everyone to follow. The registration process is simple, and you only need to input your private details to activate the card. Once you have registered and activated the card, you can enjoy Sears credit card login from the main webpage of the official website for the company.
Do you have a Discover card that you also looking to pay your bills for, then check this Discover card login article!
The portal offers everything from registration to account maintenance. You can pay off your bills, generate monthly statements, and monitor your online purchase activity right from this portal. Moreover, if you ever lose access to your data, you can retrieve the login details as quickly as possible.