Excited because you finally pulled the trigger and became a Target RedCard holder? Shopping with Target is made easy and that's why you'll find that their Redcard login process to pay your bills and check your statements is even easier. And that's not all you can do!
To log in RedCard members must visit the RedCard home page. Type in your unique username and password in the designated fields and click the login button below. If you have don't remember/haven't signed up yet there are options to reset your login credentials right below.
Let's talk about how you can log in to your Target RedCard, reset your information, and take advantage of all the benefits online.
The RedCard Login Process
The first step to logging in is to head to the Manage My RedCard Page on Target's website. You will see two designated typing fields that say Username and Password. When you signed up and activated your RedCard, you will have chosen a unique username and password for login.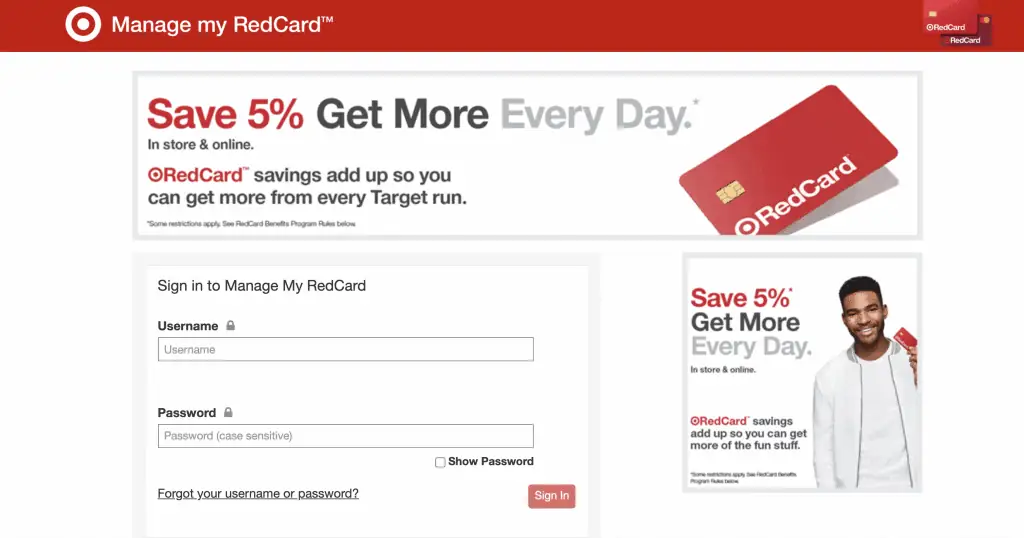 Once you enter this information you can click login and it will direct you to the homepage where you can see your current bill, past statements, options to pay your bill, among many more tools.
Forgot My Password/Username
You can also see that there is an option to click on "Forgot your username/password?" This is for those who already have an account registered but don't remember their login credentials.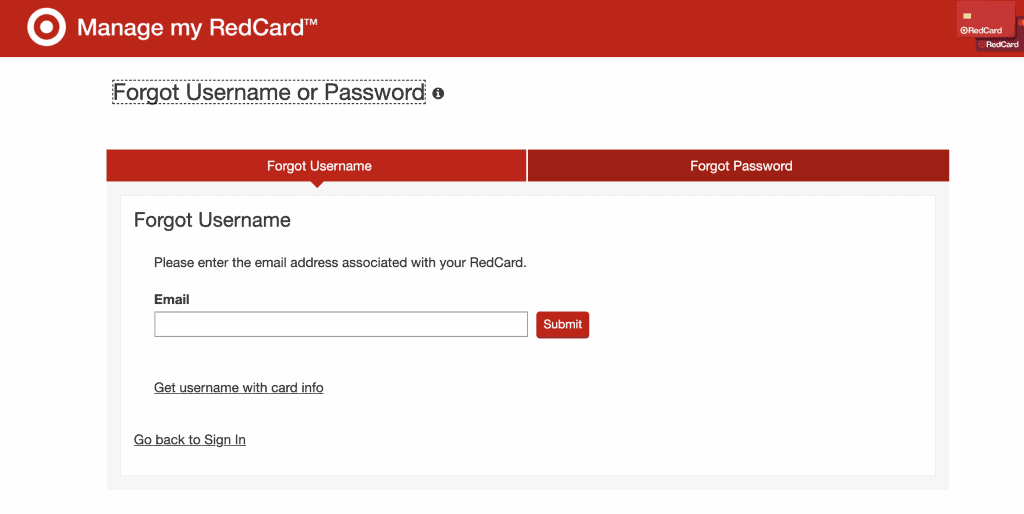 Click on the link and it will bring you to a page where you can select the Forgot Username or Forgot Password. If you forgot your username it will simply ask for your email registered with the account.
If you forgot your password it will ask you to provide your email and your username. From here you will be emailed a reset password or your username with the registered email.
Sign Up for My RedCard Credit Card
If you have a card but have not yet made a username and a password you can also do this through the same website. When you sign up for an online username you can take advantage of the following settings management.
Activate your RedCard
Manage your RedCard Pin Number
Add of Manage Cardholders
Set Card Alerts
Enroll in Paperless Statements
Make/Schedule Credit Card Payments
Firstly, to sign up you need to click on the sign-up button below the login credential section
Secondly, it will ask you to enter your credit card number to begin your enrollment. This is for those who already have a physical credit card or a number they have been assigned to.
Then it will ask you to provide match information on the card like your name. From there you can choose a unique password, username, and security question to make your login credentials. After that, you should be good to log in!
Worried about not having good enough credit for this card? Check out our guide on the top buy now, pay later websites that don't check credit!
Online Benefits of Having a RedCard Credit Card
Your online benefits are going to make the process of paying your bill and keeping track of your expenses easy! It is a seamless and user-friendly webpage that all members can manage.
Let's talk about some of the benefits.
Pay Your Bill
The best part is being able to pay your bill on time at any time. No more paper bills and sending checks when you do online banking with your target credit card payment login. You can sync up your bank details with your Target RedCard and set automatic payments or pay as much as you want when you want.
View Your Statements
Feel like you don't remember making a certain purchase? That's why all your statements are in one place. With Target RedCard sign in you can see how much you were spending in what categories to get a better hold of your finances.
It also makes it a lot easier for returns or disputing charges you weren't made aware of.
Manage Settings
All your settings can be managed online. This makes it easy to add other people to the credit card as authorized users or give them their own. Passwords, updated information like addresses, and many more things can all be taken care of online once you log in.
Report Theft/Lost Credit Card
While unfortunate, it is not unheard of for credit cardholders to lose their cards or worse have them stolen. But luckily, Target provides the option to place your card on hold or report that it's stolen online making it quick and efficient.
Simple At It's Best
The Target RedCard login makes it easy for users to do just about anything they need. With a thoughtful interface that is attractive yet simplistic, Target RedCard credit cardholders can get in and out without issue.
Remember to log in simply visit the Manage My RedCard page and follow the instructed fields where you can input your username and password. If you don't have that information yet or have forgotten your sign-in credentials, there are different options to recover and get started.