Looking to make some extra cash on the side? These job ideas that pay under the table could be just what you need to get started!
Even if you already have a full-time job, having a side hustle to make extra money can go a long way toward building your savings or paying down debt faster.
Don't think you have any skills? Not to worry – there are several under the table jobs you can do that don't require specific skills. There are plenty of people willing to pay cash for simple things anyone can do.
Keep reading for the absolute best opportunities to find under the table jobs that pay cash!
Looking for a few quick wins to make money fast?
Here are a couple of legit apps that pay you money just for signing up:
What is an Under the Table Job?
First let's be clear what we're talking about when we discuss under the table jobs.
Usually "under the table" refers to jobs that pay cash or are otherwise off the record when you receive payment.
Unlike a normal W-2 job where you receive a paycheck and taxes, social security, etc. are already deducted, under the table income is not reported in the same way.
You generally receive cash up front for your work and it's up to you to report the income for tax purposes, similar to many contracting jobs.
The Best Under the Table Jobs That Pay Cash
There are a million things you could do on the side to make extra cash, but these are some of my favorites or ones that I've personally done before.
I think they offer the best opportunity for anyone getting started, and will hopefully spark other ideas in your own mind that you can try.
There are a two main categories of under the table jobs, depending on your skills and how much time you have available:
Online and Work From Home Jobs – All you need is an internet connection to get started making money
Local Jobs – Basic services you can offer in your local community to earn cash fast
Best Jobs That Pay Under The Table Online
1. Apps and Surveys
Let's be honest. Nobody ever became a millionaire from cash back apps and taking online surveys.
But if you're looking for an easy way to make some extra spending money, you could do worse than signing up for some online apps.
While you won't make a ton of money, it's also pretty passive and doesn't take a lot of time or effort on your part. In fact, I regularly use 3 or 4 apps that pay you money to make $500 a year without much thought at all.
These are some of my favorite apps to make easy, mostly passive money online:
Survey Junkie – Arguably the best and most widely used survey app. Get paid up to $50 per survey, which you can take while watching TV or waiting in line at the grocery store.

Join Survey Junkie Now
FURTHER READING: 3 Apps That Pay Me $500 for Doing Nothing
2. Virtual Assistant
Do you have a knack for organization and like helping people? Becoming a virtual assistant is a great way to make extra money and it can even lead to a full-time career.
No matter what your skill set, there is an online business owner out there that needs your help. From organizing emails to following up with clients, there's a task out there someone is desperately looking to pay you to get off their plate.
When I was more focused on my real estate investing, I sent out a ton of marketing looking for houses to buy. I hired a virtual assistant to help me sort through the leads and follow up with them to see who was serious. This was a valuable service that was fairly easy to do, I just didn't have the time!
Here are some ideas of tasks you can perform as a virtual assistant:
Receptionist / schedule organizer
Graphic design
Data entry
Lead management
Online marketing
Social media manager (more on that below)
Editing/proofreading content

3. Freelance Writer
If you enjoy writing, an excellent side job to consider to make a little cash under the table is freelance writing.
Almost every business large and small has an online presence these days and needs help keeping up with their content.
One idea to find clients is to look for websites of local businesses that look a little neglected and offer to write a few blog posts for them to help them target their customers.
Another idea is to write for bloggers (such as myself). I know in my niche of personal finance, people pay anywhere from 10-25 cents per word, so a 1,000 word article would put $100 – $250 in your pocket for a few hours of your time!
FURTHER READING: 5 of the Best Freelance Writing Jobs You Should Try Today
4. Social Media Manager
If you're a Millennial or Gen Z'er, social media probably comes naturally to you. Put that skill to use by helping other businesses manage their online image.
This is another great opportunity to work with fully online businesses or local small businesses from the comfort of your home.
Many business owners don't have the time or know-how to keep up with their social media accounts. You can step in and help them organize their posts and craft campaigns that will reach their target audience.
5. Website Design
If you're a little more tech-savvy, you can offer your services designing entire websites. You can easily make $500 – $5,000 depending on the scale of the project.
While this isn't something I've pursued myself, I've definitely thought about it.
Surprisingly, many local businesses still don't have an online presence. Even just a single page website would help them stand out from the competition and allow them to collect reviews and earn trust from their customers.
If I were to go down this path, I'd start looking for businesses near me that had no website or a barely functioning one from the 90's (you know what I'm talking about) and offer my services to bring them into the 21st century.

6. Small Business Bookkeeper
Becoming a bookkeeper from home is one of my favorite side hustle ideas that could even turn into a full-time business. Maybe it's my love of numbers and tracking my finances (hence the personal finance blog…)
I recently interviewed Nate, who started a bookkeeping side hustle while he was teacher and has now made it his full time job! You can read his story here:
How My Bookkeeping Side Hustle Allowed Me to Quit My Job and Make $75/Hour from Home
Entrepreneurs are great at thinking outside the box, coming up with new ideas, and selling them to clients. You know what they're not great at?
Bookkeeping.
Most business owners either despise the day to day task of tracking their finances or they simply don't have time for it.
That's where you come in as their business partner and CFO. Just a few clients a month is enough to bring in some serious extra cash under the table.
FURTHER READING: How to Become a Bookkeeper from Home (Even With No Experience)
7. Selling Crafts
If you are more of the crafty sort (I am not, just ask my wife…), you can earn money under the table selling your crafts either online or locally.
I recently saw some trendy candles branded with local neighborhoods near me selling for $30+ at a Farmer's Market. If I had the skills to do it, that would be a great creative outlet as well as a way to make some money on the side.
You could also take your creative skills online and open up an Etsy shop selling your artwork or other crafts.
8. Selling on eBay
I first saw the potential of this side hustle when I interviewed my friend Nathan. He goes to garage sales, thrift stores, and estate sales looking for good deals and resells them on eBay. He is consistently making $500+ a month reselling items on eBay!
LEARN MORE: How I Made $2,000 Flipping Products on eBay
There are lots of opportunities to find a niche, such as clothing, electronics, or collectibles. If you love bargain hunting and finding a deal, this could be a great job that pays under the table.
Best Local Under the Table Jobs Near Me
While there are many ways to make extra cash online, some of the best opportunities for under the table jobs come from helping others in your town, or even just targeting your neighborhood.
There will always be a need for hands-on, local services that you can offer to your community.
Here are some of my favorite ideas for jobs that pay cash in your local area, no matter where you might happen to live.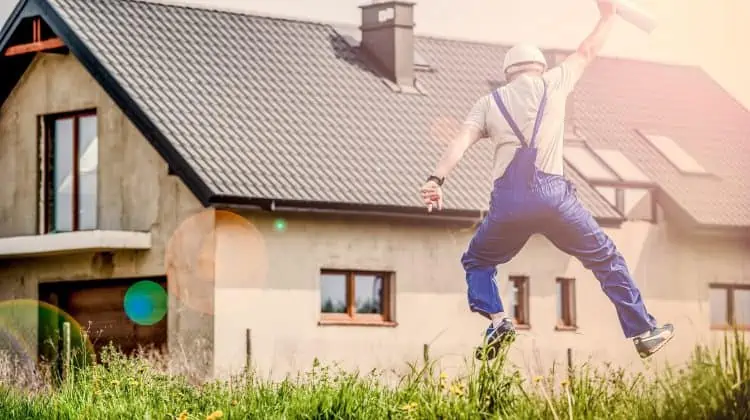 9. Handyman
Do you have a knack for fixing things around the house? Or a giant collection of tools to tackle small renovation projects?
Being a handyman (or woman) is a great way to earn quick cash, and there are always opportunities available if you do good work.
Start by posting on your neighborhood Facebook page or Nextdoor app. If you are professional and courteous you'll have so many referrals you'll have to start turning down work.
FURTHER READING: Make Money Fast – 13 Ways to Make $200 Today
10. Tutoring
Did you enjoy any particular subject in school? If so, tutoring might be a fulfilling way to make some extra money on the side.
When I was in college, I worked for the math department helping other students and even did some private tutoring. It helped me pay some expenses, and actually helped me retain what I was learning better.
As they say, the best way to learn is to teach!
11. Babysitting
Babysitting is certainly not a new idea, but it's still a solid way to earn money as a teenager or young adult.
As a parent of young kids myself, I can attest to the fact that finding a reliable babysitter is like finding gold.
If you are responsible and enjoy kids, babysitting can be a great side hustle. You can make anywhere from $10-20 an hour depending on experience and the number of kids you'll be watching.
12. House Cleaning
I always have good intentions of keeping the house clean and tidy, but sometimes life gets in the way.
For busy professionals or just those that hate cleaning, hiring someone to take care of it can be a blessing.
You don't need a ton of supplies to get started. Some basic house cleaning tasks include vacuuming, mopping, dusting, etc.
13. Painting
Another task that isn't difficult but often gets put off by homeowners is painting. If you have some attention to detail, learning how to paint can be easy and lucrative.
Whether it's painting a room, a fence, or a shed, there are always people in your neighborhood in need of a good painter. Plus it's a great job to get paid cash under the table for a good day's labor.
14. Photography
While everyone has a million pictures on their phones, there's still something special about hiring a professional photographer.
If you've got an eye for a good shot and know your way around a professional camera, you can make some serious cash by taking family portraits or head shots.
If taking pictures of people isn't your thing, you could turn your artistic flair into a side hustle with real estate photography or selling your shots to stock photo websites.
FURTHER READING: 9 Ways to Make Money Selling Photos Online (+ How Much You Can Make)

15. Yard Work / Landscaping
Noticing a trend? Similar to being a handyman, painter, or house cleaner, yard work is another oft neglected task of homeowners.
This was one of those side jobs I had as a teenager. Mowing lawns was an easy way to make some cash when I needed spending money, and it didn't take up too much of my time.
Whether it's mowing the lawn, trimming the shrubs, or raking the leaves, every season has opportunities to earn money doing yard work.
The best part is, you can often build a solid business without ever having to leave your own neighborhood.
16. Personal Trainer
Lots of people want to lose weight and get in shape, but don't quite know where to start.
Put your exercise and motivational skills to work by helping others achieve their fitness goals. Usually you'll get paid in cash (under the table) per session.
So where can you find a job like this? Contact local gyms to see if they need additional trainers, or spread the word to friends and family and bring in some referrals.
If you do a great job and get some testimonials, the clients will find you.
17. Pet Sitting / Dog Walking
When pet owners go out of town or work long days away from home, they need someone to take care of their fur babies.
If you love animals, this is a great under the table side job to start in your neighborhood. Just offer your services through a local Facebook group or by word of mouth.
Booking multiple pets at a time (as long as you have the space and resources to take care of them of course) can exponentially increase your income. Plus it's a great way to get some exercise!
18. House Sitting
Do you like sitting on the couch watching TV? Then this is the job for you!
As a house sitter, you would either stay at someone's home while they're away or check in regularly. Common duties include checking the mail, watering the plants, and just making sure everything is in order.
My wife used to do this regularly for a local family member and would get paid a couple hundred dollars a week just to crash at their house!
Plus, if you're a world traveler (or aspire to be), you can use a site like Home Exchange to swap homes with people all over the world.
FURTHER READING: 6 Best House Sitting Jobs to Earn Extra Cash
19. Backyard Chickens
This one may or may not apply to you, but it's something my family does and it's a lot of fun!
Even though we live in an urban area, we raise 4 chickens in the back yard and the kids collect their eggs and sell them for $5 per dozen to friends and neighbors.
They make great, low-maintenance pets and if you choose the right breeds each chicken will lay around one egg per day.
We're not getting rich at $10 per week, but it's a great way to teach our kids about money and have fun at the same time.
20. Car Washing / Detailing
Getting your cash washed and detailed by hand is a much different experience than driving through your local automated car wash.
And people pay good money to get their cars meticulously detailed.
This would be a great summer job for a teen, or anyone who has a few hours to spare on the weekend. You'll just need some basic cleaning products and a little elbow grease.
Practice on your own vehicle and post before/after pictures to a local Facebook group or Craigslist to find your first paying customer.
How to Find Under the Table Jobs
With the internet and social media it's pretty easy to find jobs that pay under the table. There are a few main ways to find gigs and job postings that pay cash near you:
Facebook
Craigslist
Nextdoor
Referrals from Friends and Family
How to Find Under the Table Jobs with Facebook
Facebook is a blessing and a curse. You can waste a lot of time scrolling through your news feed, but it also provides a lot of resources such as local buy/sell groups, meetup groups, and neighborhood groups.
There are at least 3 or 4 Facebook groups just in my local area that cater to people looking for cash-paying gigs and other people looking for help.
Try to find a Facebook group for your neighborhood association or dedicated to your section of town. There are often also multiple garage sale type groups that could be a good resource as well.
Depending on what service you're offering, there may be other groups that would be a good fit. For example, you could join an online entrepreneur group to offer your virtual assistant services.
How to Find Jobs That Pay Under the Table with Craigslist
For jobs in your local area, the Craiglist "Gigs" section is a great place to look for job postings that pay cash.
Briefly perusing my local Craigslist, I saw a post looking for a handyman, a pet sitter for this weekend, and a house cleaner – just on the first page!
Always be careful, there can be scams mixed in on Craigslist, but there are also many great opportunities.
Using Nextdoor to Finds Jobs That Pay Cash
Nextdoor is a growing social app built just for your local community.
You can find out what's going on in the neighborhood as well as posts for people looking for pet sitters, house cleaners, or someone to mow the lawn. Plus hear what all the neighbors are complaining about (trust me, it's kinda fun…)
You can sign up here for a free account.
Talking to Friends and Family to Find Under the Table Jobs
Last but not least is good old fashioned referrals.
Don't be afraid to tell your friends and family what kind of work you're looking for and see if they can connect you with anyone in their network.
A lot of my best cash paying under the table gigs came from a friend of a friend, or a family member who knew of an opportunity.
Is It Legal To Pay Under the Table?
Many businesses choose to pay contractors in cash "under the table". However, this does not mean they are not legally obligated to report the earnings for tax purposes.
If you are on the employee or contractor side, there's nothing wrong with being paid under the table in cash for a job, but you also have the responsibility in the eyes of the IRS to report your income on your taxes.
Some people do accept cash under the table for side hustles that is not reported, but they are taking a risk of being found out by the IRS and penalized…and the fines can get pretty steep.
I would never recommend hiding your income from the government.
There are still numerous benefits to jobs that pay under the table even if you still have to pay your taxes:
You get paid in cash right away instead of waiting 2-3 weeks for a paycheck
You can delay paying taxes on your income instead of having it taken out of your paycheck up front
Earning income from a side job is a great way to build your savings or pay down debt faster
Jobs That Pay Cash Under the Table
There are lots of ways to make extra money on the side, either as a steady side hustle or one-off gigs whenever you need some money.
In review, here are 20 of my favorite under the table jobs:
Online Jobs

Apps and Surveys
Virtual Assistant
Freelance Writer
Social Media Manager
Website Design
Small Business Bookkeeper
Selling Crafts
Selling on eBay

Local Jobs

Handyman
Tutoring
Babysitting
House Cleaning
Painting
Photography
Yard Work / Landscaping
Personal Trainer
Pet Sitting / Dog Walking
House Sitting
Backyard Chickens
Car Washing / Detailing
Hopefully this list has inspired you get started and find your first (or next) under the table job to earn extra cash!
LOOKING FOR MORE WAYS TO MAKE EXTRA MONEY?

I've got you covered! Check out these other incredible ideas to make money on the side.
11 Realistic Ways to Make $500+ Per Month (The best ways to earn consistent monthly income)
13 Genius Ideas to Make $200 in One Day (How to make money fast)
9 Best Freelance Jobs You Can Do From Anywhere (Freelancing is a great way to earn extra income)
3 Apps That Pay Me $500 for Doing Nothing (The best cash back apps I use regularly)
The Only 2 Survey Sites You Need to Make Extra Money (How to maximize your income when taking online surveys)
10 No-Brainer Side Hustles for When You Need Money Fast (Great for all skill levels)
Andrew Herrig is a finance expert and money nerd and the founder of Wealthy Nickel, where he writes about personal finance, side hustles, and entrepreneurship. As an avid real estate investor and owner of multiple businesses, he has a passion for helping others build wealth and shares his own family's journey on his blog.
Andrew holds a Masters of Science in Economics from the University of Texas at Dallas and a Bachelors of Science in Electrical Engineering from Texas A&M University. He has worked as a financial analyst and accountant in many aspects of the financial world.
Andrew's expert financial advice has been featured on CNBC, Entrepreneur, Fox News, GOBankingRates, MSN, and more.