Whether you need cash fast, or are just looking for ideas to make extra money on the side, learning how to make $200 in a day is a valuable skill.
When rent is due, figuring out how to make ends meet by earning extra income (instead of taking out a high interest loan) can make a huge difference to your financial future.
Below are 13 ideas that can help you make $200 fast (in as little as a day), even if you don't have any prior experience. I've used many of these ideas myself, and if you combine them together, making $200 in a day (or even more!) is completely doable.
Some of these ideas can get you cash faster than others, but if you pick 2 or 3 of these ideas, I'm confident you will find a way to earn $200 and hopefully learn a new skill to continue making extra money on a regular basis.
---
HOW TO MAKE $200 (FAST) IN A DAY
If you need to make $200 fast in one day and don't have a lot of time to wait, here are my top 3 ideas to get you cash quickly so you can pay the bills.
In order to make $200 in cash in just a day, you may have to make some sacrifices, but it can certainly be done in an emergency, and you can get your money in less than a week.
Looking for a few quick wins to make money fast?
Here are a couple of legit apps that pay you money just for signing up:
---
#1 – Sell Your Stuff On Craigslist or Facebook Marketplace
Difficulty: Easy
Time to Get Paid: 1 day or less
If time is of the essence, and you really need to make $200 today, selling stuff you already have is one of your best options.
Look around your house and dig through the closets, and you're bound to find something of value that you can list for quick cash. Craigslist has always been the go-to resource for selling your unwanted stuff, but recently Facebook Marketplace has started to dominate this market.
At our house, we regularly collect items we're no longer using and list them on Facebook Marketplace. We've sold furniture, electronics, clothes (we have lots of baby clothes), and more.
Here are some ideas for items of value you might have forgotten you own:
Your old cell phone
Video games and consoles
Laptops, monitors, and other electronics you're no longer using
Toys and games you've been storing in the garage
---
#2 – Find an Hourly or Day Labor Gig
Difficulty: Medium (you have to put a little effort into finding work)
Time to Get Paid: 1 day or less
Next on the list is the time-honored tradition of trading your time for money. You don't have to have any special skills, but if you do it might make you more marketable, or allow you to get a greater hourly rate.
There are plenty of places to look for a day labor gig, such as Craigslist or TaskRabbit. People need help with all kinds of things like moving, yard maintenance, assembling furniture, etc.
We recently needed to move a refrigerator from one of our rental properties to another, but don't have a truck. I got a quote for over $100 just to move that one thing from Point A to Point B 5 miles away!
If you want to get a little more creative (and secure a steady supply of work), consider posting on your neighborhood Facebook or Nextdoor group to offer your services. In my own neighborhood, I've noticed people having a lot of success offering babysitting, house-cleaning, or seasonal yard maintenance services.
---
#3 – Use Earnin to Access Your Paycheck Early
Difficulty: Easy
Time to Get Paid: Immediately
Do you ever get frustrated that you are working today at your job but won't actually see the money for another 2-4 weeks?
Earnin is an app that lets you access the money you've already earned NOW instead of waiting for your paycheck to arrive.
You can cash out up to $100 a day from your next paycheck with no fees or interest. When your paycheck arrives, Earnin deducts the amount your cashed out.
You even get to choose what you pay for the service (even $0!) I tried to find the catch, but there truly isn't one.
If you're in a bind and need to get $200 fast (and you have a job), Earnin is perhaps the best and easiest option out there.
Click here to check out the Earnin app and access your paycheck 2 weeks early!

---

HOW TO MAKE $200 IN A DAY ONLINE
There are many ways to make $200 a day online, without even having to leave your house!
If you focus on the right strategies, it's actually pretty easy to make $200 online fast. Here are some of my favorite ideas (including ones I use myself on a regular basis).
RELATED: How to Make $20 Fast (Like Right Now)
---
#4 – Sites That Pay You a Sign-Up Bonus
Difficulty: Easy (this is almost free money)
Time to Get Paid: Usually a few weeks
There are so many cash back apps and other sites out there that pay you to sign up it can make your head spin. But many offer you $5-$20 or more just for creating an account.
Sorting through the clutter can be difficult, but there are some legitimately useful apps out there that ALSO pay you money just to sign up!
One of my favorite is Personal Capital – they offer a $20 bonus just for signing up. Personal Capital is a great app for tracking your expenses as well as your investments all in one place. I use it myself to keep all my finances in one place.
Another one of my favorites is Swagbucks, which offers a $5 sign-up bonus. You can continue to earn points on a regular basis by taking surveys, watching videos, or even browsing online.
Some of the best sign up bonus apps include:
If you sign up for all of them, you can get a quick $75…a good start on your goal of $200 in a day.

---
#5 – Freelance Writing
Difficulty: Medium
Time to Get Paid: 1-2 weeks
If you enjoy writing, freelancing for others can be a great creative outlet and a way to make money! Once you have some experience and a portfolio of past work, you could easily make $200 per article.
If you're just getting started, it may take a little time to get your name out there. Platforms like Upwork or Fiverr allow you to create a profile and start building your resume. As you gain experience, you can niche down to a certain topic area (like this blog – personal finance), and grow your skills in SEO.
Finding good, reliable writers is hard. If you can establish yourself as a quality freelance writer, this can be a steady source of long term income, or a way to pick up a few hundred dollars here and there whenever you need it. For example, freelance writing can be a great way for teachers to get paid during the summer. I know some freelancers that make upward of $500 per article!
---
#6 – Take Advantage of Credit Card Bonuses
Difficulty: Easy
Time to Get Paid: 1-2 months
While this one won't make you $200 today, it is one of the easiest ways I've found to make extra money for literally doing nothing except using your credit card for your everyday shopping.
There are several credit cards out there that offer bonuses of $500-800 or more, just for signing up and spending a certain amount on the card within a few months.
One of my favorites that I recommend for beginners is the Chase Sapphire Preferred. It offers a 100,000 point ($1000) sign up bonus after you spend $4,000 in the first 3 months. This is the first card I got when I started getting into the reward point game.
You can often earn even more if you use your rewards points towards travel. I recently signed up for a credit card that gave me 80,000 bonus points which I ended up cashing in for over $1,200 worth of plane tickets for my family of 4 to fly home for the holidays!
Credit card rewards have been an easy way for my family to make an extra $1000 or so per year and we haven't paid for a plane ticket in almost 3 years.
One caveat with credit card bonuses – you need to have a good credit score (generally 700+), and you need to be in a position where you can pay the balance off every month. No amount of credit card rewards points are worth the interest you will be charged for carrying a balance!
---
#7 – Share Your Opinion Online
Difficulty: Easy
Time to Get Paid: A few weeks
Survey sites probably aren't going to make you $200 in a single day (don't listen to anyone who says they will). But if you have some spare time here and there, they can be a good way to earn a few extra dollars day.
If you make it a regular habit, you could easily make $50 a month or more without much time invested. This is one of those activities I do sitting in front of the TV or standing in the checkout line.
My absolute favorite site is Survey Junkie. They always have new surveys available and they pay out regularly. Just filling out your profile after signing up will earn you a few bucks.
For more on taking online surveys, check out my top 2 survey sites that pay cash.
---
#8 – Get Paid as a Virtual Assistant
Difficulty: Medium – Hard
Time to Get Paid: 1-2 weeks
Almost anything can be done online these days. And business owners need all the help they can get.
If you have a skill (or even if you don't), becoming a virtual assistant is a great way to earn extra cash. You can offer your services as an editor, social media manager, online marketer, or even just email management.
By working just a few hours a week, you can easily make $200. And if you wanted to ramp it up, I know many people who quit their jobs to become a virtual assistant full time!
As with anything, the more you niche down, the more you can make per hour. For example, if you like numbers and are detail-oriented, you can learn to become a bookkeeper and make $60-100 per hour!
If becoming a virtual bookkeeper is of interest, you can learn more with a free video course to see if it's right for you:
Click here for a free virtual bookkeeping video training series.
---
#9 – Flip Items on Ebay for Profit
Difficulty: Medium
Time to Get Paid: As little as 1 day
The very first idea up above to make $200 in a day was to sell your own stuff. But another way to make extra money is to sell other people's stuff.
If you've got a knack for finding a good deal, you can shop thrift stores, garage sales, and even Craigslist for items you can resell for a profit on eBay or Facebook Marketplace.
Certain products tend to do better such as collectibles, electronics, or designer clothes. My friend Nathan makes $500+ per month with his eBay side hustle! I interviewed him to get his tips on how to find good deals, what kind of products to target, and how he made his first $2,000 with eBay flipping.
Click here to get a series of free training videos on how to make your first $100 flipping products on eBay.
---
#10 – Invest in Real Estate and Make $200 Fast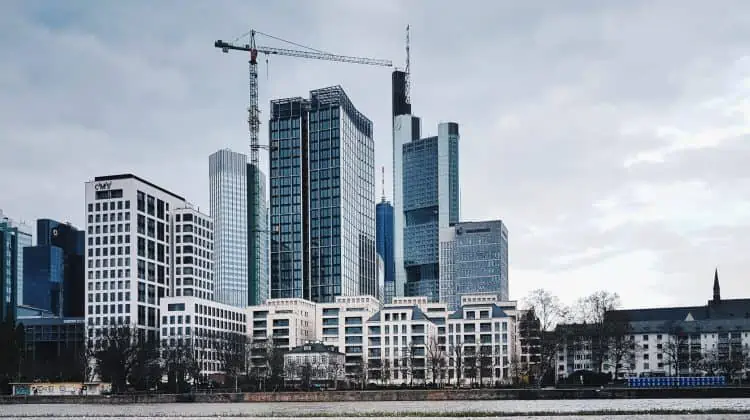 Difficulty: Easy
Time to Get Paid: Usually monthly or quarterly
Real estate investing is what got me started on the path toward financial independence. While you won't go from zero to $200 immediately, if you have some time to build your portfolio, it is definitely possible to make $200 in a day (or more) with real estate investing.
We invest in a few different ways:
With rental properties, most of our income comes at the beginning of the month. With our passive investments, we usually get a cash dividend quarterly.
If you're interested in investing in real estate without the hassle of owning property, two platforms I recommend are Fundrise and Groundfloor.
---
#11 – Rent Out a Room on AirBNB
Difficulty: Easy
Time to Get Paid: A few days
If you've got a spare bedroom, you could be putting it to use and make some money by renting it out on AirBNB.
Depending on where you live, an extra room could go from $30 – 100 a night. And if you rented out your whole place, you could get even more.
A few years ago, the Superbowl was hosted in my city, and I seriously considered taking the family on vacation and renting out our house. People were making $500-1000 per night! We could have gone on a nice trip and had money to spare.
If you're interested in getting started, you can create a host account with AirBNB. You'll then take pictures, write a description, and post your listing online.
---

OTHER WAYS TO MAKE $200 IN A DAY
If you're willing to get off the couch and put in a little hustle, there are endless opportunities to make $200 in one day!
Here are some of the best offline ways to make 200 dollars a day.
---
#12 – Drive for Uber or Lyft
Difficulty: Easy
Time to Get Paid: 1 week
If you live in an urban area, driving for Uber or Lyft can be a great income supplement. You can even make $200 in a day if you can drive during peak hours (usually weekends and evenings).
There are a few requirements to be a driver: you must be 21 with a valid drivers license, newer model 4-door car, and good driving record.
---
#13 – Delivery Gigs
Difficulty: Easy
Time to Get Paid: 1 week
If you're more of an introvert (hello – that's me!) and don't want to drive people around, there are plenty of gigs out where you can drive solo and deliver stuff.
For food delivery, you could drive for UberEats, PostMates, DoorDash, GrubHub, and more.
If you live near an Amazon distribution center, you could drive for Amazon Flex and make $18-25 per hour. Delivering packages on the weekend could easily earn you $200 in one day!
For even more gig economy ideas, here is an extensive list of 30+ gig economy apps to choose from.
---
#14 – Save $200 in a Day
Difficulty: Easy
Time to Get Paid: A month or less
When it comes to balancing your budget to find an extra $200, you can either do it by earning more income, or by reducing your expenses.
Sometimes it can be easier to lower your monthly expenses, and you get the ongoing benefit month after month.
Here are a few ideas to consider:
Cut the cord and break up with your cable bill
Look into lower cost cell phone providers such as Republic Wireless (as little as $15/mo!)
Shop around for lower insurance rates
Learn how to save money on groceries
For more ideas, here is another article on 10 Ways to Save $1,000 in a Month.
---
TAKING ACTION TO MAKE $200 IN A DAY
You might think it's impossible to make $200 in just one day, but by taking action on a few of the options above you can easily make $200 quickly!
But here's the secret, and why you will succeed where others won't…
You have to actually TAKE ACTION! Just reading this article won't make you $200 richer. I challenge you to pick 2-3 of the ideas above and let me know in the comments which ones they are.
If you do, I will follow up with you in a week or two to see if you're actually doing what you said! Having accountability and people following up with me has been a powerful motivator to my own success, and I want you to be successful too.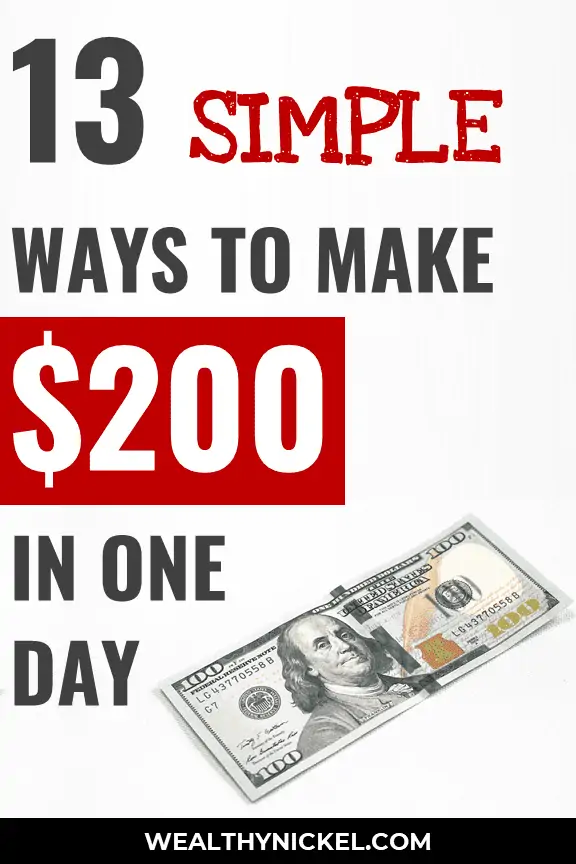 Andrew Herrig is a finance expert and money nerd and the founder of Wealthy Nickel, where he writes about personal finance, side hustles, and entrepreneurship. As an avid real estate investor and owner of multiple businesses, he has a passion for helping others build wealth and shares his own family's journey on his blog.
Andrew holds a Masters of Science in Economics from the University of Texas at Dallas and a Bachelors of Science in Electrical Engineering from Texas A&M University. He has worked as a financial analyst and accountant in many aspects of the financial world.
Andrew's expert financial advice has been featured on CNBC, Entrepreneur, Fox News, GOBankingRates, MSN, and more.