Venmo is one of the most convenient online banks you can use. However, there seems to be a small issue with some users having their account put on hold. Sometimes this is for a legitimate reason. Other times, there can be glitches in the system that leave you without access to your account. There are a few reasons to put a Venmo account on hold. We've covered them below.
The reasons that your Venmo account is on hold are the same as those every bank uses to freeze a user's account. It could be because you've run out of available funds. The account will also be frozen if you break the user agreement. Finally, your account can be frozen if Venmo suspects a third party is accessing your account.
How to Unfreeze Your Venmo Account
Regardless of why the company put your Venmo account on hold, it's frozen. What you need to do now is get access to your account back. The process of doing this varies depending on why your account has been put on hold.
The first thing that you should do is ascertain why your account is frozen. You can contact Venmo directly and talk to a staff member about this on their contact number: 1-855-812-4430. They should be able to tell you why your account is frozen. They can probably also tell you how to unlock your account again. However, if you know why your account has been put on hold, then we've got the solution to each reason below.
What to do if Your Account is Frozen Due to Lack of Funds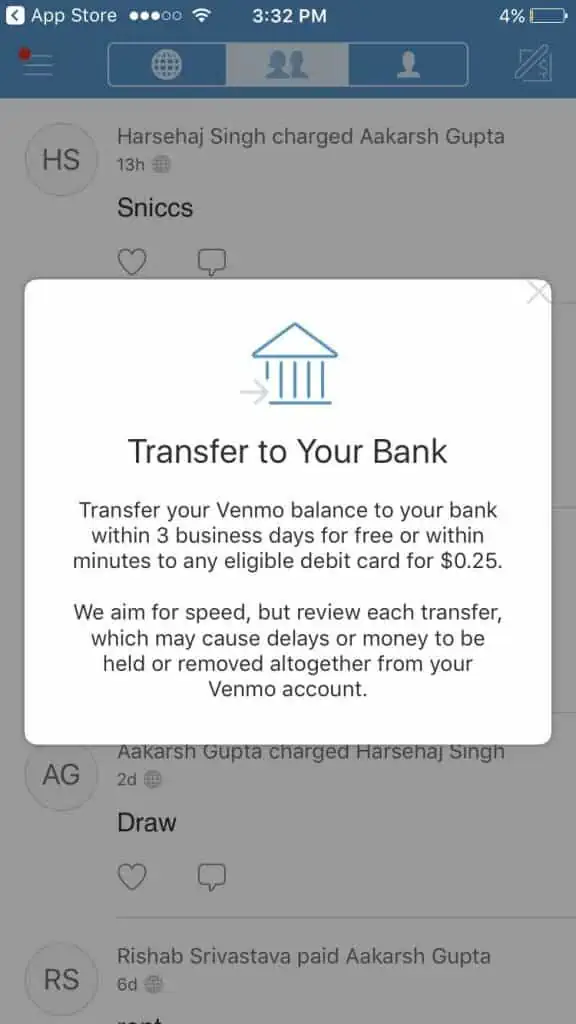 This is the main reason that most Venmo accounts are put on hold. It's easy to do. Sometimes we don't keep track of how much we've spent or how much money is in our account. It's also possible for payments to be scheduled, only for us to forget to keep money in the account. With Venmo, your account will be frozen when you run out of funds. You won't be able to use it at all.
When this happens, you need to add some money to your account. The first thing to do is head to Venmo.com/addfunds. You should do this on a desktop computer or laptop if you can. Once you've logged in, you'll be able to add funds to your account as you normally would. Select one of the linked accounts, and transfer some money into your account. You can transfer money from Chime to Venmo using our guide here.
If you've overspent on your Venmo account, you'll need to pay off the overdraft before you can reaccess the account. Ensure you transfer enough money to pay off this overdraft, or your account will remain on hold.
It will take two to three business days for Venmo to unlock your account. If it takes any longer, you may need to consider one of the following solutions.
What to do if Your Account is Frozen Due to Breaking the User Agreement
When you sign up for Venmo, you must agree to their terms of use. This is the user agreement, and you are bound by it. If you break any of the terms of that agreement, Venmo will probably put your account on hold. There's very little you can do in this situation, unfortunately. Venmo is well within their rights to cancel your account or leave it locked indefinitely. They might unlock it if you contact them on the number we've mentioned above. You will have to explain why you broke the terms of the agreement, and then you'll need to wait for the company to decide if they're going to let you have access to your account again.
To avoid breaking the terms of this agreement, you should pay attention to what you are and aren't allowed to do with a Venmo account. One huge issue is creating an account outside of the US. You can only link US bank accounts and mobile numbers. While you can use the account outside of the US, you can't create or hold an account if you live outside of the country.
Take some time to ensure you won't break these rules, and you should be fine. If it looks like you will, because you live outside of the US, for example, then don't sign up to Venmo.
What to do if Your Account is Frozen Due to Suspicious Activity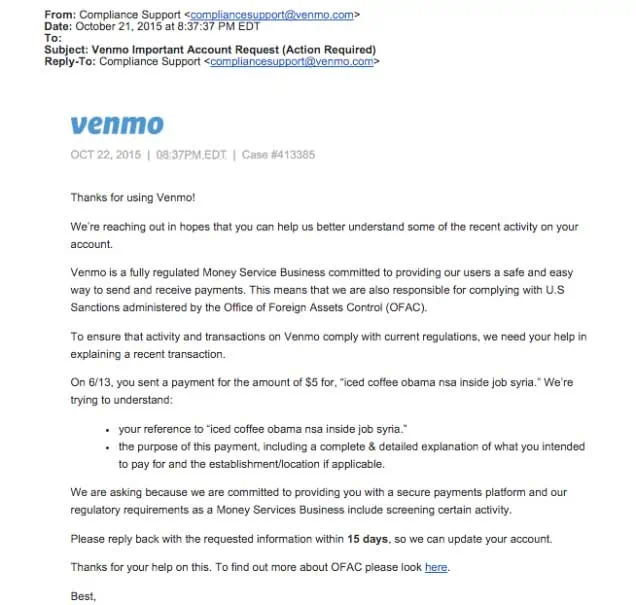 All banks constantly monitor their accounts for suspicious activity. This is more to protect their users than to catch them out. While Venmo will monitor your account for activity that breaks their terms of the agreement, they'll also monitor it for fraud. If, for example, you use your account in one location and then moments later in another location many miles away, then Venmo will flag this as suspicious. As a precaution to protect your funds, they may put your account on hold.
In cases of a Venmo account being put on hold due to suspicious activity, Venmo will contact you regarding the activity. They need to verify if it was you, and all action will be on their part. However, they may not be able to reach you. If you've noticed that your account is on hold and you don't know why contact Venmo on the number we outlined above.
Venmo Account on Hold Loop
Some users have reported that their Venmo account has been put on hold over a sum smaller than $1. This always occurs when users accidentally overspend on their account. This means that their accounts are put on hold due to a lack of funds. However, the solution we've explained above doesn't work in this situation.
We don't know all of the details, but in all cases, the issue stems from the overdraft being less than $1. In these cases, it's impossible to pay off the overdraft using any online services. Instead, users need to phone Venmo to explain what the issue is with their account. At this point, Venmo will start the process of unlocking the account, but most reports say that this takes up to one full week to resolve.
Conclusion
It's very easy to overspend on your Venmo account accidentally. That is the core reason why your account is probably on hold. However, it doesn't hurt to look into each reason in this guide, just in case something more sinister is going on behind the scenes. If you've had your Venmo account put on hold for a different reason, let us know what it was in the comments.