When holiday season is in full swing, sometimes the last thing you think about as a college student is finding a job.
But the holidays are a perfect time to look for a job as a student.
As the semester winds down, employers are looking for a surge of support to accommodate the frantic pace of shopping, order fulfillment, and delivery that comes along with the season.
If you need to make some extra money, finding holiday jobs for students has never been easier (and more lucrative).
Why Get a Seasonal Job?
When I was in college, I was able to take advantage of the opportunity to pick up some hours at a company I used to work at back home in high school. The month long break between semesters was a perfect chance to work hard and earn some extra spending money to get me through the next semester at school.
College students are perfectly situated to make the most of the holiday employment boost. Most holiday jobs are in the retail sector, and allow for flexible hours. When school work tapers off, you can pick up more hours to make more money.
The competition between retailers also benefits those looking for holiday jobs. They will typically offer better pay, benefits, and overtime opportunities.
You could also use a temporary seasonal job to get your foot in the door with a company you could work with long term when you go back to school.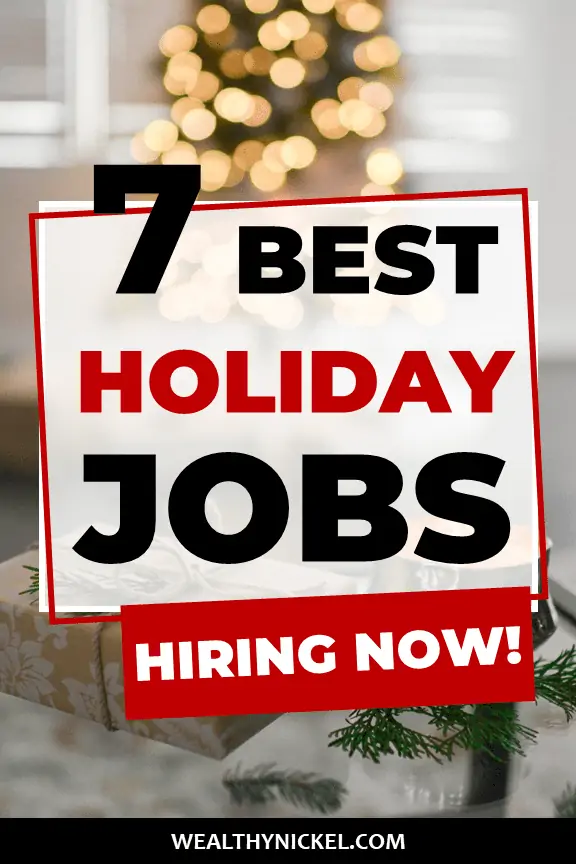 7 Best Holiday Jobs for Students
If you're looking for ideas on where to apply and who's hiring this holiday season, check out these ideas for holiday jobs.
#1 – Holiday Jobs at Amazon
It's no surprise that Amazon needs to hire hundreds (if not thousands) of additional workers during the holidays. And if you haven't heard, Amazon's recently announced $15 minimum wage policy applies to everyone, even seasonal workers!
A lot of the seasonal job openings are in its warehouses helping to package and fulfill orders, but there are also opportunities to work from home as a remote customer service associate.
You can go to Amazon.jobs to find and apply to all open positions.
#2 – Holiday Jobs at Target
Target is planning to hire 120,000 seasonal workers this holiday season. They need to fill all kinds of positions from cashiers, to stocking shelves, to fulfillment and delivery.
Target also recently announced a minimum wage increase to $12 per hour that applies to holiday workers as well.
As a Target employee, you can get a 10% store discount and extra holiday pay on Thanksgiving and Christmas.
To search for all available holiday jobs, you can click here.
#3 – Holiday Jobs at UPS
Somebody has to deliver all those Amazon boxes that get shipped around the country during the holidays. UPS plans to hire 100,000 seasonal employees to support the increase in volume.
They offer both full and part-time holiday jobs, mostly package handlers, drivers, and driver-helpers. UPS boasts that over 1/3 of seasonal workers end up getting a permanent position after the holidays. If you can make the jump to permanent employment, UPS offers competitive pay and benefits that include healthcare, retirement, and tuition assistance.
You can go to https://www.jobs-ups.com/ to find all of the available holiday jobs at UPS.
#4 – Holiday Jobs at USPS (Post Office)
The winter holiday season is the busiest time of year for the post office. The USPS hires thousands of additional workers (they call them "casual employees") during this time. Casual employees can work up to 89 days at a time, and earn around $12 per hour on average.
Most of the seasonal opportunities with the post office are for mail sorting and processing, although there are some mail delivery jobs available as well.
To see all the seasonal jobs available, and apply online, go to the USPS Careers site.
#5 – Holiday Jobs at Kohl's
One of the biggest retailers nationwide, Kohl's announced it plans to hire 90,000 seasonal workers across 1,100+ stores and distribution centers this holiday season.
The main holiday jobs for students available during the holidays are sales associates and fulfillment center workers, with an average pay of $9-10 per hour. If you're looking to get discounts on your own Christmas shopping, Kohl's is a great place to have a job. They offer a 15% discount to employees on top of any other promotions, as well as a limited time 35% discount.
Kohl's has a dedicated page to search for holiday jobs here: https://careers.kohls.com/seasonal
#6 – Holiday Jobs at Costco
Costco is consistently rated one of the best places to work in retail, and for good reason. The average permanent worker makes over $20 per hour, and Costco offers benefits such as healthcare and retirement when a lot of retailers try to avoid it.
While you don't qualify for benefits as a seasonal employee, there are often opportunities to convert to a part- or full-time employee after the holidays are over.
To see available seasonal job opportunities at Costco, you can go to https://www.costco.com/jobs.html.
#7 – Holiday Jobs at Macy's
Macy's is another large nationwide retailer that is looking forward to strong holiday sales. They plan to hire 80,000 holiday workers this year.
Competition for seasonal jobs is fierce, and for the first time ever, Macy's said it will offer seasonal employees bonuses if certain sales targets are met. Most of the available openings will be in retail store positions, as well as fulfillment center and customer service call center jobs.
To find available holiday jobs at a Macy's near you, go to https://www.macysjobs.com/.
Holiday Jobs for Students – More Opportunity than Ever Before
With the economy booming and unemployment falling, there is more competition than ever between retailers to secure good seasonal workers for the holiday season.
While I've highlighted 7 holiday jobs for students above that would be a good fit no matter where you live, there are thousands more opportunities in your local community. If you are persistent and keep your eyes open, the perfect holiday job is out there for you. So go get it!
LOOKING FOR MORE IDEAS TO MAKE MONEY? TRY THESE:
What holiday job opportunities have you found? What was your favorite job as a student? Let me know in the comments!
Andrew Herrig is a finance expert and money nerd and the founder of Wealthy Nickel, where he writes about personal finance, side hustles, and entrepreneurship. As an avid real estate investor and owner of multiple businesses, he has a passion for helping others build wealth and shares his own family's journey on his blog.
Andrew holds a Masters of Science in Economics from the University of Texas at Dallas and a Bachelors of Science in Electrical Engineering from Texas A&M University. He has worked as a financial analyst and accountant in many aspects of the financial world.
Andrew's expert financial advice has been featured on CNBC, Entrepreneur, Fox News, GOBankingRates, MSN, and more.