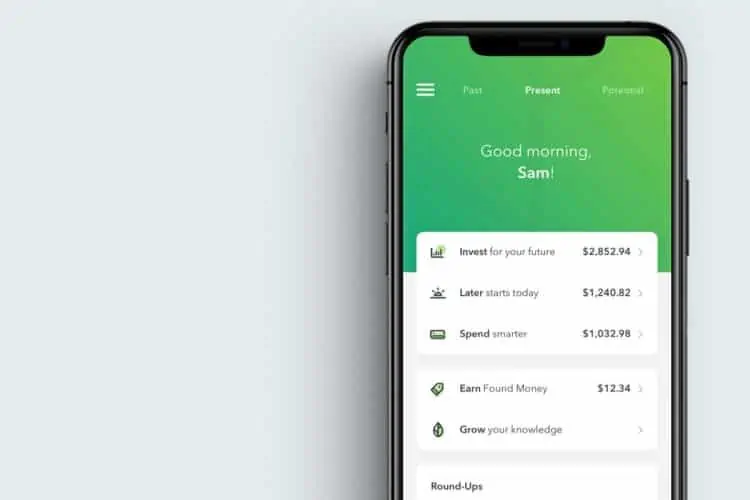 Acorns is my favorite app to invest spare change. Try the Acorns App today, and get $5 FREE when you sign up.
---
If you're like me, you're always looking for ways to make extra money. The Acorns Investing app is a great way to passively earn and invest cash.
I've tried a bunch of ways to make money, and my favorite involve those I don't have to think about. While no app will make you a millionaire, it's hard to turn down free money!
Let's dive into the Acorns app and see how you can make money with it.
How to Make Money on Acorns
Acorns bills itself as the easiest way to invest your spare change, and it lives up to its claim. The app allows you to round up your purchases and invest the difference, all without you having to do anything.
While the app is easy to use and perfect for beginning investors, can you actually make money with it? Yes you can – with these tips you can easily add an extra $500 or more to your investment account every year!
Read on to learn strategies to maximize your earnings.
1. Automate Your Savings
I'm a big fan of anything automated. If I have to remember to move $100 from my checking account to my investing account every month, chances are I will forget to do it 9 times out of 10.
While most people know about the round-up feature of the Acorns app, you can also automatically transfer money on a certain day of the month, or take it from your paycheck.
This is a great way to put saving money first, and moves it out of your account before you have a chance to spend it.
You don't have to be a genius to grow your investments and develop good financial habits. Half the battle is psychology and discipline. With automated investing, you offload the discipline to the app so you don't have to think about it!
Takeaway: Set up automatic transfers so you don't have to think about it = save more money every year.
2. Boost Your Round-Ups
When you make purchases, the Acorns app automatically rounds up the difference and deposits it into your investment account. For example, if you buy a cup of coffee for $3.40, Acorns will round up to $4.00 and add $0.60 to your investment account.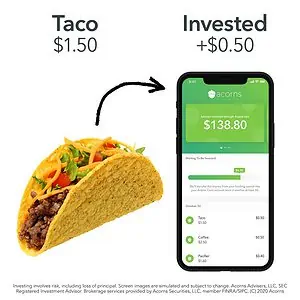 This is a super easy way to "make" extra money behind the scenes. Yes I know it isn't technically making money, but it allows you to squirrel extra money away without ever feeling the hit to your wallet.
If you choose, you can also boost your round-ups up to 10X, so that instead of saving $0.60 with your $3.40 cup of coffee, you could save up to $6.00. This is a great way to supercharge your investing and add money to your account more quickly.
Takeaway: Automatically round up your purchases and put the difference it in your investment account. If you have 50 transactions a month at $0.50 each, that's an extra $25/month or $300/year!
3. Take Advantage of Found Money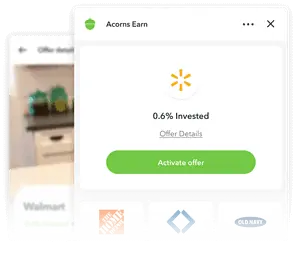 Similar to other cash-back apps like Dosh or Drop, Acorns gives you cash back for shopping at certain retailers and deposits it directly into your investment account.
We aren't talking about obscure stores – these are name brands that you probably shop at regularly, such as:
Apple
Home Depot
Wal-Mart
Kohl's
Chevron
Walgreens
and many more…
This is truly free money, and is a great way to earn extra money without changing your spending habits!
Takeaway: If you are able to get an average of 2% cash back on $5,000 of purchase per year, that's a free $100 in your pocket with no work!
4. Earn Up to 10% Bonus Investments with Acorns Spend
Acorns Spend is an all-digital banking system with direct deposit, a debit card, mobile check deposit, and more. It's just like having a bank account, except made for the 21st century.
While there are lots of features to like about Acorns Spend, for the purposes of making money with Acorns, the best one is the ability to get up to a 10% bonus deposited in your investment account just by using your Acorns debit card.
Similar to Found Money, when you use your debit card to make purchases at certain retailers, you an get up to 10% bonus cash back deposited into your investment account.
Takeaway: Make even more extra money by using the Acorns Spend debit card for your purchases and get up to a 10% bonus investment in your account.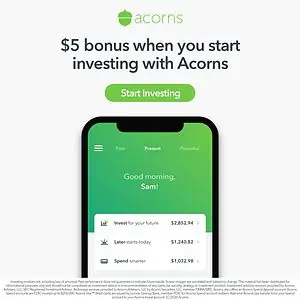 5. Refer Your Friends and Make Extra Money
Do you have friends or family that might like to make money with the Acorns app too?
Once you are a member, you can get a referral link to share with others. If they sign up for Acorns, you'll each get $5.
Acorns also runs special promotions from time to time that increase your referral rewards. Fairly frequently, they'll bump the bonus up to $10. A few times they've even gone really big and offered up to $1,000 for 10 referrals!
Takeaway: If you like the app, share it with friends and family to make an extra $5-10 per sign up.

6. Stack Your Earnings with Credit Card Rewards
I always recommend this as a bonus way to earn extra money with any app that offers cash back.
You can stack your cash back rewards from Acorns Found Money by using a cash back credit card to get an additional 1-2% back on every purchase you make.
While 1-2% might not seem like much, it definitely adds up over time, and if you add that to all the other money you are investing with the Acorns app you can grow your money exponentially over time.
For some of my favorite cash back credit cards, check out my post on how I make an extra $2,000 per year with credit card rewards!
Takeaway: Pair the Acorns app with a great cash back credit card to make even more money (1% back on $10,000 in annual spending is an extra $100 earned!)
Make Money on Acorns – The Final Word
We all want to grow our investment portfolio, but setting money aside every month can be hard. Fortunately with the rise of roboadvisors and investment apps, saving money is a lot easier than it used to be.
The Acorns App in particular is one of my favorite, both for the ability to automate your savings AND make extra money at the same time.
With the tips above, you can easily earn and invest an extra $500 a year (at least!)
And right now for a limited time, you can get an extra $5 just for signing up for an Acorns account. If your saving and investing game could use a boost, now's the time to make a move!

Looking for More Ways to Make Extra Money?
If you're looking for more ways to make money on the side, I've got you covered!
11+ REALISTIC Ways to Make an Extra $500 a Month
13 Ways to Make Money Fast ($200 a Day)
My Favorite Side Hustle to Earn $60+/Hour
Everything You Need to Know About Survey Apps – And Why I Only Recommend These 2
Andrew Herrig is a finance expert and money nerd and the founder of Wealthy Nickel, where he writes about personal finance, side hustles, and entrepreneurship. As an avid real estate investor and owner of multiple businesses, he has a passion for helping others build wealth and shares his own family's journey on his blog.
Andrew holds a Masters of Science in Economics from the University of Texas at Dallas and a Bachelors of Science in Electrical Engineering from Texas A&M University. He has worked as a financial analyst and accountant in many aspects of the financial world.
Andrew's expert financial advice has been featured on CNBC, Entrepreneur, Fox News, GOBankingRates, MSN, and more.