As inflation continues to rise in the US, many people are looking for ways to pinch pennies where they can. One popular method for saving money is to use apps that scan your store receipts and reward you with redeemable points.
Is this app safe? Absolutely. It's a legitimate shopping app. Like many other apps, it partners with large brands and businesses and rewards users for buying certain products. This allows people to save money and go green by not having to clip coupons and waste paper.
Read on to learn more about the Fetch Rewards app and whether or not Fetch Rewards is safe.
The Benefits and Drawbacks of Fetch Rewards
Fetch Rewards is a shopping app that allows users to scan their grocery receipts to earn points that the user can redeem for gift cards. While the concept is simple, the app does have some benefits and drawbacks worth considering.
On the plus side, Fetch Rewards is easy to use and can be a great way to earn rewards on your everyday shopping. The points system is straightforward to understand, making it easy to rack up rewards quickly.
Unfortunately, the app only works with select retailers. Users may be unable to earn the maximum points for all their grocery purchases.
The biggest drawback is that it may take some time to rack up enough rewards for a significant discount.
One thousand points are worth about $1. So if you're trying to save up for a $25 gift card, it will take a lot of spending or time.
Despite these downsides, Fetch Rewards is still a helpful tool for budget-conscious shoppers who are willing to put in the time to learn how the app works. With a little effort, users can start saving money on their groceries with just a few taps on their smartphones.
How Does Fetch Work?
Fetch Rewards is a rewards program that gives you points for buying certain products at participating stores. You can then redeem your points for free gift cards or merchandise. To get started, download the app and create an account.
Then, start shopping at participating stores and scanning your receipts. Each time you purchase a qualifying product, you'll earn points.
Once you've accumulated the amount you want, you can redeem points and earn free gift cards.
There are thousands of participating brands, so you're sure to find products you already buy regularly. Plus, there are no limits on how many points you can earn, so the more you shop, the more rewards you'll be able to redeem.
How Much Did Fetch Rewards Earn Us?
The average American family spends more than $24,000 on bills. For this example, we'll use the standard 1% Fetch Rewards, which is the baseline rate that Fetch rewards users. You can make more, you can make less, but this is what the company advertises.
With this math, the average American should be able to rack up around $240 worth of savings throughout the year. From our research, we've found actual statistics are inconsistent.
There are a lot of people out there that grind out coupons and savings apps like it's their job. In some cases, it is their job. Bloggers and other content creators go full-throttle on this stuff just to see how much they can save or earn.
If you upload every receipt and spend quite a bit of money at these stores, you can potentially hit this $240. However, it's unlikely.
But why?
The average American spends $24,000 a year, but not all that money is spent on items that receive the full 1% points value. A more realistic figure for people who take their frugality seriously is closer to 50% of this number.
We've seen several people making triple-digit figures using this app.
Considering that some people will be compounding these rewards with Fetch and other receipt scanning apps like Ibotta and store loyalty programs, these savings can add up to a substantial number at the end of the year.
10 Facts About the Fetch Rewards App to Help You Understand It
If your interest is piqued, we've come up with some interesting facts that may entice you to try Fetch Rewards. You can start uploading receipts immediately after you download the app.
1. Earn 2,000 Fetch Rewards Points Simply By Signing Up
Some apps and services will give you bonus points just for signing up. Fetch Rewards is no different. So if you're concerned that it's going to take a while to start racking up points, don't fret.
Two thousand points are nothing to scoff at either. It is the equivalent of getting $2 for free. The app is free. Scanning is free. And once you save up enough points, the gift card rewards are free.
Something else to consider is finding your favorite content creator that uses this app and looking around for a promo code. If the influencer is famous enough, you could be eligible for extra bonus points for signing up using their code.
You'll see a prompt from the app to enter a promo code or skip it when you sign up. Pay attention as you go through the process, so you don't miss out on this opportunity.
The app does require you to have 3,000 points before you can make any kind of redemption. This is likely a mechanic to keep people from trying to game the system.
2. Fetch Rewards Is Unconcerned with Where You Shop
Fetch Rewards points are a great way to save money on groceries, no matter where you shop. Whether you're a loyal customer at your local supermarket or you like to mix things up with a bit of online shopping, Fetch Rewards doesn't care.
As long as you scan receipts, you'll earn points you can redeem for gift cards at popular retailers. And the best part is that there are no restrictions on how you use your points.
So whether you want to save up for a big purchase or just treat yourself to a little something, Fetch Rewards has you covered.
Fetch will accept your receipt even if no partnered brands or stores are associated with the purchases.
You can go to gas stations or convenience stores and buy candy and a cute hat, and the app will take the scan, even if it's not listed under "eligible purchases". You will not receive the maximum amount of rewards, but you'll still get a little something.
3. A Dollar is Worth 1,000 Points on the Fetch App
If you have racked up 10,000 points, those points will convert to a $10 gift card.
How long does it take to get there? Well, it depends on a couple of different factors.
How much you spend
What you're buying
The second point is the biggest factor. You'll get points for buying items from the companies featured in the Brands part of the app. Points are given at a baseline rate of 1% of the total purchase cost, but this may be higher in some cases.
For example, spending $100 a week on partner products listed under the Brands section will give you savings of $1, or 1,000 points.
I know that doesn't seem like much but keep reading further to learn some hacks on how to make those points accumulate faster, and we also have some helpful ideas that will provide maximum value.
4. It Takes 10 Seconds to Upload a Receipt
The app is quick and easy to use by design and only takes a few steps to upload a receipt.
Open the app and sign in or create an account. Then, tap the Camera icon in the bottom navigation bar. If you're using an iPhone, you'll need to allow the app to access your camera.
Once you've done that, simply point your camera at the grocery receipt and hold it still until the app has scanned the entire document. After the scan is complete, tap the Done button and review the information to make sure it's accurate.

Tap the Submit button to submit the receipt for processing. Once your receipt is accepted, you'll earn rewards points that you can redeem for gift cards or charitable donations.
It's important to note that you must upload your receipt to the Fetch app within 14 days of making your purchase. There are a few different strategies you can use here.
I recommend collecting all of your receipts throughout the week and then uploading them all at once, not just to Fetch but any other app you're using in tandem with it.
If you're someone who's a little more on the ball, another good practice is to get in the habit of uploading a receipt as soon as it hits your hands.
Step away from the register to let the next customer proceed through the checkout process. Find a spot up against the wall or near a bench. Upload your receipt and then carry on with your day.
5. Points Can Be Earned in Five Different Ways
There are multiple ways you can earn points with the Fetch app. Let's review some of them and discuss how to use these features to maximize your returns.
Shop, upload, and earn – This is the standard method for earning points. You buy something from a partnered store, scan your receipt with the app, and receive points, usually at a 1% value. However, in some cases, the reward may be higher
Surveys – This isn't Inbox Dollars. These are useful surveys conducted by Fetch and their partners to learn more about you and what you want.
Fetch's brand partners collect the data to find out how to serve their customers better. It's a good thing, and you can earn rewards for helping
Referrals – You signed up for Fetch Rewards, got 2,000 points just for signing up, and hit the ground running. You love the app so much that you've started telling people about it. Don't give away what you can sell, friend.
Once you sign up for the app, you'll receive your own referral bonus, and when people sign up using it, you'll be rewarded with extra points as soon as they scan their first receipt.
Special offers and promotions – Some partners will run special offers on promotional items to entice you to buy them. If you do, you'll receive extra points. Keeping an eye on this app section can help those points' totals swell up fast.

Contests – Every brand is on social media. You should follow your favorites religiously. Many of them, including the Fetch Rewards app, have contests.
It's usually something relatively simple, like following, retweeting, etc. Finding yourself as the lucky winner will result in thousands, if not tens of thousands, of points added to your Fetch account.
6. Receipts in Electronic Format Are Now Accepted
This is some of the best news from the app. Fetch Rewards has now begun to accept digital receipts. It's a great development for those trying to be more environmentally friendly and reduce our reliance on paper.
It's also more convenient, as we no longer have to remember to bring our paper receipts with us when we go shopping.
Instead, we can simply take a photo of our receipt and upload it to the app. The app will then calculate the points we've earned based on purchased items. It's a welcome change that will make it easier for everyone to earn rewards.
Fetch can also integrate with your email as well as your Amazon account. If you make a lot of online purchases, you should be able to generate points automatically if this feature is on.
7. Use Multiple Apps to Upload Receipts
Fetch Rewards points are a great way to receive rewards on your purchases. You can use the fetch rewards app with other apps to get even more savings. For example, you can use the fetch rewards app with the Walmart app to get a discount on your groceries.
You can also use it with the Target app to get a discount on your purchases. The fetch rewards app is a great way to save money on groceries and other items. But the benefits don't stop there.
Fetch isn't the only player in town.
If you want to use Ibotta or Receipt Hog along with it, you can do that. Fetch will also work alongside loyalty programs at local gas stations or restaurants.
8. You Can Exchange Your Points for Gift Cards
By going to the Rewards page on your fetch rewards account and scrolling down through your choices under Use Points, you may exchange fetch points for gift cards. Gift cards are generally available in set dollar amounts ranging from $3 to $50.
There are gift cards from major retailers such as Amazon, Walmart, Target, and others.
When you have enough fetch points to spend on a gift card, you'll see a yellow ring around the dollar amount of the gift card you choose. After that, select the Get My Reward option.
While you don't have to do this, you can donate your rewards to various charities, which is kind of neat and thoughtful.
9. Make Use of Your Gift Cards Right Away
You don't have to wait to use your gift cards. As soon as you redeem your points, you're free to use the gift card any way you see fit. Here's how:
Click the Redeem link in the bottom menu. Select the number of points you wish to exchange by clicking the icon. For example, select "10k," and you'll see options for $10.
Select the amount you wish to give, then click the gift card.
Tap the My Rewards tab at the top of your screen to use the gift card. You'll see your current rewards there.
Tap the image. After you do, you'll get a code you can copy and use for your order.
After you've copied and used the code, click Mark as used.
10. Make Recommendations to Your Family and Friends
You can get free points whenever someone uses your referral code to sign up for the app. As soon as this person scans their first receipt, you get your points.
While this is a great way to earn points, you don't want to harass friends and family.
Instead, encourage them to sign up with your referral code and have fun. Fetch has a new feature that allows users to compete with each other in a friendly way.
The social element provides a competitive advantage by creating a monthly leaderboard to see who wins the most points.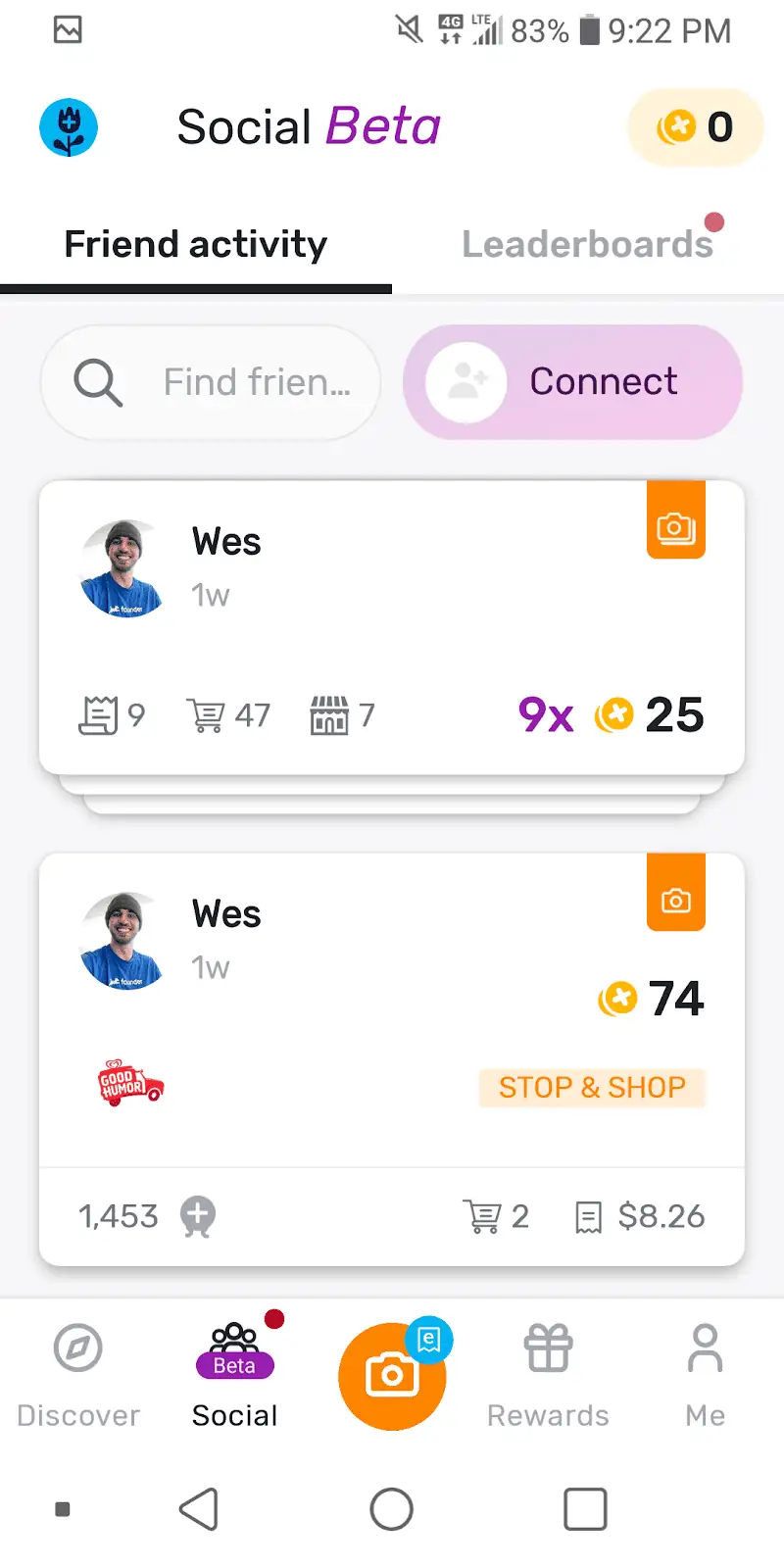 At the end of each month, a first, second, and third-place winner will be selected based on the number of points they earned during that month. Everyone starts over at zero every month, so everyone has an opportunity to be a winner.
At the bottom of the screen, you'll see the Social icon, which allows you to check your friends' savings progress and compete for top honors.
Funding, Revenue, and Valuation of Fetch Rewards
Fetch Rewards is a free app, and it makes money by selling the data it collects from users' grocery receipts. The company initially raised $8 million in venture capital funding in 2018.
As of 2022, Fetch Rewards has a $2.5 billion valuation after completing its most recent round of funding, bringing in an additional $240 million.
Revenue is around $84 million, and the company is aggressively expanding its workforce. They now have nearly 900 employees.