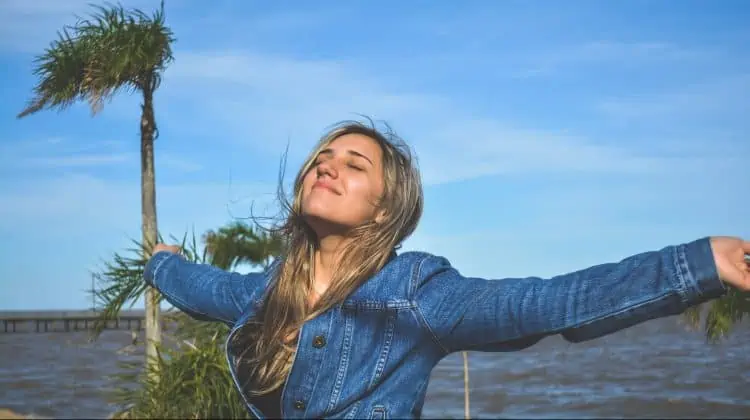 I know what you are thinking. "There you go, another click bait headline about getting free money. There is no such thing as free lunch."
This is the main reason why I decided to write this article. In reality, there are free lunches in life, but you have to look for the hidden gems. And this is not surveys or yard sales disguised as free money. We will be discussing how to get actual free dollars.
We all have times when we are in a bind, when any dollar amount will make a huge difference in our lives. College for sure, but some tough times occurred during my transition from fellowship training to attending status (I'm a doctor). I had underestimated the cost of moving, getting a new place and lots of incidental spending. We were too focused on paying off our loans that we were skinny on our emergency fund.
While most of those costs were reimbursed eventually, it took some time to balance everything financially. We took out our entire emergency fund and even dipped slightly into our credit card. How else would I pay for those flights, board exams and the $10,000 to the moving company?
Well, I would have appreciated these tips at the time. Every dollar counts and I have witnessed situations when it really did.
I have talked about 101 ways to save money in the past and you can start with that. Then it's free money time.
Here are 10 foolproof ways to get free money.
1. Find unclaimed money from your state (Unlimited)
The first one I would like to talk about might not be for everyone; however, even though, I have been in this country for fewer years than most, I still managed to find free money I did not know I had. Here is the step by step way to check if you have the free money and how to claim it.
We will now go through the step by step process to find out if your state owes you some money. If you are not interested in my process, skip to the next one.
Steps To Find Unclaimed Money
Step 1 – Go to https://www.unclaimed.org/
These are all the menu available, but we would not be clicking any of those.
Step 2 – Click on all the states you have ever lived
You can either click on it based on the map, but it was harder for me to find Missouri that way, so I used the drop down function. I looked into New Jersey, Maryland, Florida, Pennsylvania, Arkansas and finally hit gold in Missouri. And yes, I have lived in all those states before. That is the plight of medical training. I moved around for my clinical, then residency, then fellowship and then moved to Arkansas now to practice as an attending.
Clicking on Missouri took me to the states treasury department. Of course each state would be different.
Step 3 – Search your name
Booyah!! Jackpot. The treasury department owes me over $50. Exciting so far. I hope you have discovered something for yourself also if you are still reading.
Now it's time to fill out some form.
Step 4 – Select the one you want to file and click claim
Step 5 – Fill out the required form
This is super easy and self explanatory.
Step 6 – Print the document, send it with the other required documents.
Step 7 – Wait…
Ok the 90 days processing time leave less to be desired and a sour taste in my mouth, but you know what; I am curious how much money the state actually owes me. Do these exercise while watching TV, that way; you cannot claim it is not a good use of your time.
There are other sites you can try your luck on like missing money . For me, it returned the same result as above.
2. Take Advantage Of Bank Sign Up Promotions ($400)
During my fellowship training in Pittsburgh, I was able to get the easiest free $400 possible. PNC at the time was doing a promotion. It was simple – open a checking account, do direct payment to the account, and get free money. I was skeptical at first, but by the second month, I received my free money in my account.
Currently, they are still doing the promotion, but it is now $300. You can cancel at a later time if you like. For example, when I move to Arkansas 3 years later, I had to close the account as there was no PNC bank over here.
I used PNC bank as an example, because I personally benefited from their bonus. However, I see no reason for you to limit yourself to that. Search online for your desired banks.
3. Take advantage of credit card introductory offers (up to $750)
If you are comfortable with credit cards, there are lots of them that offer free sign up bonuses. Just make sure you keep track of them and cancel as soon as you fulfill the minimum obligations required.
Also, some of the credit cards require you to spend a certain amount of money over a time period. If you are planning to make a purchase already, why not use it to your advantage.
A simple Google search showed some as high as $750. You might have to let out some blood from your vein to keep it, but if you know what you are doing, go for it.
Wealthy Nickel Note: My favorite credit card if you're just starting out is the Chase Sapphire Preferred. Right now they are offering 60,000 points as a sign up bonus (after spending your first $4,000 on the card), which is worth $600 cash or $750 if used toward travel!
We just booked a flight home that would have cost us over $1,100 with 77,000 points by transferring them to Southwest. We've been able to play the points game to avoid paying for airfare for over 3 years now.
4. Get free money by trying out apps ($25)
There are lots of apps online that will pay you money to join. A few that I have personally tried include:
Ibotta ($10 bonus) – I was so personally impressed with the app that I did a detailed review of the Ibotta app. There was a promotion when I downloaded the app – Free $20!! I actually decided to keep the app because it is actually useful to get even more free cash in the form of cash back. You get the free cash while shopping at your favorite stores and merchants. No extra work required.
Drop ($5 bonus) – This is an easy cash back app. Just download the app, link your credit card, and get cash back without ever opening the app!
Dosh ($5 bonus) – Similar to Drop, Dosh is another cash back app that only requires you to link your credit card. Dosh has a lot of local restaurants and even grocery stores. Set it and forget it to keep earning free money!
Wealthy Nickel Note:
If you want to learn more about my favorite cash back apps, I wrote a post about how I make $500 per year with just 3 apps! Check out the list of the
best cash back apps
here.
Webull – This is a modern investing app that makes it extremely easier for people to dabble into stock investment. And it is commission free! The other awesome thing about the app is that when you deposit your first $100, you get a free stock. My free stock was SNAP and it is worth $15. I'll take it. As you can see in the image below, I have not even invested the $1,000 I deposited yet, and I can simply withdraw the money back to my bank account.
I did a detailed and honest review of the Webull app to help familiarize yourself with the app.
There are lots of apps out there to try, you have internet at your disposal, knock yourself out.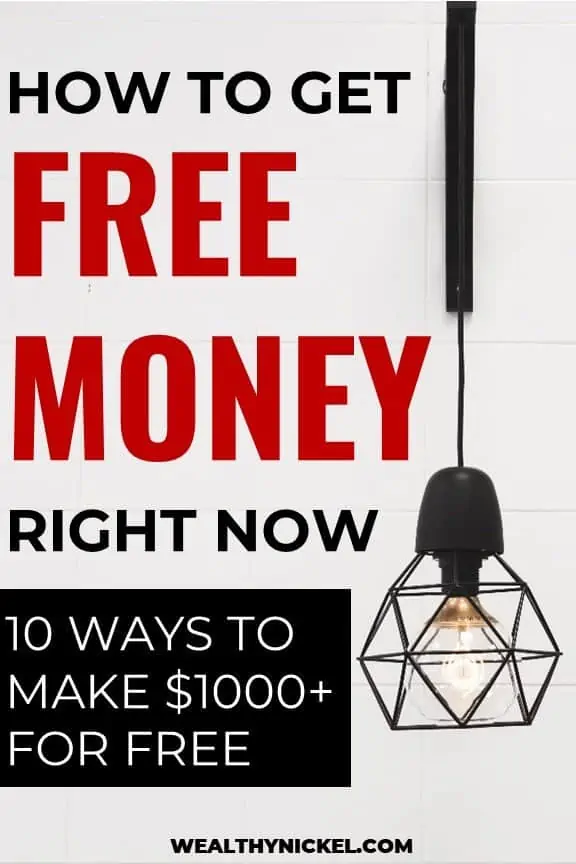 5. Earn free money by signing up to be a driver for Lyft ($300)
Are you looking for a side hustle? Lyft can be an excellent one to explore if you love driving. On top of the money earned from your hustle, you get a $300 sign on bonus.
Of course there is a catch to this one. You have to first meet their requirements below to become one of their drivers.
Driver Requirements
Be at least 21 years old
Pass their free, online DMV and background checks.
Use an iPhone or Android smartphone
Vehicle Requirements
Meet your city's vehicle age requirement
Have at least four doors, not including jump doors.
Offer five to eight seats, including the driver's.
Document Requirements
Have a US driver's license for at least one year.
Provide proof of insurance and (in most cities) a car inspection.
Submit a photo of yourself.
The real catch is that you have to complete 100 rides in your first 30 days. If you live in a busy town, this should be a piece of cake. That's about 3.33 rides a day. If you can get it done, the $300 is yours.
6. Earn Free Cash with AirBnB ($55)
If you enjoy using your car for side hustle with Lyft, then you might also enjoy making extra cash renting out your home for few days in the years.
Not only can you make extra cash with AirBnB, you get actual free money for signing up. As I was writing this post, I signed up for the service and I already have $55 available credit.
Here is how this works.
Friends who sign up for Airbnb with your link will get $40 off their home booking. And they get $15 to use toward an experience worth $50 or more. When your friend completes a first-time stay or experience, you'll get up to a $30 travel credit.
7. Make your internet usage count with Nielsen ($50)
Nielsen is a computer and mobile panel company who will pay you $50 to simply keep their app on your laptop, smartphone or tablet. The app will collect statistics on how you use the internet in order to learn more about what consumers want.
This is no different than what Facebook already does with your data. Except that Nielsen pays you $50 for your trouble.
The company prides themselves in making sure everything is done anonymously, so don't panic about any data linking back to you.
Based on the reviews online, the app itself does not take much space on your electronics and it won't slow down your phone.
The catch on this one is that the app has to stay on your phone or laptop for a full year.
Get started today by looking up the Nielsen app and downloading it on your phone.
8. Get paid in your sleep…literally ($50 to $19,000)
How would you like to sleep on the job without anyone judging you? Like, you really would like to sleep all the time? Well, today your dream has come true (pun intended).
There are companies out there who will pay you free money to sleep on a mattress for the night. Imagine making money for what you love to do.
The most important qualification skills for bed testers are the ability to sleep in new surroundings, away from home. Just think of it like a hotel.
If you want to kick it up a notch, NASA sometimes ask for people to sleep in a bed for months . For example, they recently offered $19,000 to lie in bed for 2 months. This one is not exactly free money as it gets complicated with showering and you know… the other things. But this article would not be complete if I did not mention this opportunity. Plus it's something interesting.
9. Get in on the action – Class action law suits (variable)
As much as I don't like anything related to law suits, this one is an exception. Class action lawsuits are an excellent way to get your hands on free cash if you are willing to search for them.
The downside to this one is that, you won't be able to get that free money immediately like most of the methods mentioned above. It usually takes months to process the case, sometimes longer. But you know what? It's free money.
So how does this work…
A class action suit is when a defendant (usually company) does something despicable and a legal action is filed against the company by a group of people.
A good example was the tobacco company settlement in 1998. RJ Reynolds, Philip Morris, and two other tobacco companies agreed to a whopping $206 billion settlement!! The settlement was to cover medical cost of smoking related illnesses. The settlement goes on for 25 years. Still ongoing now, you can try your luck if you smoked before 1998.
You might enjoy this article of the top largest class action and law suit settlements.
Below are some sites to get started. Start digging for gold.
Top Class Actions – A wealth of information on recently settled cases like the Wesson natural cooking oil class action settlement – You get 15 cent for each Wesson oil purchased up to 30 units without proof of purchase.
ClassAction.com – You can check out open law suits and see which one you can file a claim for.
10. Become a tutor and get a free sign on bonus ($300)
This brought back memories. In 2006, I got paid 30 dollars an hour to tutor mathematics. Mostly, I tutored my classmates and some kids in the neighborhood. It felt like easy money to me.
What would have been more rewarding is if I had known about gogokids. This company will pay you $300 as a new teacher. That's like 10 hours of work!! And that is completely free.
The requirement is very simple – have a bachelor's degree and have an awesome internet connection.
The catch is that you would have to be on a 6 month contract. You don't even have to tutor much if you don't want to.
Summary
There really is free lunch in life; all you have to do is search for it. The above 10 ways to make money are legit and if you are really serious about it, you should start today. Using it to pay off debt or invest it would be my own vote.
If you're looking for more ways to make extra money, check out the following:
This article originally appeared on The Money Mix, and is being republished with permission.
Dr Breathe Easy Finance is a pulmonary and critical care doctor by day, a personal finance blogger/debt slaying ninja at night. After paying off $300,000 in student loan debt, he started a mission to help other young professionals do the same.