Are you looking for the best ways to make extra money online with your smart phone?
There are plenty of apps out there that allow you to earn money from the comfort of your couch.
But what are the highest paying sign up bonus apps to make money that are actually worth your time?
Don't worry. We've done the research so you don't have to!
While you won't replace your day job with these apps, they are a nice way to earn an extra $50-100 per month or more, especially when you consider the may apps with sign-up bonuses.
We ranked dozens of apps based on the following criteria, and added the best of the best to the list:
Hourly earning rate
Sign up bonuses
Referral bonuses
Payout policy
User friendliness
Highest Paying Apps With Sign Up Bonus in 2022
Want to skip the reviews and get straight to making money?
Then give these a try. You can make $100 or more a month with just these apps if you put a little time and effort into it.
Here are our top 5 favorite highest paying apps that pay you to sign up:
Read on to get the full details and additional highest paying apps we recommend.
1. Swagbucks
Sign-up Bonus: Usually $5, sometimes as high as $10
How to Cash Out: Redeem as little as 500 SB ($5) at a time for gift cards or through PayPal
Swagbucks is one of the OG apps for making money online and is one of the highest paying apps on the list. They have paid out over $530 million to members to date!
One of the best things about Swagbucks is there are many different ways to earn points (called Swagbucks) that can be exchanged for gift cards or withdrawn to your Paypal account.
Here are some of the ways to earn points:
Taking surveys
Watching videos
Playing games
Cash back offers
Scanning receipts
and more…
One of the more unique ways to earn with Swagbucks is by watching videos.
Since the videos play automatically, you can basically get free money every day without doing any work. However, there is a limit to how much you can earn with just videos.
With plenty of other ways to make money, Swagbucks can hold your interest longer than some of the other apps, which means you can earn more points and cash back.
In addition to earning through completing tasks, you can also refer a friend and get 10% of their earnings for life.
You can also earn a $5 sign up bonus (sometimes as high as $10) to get started.
Get a $5 bonus when you sign up for Swagbucks here
BONUS: Make Money Playing Bingo Cash
Bingo Cash is a fast-paced bingo game where you can compete with other players to win real cash prizes.
As of this writing, the app has an overall 4.7 star rating and over 98,000 reviews on the Apple App Store.
The game is free to download and play, and matches you with players of similar skill levels. While you won't get rich overnight, entering cash tournaments allows you to win real money and be eligible for daily gifts and bonuses!
One App Store reviewer noted that Bingo Cash is "legit and the cash out process is fast. This is the best game of bingo I've played."
Note that cash tournaments are not available in the following states: AZ, IA, LA, SC, and WA.
Learn More Here: Bingo Cash iOS | Bingo Cash Android
2. Survey Junkie
Sign-up Bonus: 75 points (for completing registration and user profile)
How to Cash Out: Redeem as little as $10 for gift cards or deposit to your PayPal account
Survey Junkie is our pick for the best and highest paying survey app.
If you've spent any time taking surveys online, you'll know it can be a frustrating experience.
Survey Junkie cuts through most of the clutter of other survey sites to make it easy to earn rewards.
If you don't qualify for a survey, Survey Junkie will let you know up front, unlike many apps that wait until you've almost completed to survey to tell you.
How about earnings? You can earn up to $50 per survey (although finding those is pretty rare).
Realistically, you can probably make $5-10 an hour with Survey Junkie. While that's not a huge amount of money, it's an easy thing to do while watching Netflix or standing in line at the grocery store.
Sign Up for Survey Junkie Here and Get Paid for Your Opinion
Survey Junkie Alternative
Another great survey app option is Branded Surveys. It is similar to Survey Junkie and offers a wide range of different surveys. If you're looking to make extra money with surveys, it's always good to have options.
Join Branded Surveys and Get a 100 Point Sign Up Bonus
3. Rakuten
Sign-up Bonus: $30 after spending your first $30
How to Cash Out: Get a quarterly "Big Fat Check" mailed to you or deposited to PayPal
Rakuten is one of my favorite apps because you get paid for things you were going to buy anyway, plus it's almost completely passive.
I've made over $1,000 so far from shopping online through Rakuten and referring friends.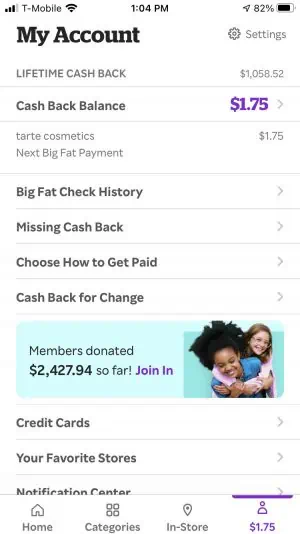 How does it work?
When shopping online, as long as you go through the Rakuten app, you can get anywhere from 1-10% cash back on purchases at Amazon, Target, Lowe's, etc. Pretty much any store you can think of offers cash back.
If you're like me and sometimes forget to go through the app, there is even a Chrome extension that reminds you to apply the discount when you are in the shopping cart.
For example, we recently purchased an area rug for my son's room from RugsUSA. Just by going through the Rakuten app, we got 4% cash back!
You can also earn cash for referring friends. After they make their first purchase of $30 or more, you both get $30 deposited into your account. This is one of the most generous sign up bonuses of any app out there.
Get a $30 Sign Up Bonus When You Sign Up for Rakuten Here
4. Mistplay (Android Only)
How to Cash Out: Redeem as little as $0.50 at a time for a range of gift cards
Join Mistplay (Android)
Mistplay is the highest paying game app out there, which bumps it near the top of our list.
So far, Mistplay has paid out over $9 million to its members.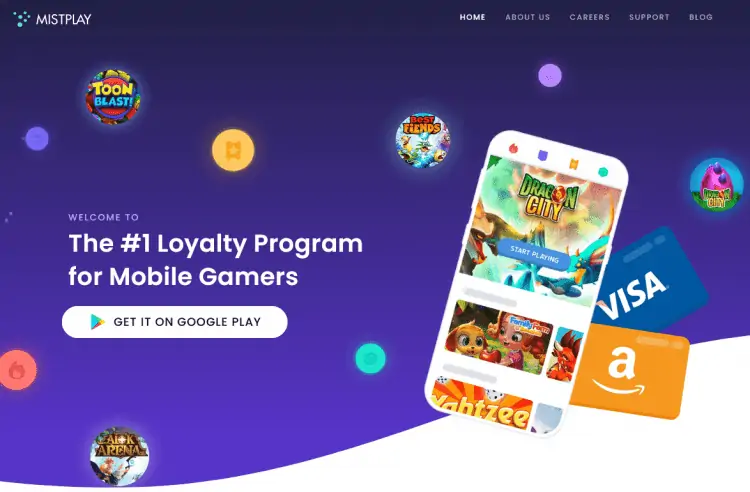 Get paid for playing games? What's the catch?
Honestly, there isn't one (that I could find). While Mistplay encourages you to cash out your points for in-game rewards, you can also redeem them for gift cards such as Amazon, VISA, and more.
The biggest negative about Mistplay is that it's only for Android. Since I have an iPhone, I'm hoping for a similar app to come out soon for me!
Sign Up for Mistplay and Get Paid to Play Games
Looking for a Mistplay alternative? Try Cashyy.
Cashyy is another app that pays you to play free games on your Android device. Discover free games, accomplish missions, and win coins to exchange with gift cards or through Paypal.
Get the Mistplay App (Android) | Get the Cashyy App (Android)
5. Ibotta
Sign-up Bonus: $20 for installing app and completing welcome bonuses
How to Cash Out: Rewards can be deposited to a bank account, paypal, or gift card ($20 minimum)
Ibotta is another app like Rakuten that allows you to get cash back for stuff you were going to buy anyway.
Originally geared toward grocery shopping, they have expanded their cash back options to many other online and offline retailers.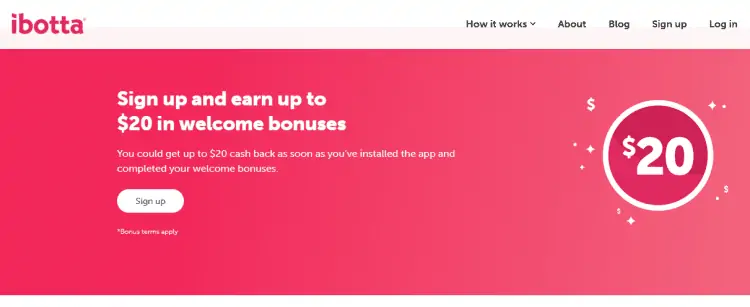 How Does Ibotta Work?
Download the Ibotta App and add offers before you shop (kind of like coupons)
Buy the products at a participating store
Take a photo of the receipt with the app and redeem your offers
One of my favorite things about Ibotta is you don't necessarily have to buy brand name products to get cash back. For example, on my latest purchase, I got a $0.25 coupon for scanning ANY receipt, $0.10 for any brand of pasta sauce, and $1.50 for buying apples in the produce section.
According to their website, the average Ibotta user earns $150 per year just from scanning receipts!
You can also earn $10 for each friend you refer after they redeem their first offer.
Sign Up for Ibotta and Get Up to $20 in Welcome Bonuses
6. Credit Card Sign-Up (Up to $1,000 Bonus)
Sign-up Bonus: Up to $1,000 in cash or points
How to Cash Out: Use points for travel or convert to cash
I've written before about how we make $2,000 a year from credit card rewards.
Many cards offer sizeable sign up bonuses (like the Chase Sapphire Preferred that currently offers a 60,000 bonus – worth $750 in travel).
Between the initial bonuses and ongoing cash back for purchases (generally 1-2%), you can make a decent amount of money each month just by using your credit cards for normal purchases.
It goes without saying that credit card rewards are NOT worth it if you carry a balance and have to pay 15-20% in interest. If you're going to make this mini side job from home work for you, you'll need good credit and the discipline to pay off the balance each month.
If you want to learn more, check out my review of my #1 favorite rewards card, the Chase Sapphire Preferred.
7. Fetch
Sign-up Bonus: 3,000 points ($3) with the code "8K2XW"
How to Cash Out: Redeem in as little as $3 increments for gift cards such as Amazon, Target, and more
Fetch is yet another app that pays you cash back for buying items you were going to buy anyway.
I highly recommend pairing Fetch with Ibotta. You can scan receipts in both apps and double your rewards.
Overall, Fetch is actually a little easier to use than Ibotta. All you have to do is take a photo of your receipt, and the app will scan your receipt to see if it matches any offers on file.
Even if you didn't buy anything with a cash back offer, you still get points just for scanning the receipt.
There are also rotating special offers that get you a sizeable bonus. Right now as I scan through the app, I can get $5 back on $15 in Suave products, or 100% cash back for buying an OZO plant-based protein product (yay free stuff!)
Referral bonuses tend to vary, but right now you get can 4,000 points ($4) if a friend signs up with your referral link.
Download Fetch Now and Get a $3 Sign Up Bonus With Code "8K2XW"
Join Fetch (iOS) | Join Fetch (Android)
8. Trim Financial Manager
Trim is a little different than some of the other apps we've discussed so far.
It works like a personal assistant to save you money on your recurring bills such as:
cable
internet
phone
subscription services
When you sign up for Trim, it will automatically negotiate your accounts to save you money every month.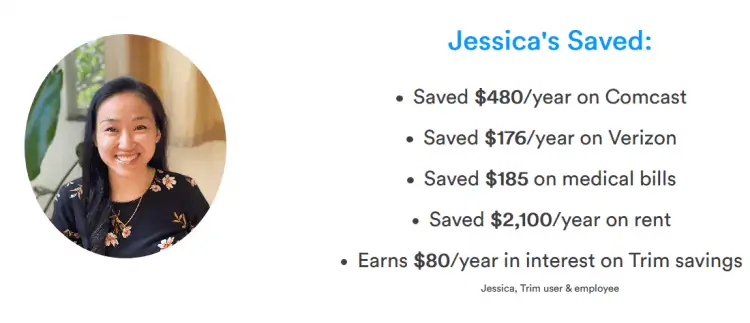 For example, you know that cable bill that's been going up a little bit every month you've just never bothered to mess with? Trim will do the negotiating for you to lower your payment. In exchange, the service takes a small portion of the savings.
Per their website, the average user can save up to $645 per year.
Sign up for Trim and save up to $645 per year
9. Dosh
How to Cash Out: You can transfer money straight to you bank account once you've earned at least $25
Dosh is another cash back app that is almost completely passive.
All you have to do is connect your credit card, and it automatically applies cash back to purchases at over 10,000 stores.
This is probably the best app for getting cash back at local stores and restaurants.
You can also earn $10 for each friend you refer who downloads the app.
Highest Paying Investment Apps
10. Groundfloor
Sign-up Bonus: $10-20 with link below
Minimum Investment: $10
Groundfloor is a great investing app to put your extra money to work making more money for you.
It allows you to invest as little as $10 in loans backed by real estate.
I've been investing with Groundfloor for a few years now, and have averaged an 11.9% return. It's been a great way to diversify my portfolio!

Per their website, they have paid out over $12 million in interest and averaged a 10.5% annual return to date.
If you're interested in learning more about real estate investing apps, check out my comparison between Groundfloor and Fundrise.
Groundfloor also has a referral program where both you and the person you refer gets $10 when they make their first investment. That's an easy way to make $10 fast!
Sign Up for Groundfloor and get a $10 Bonus
11. Fundrise
Minimum Investment: $10 (plus get a $10 bonus)
Looking to put your hard earned dollars to work from the comfort of your smart phone? Fundrise allows you to invest as little as $10 into a diversified portfolio of commercial real estate.
You can choose your risk profile and whether you prefer cash flow or growth potential.
I've been investing in Fundrise for a little under two years, and my portfolio has increased in value by 19% in that time.

I like Fundrise because it allows me to invest in an asset class that used to be out of reach for the individual investor – large commercial real estate.
If you want to learn more about passive real estate investing options, read my article comparing my personal experience with Groundfloor vs Fundrise.
Invest with Fundrise and Get $10 in Bonus Shares
12. Robinhood
Sign-up Bonus: $5 to $200 in free stock
Robinhood is a popular stock trading app that will give you a free stock just for signing up and linking your bank account.
You can receive anywhere from $5 to $200 worth of stock. According to Robinhood, there is a 98% chance your stock will be worth between $5 and $10.
Robinhood makes it easy to buy and sell stocks, and has even ventured into retirement accounts to make investing easy, right from your phone.
Top Paying Sign Up Bonus Apps to Make Money Online
If you're looking to earn extra cash, keep reading for even more money making apps.
13. MyPoints
Sign-up Bonus: $5 when you take your first 5 surveys
How to Cash Out: Redeem points for gift cards from multiple brands
MyPoints is another highly rated "get-paid-to" app similar to Swagbucks.
You can earn points for taking surveys, watching videos, playing games, shopping online, and even reading emails.
MyPoints has over 10 million members and has paid out $236 million in gift cards since 1996. That's a long history of success – almost 25 years!
Sign up for MyPoints and Get a $5 Bonus
14. Lucktastic
How to Cash Out: Earn tokens you can redeem for gift cards, or win cash prizes
If you like matching games, scratch off cards, and other contests, Lucktastic is a great free app to earn extra income.
You can earn tokens by playing games and enter to win cash prizes, all for free.
Join Lucktastic (iOS) | Join Lucktastic (Android)
15. Instacart
Earning Potential: $15-20 per hour or more
Instacart is a side hustle app to make extra money.
It goes without saying that this can be a very high paying app if you put in the work.
As an Instacart shopper, you provide full-service grocery shopping and delivery for people and get paid for each order you complete.
While pay varies with location and order volume, you could make around $20 an hour.
Learn More About Instacart Here
16. Healthywage
HealthyWage is a unique app designed to motivate you to lose weight and win cash prizes up to $10,000!
Here's how it works:
Choose how much weight you want to lose, how long you need to achieve your goal, and how much you want to bet per month
Sign up for HealthyWage and agree to your monthly payment amount
If you achieve your weight loss goal, you win you prize (up to $10,000). If you don't, the money you bet goes to support prizes for others who achieve their goals.
I must say, when you have money on the line, it gives you extra incentive to reach your goals!
Click Here to See How Much You Can Make With HealthyWage
17. InboxDollars
Sign-up Bonus: $5 welcome bonus
How to Cash Out: Redeem points for PayPal cash or gift cards
InboxDollars is another great rewards site similar to Swagbucks.
It has paid out over $59 million to its members since 2000.
You can earn cash rewards for taking surveys, playing games, watching videos, shopping online, and more.
Get a $5 Bonus When You Sign Up for InboxDollars Now
18. BillShark
Potential Savings: $300-500 per bill
BillShark is an app that helps you negotiate your monthly bills down, similar to Trim.
According to their website, 8 out of 10 people are overpaying for their internet and cell phone bills.
BillShark will automatically negotiate your bill for you, so you don't have to. Their negotiations have a 90% success rate, and they get paid by taking a percentage of the overall savings they achieve for you.
Some of the bills they can help you negotiate include:
Cable and Satellite TV
Wireless Phone
Landline Phone
Internet
Home Security
and more
Save $300-500 Per Bill with BillShark
19. Wikibuy
Ok, maybe Wikibuy shouldn't necessarily be categorized as a highest paying app, but it's definitely a highest saving app.
Wikibuy is an app that sits in the background and comparison shops for you to get the best deal.
Looking at a pair of shoes on Amazon? Wikibuy will evaluate other sellers like Target, Walmart, etc. to find the best price.
It even automatically tests coupon codes for you to make sure you take advantage of any savings you can.
With a Trustpilot rating of 4.6, it's a no-brainer to add to your arsenal.
20. Drop
Sign-up Bonus: $5 after linking your first card
How to Cash Out: Redeem points for gift cards from multiple brands
Drop is a cash back app similar to Dosh and Rakuten. You get reward points for shopping at your favorite brands.
One of my favorite things about the Drop app is that there is minimal work to do. Just link your credit card and shop like you normally would.
You can get extra points for completing surveys and playing games.
If you refer a friend, you each get 5,000 points ($5).
Sign Up for Drop and Get a $5 Bonus
21. Shopkick
How to Cash Out: Redeem "kicks" (reward points) for free gift cards
Shopkick is a great app to make some extra money while doing your everyday shopping.
It's easy to earn $0.25 or more just for stepping into the store, and that's just the beginning.
There are several ways to earn points:
Get points just for walking into certain stores such as Walmart, Lowe's, and TJ Maxx
Scan barcodes of certain products
Submit purchase receipts
Link a credit card to earn cash back for every dollar you spend at certain stores
Sign up for Shopkick and Earn Rewards for Shopping You Already Do
22. DoorDash
Earning Potential: $20/hr or more
DoorDash falls in the side hustle app category.
Like other driving and delivery apps such as Postmates and UberEats, you can earn money delivering food during your free time.
You can work as much or as little as you want, which is the power of the gig economy.
23. TaskRabbit
Earning Potential: $20-30/hr or more
TaskRabbit is another great side hustle app that matches local freelancers with customers in their area.
It's a great platform if you have some simple handyman skills, or just have time to help others with household tasks.
Some of the popular jobs on TaskRabbit include furniture assembly, handy man tasks, yard work, gutter cleaning, errand running, and many others.
The more specialized your skills, the more money you can make. For example, if you can do some more advanced handyman tasks, you could potentially earn $50 in an hour or more.
Sign up for TaskRabbit and Start Earning Money Today
What apps make you the most money?
Survey Junkie and Swagbucks are the two apps I'd recommend that pay you the most money online the quickest. Once you've started with those, you should get a good idea of what other apps might work best for you.
If you have cable, internet, or cell phone bills, Trim could save you a substantial amount of money every month and is worth checking out.
For more ideas, see my article on how I make $500 with just 3 apps that pay you money.
What app has the biggest sign-up bonus?
Rakuten takes the prize for largest sign-up bonus at $30, followed by Ibotta and Pei with $20.
While the welcome bonus isn't everything, it is nice to get a quick cash boost just for downloading a free app!
How can I earn $200 a day?
It would be hard to make $200 a day just with apps, unless you have a significant amount of money to invest in apps like Groundfloor, Fundrise, or BlockFi.
To make $200 a day, I'd recommend looking into more traditional side hustles. Here is a list of 13 ways to make $200 in a day.
Which Sign Up Bonus Apps Work for You?
The list of highest paying apps above are just a few of the ways to make money online.
There are several other apps, side hustles, or passive income streams that you can use to make money.
For more ideas on how to make money, try these guides: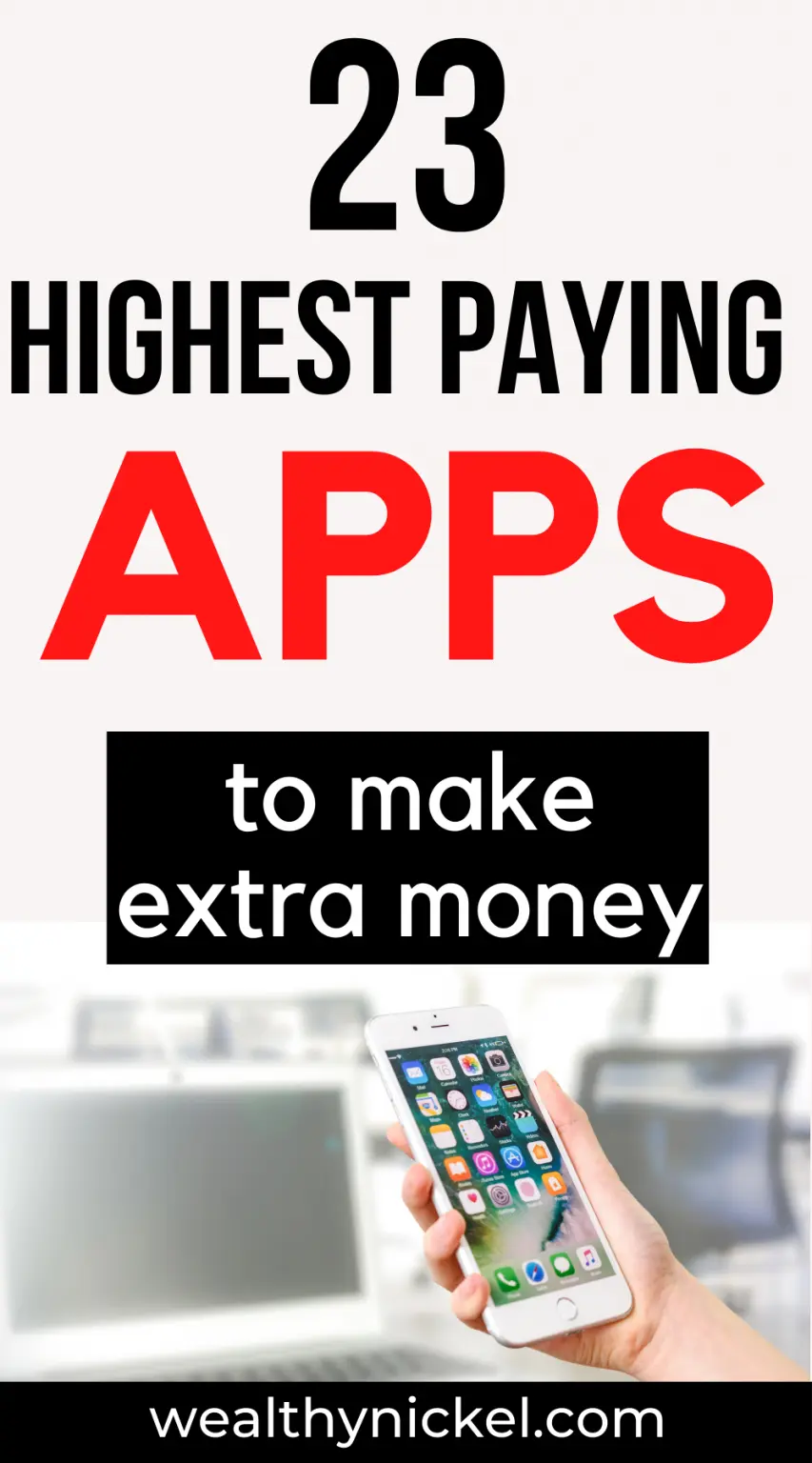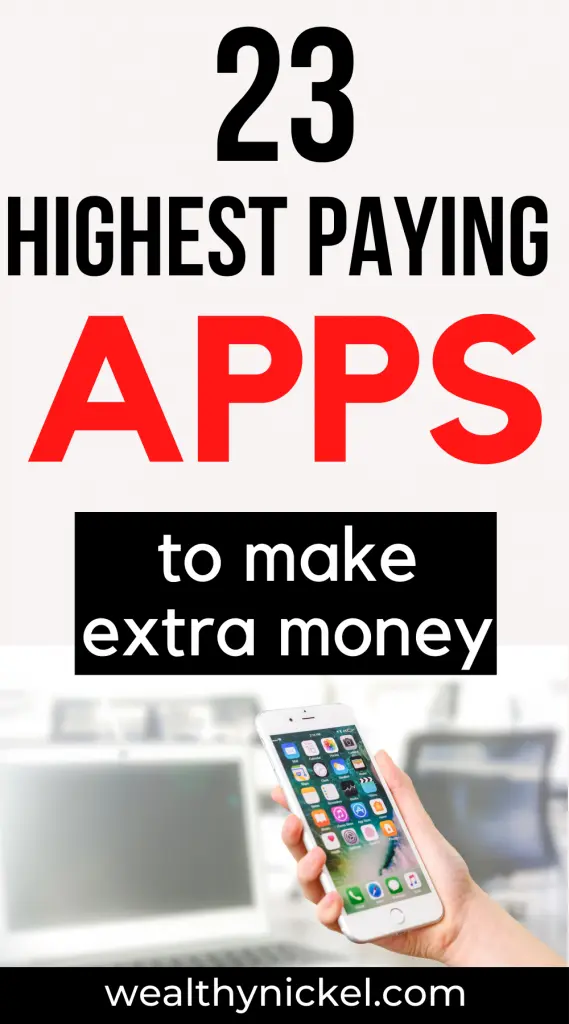 Disclaimer: This content is created for educational and entertainment purposes only. This is not meant to be construed as individualized financial or investment advice. All investments have risks. Please do your own due diligence and consult with your financial advisor about your specific situation.
Andrew Herrig is a finance expert and money nerd and the founder of Wealthy Nickel, where he writes about personal finance, side hustles, and entrepreneurship. As an avid real estate investor and owner of multiple businesses, he has a passion for helping others build wealth and shares his own family's journey on his blog.
Andrew holds a Masters of Science in Economics from the University of Texas at Dallas and a Bachelors of Science in Electrical Engineering from Texas A&M University. He has worked as a financial analyst and accountant in many aspects of the financial world.
Andrew's expert financial advice has been featured on CNBC, Entrepreneur, Fox News, GOBankingRates, MSN, and more.