Do you need some ideas to make 50 dollars fast?
You're not alone. We've all been in a position where we need 50 dollars now to pay an unexpected bill or just pad the bank account to grow an emergency fund.
There are plenty of opportunities out there to make 50 dollars quickly online or offline. Whether you're looking for a one-time payout or a way to make extra money every month, these ideas will help you get there.
Some of the topics we'll cover are:
How to make $50 fast online (with just your phone)
Side hustles to make $50 an hour
Freelance opportunities to make $50 a day or more
Keep reading for the best ways to make $50 right now.
Looking for a few quick wins to make money fast?
Here are a couple of legit apps that pay you money just for signing up:
How to Make $50 Fast Online (With Your Phone)
When you need to make 50 dollars quick, some of the best opportunities can be found right on your smart phone. There are dozens of apps that help you make money or give you cash back for shopping, and many of them give you free money just for signing up.
1. Make $50 Fast Taking Online Surveys with Survey Junkie
Survey Junkie is one of the highest-paying survey apps available to make money online. Completing just three surveys a day can earn you as much as $40 a month.
With over 35,000 reviews, Survey Junkie has an average rating of 4.4/5 on TrustPilot.
Join a community of over 20 million members who share their opinion to help brands improve their products and services, and get paid in the process – Survey Junkie pays out $1M+ monthly to their members.
I really feel like my opinion matters and I love taking the surveys… It's a privilege to be part of the Survey Junkie family!
Thank you! – Kara M. via TrustPilot

You can cash out with 500 points ($5) via Paypal or many different gift cards.
How to make $50 fast with Survey Junkie? Sign up for Survey Junkie to start receiving paid surveys in your inbox. You can also get a sign-up bonus with this link once you fill out your profile.
Start Earning $50 with Survey Junkie
2. Earn a $10 Sign Up Bonus with Swagbucks
Another app that can help you make $50 quickly is Swagbucks. They have paid out an astonishing $700 million to their members since 2008!
With Swagbucks, you can earn money in multiple ways, including cash back for online shopping, playing games, watching videos, and taking surveys.
Cash out with just $3 via Paypal or gift cards such as Amazon, Walmart, or Target. And you can make $10 right now with the current Swagbucks sign-up promotion.
Joined about a month ago and the experience has been awesome. Fun doing surveys and earning rewards as well as saving and earning on purchases – Connie via TrustPilot
How to make money with Swagbucks? Simply install the app and get started earning points. You can get a $10 sign-up bonus with this link.
Join Swagbucks and Get $10 Free
3. Win $50 (or more) with Bingo Cash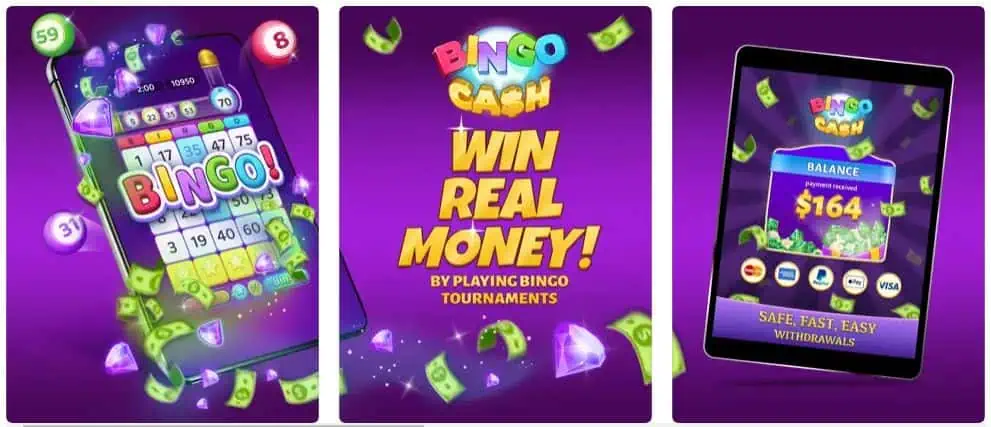 Ok, it won't make you $50 every day, but did you know you can make money playing games?
Bingo Cash is a fast-paced bingo game where you can compete with other players to win real cash prizes.
As of this writing, the app has an overall 4.7 star rating and over 98,000 reviews on the Apple App Store.
The game is free to download and play, and matches you with players of similar skill levels. While you won't get rich overnight, entering cash tournaments allows you to win real money and be eligible for daily gifts and bonuses!
One App Store reviewer noted that Bingo Cash is "legit and the cash out process is fast. This is the best game of bingo I've played."
Note that cash tournaments are not available in the following states: AZ, IA, LA, SC, and WA.
Learn More Here: Bingo Cash iOS | Bingo Cash Android
4. Make $50 in a Day with Sign Up Bonuses
I've already mentioned a few above, but there are tons of apps out there that pay you give you free money just for signing up.
While the sign up bonus is nice, my favorite apps also let you keep earning money each and every month through cash back or other activities.
It's pretty easy to make 50 dollars in an hour just by signing up for a few apps.
Here's a list of some of my favorites (sign up for all of them and make $70 right now!):
5. Get Paid to Play Games on Your Phone
Did you know you can actually get paid to play games on your phone? It's true!
So what's the catch? None that I could find (a couple are only available on Android though, sorry Apple users!) These apps give you a wide array of games to play that allow you to earn money via Paypal or gift card.
Here are my top 3 apps to make 50 dollars fast (or more) playing games:
Cashyy – Discover free games, accomplish missions and win coins to exchange for gift cards or free Paypal money (4.3/5 rating on Google Play)
Mistplay – With over 10 million downloads, Mistplay allows you to earn rewards while playing mobile games. The more games you play, the more points you earn! (4.2/5 rating on Google Play)
Bingo Cash – Play this fast-paced bingo game where you can win real world rewards and cash prizes, where available. (4.7/5 rating on App Store)
6. Cash Back Apps to Make $50 Fast
Cash back apps are one of my favorite ways to make money fast. I've tested dozens of them and keep several on my phone.
The best cash back apps pay you for doing things you were already doing anyway, such as online shopping, grocery shopping, eating at restaurants, and more.
With these apps you can easily get 1-5% cash back on almost every purchase you make. It may not sound like a ton of money, but if you pair it with a cash back credit card, you can easily earn $50 a month or more.
Best App for Grocery Shopping – Fetch Rewards
Fetch Rewards is an easy-to-use app that lets you earn cash back for scanning grocery receipts. The app will automatically identify cash back offers from their partner brands and apply them to your account. You can cash out for gift cards to Amazon and many other major retailers.
Download Fetch and Get a $2 Bonus
Best App for Gas Stations – GetUpside
Get Upside is my go-to app for cash back on gas and convenience store purchases. When you need to fill your tank, just open the app and select an offer to get cash back. With the link below you can get at least 25 cents per gallon cash back on your first fill up!
Download GetUpside and Get $0.25/gallon Cash Back on Gas
Best App for Local Shopping – Dosh
Dosh is one of my favorite apps for cash back on in-store shopping. The best part about this app is there is literally nothing you need to do. Just download the app, connect your credit card, and you're good to go. Any purchases made with Dosh partners receive cash back automatically in the app.
Download Dosh and Get Automatic Cash Back
Best App for Online Shopping – Rakuten
Rakuten offers up to 40% cash back on purchases with one of their 3,500 retail partners such as Amazon, Target, Old Navy, and more (although most offers typically earn 1-5% cash back). Rakuten has been around a long time and has paid its members over $2.2 billion since 1999. According to their website, the average member received $63.50 cash back last year.
Download Rakuten and Get a $30 Bonus
7. Amazon Mechanical Turk
Become an Amazon Mechanical Turk (MTurk) worker and get paid for completing simple online tasks. Sometimes called "micro-tasks", they generally take from a few seconds to a few minutes to complete and include things such as:
identifying objects in a photo or video,
answering simple questions,
verifying business listing details,
and many more
For more information, I did an interview with my friend Jeff who makes $1,000+ per year with MTurk and online surveys.
Side Hustles to Make $50 Fast
If you want to earn $50 fast, these side hustles can help you make that and much more. Some of them are easy to start now and make $50 today, while others require a little setup but can make you $100 in a day or more once you have paying clients.
8. Make $50 an Hour as a Virtual Bookkeeper
Do you like numbers and balancing your checkbook? Many small business owners need help with their bookkeeping and will pay handsomely for help.
I interviewed a teacher who started bookkeeping as a side hustle and eventually he was making enough to quit his job and go full time!
If you niche down and serve a specific clientele (e.g. online business owners, real estate investors, contractors, etc.) you can charge very good rates of $50 dollars per hour up to $100 per hour.
Not sure if bookkeeping is right for you? Try this free 3 part video bookkeeping training to see how to get a bookkeeping business of the ground.
9. Proofreading Side Hustle – Make $50 Fast from Home
Are you good at catching other people's spelling and grammar mistakes? If so, there are tons of opportunities out there to be a freelance proofreader for authors, bloggers, small businesses, and more.
All you need is a keen eye for detail and the ability to spot mistakes. I'm sure there are some errors in this article – if you spotted them, proofreading could be the job for you!
Want to learn more about starting a freelance proofreading business? Caitlyn is a successful proofreader who also teaches others how to start their own business.
Check out this free 76-minute workshop to learn more about making money as a proofreader.
Other Ideas to Make $50 Fast
Sell Gift Cards
Sell Your Old Tech
Credit Card Rewards
Fundrise
Groundfloor
TaskRabbit
Freelance Writing
Virtual Assistant
Sell Your Stuff
Babysit
Ride Sharing
Personal Shopping
Deliver Food
Cancel Unused Subscriptions
Pet Sitting
Dog Walking
Cash App
Social Media Manager
FAQs on How to Make 50 Dollars Fast
How to Make 50 Dollars Fast as a Kid?
There are many ways to make $50 fast as a kid. Some of the best involve local service businesses you can start as an entrepreneurial teenager. Here are some of the best side job ideas to make $50 as a kid:
Start a lawn mowing service in your neighborhood
Become a social media manager for local businesses
Start a pet sitting or dog walking business
How to Make $50 in an Hour?
Making 50 dollars in an hour is no easy feat, but it is certainly doable, especially if you have a side hustle or online job already. Some of the best freelance businesses you can start to make $50 an hour include bookkeeping, becoming a virtual assistant, and working as a proofreader.
How to Make $50 Free on Paypal?
There are lots of ways to make free money on Paypal. Some of the easiest ideas are to download apps that allow you to earn points you can cash out directly to Paypal. My favorite apps that give you free Paypal money include Survey Junkie, Swagbucks, and Inbox Dollars.
How to Make $50 a Day?
Making 50 dollars a day is definitely attainable if you have a plan. You probably won't be able to make that much every day just with apps, but by starting a side hustle you can easily achieve a goal of $50 a day. For example, if you start a lawn service business, mowing one or two yard in the evening can make you $50+. Or if you have a virtual bookkeeping side hustle, you can make $50 an hour or more working for clients in the evenings and weekends.
Andrew Herrig is a finance expert and money nerd and the founder of Wealthy Nickel, where he writes about personal finance, side hustles, and entrepreneurship. As an avid real estate investor and owner of multiple businesses, he has a passion for helping others build wealth and shares his own family's journey on his blog.
Andrew holds a Masters of Science in Economics from the University of Texas at Dallas and a Bachelors of Science in Electrical Engineering from Texas A&M University. He has worked as a financial analyst and accountant in many aspects of the financial world.
Andrew's expert financial advice has been featured on CNBC, Entrepreneur, Fox News, GOBankingRates, MSN, and more.