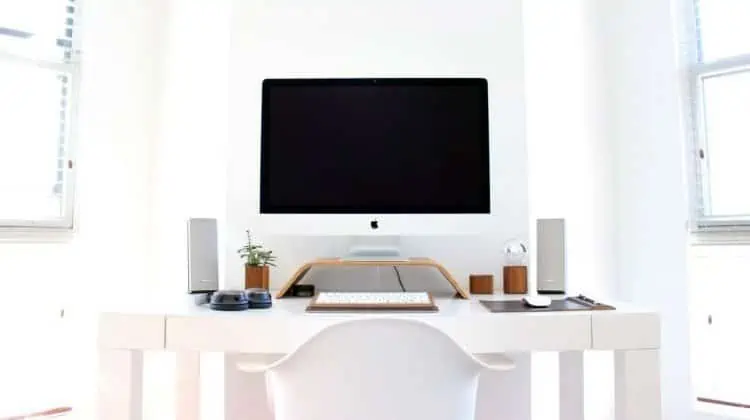 If you've spent any time at all on the internet, I'm sure you've seen a hundred articles about how to make money online like:
5,265 Easy Side Hustle Ideas to Make Money Online; or
9 Creative Ways to Make $5,000 in 3 Days; or
How I Became a Blogging Millionaire Overnight in my Pajamas
Well, let me stop you right there.
​
This is not that article. I am not selling you a blogging course, or promising you will retire early by taking online surveys.
​
What you will get are some legitimate, solid ideas that you can use as a starting point to craft the perfect online side hustle strategy for you and your family – whether you're looking for ways to make $500 a month or $5,000 if you're willing to put the work in.
​
Making money online is a very personal topic for me, and one I spent a lot of time trying to figure out a few years ago.
My Story of Making Money Online
About 5 years ago, my wife and I were talking about finances, life, and planning for our first child.
​
We wanted my wife to have the option of staying home with our kids, at least while they were young. But the thought of going down to a single income was scary.
​
So we decided to make a plan to start building easy (and not so easy) ways to make extra money. My wife didn't want to quit work entirely, but it had to be something extremely flexible that she could do during nap time or after the kids went to bed. And it needed to make enough money to make it worth her time and effort.
​
Fast forward to today, and we've learned how to consistently build a solid extra income and make money from home, some of it strictly online – with a 2 and 4-year-old in tow. (I'll tell you more about the path we chose later.)
​
It's not always glamorous, but there are easy ways to make money online if you're willing to put in the effort to find them, and then TAKE ACTION (the step that so many seem to miss).
Easy, Enjoyable, or Profitable
You may have heard of the "unattainable triangle" in project management of cost, quality, and speed. Or maybe from your snarky local restaurant or small business in the form of "We offer 3 kinds of service: good, cheap,
and fast. Pick any two."
​
If the service is good and cheap, it's not fast. If it's good and fast, it's expensive. And if it's fast and cheap, it's low quality.
​
There's a lot of truth to this statement, and I think a similar paradigm can be applied to making money online.
​
You can find side hustle ideas to make money online that are:
Easy
Enjoyable, and
Profitable
Pick any two.
​


​
If it's easy and enjoyable, it probably won't make a ton of money (not that that's a bad thing). If it's easy and profitable, it's probably not very enjoyable (otherwise everyone would be doing it). And if it's enjoyable and profitable, there's a barrier to entry that requires some hard work to overcome.
​
But the beauty of making money online is that you get to choose.
If you make money online, you're the boss.
The definitions of easy, enjoyable, and profitable are somewhat subjective. What's easy for you may not be easy for me. For example, some people are great at putting together stunning graphics and making things look beautiful. I am an absolutely terrible graphic designer.
​
The point of all this is to think through what you want to get out of your online side hustle.
​
It's perfectly fine to stick to things that are easy and that you enjoy, even though they may not make a lot of money.
​
And it's also ok to want to make $10,000 a month working from home – as long as you realize that it will take a lot of work to get there.
​
So with that out of the way, let's get to the online money making ideas!
7 Side Hustle Ideas to Make Money Online
Let's start off with some of the easiest ways to make money online that have low barriers to entry. You won't get rich doing any of these things, but if you've never made a single dollar side hustling, these are some great ways to get started and gain some confidence.
1. Earn Extra Money from Cash Back Apps ($20 – 50 per month)
There are a few easy ways to make money from home that I recommend EVERYONE do, just because they take literally no effort at all.
​
Signing up for cashback apps is one of those categories. I have a personal goal to make $500 per year from cash back apps, which works out to a little over $40 per month. I document my progress and track the best cashback apps that I'm currently using.
​
For the most part, all you have to do is download an app, link your credit card, and then forget about it. You'll earn points for doing your normal everyday shopping (kind of like credit card rewards).
​
Some apps are better for local stores and restaurants, and some are better for online shopping. By having 3 or 4 different ones it allows you to cover all the bases and get cash back for almost everything you buy.
Here are the cash back apps I recommend the most:
2. Make Easy Money with Online Surveys ($50 – $100 per month)
Did you know you can make $1,000 a month taking online surveys in 5 minutes a day?!
​
Just kidding. I hate all the websites that promote surveys like they will make you a millionaire. When you see this kind of marketing, just know that they are making more in affiliate commissions from you signing up for that
survey site than you will ever make actually taking surveys.
​
There are a lot of spammy (and scammy) survey sites out there, but also a lot of legitimate ones.
When looking for survey sites, this is the criteria I use:
They have a steady supply of new surveys (not just 1 or 2 a month)
They pay a reasonable amount for the time you put in
Are legitimate and trustworthy companies
There are two survey sites that I would consider the best of the best online surveys that pay cash. Both give you a ton of survey options, they actually payout, and they are highly rated by users (one has a TrustPilot score of 8.6, and the other an 8.3 – both considered "great" based on user rankings).
Survey Junkie – Their tagline "take surveys, get paid" pretty much sums it up. There are always a least a few interesting survey available to take, and they tend to pay well.
Swagbucks – While you make money taking legit surveys with Swagbucks, if you get bored with JUST surveys, they also offer some other ways to earn points such as watching videos and playing games, which can be a refreshing change of pace.
Make Money Online Through Freelancing
If you're looking to make more than a couple hundred dollars a month, freelancing is a great way to do it. You will basically work as a contractor and sell your time and skills for money. This is a great way to make $200 a day or more.
​
It's easy to find freelance work online. And trust me, you definitely have one or more marketable skills that people will pay good money for, even if you don't know what that is yet.
3. Become a Virtual Assistant ($15-50+ per hour)
Virtual assistant is kind of a catch-all term for almost any administrative task you can think of.
​
Owners of successful businesses (online or otherwise) are extremely busy and need help with day-to-day tasks as simple as responding to emails or organizing their calendar.
​
As a virtual assistant, you can be the one to take those tasks off their plate and make money doing it. As long as you have some basic administrative and office software skills, you can get started quickly through sites such as Upwork, Fiverr, or even Craigslist. This will allow you to try many different tasks and see what you enjoy doing and what you don't.
​
Once you've built up some experience and credibility, I'd recommend going out on your own as an independent contractor. You will generally boost your income this way, and make a name for yourself in your niche. If you specialize in a certain skillset, you can find clients through referrals, Facebook groups, or by creating your own website marketing your services.
Here are just a few of the services you could offer as an online virtual
assistant:
Customer service support Social media management
Graphic design
Personal assistant
Website setup and/or tech support
Data entry or analysis
There are so many different skills you can use to make money as a virtual assistant. If you niche down (for example, by focusing on becoming a Pinterest expert) you can make $50-100 per hour or more while helping other business owners step up their game!
4. Freelance Writing ($100-500+ per article)
As a freelance writer you can make money online from the comfort of your couch by writing articles for blogs or news publications. As a side hustle you are trading your time for money. But if you enjoy writing (and researching) it may not even feel like a job!
​
Similar to becoming a virtual assistant, you can initially find work through sites like Upwork. But in order to get regular paying gigs, setting up your own business and focusing on a certain subject that you are interested in can allow you to make more money in the long run. For example, if you like writing about traveling, or living in an RV full-time, you can target blogs in that niche and build a relationship with the owners.
​
Once you establish a track record and can point to the amazing content you have created, the referrals will start to pile up and you can pick and choose what you want to write about. You can also command higher rates – whereas you might start at $50-75 for a 1,000 word article, as you gain credibility you can raise your rates to $200-500 for that same content!
​
Until I started my own blog, I had no idea all of the different hats you have to wear to run a successful blog – and writing is just a small piece of the puzzle. A reliable freelance writer who can put out consistent content is worth their weight in gold.

Online Side Hustle Business Ideas
5. Start a Virtual Bookkeeping Business ($60-100 per hour)
If writing isn't your thing, maybe you're a numbers guy or gal like me. Many business owners are great when it comes to producing, marketing, and selling their products, but their finances are a disaster.
​
I've always loved tracking and dissecting my own finances (nerd alert), and there are a lot of small business owners out there that need your help.
​
The great think about bookkeeping is it is something you can start with no degree, no prior experience, and almost no startup costs.
​
As long as you are willing to put in the effort to learn as you go and aren't scared of numbers and financial software like Quickbooks or Xero, you are all set to go. Unlike an accountant or CPA, you are there to keep track of the day-to-day finances, and help the owner track their income and expenses to make better strategic business decisions.
Attention to detail is key if you want to make money online.
A CPA is great when it comes to tax planning, but they are not there to see the daily functions of the business. This is where you as a bookkeeper can become indispensable to keep the financials running smoothly.
​
As with any freelance business, finding your initial client is usually the hardest part. But by defining a niche (such as online business owners, or real estate investors, or electricians), you can become an expert in their business model, help them improve their financial position, and ultimately demonstrate your value and increase your pricing.
​
With the proliferation of web-based file management and accounting software, you can be an online-only bookkeeper very easily, which keeps overhead low and profits high. If you target small-business clients, you are usually providing monthly transaction recording and reporting services which may take 4-5 hours per client, and earn you a profit of $250-300 each. Just having 3 or 4 clients on the side of your day job could bring in a significant amount of extra income for your family!
For more info, check out how to become a virtual bookkeeper, and my side hustle interview with a bookkeeper.
6. Start a Blog ($0-unlimited)
You can't have a list of online side hustles that is complete without mentioning starting a blog. I think blogging has gotten a bad name, because the people promoting it as a side hustle want you to believe it's super easy to make $100,000 a
month online so that you'll sign up for their hosting affiliate or their latest "blogging secrets" course.
​
The truth is that blogging is extremely hard work. Unlike freelancing or other "easy" ways to make money online, you won't see a return from blogging for 6-12 months or even more.
RELATED: Blog Progress Report – My First Year By the Numbers
Blogging won't make you money quickly.
This is NOT a get rich quick scheme. Not even close.
​
I have been blogging for almost a year, and I am just starting to see the light at the end of the tunnel to potentially make an actual income from it. If you added up all my income so far and divided it by the number of hours I've put in, I guarantee you it would be less than minimum wage. That's right, you'd be better off working at McDonalds. However, it's hard to work at McDonalds from home.
​
But as we discussed up front in the "unattainable triangle" of online income, because it's not easy, there is a large barrier to entry to actually make money. That means others will give up long before reaching profitability. I would say you need to be willing to blog for free for AT LEAST a year before having any expectations of making a profit.
​
If you're truly passionate about writing, marketing, social media, networking, and everything else that goes into it, you will push past the barrier. It's kind of like rolling a snowball down a hill, it takes a lot of work at the beginning, but once it picks up momentum it almost runs on its own.
​
Once you get to this point, you can make $2,000 a month, $10,000 a month, even $100,000 a month while working less than you did at the beginning!
​
But it takes that initial sacrifice to get there.
One More Online Job You Probably Haven't Thought Of
7. Work from Home Remotely
Have you considered turning your day job into a remote job working online? Many companies these days are embracing telecommuting to save money on office space and also promote better work-life balance.
​
If you're wondering how to make money from home, this could be the easiest route you hadn't thought of yet.
​
In my own career, I have recently started working from home a few days a week, and it's been a great balance. All the stability and benefits of a full-time salaried job (and health insurance!) with the added bonus of no commute and working from the comfort of my home office. (Ok, and sometimes in my pajamas…but that's just between us…)
​
If your current company or role absolutely won't allow for it, consider other related jobs that may be more amenable to working remotely. There are plenty of websites out there, such as
FlexJobs
, that will allow you to find companies hiring specifically for remote positions.
Side Hustle Ideas to Make Money Online – The Final Word
While there are thousands of side hustles out there you can do to make money online, I hope you found 1 or 2 ideas from this article that sparked an idea that you can actually take action on.
​
You can read 100 articles on Google about making money online, but until you finally decide to take action, you will never make a single $1. And I think making that first $1 is more motivational than any blog article. It's
a real proof of concept that will keep you coming back for more.
My Family's (Online) Side Hustle – The End of the Story
I also promised to finish the story of my own family's online side hustle. What worked for us may not work for you, but I think success stories in and of themselves can be powerful motivators.
​
In the beginning, our side hustle was real estate. You may not think of real estate as an "online" side hustle at all, and parts of it weren't. We bought rental properties and did flips, all of which required our physical presence to some extent.
​
But we also got into wholesaling, which is getting a property under contract at a really good deal, and selling that contract to another investor for a profit. It's a great way to invest in real estate with no money. Once we had kids and had less free time, we hired a friend of ours to go out and see houses and sign contracts. So we literally did not even see most of the houses we wholesaled!
​
My (and my wife's) job was to do the marketing to get leads and network with other investors to sell the deals. While we focused on our local market, I truly could have done this job online from anywhere in the country!
​
I tell you this story to encourage you that with a little creativity and leveraging technology, almost any side hustle can be done online. So go out there and make it happen!
This article originally appeared on Wealth of Geeks, and has been republished with permission.
Andrew Herrig is a finance expert and money nerd and the founder of Wealthy Nickel, where he writes about personal finance, side hustles, and entrepreneurship. As an avid real estate investor and owner of multiple businesses, he has a passion for helping others build wealth and shares his own family's journey on his blog.
Andrew holds a Masters of Science in Economics from the University of Texas at Dallas and a Bachelors of Science in Electrical Engineering from Texas A&M University. He has worked as a financial analyst and accountant in many aspects of the financial world.
Andrew's expert financial advice has been featured on CNBC, Entrepreneur, Fox News, GOBankingRates, MSN, and more.