Paypal is one of the world's best and most popular online payment processors. It's simple to use and allows for fast, secure transactions between buyers and sellers. But where can you use it?
Many people have a Paypal account but aren't using the app to its full potential. We're going to help you fix that problem today.
Today, we'll deep dive into PayPal, where you can use the app and where you can't. Let's get started with where can I use Paypal?
Is PayPal Accepted Everywhere?

Most people have heard of PayPal but may not know how it works or whether it's accepted everywhere. It isn't just a service that allows PayPal users to send and receive money online. It's similar to other online payment platforms like Venmo but offers additional features.
Many businesses take PayPal. People can also use it to purchase goods and shop online and in person. In addition, PayPal offers a debit card that can be used anywhere Mastercard is accepted.
Although it's one of the most popular online payment processors, there are still some places where it isn't accepted. One of the main reasons for this is that PayPal isn't a bank. Therefore, some businesses may not accept it because they don't want to pay the fees associated with processing PayPal payments.
Where is PayPal Not Accepted?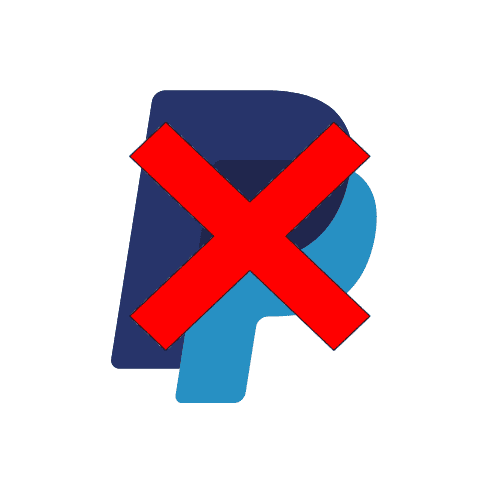 Ok, now you have an idea of where can I use Paypal? Though it is widely available, there are still some places where PayPal is not accepted. For example, many government agencies do not accept PayPal payments.
Some online retailers do not take PayPal as a form of payment. This includes Amazon, unfortunately. While PayPal can be a convenient way to pay for goods and services online, it is crucial to be aware of its limitations.
You should also remember that many physical stores that do not accept Paypal won't take it for a reason. Either they have their payment credit card, or they're in an industry where it doesn't make sense for financial reasons. Online gambling is one example. Many car rental companies and hotels also won't accept Paypal.
The company offers a few different debit cards and a PayPal credit card. So if you enjoy using the app, look into these card options. You can use them just like regular cards and pay your credit card bill directly through the app.
Do Fast Food Places Accept PayPal?
While some fast food places do accept PayPal, others do not. This can vary depending on the restaurant's policy or the type of PayPal account the customer has. Some restaurants may only accept PayPal as a payment option from customers who have verified accounts. Others may take it online but will not take PayPal in-store.
Others may only accept payments made through the PayPal app. Ultimately, it is up to the individual restaurant to decide whether or not to accept PayPal payments.
Can I Use PayPal to Order Food?
You can use PayPal to order food in a few different ways. You can either use the PayPal app or website to order food from participating restaurants or link your PayPal account to a food delivery service like DoorDash or Grubhub. You'll have to pay extra money to use them, but if Paypal is your MOP of choice, it'll do the trick.
To pay with PayPal on the app or website, select PayPal as your payment method at checkout. You'll then need to log in to your PayPal account and confirm the payment. If you're using a food delivery service, you'll need to link your PayPal account first.
Go to the settings page on the app or website and select "Payment Methods." Then, choose PayPal and follow the instructions to link your accounts. Once you link your accounts, you can pay for food delivery with PayPal like any other payment method.
Which Stores Accept PayPal and Why Do They Use It?
As of 2022, millions of businesses around the world accept PayPal as a form of payment. Many online stores and some brick-and-mortar businesses accept PayPal. In addition to traditional retailers, many digital companies take PayPal, such as iTunes, eBay, and Etsy.
Many people enjoy the convenience of paying with PayPal, and businesses that accept PayPal payments can benefit in several ways. For customers, using PayPal can be faster and easier than entering credit card information and provide an extra layer of security.
For businesses, accepting PayPal payments can help to increase sales by appealing to a wider range of customers. In addition, companies can avoid the fees associated with processing credit card payments. As a result, there are many good reasons for stores to accept PayPal payments.
Does Target Accept PayPal? (Online + In-Store)
Does PayPal work at Target? Yes, Target stores take PayPal as online and in-store payment. Add items to your cart to pay with PayPal online and select PayPal as your payment method at checkout.
In-store, you can use PayPal to pay for your purchases by linking your account to the Target app. Once you link your accounts, you'll be able to pay with PayPal, just like any other payment method. You can also use PayPal's in-store financing option to finance your purchase over time with monthly payments.
Overall, using PayPal at Target stores is a convenient way to pay for your purchases, whether you're shopping online or in-store. Target accepts Paypal and other forms of payment like Apple Pay and Google Pay. You can check out their full list here.
But Does PayPal Work at Walmart, Too?
Does Walmart accept PayPal? Yes. However, they only accept it online. For in-store purchases, you'll need to use one of Paypal's card options that they have available. Amazon doesn't accept Paypal. Your only option is to use the app's credit or debit card.
How Does PayPal Work?
PayPal is a safe, easy way to pay and get paid online. The service allows members to send money without sharing financial information, with the flexibility to pay using their account balances, bank accounts, credit cards, or promoted financing options.
It also offers buyers protection on eligible transactions should they encounter a problem. To sign up for PayPal, you need an email address, credit card, linked bank account, or debit card. You can start online purchases or receive payments for your goods and services.
When you purchase through PayPal, the money is transferred immediately from your bank account or credit card into the recipient's PayPal account. If the recipient doesn't have a PayPal account, they can still claim the money by opening a PayPal account within 14 days.
If they don't open a PayPal account within that time, the transaction will be canceled, and the app will issue a refund to your account. When someone sends you a payment through PayPal, you'll usually receive an email notification from PayPal letting you know that you've received a payment.
Funds are typically available in your account immediately, but it may take a few days, depending on your bank's clearing process. You can spend the money online via PayPal or transfer it to your linked bank account anytime.
FAQ
Why Should I Use PayPal?
There are many reasons why you might want to use PayPal. Some people enjoy the convenience of paying with PayPal, while others appreciate the extra layer of security it provides. Businesses can avoid the fees associated with processing credit card payments.
How do I send or receive money with PayPal?
Sending and receiving payments with PayPal is easy. To send a payment, you need the email address of the person you're sending money to. You'll need to create a PayPal account and provide your bank account or credit card information to receive a payment.
What payment methods can I use with PayPal?
You can use PayPal with a variety of payment methods, including Credit cards; Debit cards; Bank accounts; PayPal Credit.