Do you want to know how to make 10k a month?
You have arrived at the right place!
Making 10k a month is something many people wish for, but it's not that easy if you are working a day job.
The average American makes $3,714 a month which is way less than $10k.
Luckily in the digital era, there are many ways you can make $10,000 or more every month.
I have compiled 11 legitimate ways to make 10k a month in this article.
You may not find all of these ways worth trying, but I am hopeful you would end up with at least one way that works for you.
Looking for a few quick wins to make money fast?
Here are a couple of legit apps that pay you money just for signing up:
How to Make 10k a Month [11 Ways]
Here are 11 ways to make 10k a month.
1. Start Dropshipping with Shopify
Have you ever heard about dropshipping?
If not, then you are truly missing out!
Dropshipping has changed the lives of thousands of people across the world, with some entrepreneurs making more than $100,000 in profit each month.
It is actually a business model in which you buy cheap products from vendors like Aliexpress, Alibaba, or eBay and sell it on either Amazon or your own Shopify ecommerce store at a higher price.
And before you assume anything else, let me tell you the best thing about this business model –
"You don't have to buy stuff and then ship it yourself as all of this process is automated."
Yes! That is the beauty of this business!
All you have to do is to create an online store on Shopify (which is super easy and everything is drag and drop), then go to Aliexpress or any other site from where you want to buy stuff.
Import the products you want to sell to your online store through Oberlo (an app that automates the process for you) and price them higher with good profit margins.
After importing the items you want to sell, you have to promote your store through Facebook or Google Ads to get sales.
Once someone places an order on your store, Oberlo will automatically gather the shipping address of the customer, place the same order on Aliexpress (or any other site) and then the supplier of Aliexpress will ship the product to the customer's address.
Back in 2017 and 2018 I used to be a member of a Dropshipping Facebook group where I often saw screenshots like this: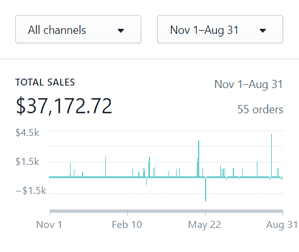 At that time, I was quite crazy about starting my own Shopify dropshipping store. I don't know why I didn't try it, but opted for blogging instead!
You can build your own online store on Shopify. Shopify has a free trial for the first 14 days and after that they charge about $30 per month.
The whole process of Dropshipping with Shopify is explained in this video:
I hope the process is clear to you.
Also Read: Online Jobs for teens in 2020 [10 legitimate resources]
2. Offer freelance writing services
Freelance writing involves writing blog posts, articles, emails, social media posts, press releases, and more for companies and individuals running their own websites.
It is one of the most in-demand online skills right now and definitely a great way to make 10k a month.
That's because of an increasing shift of businesses towards online marketing.
The basis of online marketing is content and companies hire freelance writers to write this content for them.
If you can write well, and you think you have an engaging writing style, you should definitely try freelance writing.
It takes a lot of hard work and you may get frustrated in the beginning trying to pick up your first clients, but the key to success is to stick to the business and keep on giving your best.
In order to start your freelance writing career, first choose your niche (your target market) like travel, health, beauty, personal finance, etc.
After choosing your niche, research your niche thoroughly and start offering your services on social media and try to write 10 to 15 articles to build up your portfolio.
After that, join freelance websites and writing job boards to kickstart your freelance writing career.
There is branch of Freelance writing known as "Copywriting" which you might have heard before. Copywriting has more to do with writing sales pitches than normal articles or blog posts.
Copywriters make way more money than most of the content writers out there (in most of the cases) because they write to drive sales for a company, and companies are always ready to pay a large amount for engaging sales copy.
It's up to you which one you try, content writing or copywriting. I prefer copywriting because it is a high income skill and just a few gigs can help you make 10000 dollars a month.
But make sure before jumping into any of these markets that you analyze them yourself and do what you are capable of doing.
Freelance writing sites:
Upwork
Freelancer
Textbroker (only for USA residents)
Freelance writing job boards:
Also read: 14 ways to make money in high school in 2020
3. Open Custom Pins Shop Online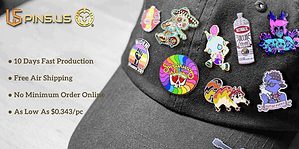 Starting an online store to do business is without a doubt one of the quickest ways to make money. One of the most popular stores these days is an online custom pins shop.
You can follow the next steps to start your online pins business:
1 Choose an eCommerce platform. Choose some large and trusted platforms, such as Etsy, Shopify, Amazon, etc.
2 Analyze and decide the target audience.
3 Choose the pins with highest profit.
Working with a professional supplier is always a good idea. GS-JJ has more than 20 years experience in making custom pins, which can provide more than 10 types of pins, including enamel pins, printing pins, offset printed pins, sandblast Pins, and 3D or Cutout Pins, Antique Pins, etc. There's no minimum order quantity requirement with affordable prices and free air shipping.
4. Start affiliate marketing with Clickbank
Affiliate marketing involves promoting the products or services of some company and getting paid per sale or lead.
I believe it is the best and most profitable way to make money online in 2020 and beyond.
In affiliate marketing, the publisher is the person who promotes the product/services, and the advertiser or merchant is the person whose product/service is being advertised.
Now there are two models of affiliate marketing:
1. The company(advertiser) hosts the affiliate program itself and allow publishers to join it on its website directly.
2. In the second case, a third party is involved in the form of an affiliate network. This affiliate network hosts the affiliate program and connects advertisers and publishers on one platform. This way each advertiser does not have to host their affiliate program themselves and publishers can promote the products/services of any advertiser through one single platform.
The second model is the most used model in affiliate marketing.
Clickbank is one of the best affiliate network out there that connects advertisers and publishers from a lot of niches like weight loss, online marketing, personal finance, personal development, and more.
You can join Clickbank as a publisher and start promoting the products or services of your choice.
Clickbank pays pretty amazing commissions and you can withdraw your money through direct deposit, wire, or check.
Also read: How to make 2000 dollars fast [34 legitimate ways]
5. Start a blog
Blogging is the most profitable online business you can start this year.
Bloggers are literally making thousands and some even hundreds of thousands of dollars every single month.
You can start a blog about anything you like provided people are really into that thing. For example, fishing is a good topic to start a blog as a lot of people are into fishing, and they regularly buy fishing related stuff like fishing rods from Amazon. I am saying this because you can actually make money promoting Amazon products on your blog through the Amazon affiliate program.
You can start a blog in under 20 minutes on WordPress. The process is extremely easy and anybody can follow the simple steps mentioned in my guide to blogging and start his/her blog.
While there are free options available to make a blog, I highly recommend you to go for paid option as it would help you have a full control on your blog and most importantly make money from it.
If you want to start a blog, check out this step by step guide to blogging in which each step is explained with pictures.
Also read: Online jobs for college students in 2020 [15 legit resources]
6. Sell T-Shirts through Tee Spring
Did you know you can design a t-shirt and sell it worldwide without having to leave your home?
Teespring is the site that does the whole job for you.
The whole process is:
You design a t shirt (you want to sell) and upload the design on Teespring.
You set the price of t shirt and the get the buying link from them to promote it.
You promote the t shirt on Social media, forums or anywhere you can with a link given to you by Teespring.
When someone clicks the link and buys the t shirt, that t shirt is shipped to him/her by Teespring and you get the money after $10 deduction by Teespring as their commission.
Also read: 12 ways to make 1000 dollars fast
7. Start a Web Development Business
Starting a web development business is not an overnight process, but it is definitely worth it!
Web developers command a high hourly rate and demand for their services is continually increasing.
If you want to become a web developer, you can start taking tutorials on Skillshare, Pluralsight, Udemy or Lynda.
It takes time but believe me, this is one of the most highly paid online jobs in 2023 and beyond.
Once you get a strong grip on your skills, you can join the following freelance websites and web development job boards for jobs and freelance projects.
Freelance websites:
Upwork
Freelancer
People Per Hour
Web development job boards:
Also read: Car Advertising [5 legitimate companies that pay you to advertise on your car]
8. Become an Amazon affiliate
Did you know Amazon has an affiliate program?
Yes! They have an affiliate program through which anybody can join them, promote their products and get commission per sale generated through their affiliate link.
If you are not familiar with affiliate marketing, it involves promoting the products or services of some company and getting a commission per sale or lead.
You got it?
Now coming back to Amazon affiliate program,
Amazon is the biggest ecommerce giant and one of every two people buys stuff on Amazon. But did you know a large portion of their annual sales come through their affiliates who regularly promote their products on their blogs, websites, etc.?
Every time you see a website recommending an Amazon product, they are basically a part of Amazon affiliate program.
How to become a part of the Amazon affiliate program?
The program is free to signup and you can sign up right now through this link but the actual deal is not being the part of the program, rather the deal is to get sales and MAKE MONEY!
A lot of people join the affiliate program but most of them are not able to generate sales.
So what is the best way to promote the products and generate sales?
The best way is to make a blog around one topic like fishing, gluten free diet, landscape photography, etc., and then recommend and review Amazon products on your blog in the form of articles or videos.
For example if I have a blog about Landscape photography, I can recommend a DSLR cameras to my visitors and every time they buy a camera, I get a commission.
If you want to step into Amazon affiliate marketing, check out this step by step guide which in my opinion is the best guide to building a profitable Amazon affiliate site.
Also read: 10 realistic ways to make money online in quarantine
9. Offer social media management services
Social media management is one of those online jobs for 14 year olds that are really profitable and scalable.
It involves managing the social media pages for clients which includes running paid ads, managing the campaigns, calculating the ROI, posting photos and videos to increase engagement and running contests etc.
If you are already good at it, that's great but if you want to learn the art of running facebook, Instagram and snapchat ads, etc. you can learn it on Skillshare. Skillshare has one month of free trial.
How to start?
Most of the international and local brands/companies have social media pages but some of them  don't have time to manage them and usually they don't give them much importance.
Look around you and check if all the local businesses in your area have a strong social media or not?
If you find any company that is not utilizing social media for their business, that can be your first potential client.
What you can do is that you can mail them with a professional proposal and offer them your social media management services. But before mailing them, first research their industry thoroughly and check out if any of their competitor is using social media for business.
While mailing them, don't start talking about your services straight away, rather first show how much money they are leaving on the table by not utilizing the power of social media and also give them some examples of their competitors who are doing well on social media.
This is the best way to start your social media management business, however you can also try Fiverr to get your first few clients.
Also read: How to money without a job [19+ legitimate ways]
10. Start CPA Marketing
CPA stands for Cost Per Action.
CPA marketing involves promoting a specific product, service or an offer and getting a commission per lead. It's actually a type of affiliate marketing that mostly involves promoting a free service or an offer.
Most of the beginners start their online journey with CPA because promoting a free offer and getting leads is easy compared to any other money making methods. I am personally using this method on my blog also and I am making a decent amount of money every month passively.
How to start?
In order to start CPA marketing, you have to join a CPA network.
While there are a lot of CPA networks out there, there are many scams in the market and some high quality CPA networks require you to have some experience.
BUT! There are still some CPA networks that accept beginners that are 100% legit.
Below are the 3 best CPA networks you can join as a beginner:
1. Flexoffers
2. Adsworkmedia
3. CPA Lead
Also read: 17 ways to make money as a kid
11. Start a Consulting Business (Sell Your Expertise)
Do you have any kind of expertise or skill that you can offer to business owners around you and help them scale their business?
It can be any skill from any industry, but if you think it can really change their business, it's the best opportunity for you to reach out to them and get your consulting business started.
If you are still not getting what I am saying, consulting actually involves helping companies identify their mistakes and improve them through your knowledge of a respective domain.
For example if I have a good knowledge of interior design, and I know I can help a business grow, I would simply reach out to them and offer my service in the form of 2 to 3 hours of consulting.
Or maybe you are an expert in finances and can offer a unique viewpoint regarding investments in cryptocurrency? You can help entrepreneurs diversify their assets and avoid losing money to crypto scams by finding legitimate platforms such as the bitcoin method for successful investment opportunities.
This has been one of the hottest businesses over the last few years and is expected to grow at an exponential rate in the upcoming years.
Also Read: Is Doordash a good job? Complete Review 2022
Your Journey to 10k a Month
This comes to the end of the post on how to make 10k a month. All the ways mentioned in this article are just ideas. Implementing them and turning them into full time businesses is your job. Always make sure you give your best in whatever business you are in.
Frequently Asked Questions (FAQs)
How to make 10000 dollars fast online?
You can make 10000 dollars fast online through affiliate marketing, consulting services, dropshipping, blogging, selling online courses, and selling your products online, etc.
How to make 10000 a month online?
You can make 10000 a month online through a lot of ways like dropshipping, flipping stuff, selling consultancy services, and affiliate marketing, etc.
How to make money without a job?
You can make money without a job by starting your own offline business, dog sitting, baby sitting, renting your car on Turo, working for Uber or Lyft, and working from home as a freelancer.