Want to get free steam codes?
What's better than getting paid video games for free.
Paid games on steam are expensive and you may need to spend your hard-earned money to play your next most favorite.
Even I can't wait to get my hands on whenever any of the games in my best trailer's folder get on steam.
But! I usually don't spend a penny to buy one! Instead i earn some free points taking online surveys and completing various offers to get some free Steam codes.
Yeah!
Steam codes are like money coupons which I get from different ways. You can get these codes as well and that too, totally free.
Well to be honest! these Steam codes are not completely free!
Because you have to spend your time doing certain tasks like taking surveys, playing games, completing offers, installing apps and signing up for various services and time is money!!! But if you are free and have time, then why not opt for these tasks!
But!
Good News For You!!!
If you guys don't have much time, I recommend you to go for cashback offers on Swagbucks and not to go for surveys because surveys are time consuming and you may get disqualified often.
Alright so lets get into the list of 10 sites you can join for free steam codes,
Disclaimer: If you want to make money online, i never ever recommend survey sites to you but if you only want free Steam codes on occasional basis you can try them.
Free Steam codes: 10 ways to get them
Here are 10 websites you can join to get free Steam codes,
1. Swagbucks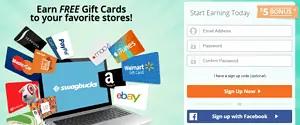 If you've ever felt as your opinion doesn't matter, let's end this here!
When you'll become a user of Swagbucks, not only your opinion will matter but you'll get paid along the line.
Swagbucks is a California based reward for loyalty company.
Apart from getting a $10 sign up bonus, you have several ways to earn points like,
Shopping (cashback) – Most recommended
Paid Surveys
Watching Videos
Web Search
Exploring Content Online
When you complete these, you can rack up points. These points can be converted into Amazon or other retailer's gift cards. In this case we'll convert the points into Steam gift cards.
You get $10 signup bonus when you reach your first 300 points.
2. Prize Rebel
Another website that pays for your opinion.
Recently I have seen some positive reviews about this company from some bloggers and real users so I thought it would be a nice addition to this list.
The edge I felt while using this website was that it talked about everyday brands mostly. So, you can easily fill multiple surveys without putting much effort.
Prize Rebel has a point system and it rewards you some points for each survey taken, you can either cashout those pints through Paypal or get some gift cards like Amazon, Steam, Roblox etc.
Next is on you either you want to get cash or the gift cards. As we're looking for free steam codes in this blog post, these points can be converted into redeemable steam gift cards.
And one thing more! You need to make at least $5 to cash out or get a gift card. There are $5 Steam Gift cards available on the platform.
3. Rakuten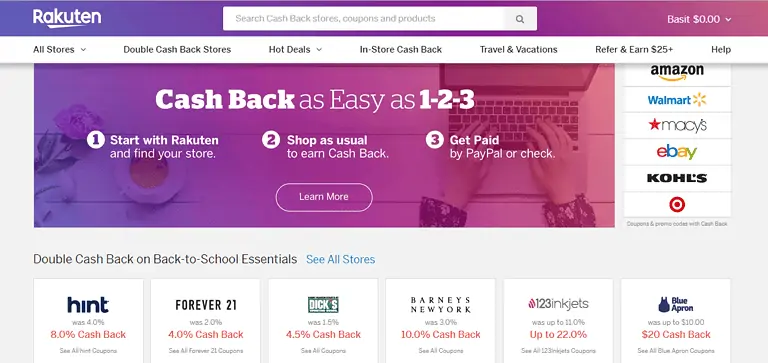 You can refer Rakuten as the top cashback website. Special cashback even go up to 12%.
It works simply by connecting with over 2500 stores through their affiliate links.
Once you've signed up, you go to the search bar, search for your desired brand, check whether it is providing cashback and finally start purchasing.
On your first $40 spending, you will get $40 sign up bonus!
Its algorithm gives you the lowest priced items among all the platforms (where available).
And it's not quite the end yet, as Rakuten offers refer a friend $40 reward. You can refer a friend to Rakuten and when spends his first $40 bucks, he'll get $40 bonus and you'll get $40 commission.
So, it has been an all-round winner for me and might be the one for you, as well.
Rakuten does not give you an option for Steam Gift cards but you can immediately withdraw the cash on Paypal an then use that cash to redeem Steam codes.
Although Rakuten does not give you an option to withdraw the cash in the form of Steam Gift cards but still I added it into this list because it's a great Cashback app that often provides you great cashback offers on popular retailers like Amazon, Walmart, BestBuy etc.
4. Ibotta
You might have heard about Ibotta if you are into online shopping!
Well it's a great cashback app that has been round for the last 8 years and claims to have paid more than $600 million in cash rewards.
Whenever you have to purchase some stuff online, just do it through Ibotta by either installing the Ibotta extension on your browser or installing their app.
The app gives you $10 when you signup and $5 if you make your friend signup through your referral link.
So, don't stay on shopping only. You can ask your friends to sign up and earn extra.
While this is cool, all these things aren't the reason I added Ibotta on my list.
There is more!
If you don't know about "shop in-store" to earn money, it's like submitting a photo of your online shopping invoice or receipt on Ibotta.
The app then checks if there is an offer of cashback on your item from your selected store. So finally, you can get cashback in the form of Steam gifts or amazon gift cards.
Also read: 6 ways to make money on Steam
5. Dosh
What if you don't like taking a photo of the receipt of your shopping. That can get boring sometimes.
So, users love Dosh because it saves them from the hectic exercise of uploading receipts.
This app has a signup bonus of $5 and it gives cashback differently.
Instead of asking you to upload a photo of purchase receipts, you simply need to add your credit card details.
Dosh will track your purchasing, scan for any cashback offers and transfer your funds in Dosh account, without you even asking.
6. MistPlay
If you've got an android device and love killing time while playing free online games, MistPlay can give you steam gift cards.
It is as simple as it sounds. You just need to try out new games.
A little setback, it's limited to Android users.
Another thing to be aware, you shouldn't mix it with the concept of making money online.
Just stay focused on gift card codes online and you'll be good to go.
7. InboxDollars
With so many websites talking about earning points by completing their assigned tasks, you may get bored.
Here, InboxDollars can save you from this struggle.
It works on cash instead of points. And, the tasks are also the same as other such website demand such as watching videos and completing the surveys.
For InboxDollars, your age plays a role as you can't signup if you're below 18.
How does it link to steam cards!
Users redeem their payment to get steam funds.
Unlike most, its signup bonus is $5. But again, that's free money!
This app also lets you play games and earn cash, just like MistPlay.
8. MyPoints
Another website that offers a range of fun tasks such as survey filling and online shopping.
OK, not all the tasks are fun, but yeah!
There is something different in the case of MyPoints though!
What's that?
Just like every online user on the planet who is interested in making money online, you might also be the one who hates SCAM.
SCAM is dangerous and it can break your motivation to keep on with your online journey.
When you talk about MyPoints, I can say that you don't need to worry about getting scammed.
Its legitimacy is confirmed as it's working for more than 20 years now.
Another cool feature is the variety of awards MyPoints offer.
If you're into traveling and adventures, this website can cover the traveling part for you. That's also free.
By the way, free steam gift cards are also among the options. It's all for you which reward you'll prefer.
9. Honey
Honey cuts down your efforts to find coupons.
It is a browser extension with the feature to find coupons for you. The list of coupons you get includes the ones with maximum discount.
It can save you a serious amount of time and effort if you're manually scrapping for hundreds of coupons.
Convert the cash earned from these coupons into steam codes and you'll be all set.
10. WikiBuy
This app doesn't give you steam codes.
Then why it's on the list…?
It helps you find where these codes are available.
WikiBuy is a web browser extension that gives you the list of websites offering a discount on different products.
Pure help for your shopping trials.
It not only gives you price comparisons but also provides information about different coupons available.
Also read: 12 ways to make money on Paypal
What Do you need to do to get free steam codes?
You might have read or heard about the below quote…
Nothing comes for free!
Well, that's true even for the case of Free Steam Codes.
I've shared different websites in the above section which can help you earn steam codes for free.
But, in return, you're required to perform minor tasks.
Now, the tasks these websites ask you to complete are benefiting the business of these websites.
This business chain continues to help companies linked to these websites or apps.
Let's look at the list of few tasks generally and then I'll share how these processes work to fill your steam wallet.
Completing Surveys
Watching Videos
Play Online Games
Do Online Shopping
Discover Online Content
1. Complete the Survey
From the websites and apps, I've shared above, you can see that most of these require you to complete certain surveys.
Once you complete these surveys and get approved by the website, you get funds in the form of money, points, gift cards, and coupons, etc.
These rewards then can be redeemed to increase your steam wallet funds.
These surveys are actually "customer/user/general audience opinions".
A lot of companies get registered on a different survey related websites and apps. These companies then publish different surveys related to their brand and products on these websites.
The audience (users like us) of these websites then fill the surveys which then act somewhat as "customer feedback of the product or services of a specific company".
Based on this collective feedbacks, companies tend to improve their products or services. This simply results to improve the business.
So, these companies pay the survey websites for "each approved survey".
Finally, these websites credit the end-users who fill the surveys after taking their cut from the money they get from companies.
And that's how you earn points or gift cards etc as a reward. If these are steam codes, you can buy your favorite games online.
An almost similar strategy works for other tasks as well.
Let's look at the next one…
2. Watching Videos
Let's assume that now you know some companies want you to watch certain videos.
These videos can lead you to fill a survey as well. The next process is the same as I've explained above, till you get your steam code.
Now, watching videos can also have other purposes.
It can be a part of the early promotion of a brand. The companies might want to increase "user watch time" of their videos to get better exposure.
Whatever the purpose might be, it's linked with the wellbeing of the company. So, they pay you through these websites.
Once again it becomes a means for you to get a free steam gift card etc.
Let's move to the next task in our list:
3. Playing Online Games
If you're addicted to playing every new online game, you would love to check out what's new in that game.
How is the gameplay or simply if it's fun to play the new game or not?
You might even leave a detailed review and rating for that game on the app store etc.
If you do this often, many companies might be looking for you or a lot of other people like you.
They want "feedbacks" about their new games. It's often a part of their beta testing where companies tend to find out opportunities for improvement in their games.
Once again, when it's about product improvement, it improves the company's revenue.
And user like us gets rewarded for playing online games.
4. Online Shopping
I might have explained already that a lot of stores are linked with the websites which offer you a reward for online shopping.
This reward can either be in the form of shopping points or cashback on your purchase.
People tend to buy more when they hear about any such offers. I mean who can say no to cashback?
To make it even more lucrative, the cashback apps or websites use a strategy to list and give alerts to users for "lowest priced products". They do that by comparing prices of the same product offered by different stores in their affiliation.
Now when buyers look at a single product being offered against different rates; they might buy instantly or at least will keep an eye on the product.
So, more sales.
These stores or companies use their affiliate links and offer a commission to cashback websites or apps on each sell.
In short, it's a marketing strategy to get a lot of sales without much effort.
Hence, the end users of cashback websites get rewarded.
5. Discover Online Content
Another general category task which companies want you to do is searching the web. Your job is to find what these companies ask for.
Like all the other cases, there are different websites and apps where these tasks are listed.
These can be simple "get paid for the survey" kind of websites. These websites usually have multiple categories of tasks listed.
A single website can even include all the task categories I've listed in this article.
More about the task, web search isn't usual internet surfing. The task comes with guidelines and users need to follow these.
Let me share some common examples of content discovery related tasks.
You can be asked to discover social media content such as finding Instagram pages related to pets or FaceBook groups related to online money making.
You may need to find scholarly articles related to the given topic.
Postal address of a list of people or companies
If one knows the drill to find such content, these tasks are pretty easy and quick to do.
Multiple companies need such info for different purposes with the end goal to improve their business standings.
In return, your reward in the form of steam gift cards or performance points finds a way to your steam wallet.
And that can't be any less to keep you rolling with your favorite games on steam.
No more days to keep your games on the waiting list.
But what if you don't like performing any of the above tasks?
Lemme tell you:
The tasks I've listed above are the most common. The list doesn't end here.
So, to know detailed stuff, you have to explore the websites given in the earlier section of this article. Once you get to know all of them, you may lock better opportunities depending upon your interest.
I am sure you'll find a lot to do this way.
How do steam codes work
Steam codes are just like your game activation codes. You simply use these codes in your steam wallet to add funds to it.
But to get this straight, let me share what is a steam wallet?
A steam wallet is your digital bank account for funds management.
You can store money in your steam wallet and then use it for different transactions in steam.
No matter either you're selling your stuff in the steam market or up for buying a game, you can get rid of paying through debit cards or PayPal.
This much ease to use makes steam wallet suitable for kids even.
Next is to add funds in your wallet either by transferring money from your regular bank account or by steam codes.
From these two options, I often use codes.
Now that you've earned a handful of steam gift codes, it's time to add all the funds in your steam wallet.
You can easily redeem your codes into funds.
Oh, wait!
Some people are still stuck on the point that either steam codes can be redeemed or not?
It is an obvious option.
Let's look into the process a bit:
How to redeem steam codes
If you don't have a Steam account, which is a very rare chance, just signup and make one.
For obvious reasons, the codes you've collected will have no use if you don't have a Steam account.
Click on your username and get to "Account Details"
Look for the below option:
"Add funds to your steam wallet".
Then go for:
"Redeem a Steam Wallet Code"
Enter your codes and press "Redeem"
You're done! time to play now.
For more detailed and clear guide to redeeming Steam codes, check the video below,
Conclusion:
I've shared details regarding different websites or platforms from where and how you can get free steam codes.
Then a list of general task types you need to perform.
For getting maximum and authentic steam gifts, don't fall for the scam and play safe.
Frequently Asked Questions (FAQs)
How to get free steam gift cards?
You can get free Steam gift cards by joining survey sites like Swagbucks and taking surveys and performing tasks, getting cashback on Rakuten and Ibotta, and playing games on Mistplay and Inbox Dollars etc. Check out this article for more ways.
Can you redeem a Steam code on mobile?
Yes! You can redeem a Steam code on Steam mobile app but this only applies to Steam pre-paid cards and wallet top-ups.