Are you looking for the best paid focus groups to make some extra cash on the side?
You have just landed on the right place!
That was a point in my life when I came to know that "every opinion matter" to the point where it can actually help you earn some bucks.
You can also explore this fun way of making money by joining focus groups related to your interest.
But before you hop on to find the best focus group for you, you should know how to do it.
Today, I'll be sharing the most important information I know about focus groups so you may get started with the right track.
Let's explore:
Looking for a few quick wins to make money fast?
Here are a couple of legit apps that pay you money just for signing up:
Can You Make Money Through Focus Groups?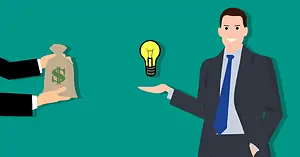 Even if it may not seem real, paid focus groups can make you money.
I've personally made a good chunk of money and will be sharing a list of the best groups I joined.
You can also find focus groups for other purposes such as rehabilitation discussions in their centers and productivity group sessions.
I've even attended brainstorming sessions during different workshops on leadership and team building. Those were interesting discussions, but I wasn't getting any money from there.
In fact, I had to pay for some of the workshops.
So, you should be all into this game if you're good at participating in any group discussions.
Are Focus Groups Legit?
Something which is as easy as having a general discussion and offers such handsome money (up to $300 an hour), can surely be a SCAM.
The fear of getting scammed double folds as the chances increase when the scheme is ONLINE.
But lemme tell you if such opportunities are legit or not.
As in most of the money-making methods, both possibilities are there.
The focus group, you're planning to join, might be your next exciting earning source as well as just a waste of time.
The real question which concerns the matter should be, "How to join the legit groups only?"
So, to find the answer to this question (as well as some others), keep on till reading as I'll shortly be sharing my views about that.
Why Focus Groups Pay You?
Now that you're sure about making money from focus groups, you should also know how legit groups manage to pay the participants.
This is simple to understand, and you can think of it as:
Businesses and companies want to improve their products and services through data driven discussions which must be conducted by genuine people (like yourself who might be one of their potential customers).
For that purpose, they're linked with certain research companies. (Websites/apps in our case)
These research companies engage their audience/users to do focused group discussion about a product of their interest.
They do so as they get paid by the business owners. And they'll pay you as well, if you're part of any group they've published on their website.
So, you get the money for talking about anything you're interested in.
The only condition here, the group you're going to join should have topics listed as per your interest.
Let's go through the list of the best ones I've explored.
Best Paid Focus Groups: A List of Toppers
What should be your priority when you wanna look for the best focus group from a list.
For me, it was all about the money I could make.
What else should you look for?
I'd say, look into the topic of discussion. That will keep you more confident while having discussion.
Here are 10 Paid Focus Groups you can join,
1. User Interviews
How Much It Pays: $10 to $200
Focus Group Category: Online and In-Person Both
Cash out Options: Check, Gift Card, Cash
There are so many things to praise UserInterview, but the most prominent is its diversity of topics.
You can get into discussions about anything such as tech, food, family, software, transportation, beauty, social media or anything you can name, UserInterview will have a space for your interest.
You don't need more than a couple of minutes to join this website and start making money fast.
You must be from Canada or the US to qualify for signup. (As per recent update, I've came to know that they're expanding this limit by introducing international studies, so, you can keep up with such updates)
Once you've registered, you'll have an option to choose from what you want to do.
It offers you with 1 on 1 interviews, small tasks and special studies along with focus groups.
Although the average payout is $50 an hour for focus groups, you can surely make good amounts such as $450 an hour for some very specific studies.
So, if you sign up from Facebook or LinkedIn, you'll have better chances to become eligible for these kinds of specific studies. It happens as UserInformation gets your detailed information which helps them to connect you with more relevant focus groups.
Further to make the most out of your time on this website, you can always check how much the study is offering and time required to complete.
You can also win amazon and visa gift cards while other payout options include cash, check and PayPal etc.
Here is a video review of UserInterviews by Nick Loper,
You can join here.
Also read: 20 ways to make money without a job
2. FocusGroup.com
How Much It Pays: $75-$250
Focus Group Category: Online and In-Person Both
Cash out Options: Check, Gift Card, Cash, Prepaid VISA Card
This website can give you an opportunity to join a focus group from anywhere around the US.
Studies are scheduled over webcam or phone call, but you have to pass a "screener" survey initially.
I had to make a lot of tries before landing on my first group study as the interview was straightforward and very specific.
So, once you sign up, it's better to get prepared for the interview related to the study you want to apply.
You can explore multiple options when selecting the topic as this website offers a wide range including pets, banking, mobiles, cars, dining, entertainment, sports and electronics etc.
I must say, the list isn't that limited.
I also give extra points for added consumer study options related to medical and business topics. As my brother is a pro in business topics, I referred him to join the site. I still remember him teasing me for landing his first focus group way sooner than I could. He also made better money than me.
For better earning, you can always explore to check the rates of different studies on this well developed, easy to navigate website.
And to cash out, you'll have options such as a check, gift cards, cash and prepaid VISA card.
You can join here.
Also read: Under the table job options you can consider in 2020
3. Respondent
How Much It Pays: Average $140
Focus Group Category: Online and In-Person Both
Cash out Options: PayPal
This is yet another amazing website which offers focus groups for people all around the globe.
You don't have to be specifically from the US.
Once you sign up, you can look into the research details to choose the best study for you.
it works a bit differently and you'll be able to check what kind of people the company is looking for.
Also, you can look into the available time schedule and rate, as given by the sponsor of research.
Once you've filled the answers, the researcher/moderators look to check either you're a good match or not.
The more your match score is, the better will be your chances for selection.
Another cool feature, of respondents which attracts me, is this website displays if a study is over-subscribed now.
If so, you can save your time by applying for the one where there is less rush of people. in short, better chances to get selected.
Respondent also serves one of the best clients worldwide as Airbnb, Microsoft, IBM etc.
Moving down to the cash out, you'll get all your money into your PayPal within 10 days of completion of your focus group.
It cuts a small processing fee (up to 5%) of the amount locked with the company.
Here is a video review of Respondent by PaidfromSurveys,
You can join here.
Also read: Get paid to advertise on your car | 5 options to go for
4. Survey Junkie
How Much It Pays: Average $150
Focus Group Category: Online and In-Person Both
Cash out Options: Gift Cards, PayPal
One of the best platforms to fill and earn from online surveys, Survey Junkie also offer earning through focus groups.
If you're just focused on small surveys, this site might not make you good money.
As soon as you're up for joining research studies, you can make anything from $50 to $150 depending on the category of that focus group.
Survey Junkie doesn't only offer good money from such market research but has different categories as.
Product Testing: If you'll be filling a survey after physically testing a company's product, you may earn up to $50 for one product. And, they might offer you to keep the product free of cost. I liked that a lot.
Phone Surveys: In this case, they'll set up a phone call session to know your opinion. This pays up to $100 an hour.
In-Person: This category is the highest paying and your earning can easily touch $150 for an hour-long focus group discussion.
Just like Swagbucks -which is also in the same category of money making websites Survey junkie will give you reward points. You can redeem your point collection into gift cards.
Learn More About Survey Junkie Here
Also read: Ways to make money online for free
5. Recruit and Field
How Much It Pays: Up to $250
Focus Group Category: Online and In-Person Both
Cash out Options: Gift Cards, PayPal
If you're from the US, Recruit and Field can be your next destination to look for best paid focus group studies.
It works nationwide to conduct online as well as in-person research studies. There's also no restriction of age and gender.
The company is also active on Facebook with a pretty impressive rating -4.9 out of 5-.
Along with the normal discussion matters, it includes opportunities for professional and medical research opinions.
Lastly, the payout from multiple streams such as PayPal and Amazon/Digital gift cards makes it suitable for online users. You can join here.
Also read: Stay At Home jobs for moms | 36 websites to join in 2021
6. Mindswarms
How Much It Pays: Average $50
Focus Group Category: Online Only
Cash out Options: PayPal
Mindswarms is up for taking video responses against their offered studies. They collect and compile their data in the form of videos.
When signing up, you'll be asked to record a video response explaining some general questions about yourself.
If on desktop, you can use your webcam to submit your video while in case of mobile having android OS, you can go with their app.
If your profile is a good fit as per their targeted consumers, you have to participate in video research.
So, if you're a video friendly person and easy with making them, you'll be required to answer 7 questions for each study.
One study usually takes up to 10 minutes and you're paid directly into your PayPal. (around $50) not a bad deal
Its payout takes up to 24 hours which makes it an impressive and quick way to earn PayPal cash.
You can join here.
7. American Consumer Opinions
How Much It Pays: Average $50
Focus Group Category: Online and In-Person Both
Cash out Options: PayPal, Check
American consumer opinions would let you join their research program if you're from the US.
It covers the state with over 7 million users who earn points by completing focus group studies.
This company has introduced its digital currency which is linked to their point system. So, you must be willing to use their system to be able to participate in focus groups.
I am not sure about the most here, but I started trading in cryptocurrency back in 2017 and attended multiple focus groups to discuss blockchain and crypto tech.
Those healthy discussions were bringing dual benefits -more info and cash- simultaneously.
i am not entirely impressed by this website's point system as it is $0.01 per point and you probably can't cash out before you've earned $10 equivalent points.
But the screener surveys usually pay $0.05 to $0.5 which is your first step to qualify for a $50 market survey.
So, next time you need $50 in your PayPal account, you can add this website to your potential earning resource.
There is a bottom line here which can even make you complete the screener survey without claiming any reward.
They offer a $50 reward you can win by participating in their draw. That's a bit tricky play, but all goes well if you can clear the screener to participate in a $50 survey.
You can join here.
Also read: 10 ways to get free Steam codes
8. Inspired Opinions
How Much It Pays: Up to $250
Focus Group Category: Online and In-Person Both
Cash out Options: Gift Cards
"Inspired opinions" also makes you play with points instead of dollars. So, if you're winning a certain number (it says, 1000 reward points), you can redeem them for a gift card and have fun.
If fun doesn't fit here, why not get your hands to earn big from focus groups.
You can join Inspired Opinions from all over the world to participate in online research studies.
But if the study is in the "in-person" category, they have 16 offices in the US. You can visit your nearest to get an overview of the environment you'll be sitting in.
Their 100 points reward equals a dollar while an hour-long focus group can give up to $125. -More than decent value for your time-
It also requires you to be over 18 to get registered and once you're done, it matches your profile with the available studies.
In case your profile is a fit, you'll get an invite over phone or through email. The sponsor will testify to check if you're qualifying.
This research company has also built an admirable reputation on Facebook and is more active on that platform.
It might not be related to our today's article, but I am fond of social media for my own freelancing business. I get so many clients from these platforms.
Today, these survey companies aren't making full use of such platforms and adding to their business value by engaging with their audience directly.
So, you can follow Inspired Opinions having 4.4 rating on Facebook to get updates regarding focus groups.
Also read: How to make money as a kid | 17 realistic ways
9. Ipsos i-Say
How Much It Pays: Up to $100
Focus Group Category: Online and In-Person Both
Cash out Options: Gift Cards, Cash, Merchandise, Charity, PayPal
One of the dominating benefits of survey companies which are offering paid focus groups, they're global.
Ipsos i-Say is also a survey-based website which isn't the usual but third largest in this category.
Although it's a legit website, still you can't plan to stick to small surveys.
When I started with this website, I was all into making strategies to optimize my earnings from survey websites.
At that time, I was using about 6 survey websites at one time. Even after all the strategies in place and running smoothly, I wasn't making it a full-time earning source.
WHY?
Small tasks and surveys were paying pretty low.
Even for Ipsos, the reward for small surveys ranges from $0.4 to $1.5 which isn't impressive. That's more like a monthly cup of coffee money.
That's another reason to hop into focus groups through all the possible survey sites.
What's left is the all-time availability of Ipsos.
You can install their app and complete your activities while on the go. At the same time, it's not less than any social media platform. So, all the participants/users of Ipsos are connected as well.
10. Survey Feeds (Highest Paying for In-Person Focus Groups)
How Much It Pays: Up to $450 for online, up to $2000 and even more for offline
Focus Group Category: Online and In-Person Both
Cash out Options: Gift Cards
So far in our today's list, Survey Feeds pays the highest for joining offline focus groups. -even $2000-
That was insane money and my elder brother made it before me. He is kinda not much into online earning and stuff.
But when he's on to it, he often earns better than me, after learning the stuff from me.
Survey Feeds is also one of the most reputed companies in their category on social media. So, like for your other hangouts, you can keep yourself updated about the opening of a new opportunity through Facebook.
When you're planning to attend your next in-person research activities, you can go for one to one interview, a focus group or even clinical research.
Normally such categories pay high.
In online mode, you can start from completing online surveys and further go for phone interviews and web conferences.
When you select an online option, you can earn anything from $75 to $450. But $450 from one focus group can be a rare opportunity. So, you can expect an average of $150 per research.
How to Find Best Focus Groups That Pay Well?
It's a kind of exercise you need to perform to find out the best focus groups for you.
You can follow the process i am gonna share or work on your own but make sure not to ignore what i have to say in this section.
So, let's get into the process I've followed for myself.
Make A list of Focus Group Websites
It's easy as you can explore on google to make your list of websites that offer participation in focus groups.
Or you can simply add the websites I've already listed. Till now I've listed 10 websites in this article. I'll keep on adding more. (I've done that after testing and proper research)
Know your Priority Focus Group Type: Online or In-Person
As you might have noticed, I've mentioned different types of focus groups in our list.
Every website on our list offers a focus group of normally online and in-person -both categories-.
If you're living in the US, you might be eligible for most of the offline focus groups along with online survey options.
Once you've decided your final option, you can filter your websites accordingly.
Check if the Research Company is Legit or Not
Along with legit earning options, the internet world isn't completely pure. People easily get scammed if they've not gone through a proper research and legitimacy check.
The only option to save your precious time is to find out either the website you're gonna join is legit or not.
You can do that by checking their reviews online. Just like I've added a list, many other authors have also shared somewhat same websites. This is because these are all tested and confirmed legit resources.
Also check their social media appearance and ratings. Go through the comments of people and you'll find out how they're doing.
If people are trusting a resource, you can go for that.
Explore the Interest of Research Companies
You can't simply join and qualify for the focus groups you've wished to.
These research companies and sponsors -who are looking for authentic research and results- are extremely keen and observe your profile data very specifically.
Your profile matching is responsible for any and every focus group qualification.
So, upload your authentic profile data accordingly to the interest of research companies.
It's more like creating a custom CV or profile for a specific job. Where you mention your relevant experiences.
How much Do you Want to Earn From Focus Groups?
Different websites and companies offer different rates for online and offline focus groups.
Eventually you'll be looking for the ones who offer the max.
But that shouldn't be the approach.
You need to look for the optimum combination of different websites.
Look at your interest and the frequency of focus groups these websites are offering.
Join multiple authentic websites and explore the schedule of research studies either offline or online.
Write them on a paper or notebook to figure out which schedule can give best value for your time.
Adopt the right pattern and you'll be able to earn maximum possible.
Wrapping it UP: Choose your Action Plan
I normally suggest my readers to work on their action plan for whatever they plan to do.
With that much information I am sharing in my articles and blog posts, you can easily make your checklist and work accordingly.
In today's article, the list and the last section about finding the best paid focus groups is vital.
Follow the steps and start earning from focus groups.
In the end, I would love it if you can share this article with your friends and give feedback if you think i should add more information.